Crete, the largest of the Greek islands, has long been regarded as one of the most fascinating destinations in the Mediterranean. Known for its stunning beaches, rich history, and unique culture, it's not difficult to see why this island is such a popular vacation spot. Moreover Crete is often reffered to as one of the most popular and safe destinations for family holidays. In this article, I'll explain to you why Crete is a great family destination and where you can have an idyllic family vacation even with kids!
How many days is ideal for Crete?
The ideal length of a trip to Crete depends on several factors, such as your interests, budget, and schedule. However, I would recommend spending at least one week on the island to truly immerse into the beauty and culture of Crete.
With a week on the island, you can explore some of the most popular destinations or recharge your batteries in tranquil areas of the island. If you have more time and want to delve deeper into the island's culture and history, consider spending two weeks or even more in Crete.
Is Crete a good place to visit with kids?
Yes, Crete is an excellent destination for families with kids! With it's shallow beautiful beaches for children to swim, fascinating history, and welcoming culture. There are definitely plenty of things to see and do that are suitable for all ages. Furthermore Crete is one of the safest places you can think of and the motto of the island is "No stress". Food is also incredibly healthy and delicious since all the products are fresh and local.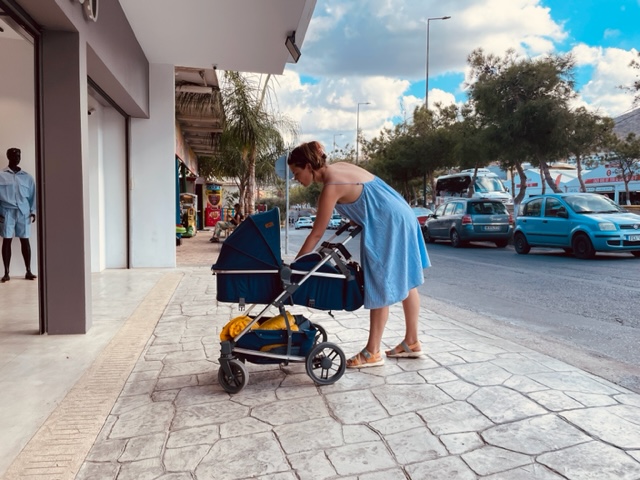 We decided not to take our baby stroller to skip the check in lines in the airport. We found online OkayCrete and decided to use their services. On their website you can rent all the necessary equipment for your baby on your holidays in Crete. Pick up and drop off are directly at the airport. Definitely less effort and preparation for the perfect holidays. We were very happy with the pram that we received.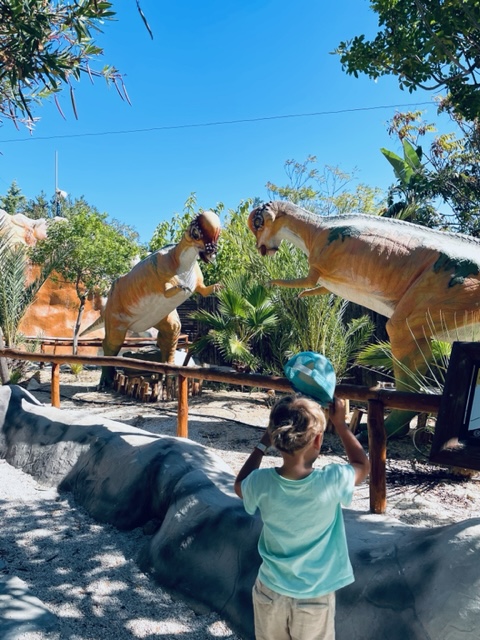 There are various activities that are perfect for the whole family, nevertheless there are also others especially thought for children. You can vsit museums and archaeological sites, but you can also enjoy fun entertainment, such as theme parks or water parks. One of the theme parks that we visited and really enjoyed is Dinosauria Park. It's located near Heraklion in Crete and kids and adults can learn everything about dinosaurs. The big creatures move, roar and growl. There is a playground with the swings, slides, climbing frame and even the fossil hunt sandpit! For the extra charge you can also visit The 5D cinema. My 5 year-old loved it! The hungry ones can visit cafe with delicious food in the park.
Do you need a car in Crete?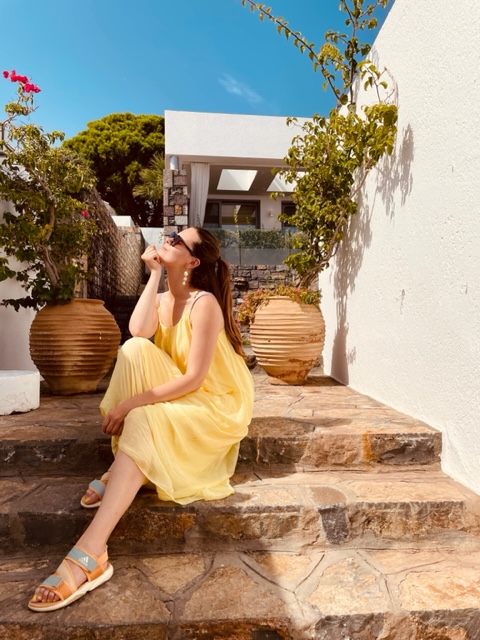 Crete is the largest island in Greece, public transportation is not very good but there is a possibility of using using taxis and organised tours.That's why having a car is recommended especially if you want to explore the more remote parts of the island. Having a car gives you the freedom to explore at your own pace.
Furthermore, having a car is essential if you plan to visit some of Crete's most famous and beautiful beaches, such as Elafonisi or Balos, which are not easily accessible by public transportation. With a car, you can also easily visit traditional villages, historic sites, and monasteries that are scattered throughout the island.
If you are planning to rent a car in Crete, it is important to note that some of the roads can be winding and narrow, and the traffic in some areas can be busy, especially during peak tourist season. However, most of the main roads are in good condition, and with some caution and defensive driving, it is possible to navigate the island's roads safely.
The History of Crete
One of the most remarkable aspects of Crete is it's rich history, which dates back more than 5,000 years. The island was home to the Minoans, a civilization that flourished between 2600 and 1400 BCE, and is considered one of the most advanced and sophisticated of it's time. The Minoans left behind a wealth of artifacts, including intricate frescoes, pottery, and stunning palaces that can still be visited today.
Crete was also ruled by the Romans, Byzantines, Venetians, and Ottomans, each leaving their mark on the island's culture and architecture. This fascinating mix of historical influences is evident throughout Crete, from the Venetian fortresses in Rethymno to the Ottoman mosques in Chania.
Best Area to stay in Crete for Families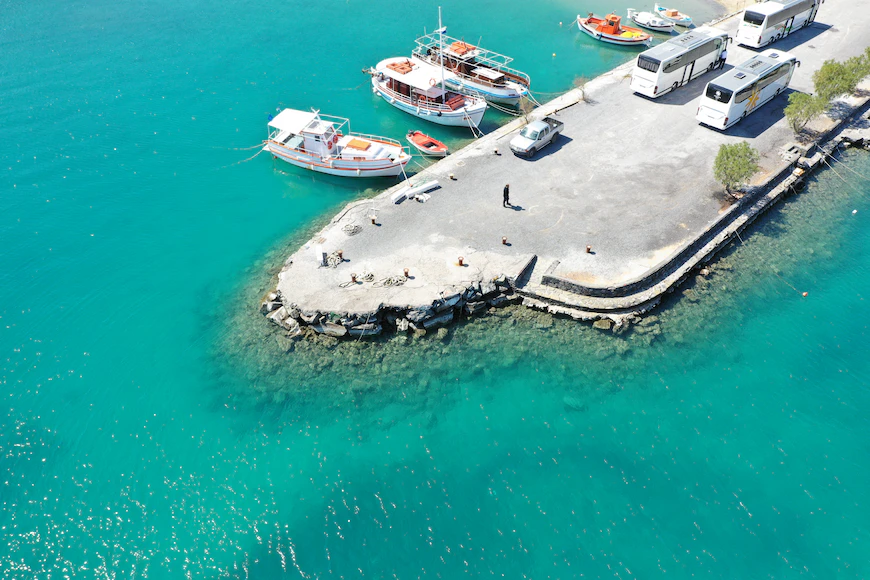 My favourite area in Crete is Elounda. It is a coastal town located on the northeast coast of Crete, Greece. It is known for its stunning natural beauty, crystal clear waters, and rich history. Moreover Elounda is home to some of the most luxurious resorts in Crete, with world-class amenities and stunning views of the sea. Many of these resorts offer private beaches, pools, and spas. It is also a safe and peaceful area, making it an ideal destination for families looking to relax and unwind.
Elounda is surrounded by beautiful natural landscapes, including rugged mountains, olive groves, and vineyards. Visitors can take hikes in the nearby hills, explore the local flora and fauna, and enjoy the stunning sunsets over the sea. Elounda's beaches are some of the best in Crete, and they are ideal for families with young children. The waters are clear and shallow, making it safe for children to swim and play. Some of the most popular beaches in the area include Plaka, Elounda Beach, and Kolokitha.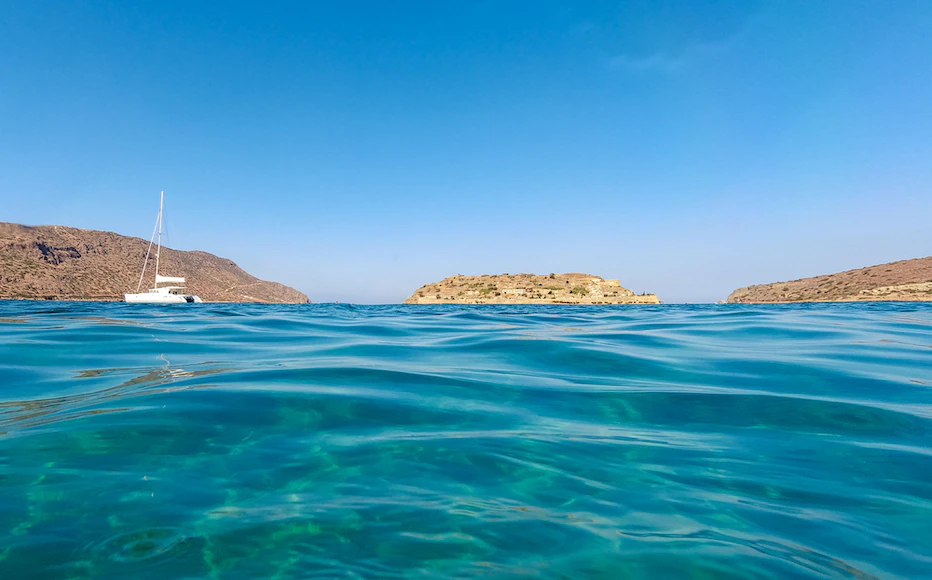 There are plenty of family-friendly activities in Elounda, including boat tours, water sports, and a variety of cultural and historical attractions, such as the island of Spinalonga. Furthermore, it is located near several important archaeological sites, including the ancient city of Olous and the Palace of Malia. These sites offer a glimpse into Crete's rich history and culture. Book this tour online in advance since this beautiful place is pretty popular by tourists.
The Best Luxury Family Resort in Crete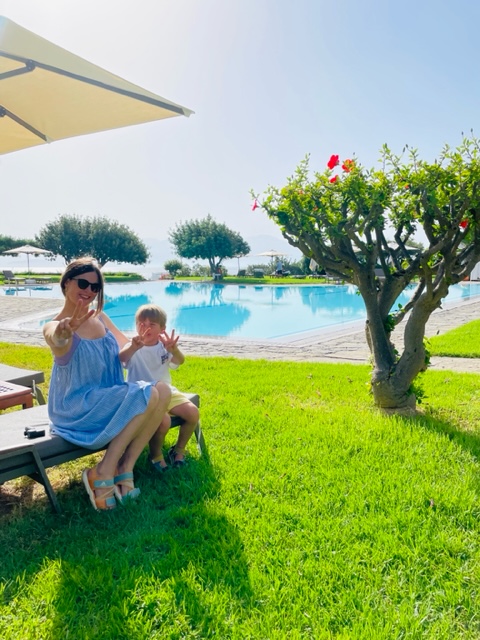 We stayed at the fantastic Elounda Beach Hotel & Villas, situated on the tranquil and exquisite northeast coast of Crete..It is truly one of the most beautiful hotels we've ever visited! It took us around 50 minutes to get there from the Heraklion airport by taxi. When we arrived we were greeted by a very friendly staff members who immediately took care of all our bags and suitcases. A welcome drink and quick check-in were a perfect start of the long-waited vacation after a long journey with kids.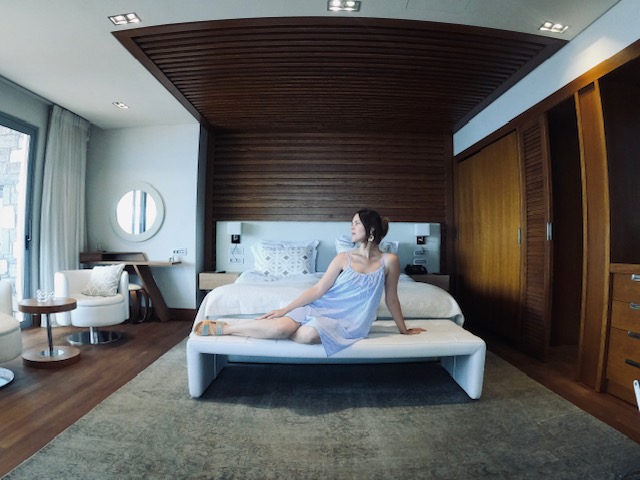 And well, how we were surprised with our fantastic Family Hotel Suite Sea View (Two Bedrooms) with a wide balcony! You know, sometimes you see the pictures of the hotel rooms on the internet but it doesn't meet expectations in the reality. In this case it was an opposite: We were flabbergasted by the beauty of the spacious rooms, modern design and tidiness to a high standard. Our room had a spectacular view over the bay. The private hotel beach with shallow and crystal clear water, fine golden sand were just in front of us. The highlight of the suite in my opinion was a generous bathroom with sunken bath, double sink, separate WC and a large enclosed shower that looked like a sauna, with a rain shower, hand shower. And yes, all necessary toiletries were included.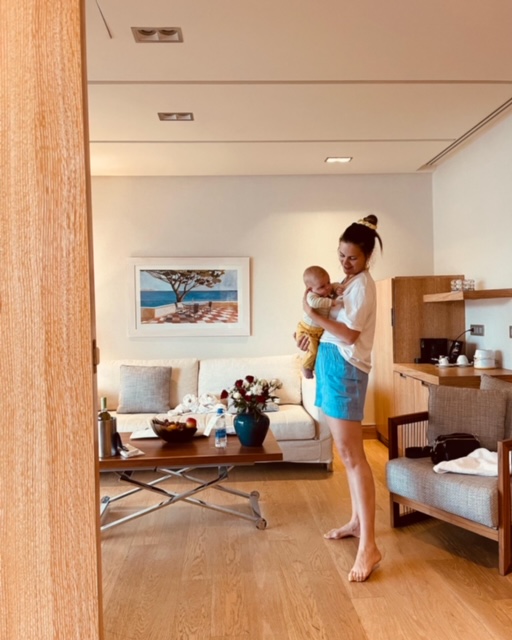 We were travelling with a 5 year old son and a baby so of course we were provided with the crib and even changing table. Our oldest one was very happy to discover the playground that was available at the amenities of the hotel. Moreover, there was a kids club where we could leave our son with the lovely nanny. She was entertaining kids and playing with them various interactive games. Joy and happiness not only for kids but also for parents!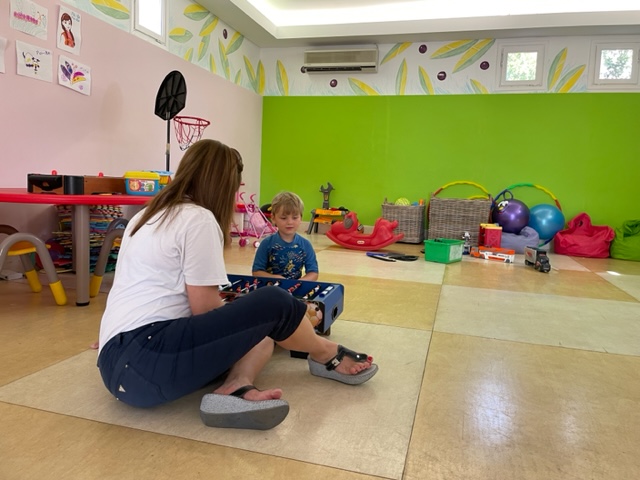 If kids wanted to play at the beach or swim in the water there were plenty of toys to borrow. And those who prefer swimming pool instead of the open sea could also find one at the hotel area. Important to mention despite having all the possibilities for kids to be entertained the atmosphere was very idyllic and calm. So even those who travel without kids can enjoy their holiday.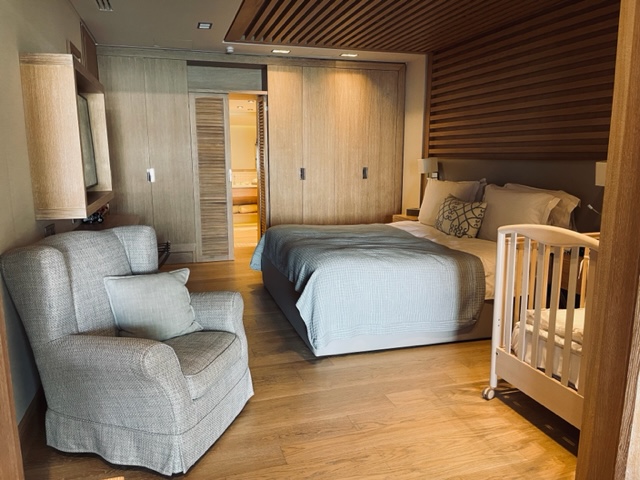 Let me tell you more about the food that was served at Elounda Beach Hotel & Villas. Our mornings started with the breakfast buffet under the shade of the trees or in the sun provided with a wide and tasty choice of fresh food. Omelettes and pancakes were made on request directly in front of us. So we could chose what kind of ingredients we would like to have.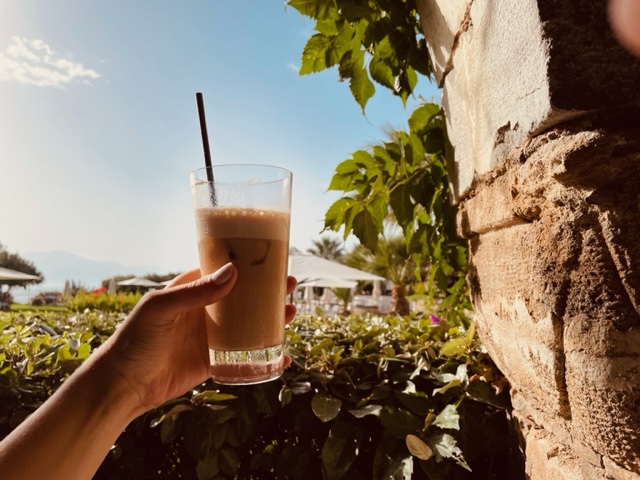 The staff was very friendly and attentive! Every morning they would come to the table and ask for the drinks we would like to order. And I definitely recommend to everyone to order ice coffee latte! It's just so good. That's what I call perfect holidays! I read before about this hotel that Crete's cultural offerings are nearby but most of the guests hardly leave the property after entering the oasis. Already on the first day I could see why.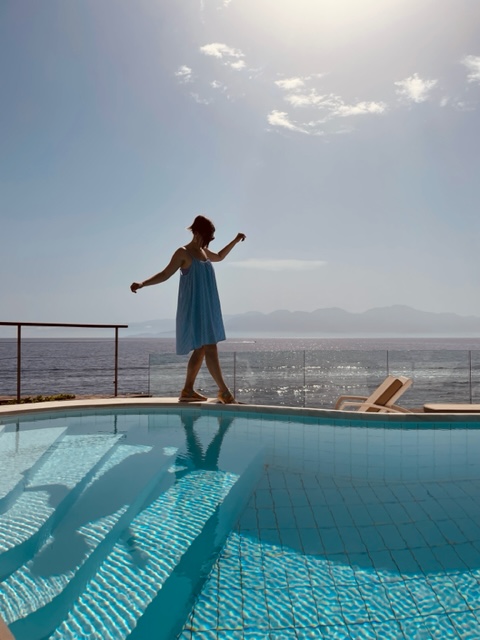 A holiday wouldn't be complete without a spa treatment, right? The Chenot Spa is truly an oasis of tranquility. It's settled in a relaxing setting with an outdoor pool where we were made to feel very welcome. The spa offered a quiet and calm atmosphere, a beautiful view of the ocean, and rejuvenating treatments. My partner visited the spa for a massage which was a real treat for him. I decided to awaken an inner Goddess in me and booked Chenot Illuminating and Nourishing Treatment. I enjoyed every moment of the facial and even more the result! My skin was truly glowing! Just as a tip from me definitely book your treatment in advance to be sure you will have the spot. The Chenot Spa is very popular, so it's recommended to book your treatments in advance to ensure you get the spot.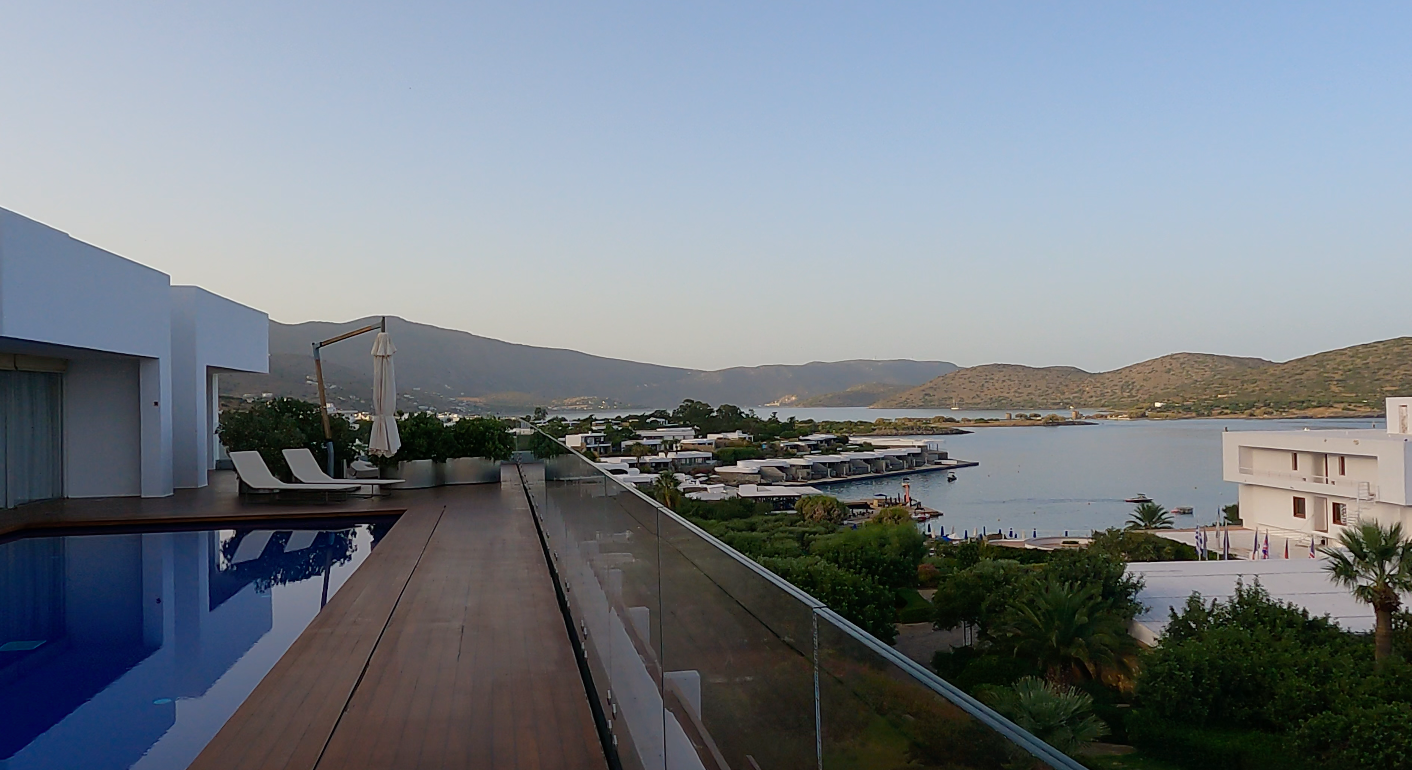 The Beaches of Crete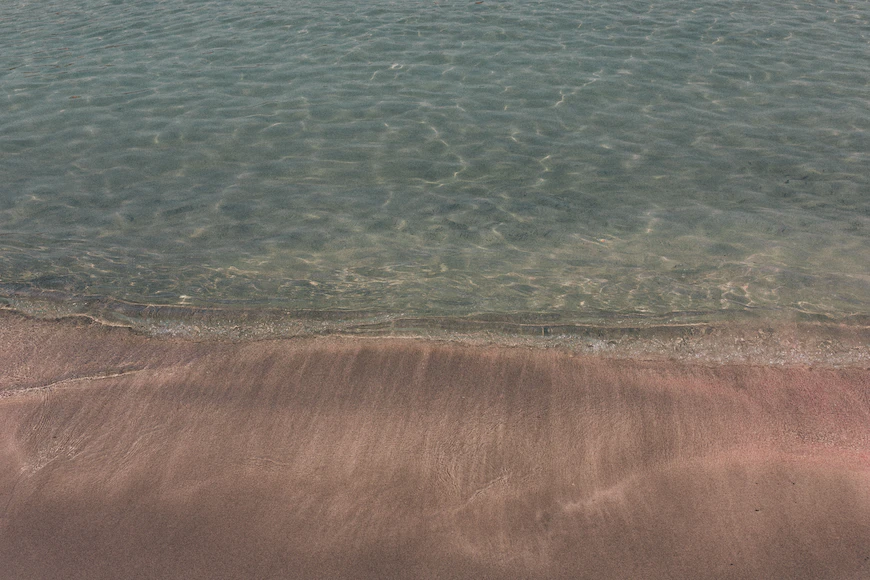 With over 1,000 kilometers of coastline, Crete is home to some of the stunning beaches in the Mediterranean. Whether you're looking for secluded coves, white sand beaches, or crystal-clear waters, you're sure to find the perfect spot on this island.
Some of the most popular beaches in Crete include Elafonisi, a stunning pink sand beach in the southwest of the island. So don't hesitate to book day trip to it! Another one is definitely must see, Balos! It's a turquoise lagoon surrounded by cliffs and hills. Just check the pictures here! Last but not least, Vai, a palm-fringed beach on the east coast.
The Food of Crete
Crete has a unique and delicious cuisine that is based on the island's rich agricultural heritage. From fresh seafood to hearty stews, the food in Crete is always made with fresh, delicious, local ingredients.
Some of the must-try dishes in Crete include dakos, a traditional salad made with barley rusks, tomatoes, and feta cheese, and kalitsounia, small pastries filled with cheese and herbs. The island is also famous for its olive oil, which is considered some of the best in the world!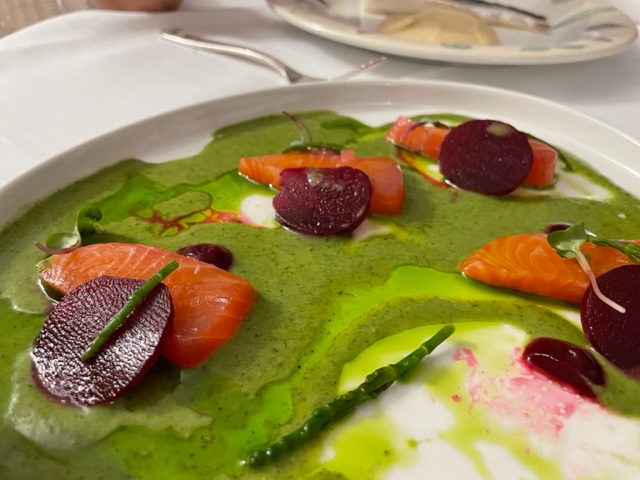 We had half-board at Elounda Beach Hotel & Villas, so during the day we enjoyed lunch from the beach bar, which was not included. But in the evening, we could book a table in one of the few restaurants open to guests outside of the hotel. We visited three of them. One of them is Dionysos, named after the hedonistic God of Wine, which serves Modern Mediterranean Cuisine. Unfortunately, we couldn't enjoy our food at the restaurant but needed to switch to in-room dining. Our 3 months old baby was fussy. But, again, the hotel staff was so friendly and helped us out! The food was divine, with fresh and interesting combinations, additionally the portions were very satisfying. It's also great that there are vegan and vegetarian options.
There should always be a possibility to enjoy good Italian food, and you can do that at Argonaut Seaside Restaurant, which offers not only great food but also an impressive seafront view! It has a very romantic atmosphere, and, like everywhere at Elounda Beach Hotel & Villas, the staff is spectacular. Three of us enjoyed a three-course menu. Were very well pleased and full-filled when we left the restaurant. So, if you like homemade pasta and good desserts, don't even think twice but come here!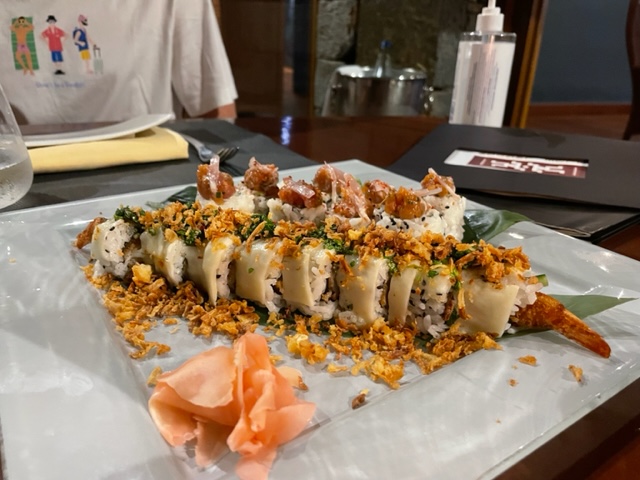 Last but not least, the gem of Elounda Beach Hotel & Villas is Blue Lagoon Restaurant & Sushi Bar, famous for its authentic Japanese and Peruvian cuisine. This restaurant is so popular that you need to book a table three days in advance. Fresh seafood and a wide range of classic and experimental sushi are some of their offerings. The restaurant is located at the seafront in front of the mini-harbor, creating a wonderful vibe, with chic, stylish atmosphere. Don't forget to try their delicious desserts!