2 Days in Amsterdam: The Perfect Itinerary
Amsterdam, the capital city of the Netherlands, is a vibrant and picturesque destination that offers a perfect blend of history, culture, and natural beauty. With its charming canals, iconic architecture, world-class museums, and lively atmosphere, Amsterdam is an ideal place for a weekend getaway. In this article, we will provide you with a comprehensive itinerary for a memorable two-day visit to Amsterdam, including the best time to visit, transportation tips, and the top 20 things to do in the city.
If you are considering to stay 2 or more days in Amsterdam I would highly recommend to get Amsterdam City Card. It gives access to multiple museums, public transportation and even bike tours plus famous canal cruise tours!
If you plan to continue exploring Netherlands then I will definitely recommend you to visit Delft or The Hague. There are direct trains going from Amsterdam to these 2 cities.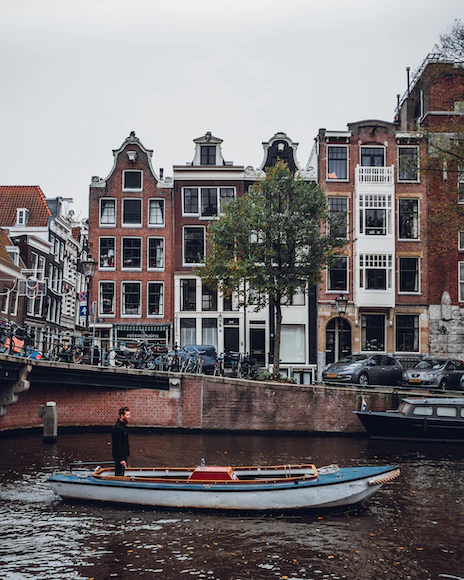 Best Time to Visit Amsterdam
The best time to visit Amsterdam is during the spring (April to May) and autumn (September to October) seasons when the weather is mild, and the city comes alive with blooming flowers and colorful foliage. The famous tulip fields are in full bloom during spring, adding to the city's beauty. However, summer (June to August) is also popular, despite being crowded, as the weather is warm, and outdoor activities thrive.
How to Get from Amsterdam Airport to the City Center
Amsterdam Airport Schiphol is well-connected to the city center, making it easy for visitors to reach their desired destinations. The most convenient and fastest way is by taking a direct train from the airport to Amsterdam Central Station. Trains run frequently and the journey takes approximately 15 minutes. Alternatively, taxis, airport shuttles, and private transfers are available for a more personalized and comfortable experience.
How to Get from Central Station to the City Center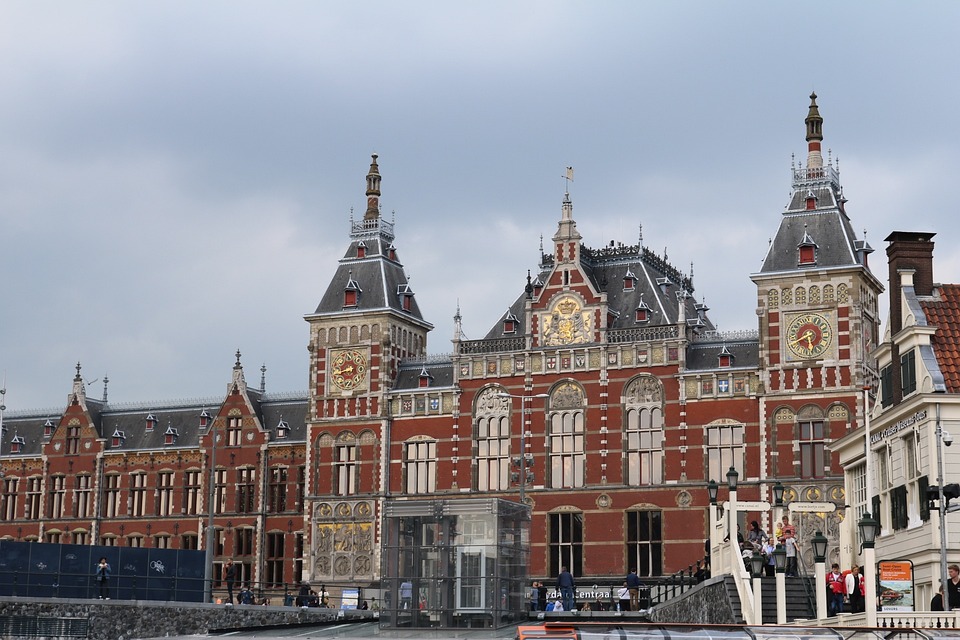 Amsterdam Central Station is a transportation hub and serves as the gateway to the city center. Upon arrival at the station, you have several options to reach the city center.
Walking: Depending on where you're headed, you can easily walk to many popular city center attractions from Amsterdam Central Station. The station is centrally located, and most areas of interest are within a 15-20 minute walk.
Tram: Amsterdam has an extensive tram network, and several tram lines connect Amsterdam Central Station to various parts of the city center. Look for the tram stops near the station.
Metro: The Amsterdam Metro also provides convenient transportation within the city. You can find the metro station near Amsterdam Central Station, and by using the metro lines, you can quickly reach different parts of the city center.
Taxi: Taxis are readily available outside Amsterdam Central Station. Look for the designated taxi stands and make sure to use licensed taxis. Taxis offer a more direct and comfortable way to reach your destination in the city center, but they can be more expensive than public transportation options.
How to Get Around Amsterdam
Amsterdam is known for its excellent public transportation system, which includes trams, buses, and metros. The GVB transport company operates these services, and you can purchase tickets from vending machines or use contactless payment methods. Nevertheless I would recommend just to get it online and not to waste your time while you are in the gorgeous Amsterdam!
Another popular and enjoyable way to explore the city is by renting a bicycle, as Amsterdam is renowned for its bike-friendly infrastructure. Cycling is a convenient and eco-friendly option that allows you to navigate the city at your own pace. But you probably also know that bikers can be very assertive in Amsterdam and you need to watch out for them!
Walking is another great way to explore Amsterdam. The capital of Netherlands is compact which makes it perfect to explore by foot. That will give you an opportunity to find beautiful spots to take fantastic pictures!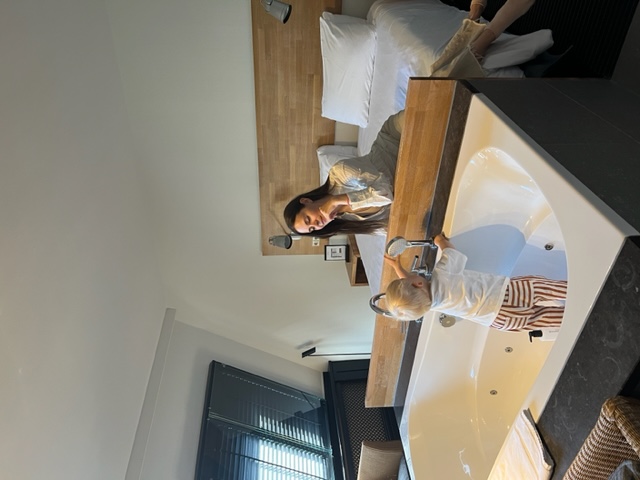 Where to stay in Amsterdam
We were staying at Catalonia Vondel Amsterdam, which was situated just stone throw away from Vondelpark and all the major museums. The receptionists are very polite and friendly. But I think it's everywhere in Netherlands. They are pretty casual and relaxed people who are very good at service. The rooms were spacious and we got an amazing upgrade! We had a big bathtub in the middle of spacious room and separate bathroom with a walk-in shower. All in one it's worth to stay there for a night or longer.
22 Best Things to do in Amsterdam in 2 days
Day 1:
Anne Frank House
Start your day with a visit to the Anne Frank House, located on Prinsengracht. Immerse yourself in the poignant history of Anne Frank and her family as you walk through the secret annex where they hid during World War II. See the preserved rooms and read excerpts from Anne's diary, gaining a deep understanding of the impact of this period.
Jordaan neighborhood.
Afterward, explore the vibrant Jordaan neighborhood. Lose yourself in its picturesque streets filled with eclectic shops, art galleries, and cozy cafes. Admire the unique architecture and stop by the local markets, such as the Noordermarkt, where you can find fresh produce, antiques, and unique crafts.
Boat Cruise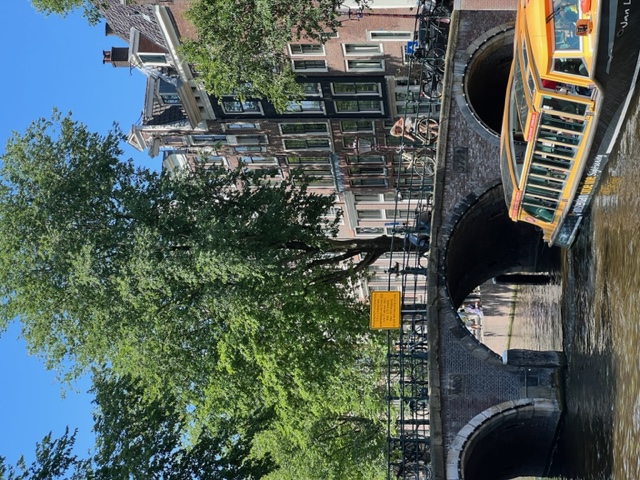 Pre-book your ticket and take a leisurely canal cruise to experience Amsterdam's iconic waterways up close. Board a classic canal boat and relax as you glide through the picturesque canals, passing under graceful bridges and alongside historic buildings. Learn about the city's fascinating history, from its Golden Age to modern times, through informative audio commentary or live guided tours. Marvel at the UNESCO-listed canal ring and capture stunning photos of Amsterdam's postcard-perfect scenery.
Van Gogh Museum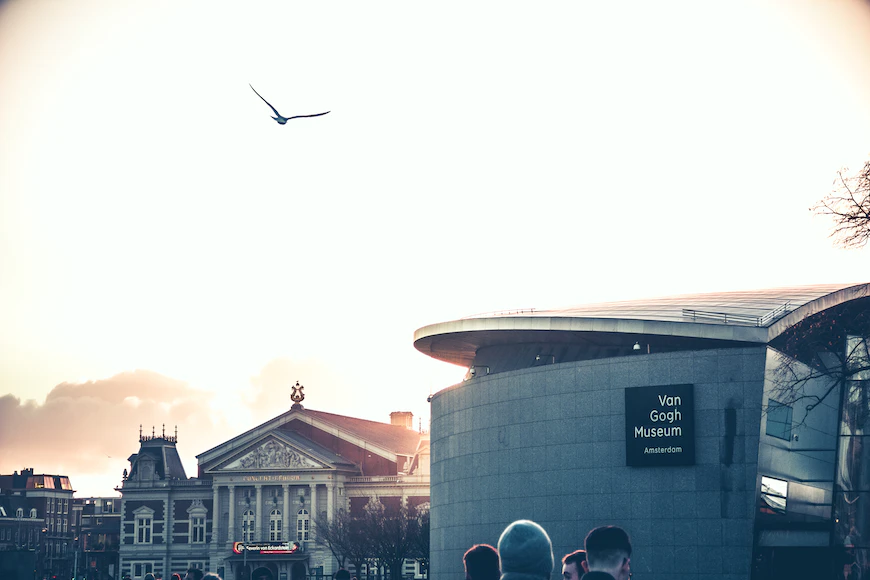 For art enthusiasts, the Van Gogh Museum is a must-visit. Explore the world's largest collection of Vincent van Gogh's works, including famous masterpieces like "Sunflowers" and "The Bedroom." Gain insight into the life and artistic journey of this renowned Dutch painter through a chronological display of his paintings, drawings, and letters. Also pre-book your tickets because otherwise you will stand for hours in the queue!
Albert Cuyp Market
Indulge in the vibrant atmosphere of the Albert Cuyp Market, one of Amsterdam's oldest and largest street markets. Wander through the bustling stalls offering a variety of goods, from fresh produce and flowers to clothing, accessories, and local snacks. Try Dutch specialties like stroopwafels (syrup-filled waffles) or herring sandwiches for a tasty treat.
Visit the Dancing Houses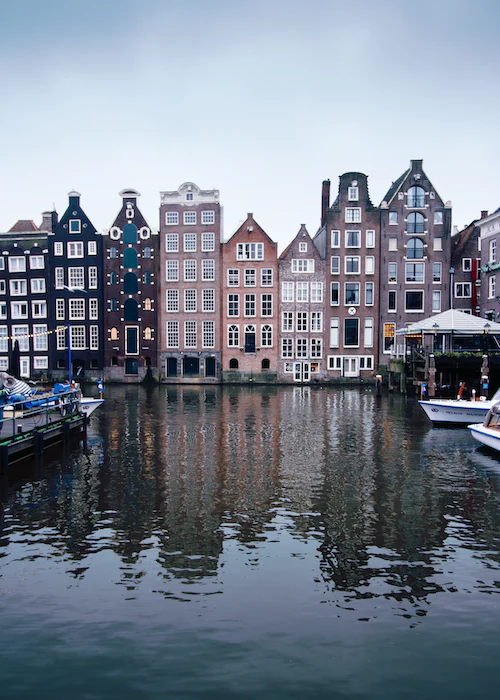 You can find in the oldest parts of the city, the infamous Crookes narrow homes along the Damrak canal. They are known as the dancing houses. The reason why the look like that is pretty simple: they were built on stilts and over the years have sunk into the soil. Now they lean forward and it looks like they're crooked or dancing. Another interesting fact about houses in Amsterdam: back in the day home taxes were charged based on the size of the home's facade. Which lead people to build narrow houses!
Day 2:
Rijksmuseum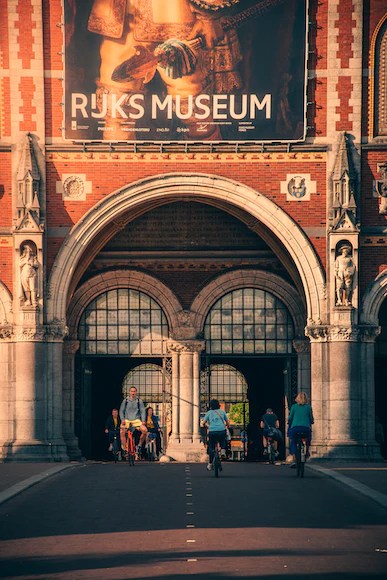 Begin your second day with a visit to the iconic Rijksmuseum, home to an extensive collection of Dutch art and history. Marvel at masterpieces by renowned artists such as Rembrandt, Vermeer, and Frans Hals. Admire the museum's striking architecture and explore various exhibitions that showcase the country's rich cultural heritage.
Vondelpark
Discover the serene beauty of Vondelpark, Amsterdam's largest green oasis. Take a leisurely stroll or rent a bicycle to explore the park's winding paths, lush lawns, and charming ponds. Enjoy a picnic amidst nature or relax at one of the park's cozy cafes while soaking in the peaceful atmosphere.
Amsterdam Museum
Immerse yourself in Dutch history and culture at the Amsterdam Museum. Gain a comprehensive understanding of the city's evolution through interactive displays, artifacts, and multimedia presentations. Learn about Amsterdam's trading past, its diverse communities, and its progressive social and urban development.
Heineken Experience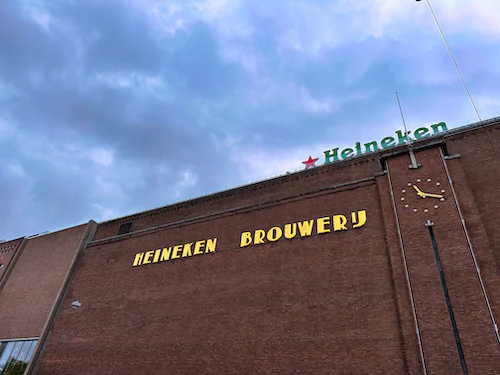 For beer enthusiasts, a visit to the Heineken Experience is a must. Embark on an interactive journey through the former Heineken brewery and learn about the brewing process. Engage in interactive exhibits, enjoy multimedia presentations, and even participate in beer tastings. Finish your tour with a refreshing pint of Heineken at the rooftop bar. My Belgian boyfriend won't be happy that I write about it, because as he says: "Every beer lover knows that Heineken is not a beer!". But well, Dutch people are famous for great marketing and sell whatever! They've been actually called, Americans of Europe!
Bloemenmarkt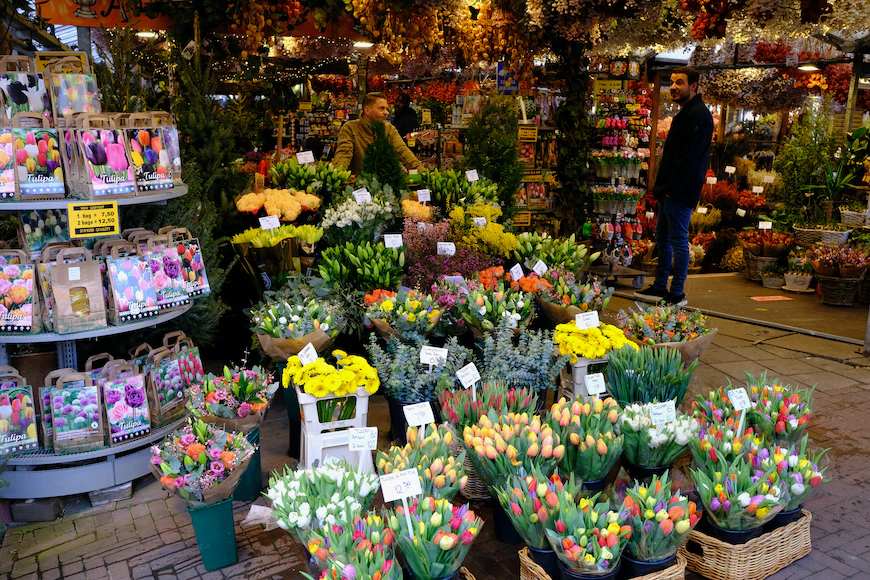 End your weekend in Amsterdam with a visit to the Bloemenmarkt, the world's only floating flower market. Explore the vibrant stalls filled with colorful flowers, plants, and bulbs. Admire the fragrant tulips, roses, and other blooms that have made the Netherlands famous. Don't forget to pick up some flower bulbs or souvenirs to bring home a piece of Amsterdam's floral beauty.
Day trip to Zaanse Schans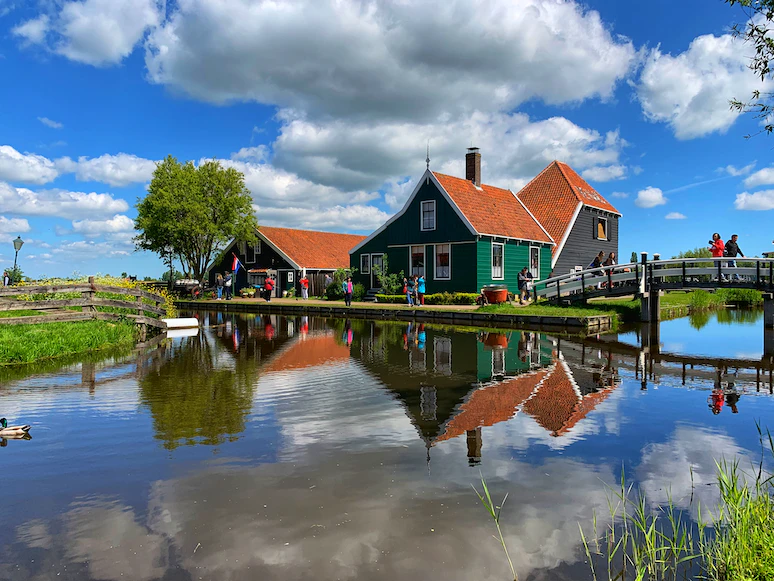 If you have more than just 2 days inamsterdam than I would recommend to book a day trip to Zaanse Schans. It feels like time-traveling to a cute little Dutch village straight out of a postcard. You'll be surrounded by old-school windmills, adorable wooden houses, and peaceful canals. Don't miss out on exploring the working windmills, checking out how they make those iconic wooden clogs, and of course, treat yourself to some delicious Dutch cheese and gooey stroopwafels. It's the perfect escape from the city and a guaranteed Instagram-worthy adventure!
Where to eat in Amsterdam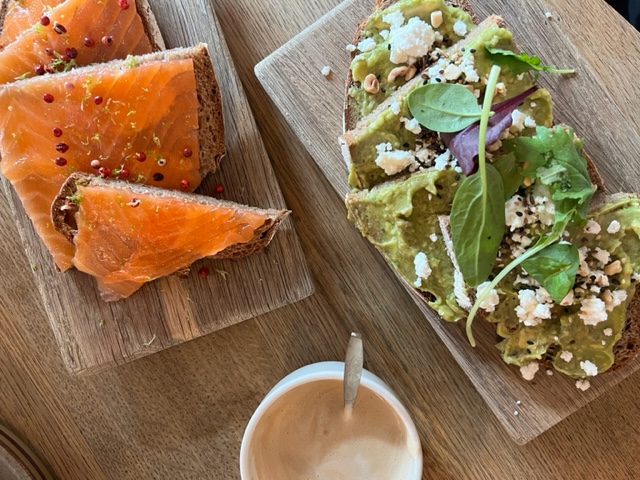 Vlaamsch Broodhuys – a perfect place for a breakfast or brunch. The coffee is flavourful and there is a marvellous choice of open sandwiches. We tried one with avocado and feta and another one with salmon. What a shame it was our last day!
Pluk – is another lovely café in Amsterdam that serves breakfast, lunch and coffee. It's small though so it can be packed during peak times.
Ree7 is another great place to have breakfast or brunch. They are famous for their delicious shakes!
Fabel Friet – fries in Amsterdam are big deal like in most of the European countries, in my opinion. It's an awesome option for a quick bite.
Tony's NY City Bagels – A bit out of town but still in a nice area away from tourists. Sumptious and big bagels with delicious fillings for all kind of eaters. Vegan and vegetarians are also welcome!
Van der Linde – This is tourists must-try whipped creamy ice cream. This tiny little bakery operates since 1937, situated just north of Dam Square is sure to have a long line of people outside on hot days!
If you plan to continue exploring Netherlands then I will definitely recommend you to visit Delft or The Hague. There are direct trains going from Amsterdam to these 2 cities.
Tips if you travel to Amsterdam with kids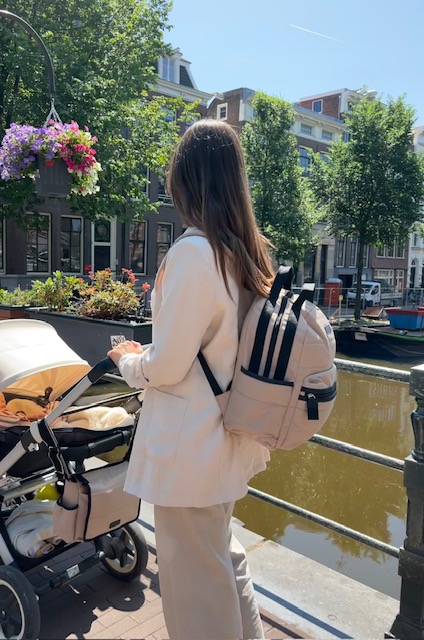 Traveling to Amsterdam with kids can be a fun and memorable experience. Here are few tips to make your trip enjoyable and hassle-free:
Pack Light and Efficient: Instead of lugging around multiple suitcases, opt for a baby backpack and a stroller bag to carry essentials. A baby backpack allows for hands-free mobility, while a stroller bag ensures you have all the necessary items easily accessible when your child needs a break from walking. I highly recommend Babymel products for traveling with kids. Their water-resistant backpack is a game-changer with its seven pockets that help keep everything organized. It's lightweight and comfortable to wear, plus it comes with a padded changing mat and insulated bottle holder. The quality is outstanding, and the price is unbeatable. I also took advantage of their promotion and got the stroller bag, which is spacious enough to fit all the daily baby essentials. The fact that it's made from recycled plastic bottles aligns with my commitment to a sustainable lifestyle.
Visit Kid-Friendly Attractions: Amsterdam offers a range of attractions suitable for children. Include visits to interactive museums like NEMO Science Museum or the Miffy Museum, and outdoor spaces like Vondelpark, which has playgrounds and open spaces for kids to run around. The Artis Royal Zoo is also a popular choice for families.
Take Breaks and Pace Yourself: Traveling with kids can be tiring, so remember to take breaks and allow time for rest and relaxation. Find child-friendly cafes or parks to recharge, and consider bringing snacks and water for quick refreshments on the go. Balancing sightseeing with downtime ensures a more enjoyable experience for everyone.
Remember, flexibility and a positive attitude are key when traveling with kids. Embrace the adventure, make lasting memories, and enjoy the family-friendly atmosphere Amsterdam has to offer.