Brussels in One Day
One day in Brussels is enough to see the best of it. As you probably know Brussels is the capital not only of Belgium but also of the European Union. Brussels is Belgium's main economic and educational spot, what let to define it as a cosmopolitan city full of contrasts. Nevertheless it attracts tourists with it's historical monuments and various world-class museums.
Interesting to mention is that the city is bilingual, all signs and the name of the streets are written in French and Dutch. The majority speaks French though, so they don't even understand Dutch. Curious and sad at the same time, the country is divided into two parts, so many of it's citizens can't communicate with each other. But let's talk about beautiful parts of Brussels because there are plenty of them!
If you are planning your day trip to Brussels the best choice to start it from Brussels-Midi train station. From here you will easily reach the city centre within a walking distance.
10 Things To Do in One Day in Brussels
1. Grand Place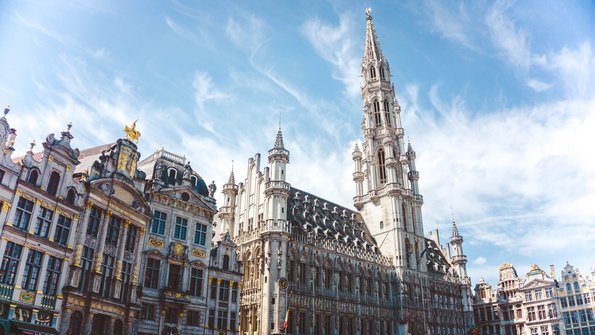 The main touristic spot and Brussels attraction is the city's main plaza Grand Place and it's right in the heart of Brussels' Old Town. The square is full with magnificent architecture in barock style. Moreover it's considered as one of the most beautiful places in the world. No wonder, the square is surrounded by outstanding buildings decorated with rich gold ornates and gables. The most recongizible architectural masterpiece is the Town Hall, built in the 15th century. The architecture of the beautiful Grand Place reflects the diverse culture and society of Belgium, presenting the influences of different artistic styles. Here you also have a possibility to visit various museums, the prices for the tickets are mostly around 7-9€. If you need a map of the city, don't buy it in the Info Hall, just go to the little chocolate museum and take one for free.
2. Manneken Pis
You've probably heard that one of the top things to see in Brussels is the famous urinating little boy of Brussels: "Manneken Pis". I did it too. My expectations to see the symbol of the rebellious spirit of the City of Brussels were not so high, because what other country would actually use a pissing little boy as a symbol of the city? Moreover my hope to understand the meaning of Belgium's most famous statue were immediately gone when I saw the microscopic bronze sculpture: 61cm.
3. Waffles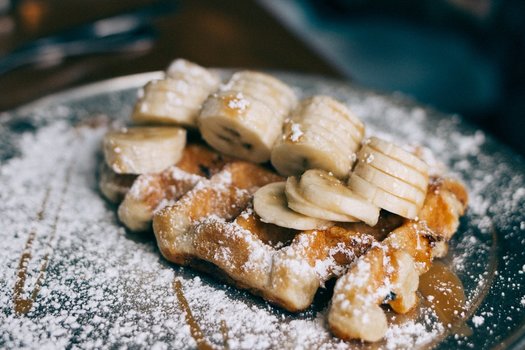 Best things to do in Brussels is doubtlessly to eat Belgian waffles. Next to the marvelous "monument" is a street full of delicious Belgian waffles. The tempting aroma will lead you to the right direction, where you can find a huge variety of these sugary baked goods from 1 to 10 Euros. The price doesn't play a major role, all Belgian waffles taste delightful. It's like Belgian chocolate, the taste will never disappoint you. You can get waffles either hot or cold and even with different toppings like fruits, chocolate, caramel, nuts and more and more of other exquisite extras.
4. Beer Cafe Delirium
Belgium is famous all over the world for it's tremendous beer culture. Since the Middle Ages Belgian folk take it's reputation seriously, they even designed customized shapes of the glasses for each beer to enhance the flavor. Belgians brew with love and passion numerous variety of beer tastes. Nevertheless if you have an affinity for beers, you should definitely visit Delirium Café in Brussels. It's one of the main places to visit in Brussels because it has over 3.000 different brands of beer from over 60 countries. This unbelievable record found it's place even in The Guinness Book of Records.
5. Visit Museums in Brussels
Brussels is hiding a diverse amount of historical treasures, I could write an infinite number of pages describing it's breathtaking beauty. I will introduce you to a few, that left an impression on me. The Mont des Artes is an architecturally imposing complex of monuments with a wide gorgeous garden. From there you can enjoy a great view on the Grand Place and the historic City of Brussels. Close to this magical garden you can find the influential achievements of the great Belgian architect Victor Horta. His unique design now regarded as iconic examples of the Art Nouveau style. Horta's architectural masterpieces with borrowed motifs from nature are even featured on UNESCO's World Heritage List. You can also visit the Horta museum, which remains a magnificent scene of a fairytale.
If you have a bit more time definitely visit Museum of Natural Sciences.
6. Les Galeries Royales Saint-Hubert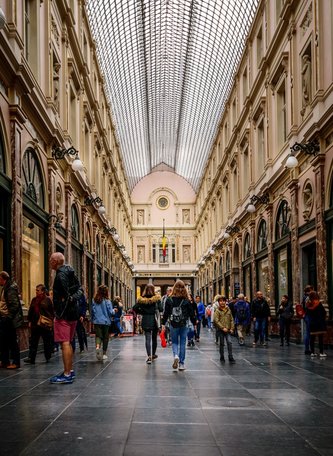 In a one day tour to Brussels you can't miss this place! Close to Grand Place you can find a famous and beautiful shopping arcade Les Galeries Royales Saint-Hubert. There are numerous luxury stores, lovely cafes and a theatre. It's the perfect place to do window shopping and buy some souvenirs.
7. Comic book murals
Belgium is famous for it's comic books and protagonists like the Smurfs, Lucky Luke, Tintin and many others. Throughout the city, you will find colourful murals dedicated to them. You can also buy a map of the city just for 1€ which will show you where all comic book murals are.
8. Brussels Coffee Scene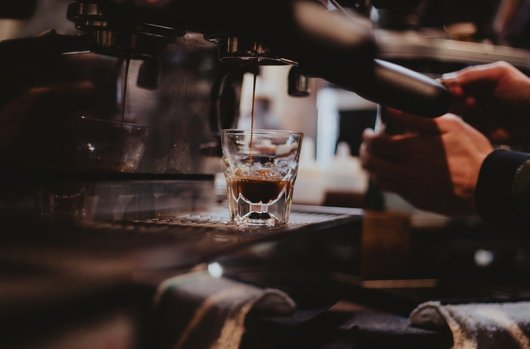 If you need a break from all walking just visit one of the amazing coffee shops in Brussels. Cafes like L'Atelier en Ville or Cafe Du Sablon take their coffee very seriously. These are ideal spots to have a break with delicious pastry.
9. Visit Parc De Brussels
If you are visiting Brussels during the summer don't hesitate to explore the beautiful parks of Brussels. It's a wonderful place to immerse into the peaceful vibes of the vibrant city. I would also suggest to visit Jardin Du Petit Sablon and Parc du Cinquantenaire.
10. Try Traditional Belgian Dishes
What to do in Brussels for a day? Of course try the traditional Belgian cuisine. There are two wonderful places where you can eat in Brussels that I would recommend: Mokafe and Peck 47. These are wonderful options for brunch or lunch. Mokafe will spoil you with wide range of traditional Belgian dishes on their menu. At Peck 47 you can taste savoury waffles with poached eggs.
Other beautiful cities in Belgium that you can't miss are Bruges and Ghent.