We decided to have 2 weeks of holidays to the mysterious island of Sri Lanka, because we've never heard much about it. For us it seemed a completely undiscovered place to travel, which people named "The pearl of the Indian Ocean" or some locals without any poetic soul "The testicle of India". In the end it just depends on your imagination. We found good flights to Sri Lanka with Sri Lankan Airlines, which are awesome.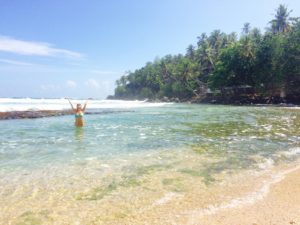 But before you also start planning your trip to Sri Lanka read some useful tips how easily to pack light.
Holidays in Sri Lanka offers everything to immerse into the quixotic tropical life: golden beaches, diverse wildlife with a large magnitude, tea plantations, cultural and architectonical treasures and healthy delicious food to savor. It was not always sunny in Sri Lanka though. First after the end of the civil war in 2009 and also the devastation from the tsunami in 2004, the island has become a more and more popular destination for travelers and honeymooners. Nowadays tourism and interest in Sri Lanka is growing every year.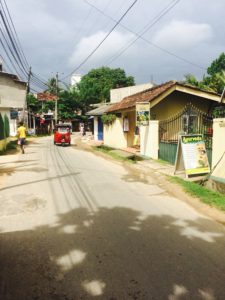 People & Religion in Sri Lanka
Interesting fact: The official name Sri Lanka, which means "Blessed Lanka", was adopted in 1972. It used to carry the proud name Ceylon, now we can only hear it if we talk about tea, which is also from there. The majority of the population is dominated by Sinha, practicing buddhistic cultural beliefs. As a result of diverse minority, Sri Lanka has always been home to multiethnic and multi religious societies.
Travel advice: Apply for Sri Lankan Visa
If you want to travel and see the Indian pearl with your own eyes, you should first apply for Sri Lanka visa, www.eta.gov.lk, which costs around 30€ and allows you to stay in the country for 30 days after entering it. Don't worry, if you fall in love with Buddhistic caves or one of the passing whales, you can always extend your visa.
Sri Lankan Currency
The local currency is the Sri Lankan Rupee, with notes such as Rs.5,000,  Rs2,000, Rs1,000, Rs500, Rs100, Rs50, Rs20 and Rs10. Make sure to change enough money, because there won't be many possibilities to use your credit card or to change foreign currency. Furthermore take care to have plenty of lower denomination notes so you can easily buy food and smaller items while traveling. Don't expect Sri Lanka to be as cheap as any other Asian country, the prices are pretty steep.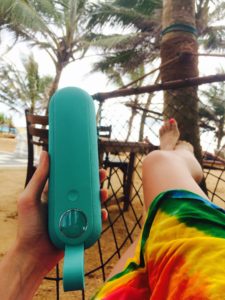 Sri Lanka has indescribably magnificent beaches with crystal clear water and golden sand. However you won't find parties everywhere on the beach, so just bring your own speaker. I brought my Libratone TOO, which has an amazing clear sound going in all directions and most importantly it's splash proof. It's easy to transport and it will grant you your life's soundtrack for up to 12 hours. Because we all know: No music, no fun!
Colombo, the Capital of Sri Lanka
Colombo is a capital of the beautiful island in the Indian Ocean, Sri Lanka. Be prepared for the hectic arrival though. The arrival starts with the traditional asian chaos in front of the airport: taxi drivers fighting for the biggest fish. Experienced travelers will know that there are always cheaper options to get to the city, Sri Lanka is no exception. There is a bus station on the left side when exiting the airport and the ticket costs 120 LKR, which is less than 1€. In 45 minutes you will reach the messy and loud city center of Colombo.
Make sure that you book a hotel room in the city, because the magnitude of Colombo could be deceptively large. Furthermore all touristic attractions can be found within. Beyond that, there is not much to see and that's why one day in Colombo will suffice. On the way to your hotel be aware to only use metered taxis and tuk-tuks. Even better if you will order Uber, it's so much cheaper and trustworthier.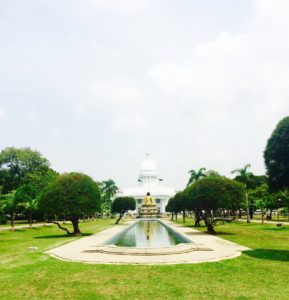 What to do in Colombo
In the city filled with insane traffic and crowded streets you will discover beautiful buddhistic temples like Asokaramaya Temple and Gangaramaya Temple. If you prefer tranquil surroundings then you definitely need to visit Viharamahadevi Park, where you can observe tropical botanicals and sip on some delicious freshly prepared juice. Next to it you will find Colombo National Museum.
Best things to do in Kandy
Sri Lanka is a pretty big island but despite this it's easy to travel around. The beloved way of traveling is by using the train. If you want to feel like a VIP and have a ride in first class then be sure to purchase your ticket one day before. There is a limited amount of available seats. I am more of an impulsive traveller, that's why I got my second class ticket, which is not so bad at all, just 40 minutes before. It's better to be earlier in the train station so you can get a place to seat. Trains in Sri Lanka have a tendency of being filled to the brim. The timetable of the train can be found on Sri Lanka Railways.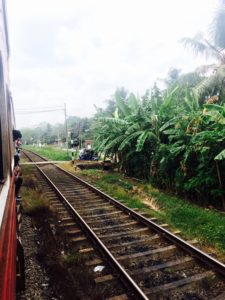 If you don't want to carry your luggage and you would like to reach your accommodation for a very fair price then don't hesitate to contact the friendly local guy Sanath. He can also be your guide for the whole day showing you the best of Kandy. For 30€ you will not only discover the city's interesting touristic spots but also local insiders, for example where to change money for the best rate and where to try local food, without getting poisoned. You can reach him via email: nokiatours@gmail.com or mobile phone: +94 71 476 11 39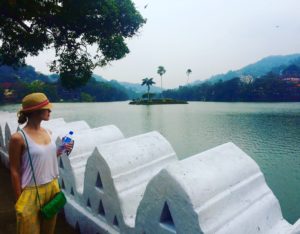 You can decide where exactly your journey should start. The best beginning to get acquainted with the city is to see Kandy Lake and visit Temple of the Tooth. Very important if you want to enter this holy domain, you should cover your legs and shoulders. This concerns both genders. I've seen many temples during my travels around Asia, that's why the 40€ price tag dissuaded me from entering and seeing the ceremony within.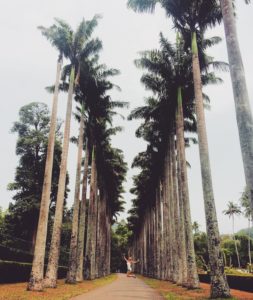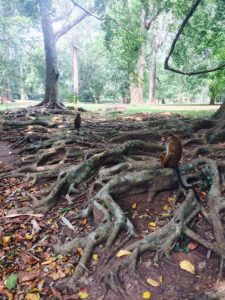 Points of interest in Kandy
A highlight of Kandy that's definitely worths it's price because of it's unique greenery are the Royal Botanical Gardens. For 10€ you can get lost between gigantic palms, extraordinary plants and exotic animals for hours. Orchid lovers will find themselves in Eden: the garden presents numerous different species of the elegant flower. On the tremendous space of 147-acres you can observe sensational trees like the Javan fig tree with it's roots resembling huge tentacles, the Giant Bamboo of Burma, which is capable to reach a hight of up to 40 meters. Some trees reminded me of Tim Burton's cartoons, because of their curved shapes. There is also an area where famous people like Queen Elizabeth !! or Yuri Gagarin have planted mesmerizing trees.
Ceylon, tea of Sri Lanka
Sri Lanka is also famous for it's delightful tea, that's why I definitely recommend to visit the Kadugannawa Tea Factory. Visitors can have a free guided tour through the procedure of tea processing from the leaf to the infusion. I was surprised to find out that of the same plant you can get around 9 different tastes of tea. Both black and green tea are made from the same plant too, the difference is that the green tea goes through a minimum level of processing, while black tea goes through fermentation. As a result green tea has less caffeine and more antioxidants, which may prevent cancer and other diseases. By the end of the tour you can taste the delightful tea with a local sugary-honey candy and of course also purchase the various sorts of qualitative tea for a fair price.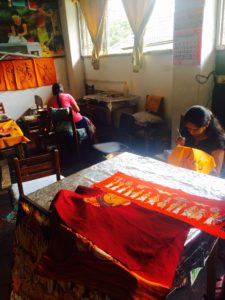 If you are interested in gems, then you can get to know Sri Lanka's sapphires and moon stones a bit closer. There is a gem factory, where you can have a free guided tour and also purchase the colorful stones. Nevertheless it's more about the jewelry shop than a museum. If you are more interested in spending money on some art or maybe just to get to know the Batiks of Sri Lanka, then you doubtlessly need to visit one of the factories. Batik is a complicated procedure of painting onto cloth with wax and afterwards colours. It takes from seven days until two months to finish the pattern and the result is astonishing.
Ayurvedic & Herbal gardens in Kandy
You probably thought that there will only be the factories but no, there is one more: Ayurvedic and herbal gardens. By living in the city and getting our medicine from pharmacies, we forget that nature has answers for everything and it's also the best healer. Having a tour through the medicinal plants garden, you will get to know which mixtures will help to solve your problems.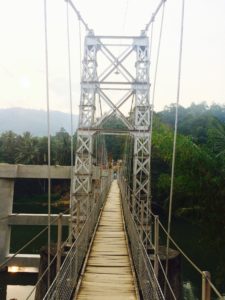 Where was filmed movie Indiana Jones
Another interesting fact about Kandy: One of the bridges was used in the legendary movie "Indiana Jones and the Temple of Doom". The famous bridge was constructed by the movie crew and after the filming was over, they left the construction behind, so the locals could use it.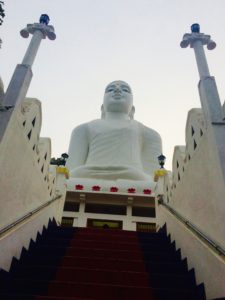 The last stop of the day tour ended by visiting Bahiravokanda Vihara Buddha Statue located on the top of the hill. The gigantic statue is one of the tallest in Sri Lanka and it's visible from everywhere in the city. It's especially amazing to see the huge Buddha at night, when it's lit up in the darkness. From the top of Bahiravokanda, which means "devil's hill", you can observe an astonishing panoramic view.
Train ride from Kandy to Nuwara Eliya, stunning scenery of Sri Lanka
In the morning we took the train in first class towards Nanu Oya. After almost four hours we arrived at our destination and immediately one of the locals offered his taxi service, before we could even leave the platform. We got informed that the average price to get to Nuwara Eliya, or how the locals call it "Little England", is 600 LKR.
Nuwara Eliya, which means "City of Light" is located on the top of the mountain, which is around 2.000 m above sea level. That's why you shouldn't expect tropical hot climates, but a misty-mountain atmosphere. Since 2012 the area's popularity with tourists hast started to rise, directly influencing the increase of guest houses being built and the land's value going up. At the moment Little England's houses and structures resemble those of colonial times but who knows what will happen in a couple of years.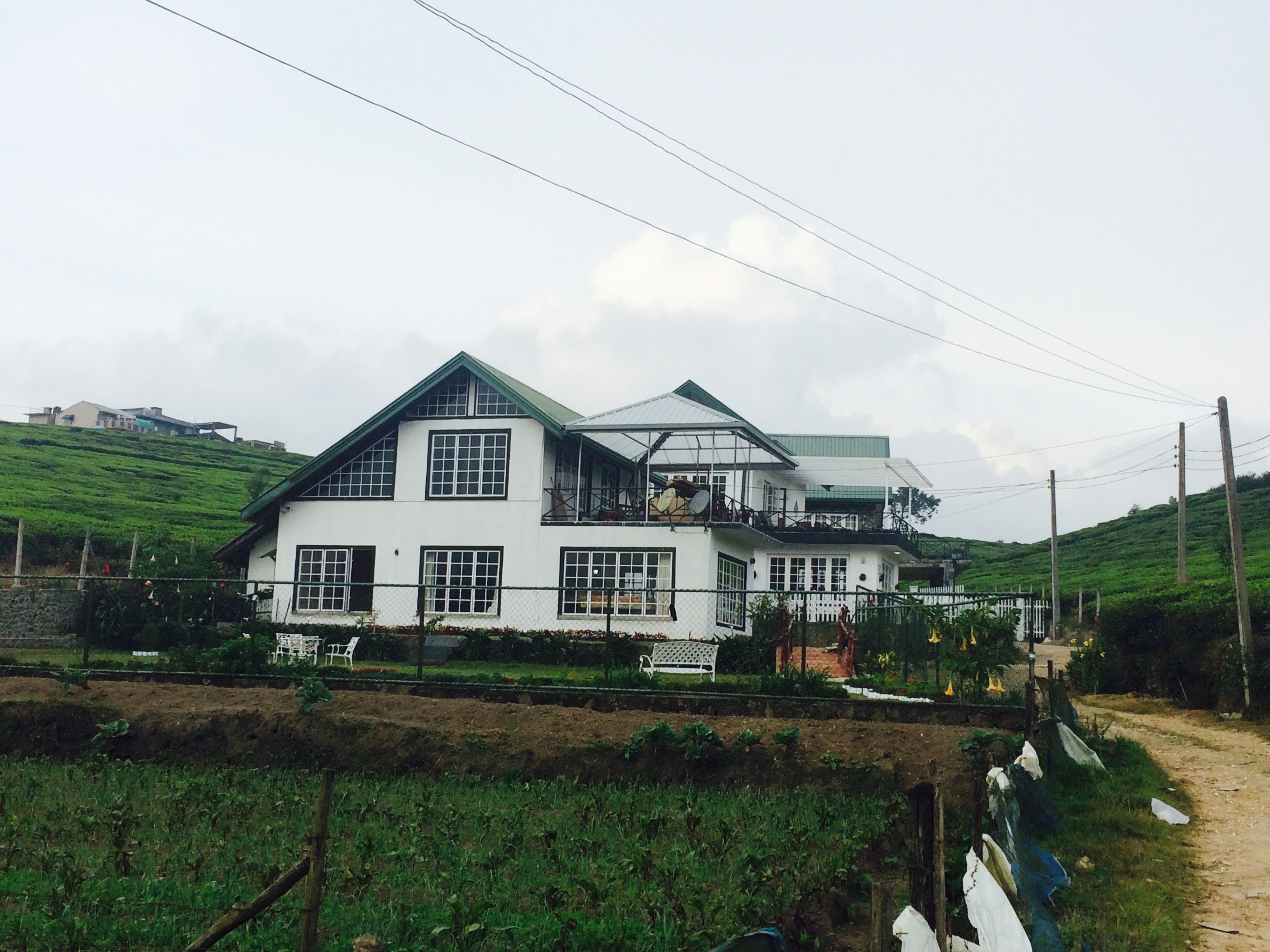 Where to stay in Nuwara Eliya
Nuwara Eliya is an ideal place to escape reality and immerse into the infinite tea fields and enjoy a country style life with horse riding and playing golf. I would suggest to stay two-three days at homely Villa Tea Fields with it's luxurious rooms, a beautiful terrace overlooking the tea fields, a delicious breakfast and great service. The place is a bit out of town but you can easily reach it with tuk-tuk for 250 LKR.
Terrific Beach Holiday in Sri Lanka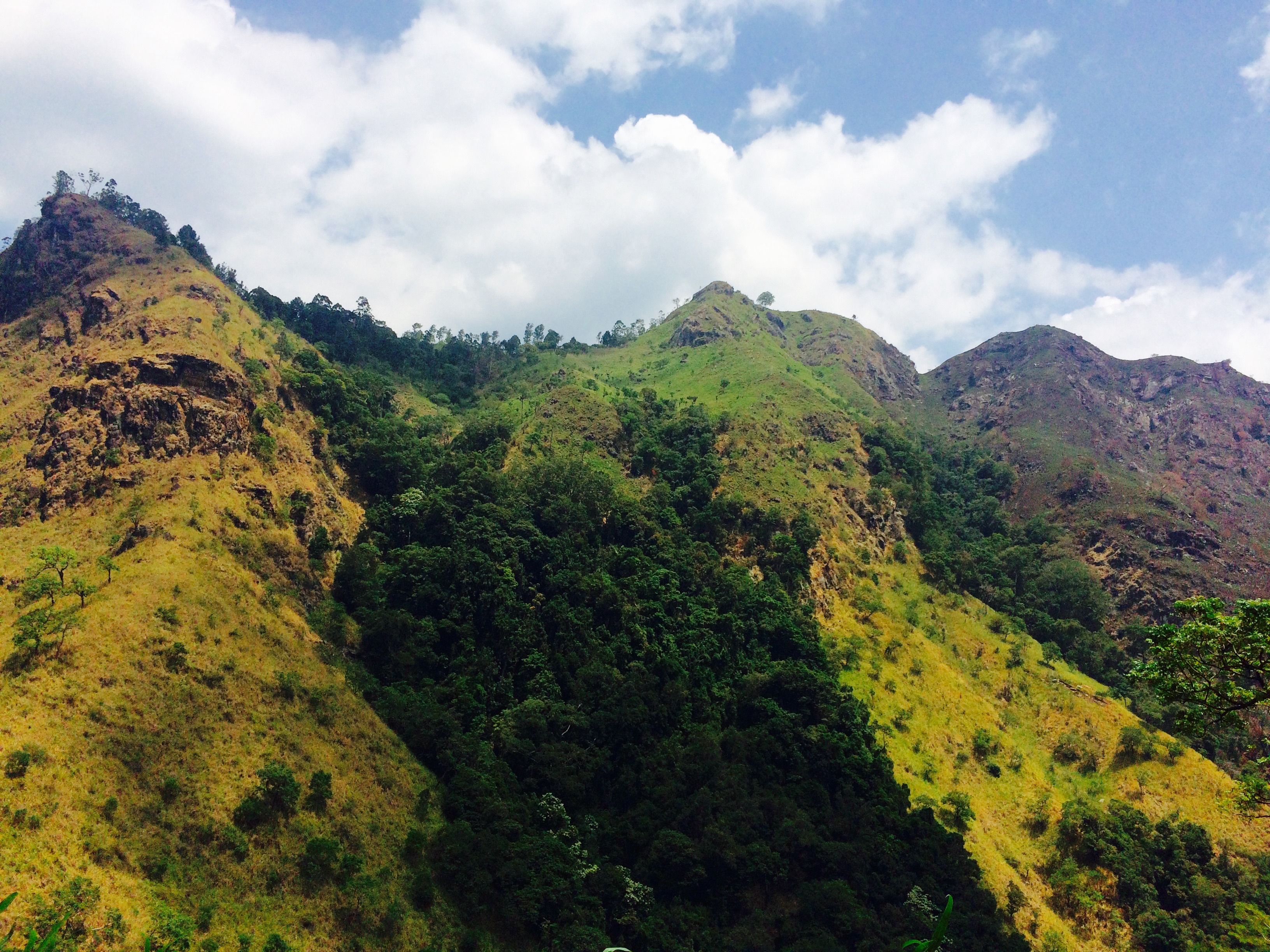 How to get to beautiful Mirissa Beach
It's not so cheap to leave Nuwara Eliya and head towards the south coast. Nevertheless you will discover plenty of mesmerizing natural sights like Adam's peak, splashing waterfalls and cheeky monkeys along the way. We had a wonderful Taxi driver Nihal, who told us a lot about Sri Lanka's areas and gave us a decent price of 13.000 LKR (the average price is 17.000 LKR – 110€) to bring us to Mirissa. If you are there, you can easily reach him on this number: 0776943530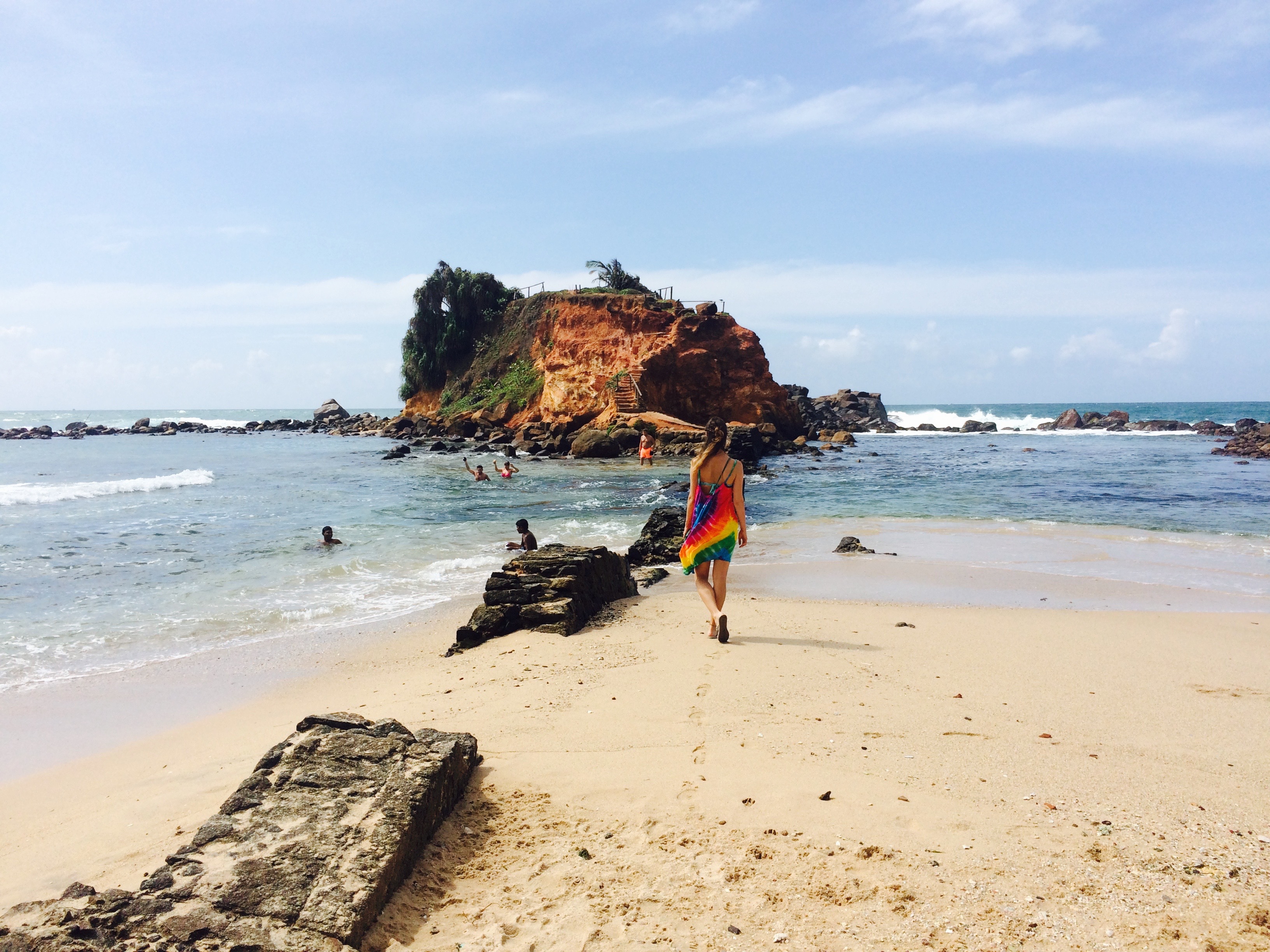 You can also take a bus to Matara, which will take around 6 hours drive but the roads are very winding and not always in the best condition, so it won't be a pleasant journey. You will get what you've paid for.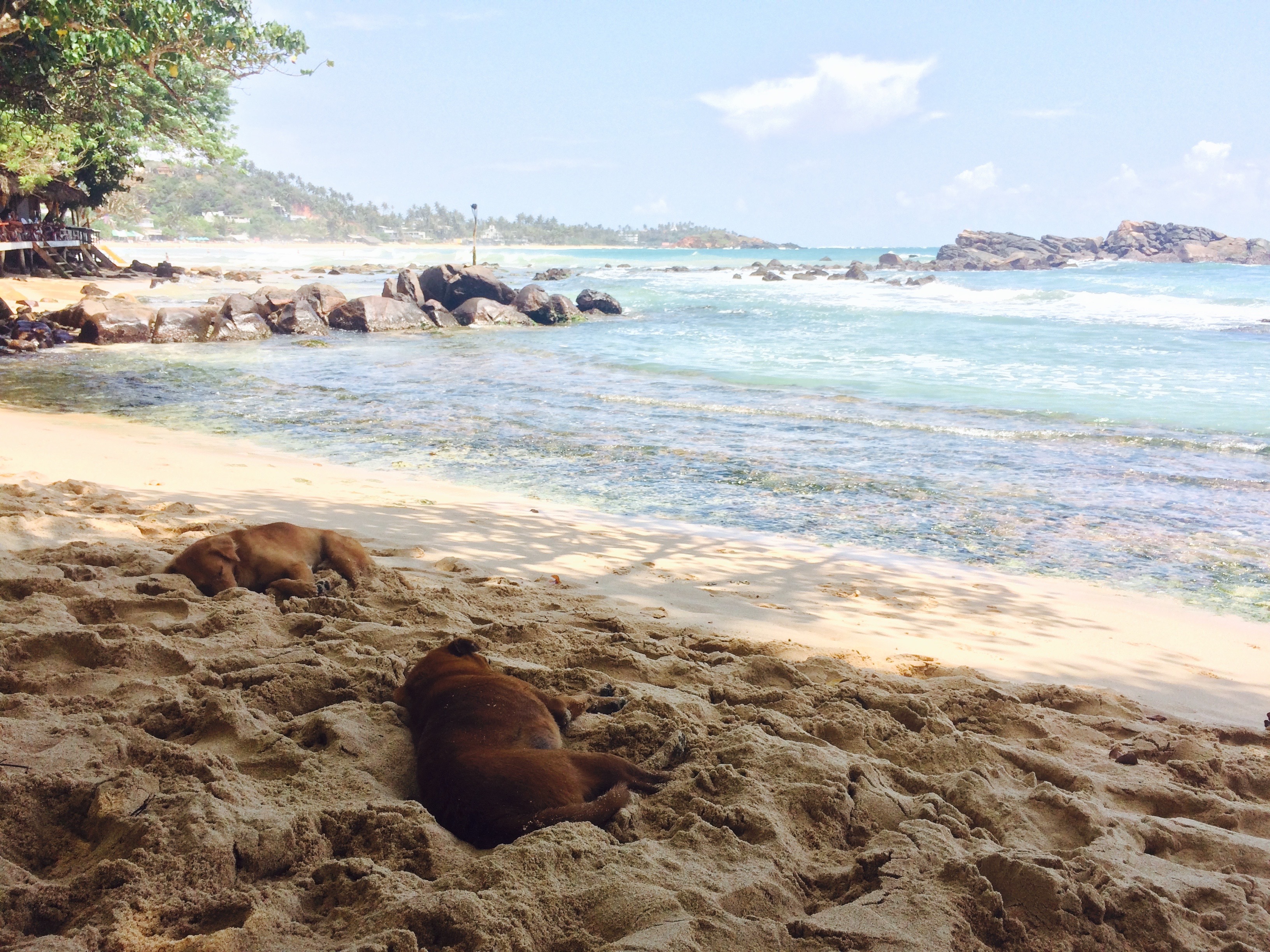 Best beach in Sri Lanka, Mirissa
Mirissa is a utopia for beach lovers. The small coastal area is filled with a string of modest guesthouses, beach cafés along the sand with food for a change, not only Sri Lanka's cuisine and pretty good waves during the off season for surfing. You can lay in the hammock with a refreshing coconut or have a swim in the crystal clear water. It's also possible to experience memorable attractions like whale watching, just be sure that it's whale season. Here it's all about relaxing, sipping on cocktails during the happy hours and savoring seafood with the golden sand under your feet. If you are searching for a wild party then it's the wrong place for you.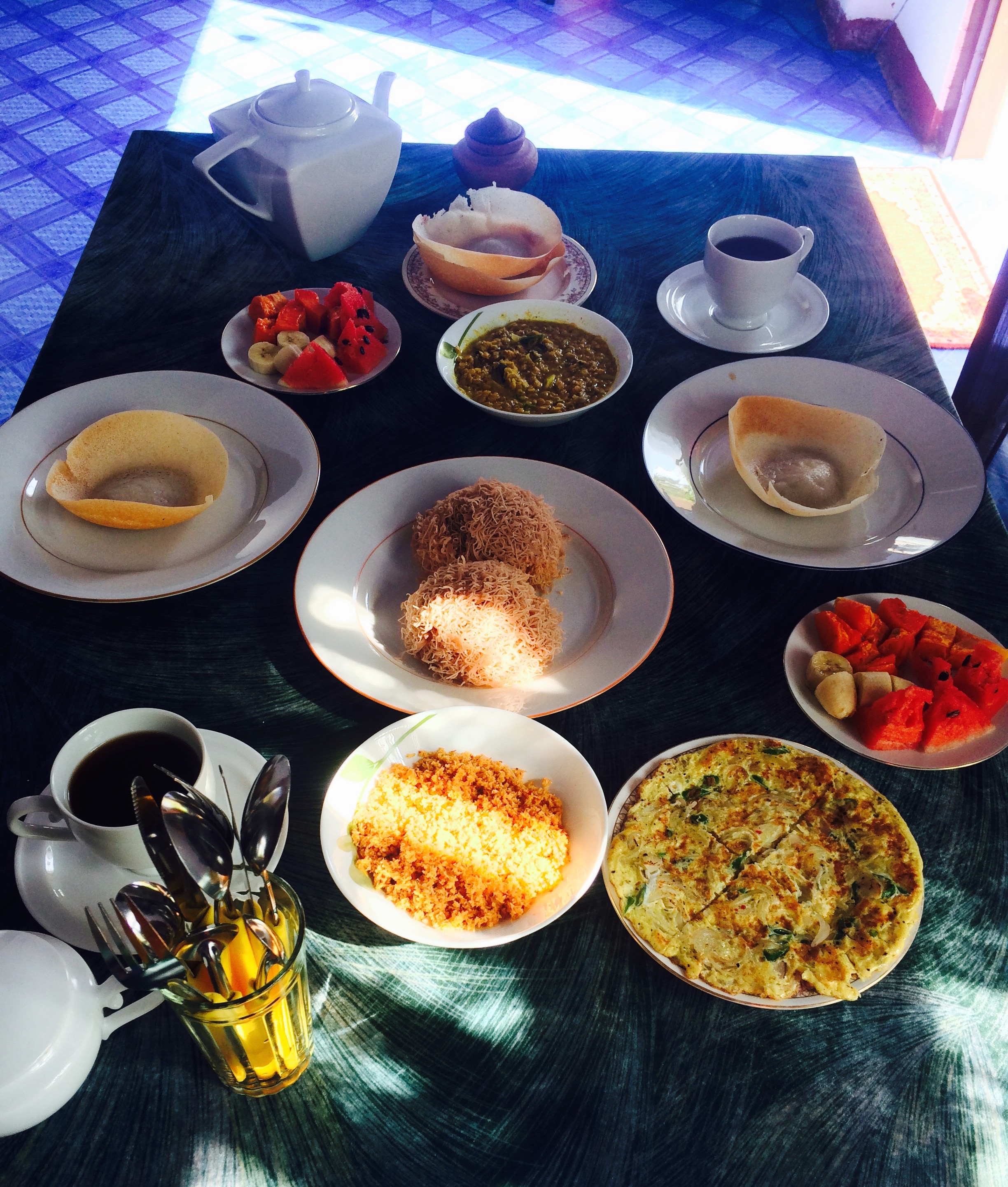 Where to stay in Mirissa, Sri Lanka
We stayed at homely Villa Ishara In Mirissa. The rooms are simple without luxurious facilities and no air conditioner but the owners are incredibly heartwarming and care taking. They will provide you with an amazing plentiful local breakfast and interesting stories about the country.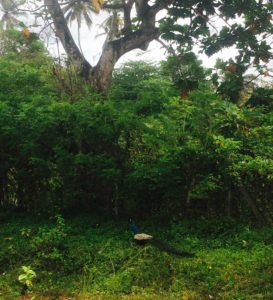 Tip: The sun on the coastal Sri Lanka is very strong, definitely take sun protection at least factor 30.
Travel to Sri Lankan beach towns like famous Unawatuna
On the next day, after a delightful breakfast we decided to be extremely adventurous and reach our next beach destination Unawatuna by public transport. The bus station is right in front of the guesthouse's entrance, where we were staying. For 65 LKR you will enjoy a unique experience in the form of a wild bus ride: A chaotic but well oiled machine. Just take bus 350 towards Galle even if you are carrying heavy luggage, it will be deposited in the trunk by the bus attendant.
Of course you can travel in a more comfortable way like taking a Tuk Tuk for 1000 LKR or a taxi for 3.500 LKR. In my opinion for a distance as short as this the bus is worth to experience, so you will have money for more delicious rotis.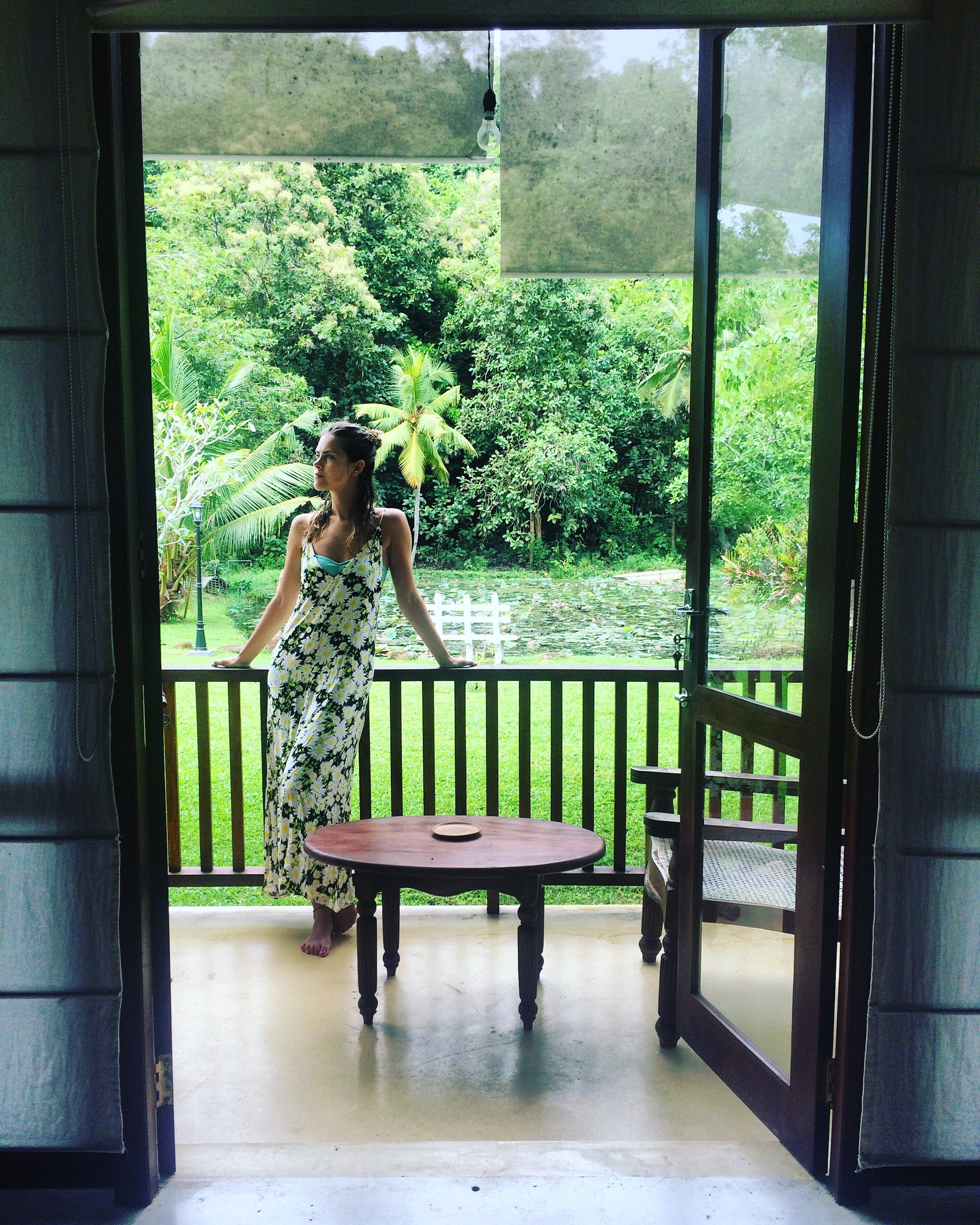 Where to stay in Unawatuna
We were staying at Nooit Gedacht Heritage Hotel and lucky us the bus stop is just in front of it. We decided to book a room in this resort not only because of the attractive price, the main reason was the swimming pool. We were surprised how big the hotel complex is and how amazingly they combined it   with a jungle feeling. The friendly service, refreshing welcome drinks and big, well furnished room made our day, so we decided to book an extra day.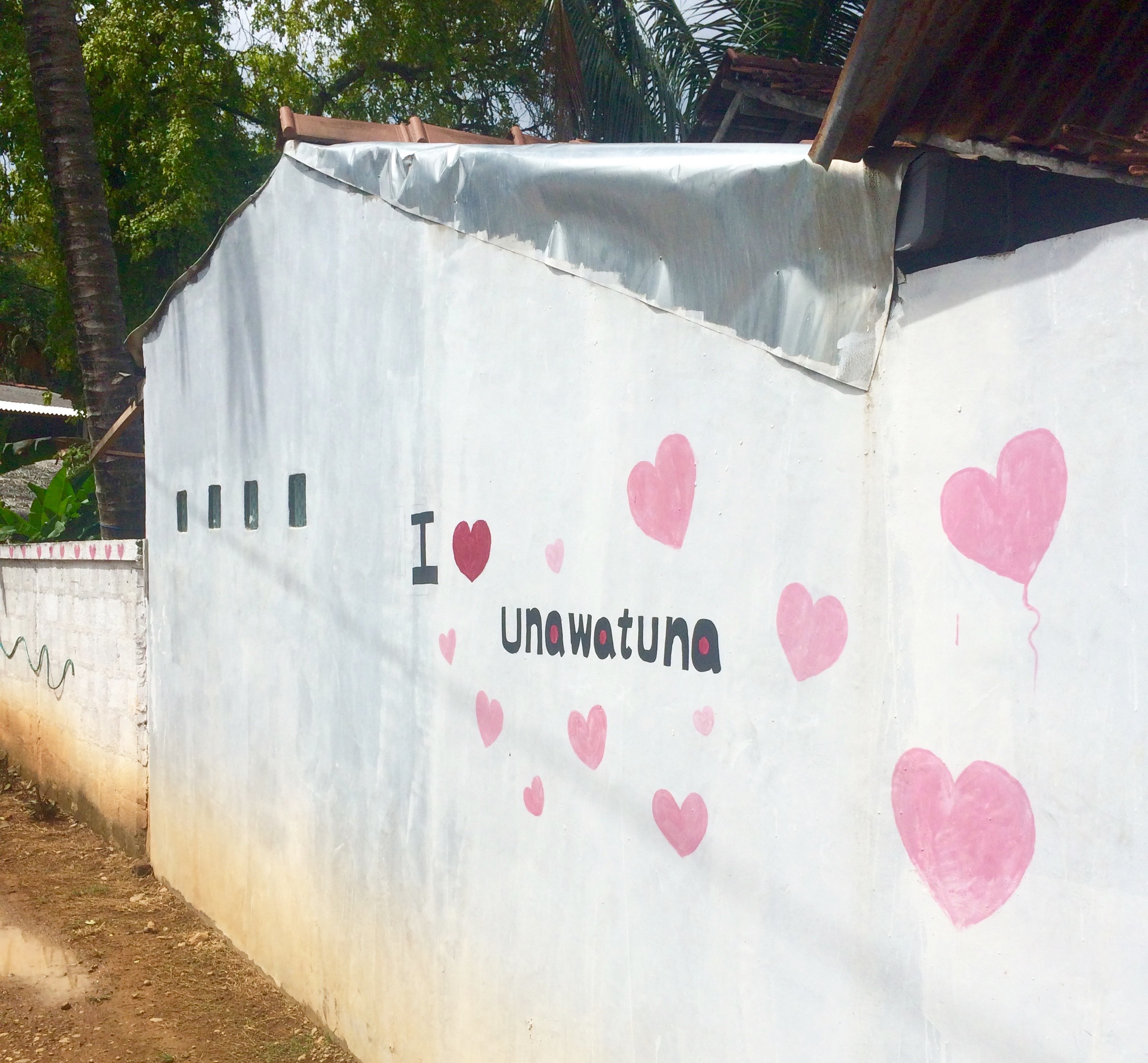 Food in Sri Lanka
Afterwards you can stroll through the street full with various shops and cafés towards the beach. Don't miss one of the tea shops with the friendly local owner Haris and his young son, where you can taste different sorts of teas and in the end purchase them. Ask Haris about anything, he will give you honest answers and tips and tricks about Unawatuna.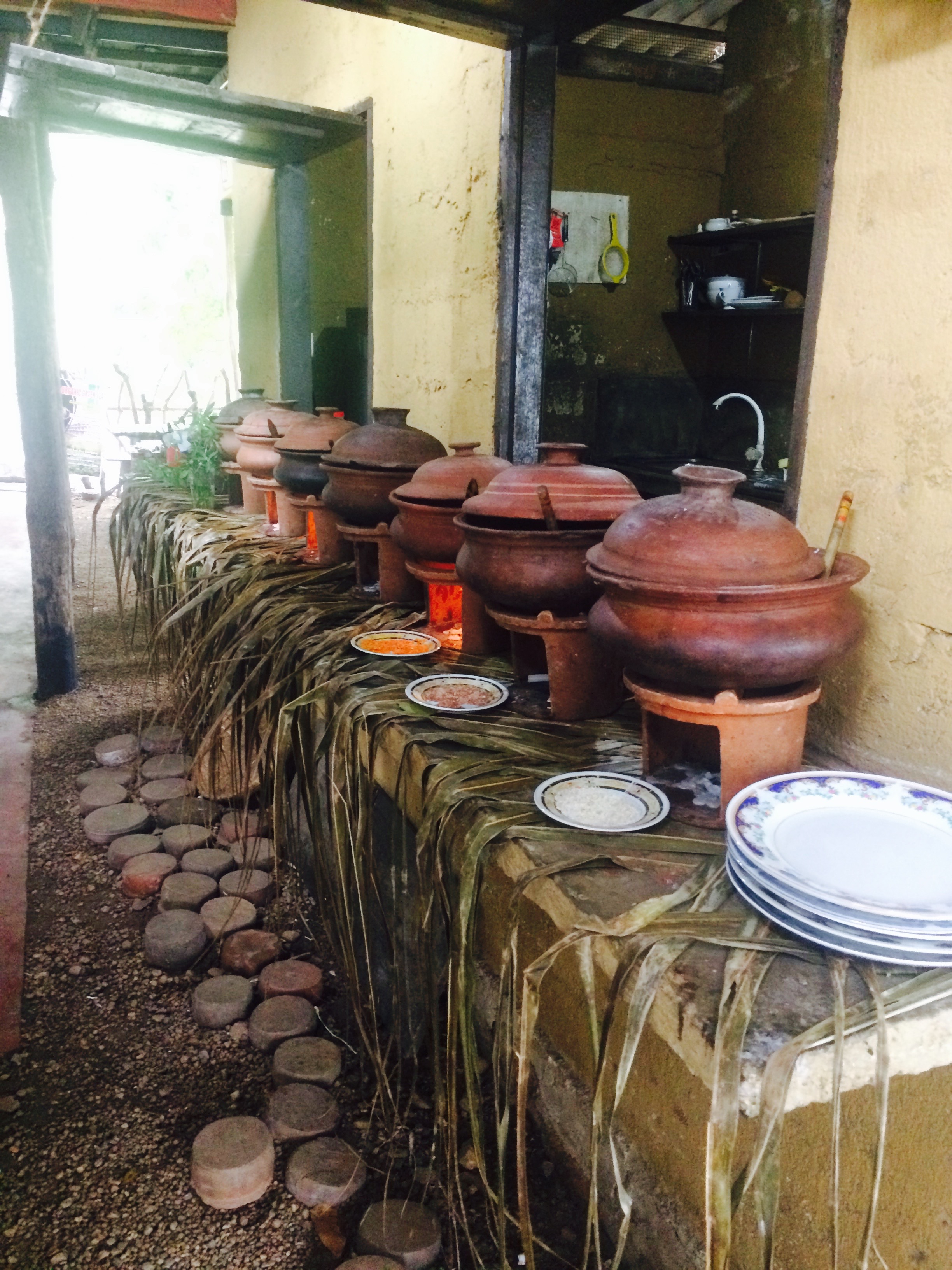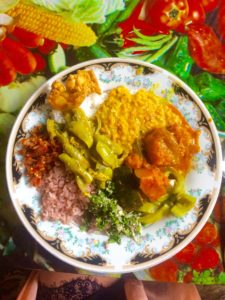 As I already mentioned Sri Lanka is not a cheap country, the restaurants have similar prices as in Europe. But we managed to find a great all-you-can-eat Mati Gedara Restaurant for a fantastic price of 350 LKR. Don't be suspicious and try this buffet of Sri Lanka's best. Every day they will surprise you with new dishes.
You can also visit the Herbal Garden, where you will get to know different healing elixirs provided by Mother Nature and prepared by herbal magicians. For the girls, there is an answer for your hair growth problems on the areas where it shouldn't be: A herbal creme, that will remove your hair for the next three years. As I said, magic!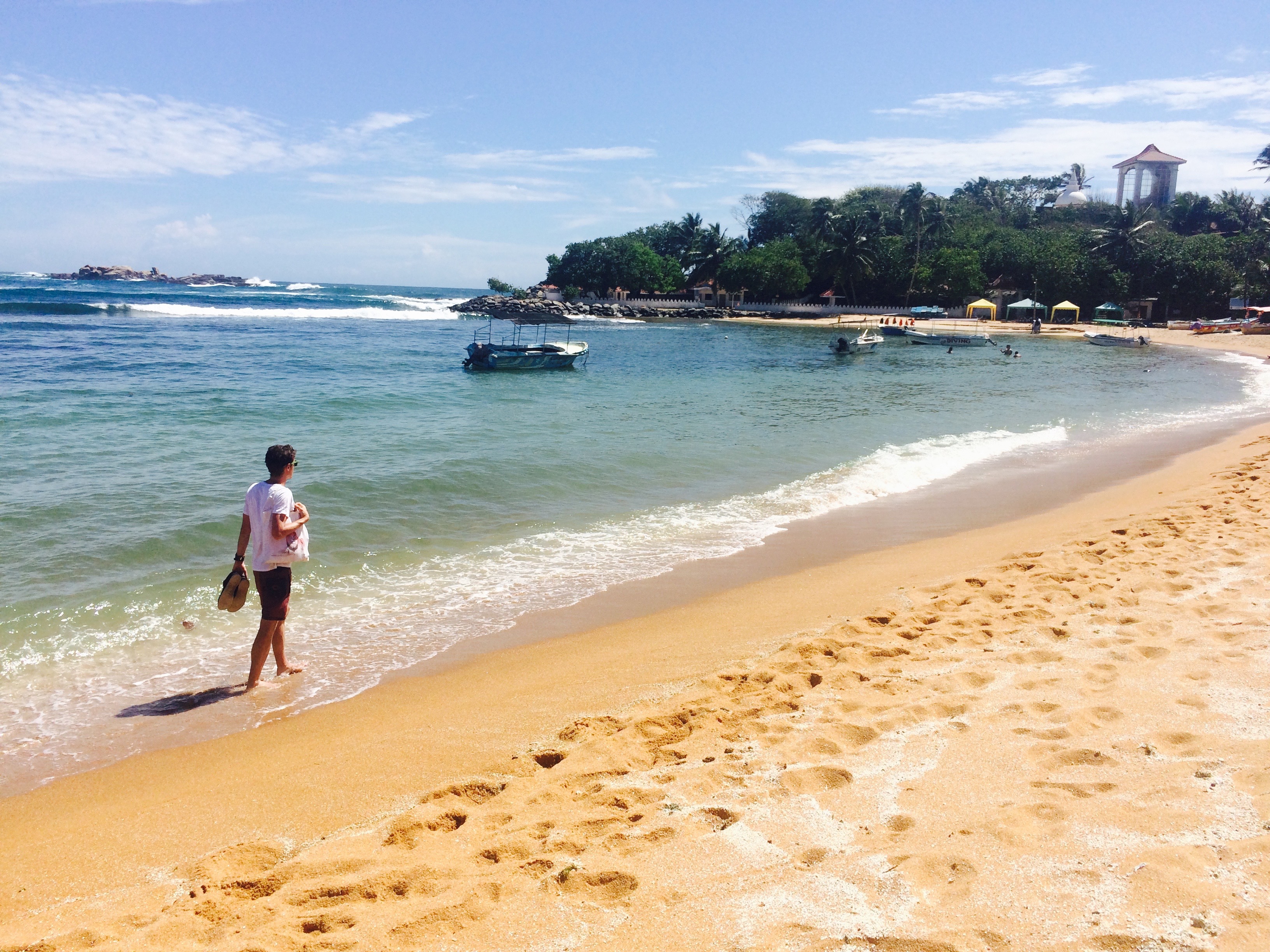 There are two main beaches in Unawatuna: Unawatuna beach and Jungle beach. The first one resembles an enormous golden sand path with numerous cool beach cafés and restaurants. It´s very touristic, most of the locations are equipped with comfortable beach beds and there are plenty of locals trying to sell you various items like coconuts or bracelets. If you walk along the coast you will reach Pagoda with a huge Buddha sitting inside comfortably. This monument was built by Japanese monks as a sign of peace between all nationalities after the cruel war.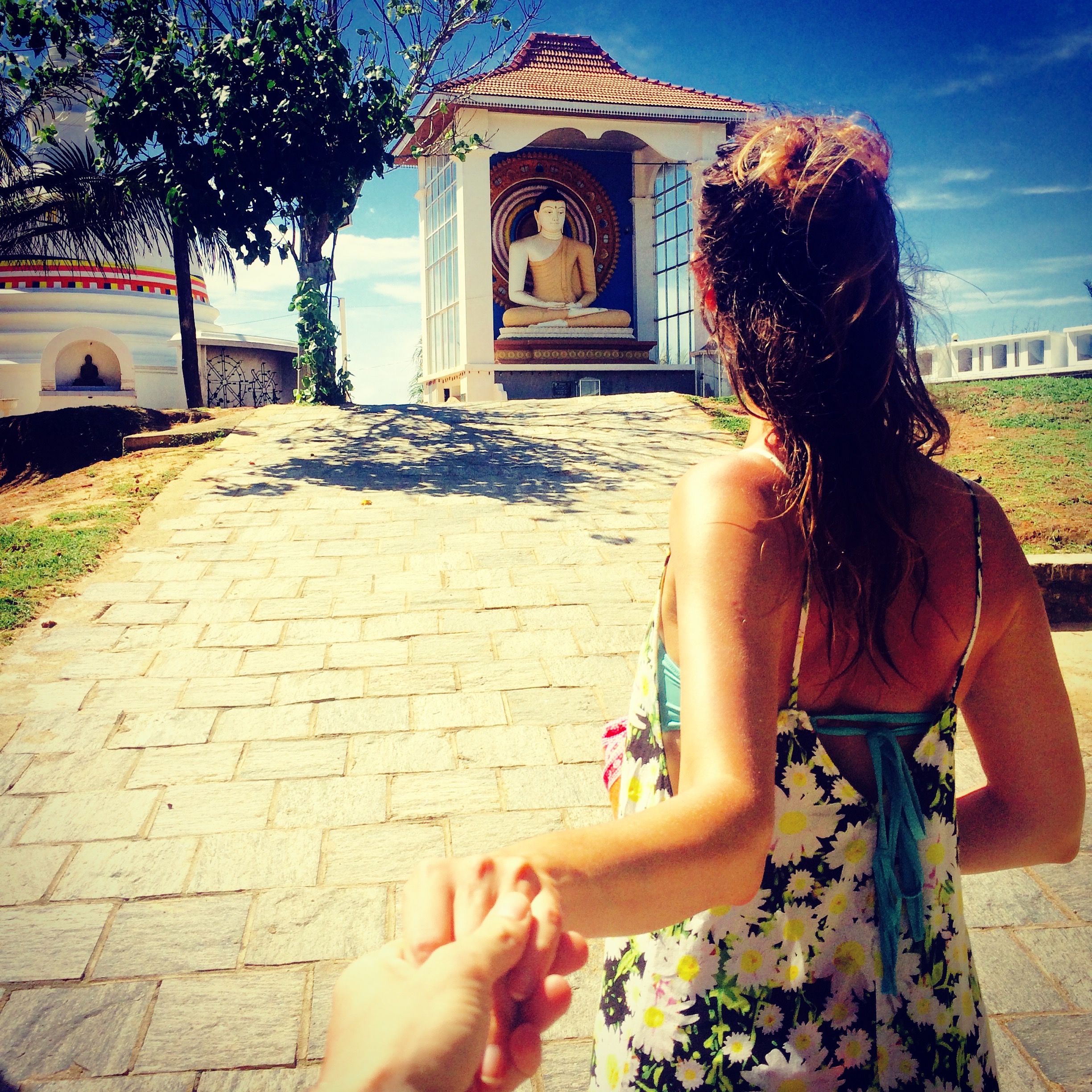 The Jungle beach lies beyond the Peace Pagoda and is an epitome of a small quiet paradise surrounded by the tropical trees and plants. I should say, personally I prefer Mirissa beach, because of it´s hippie atmosphere and it's cute compact size. Unawatuna is beloved by many tourists, especially those who are traveling with their kids. Nevertheless two nights in Unawatuna definitely won't be torturous.
Tip: Send a postcard to your friends or family members, it costs only 25LKR from Unawatuna, so almost nothing. You won't get poor and you will make someone smile.
Did you know:  Sri Lanka ranked top country for travel in 2019 by Lonely Planet
You can visit plenty of different mesmerizing beaches in Sri Lanka like Bentota and Hikkaduwa. Unfortunately we didn't have time to admire them with our own eyes but all of them you can reach easily and cheaply by bus or train. My advice, start the journey on the island with the beach sides going South from Colombo. It's more convenient and not exhausting at all. As the start you can book 1 night in Colombo and 2 nights in Bentota. Afterwards you can start planning where you would like to go next and how long your duration on each specific spot should be.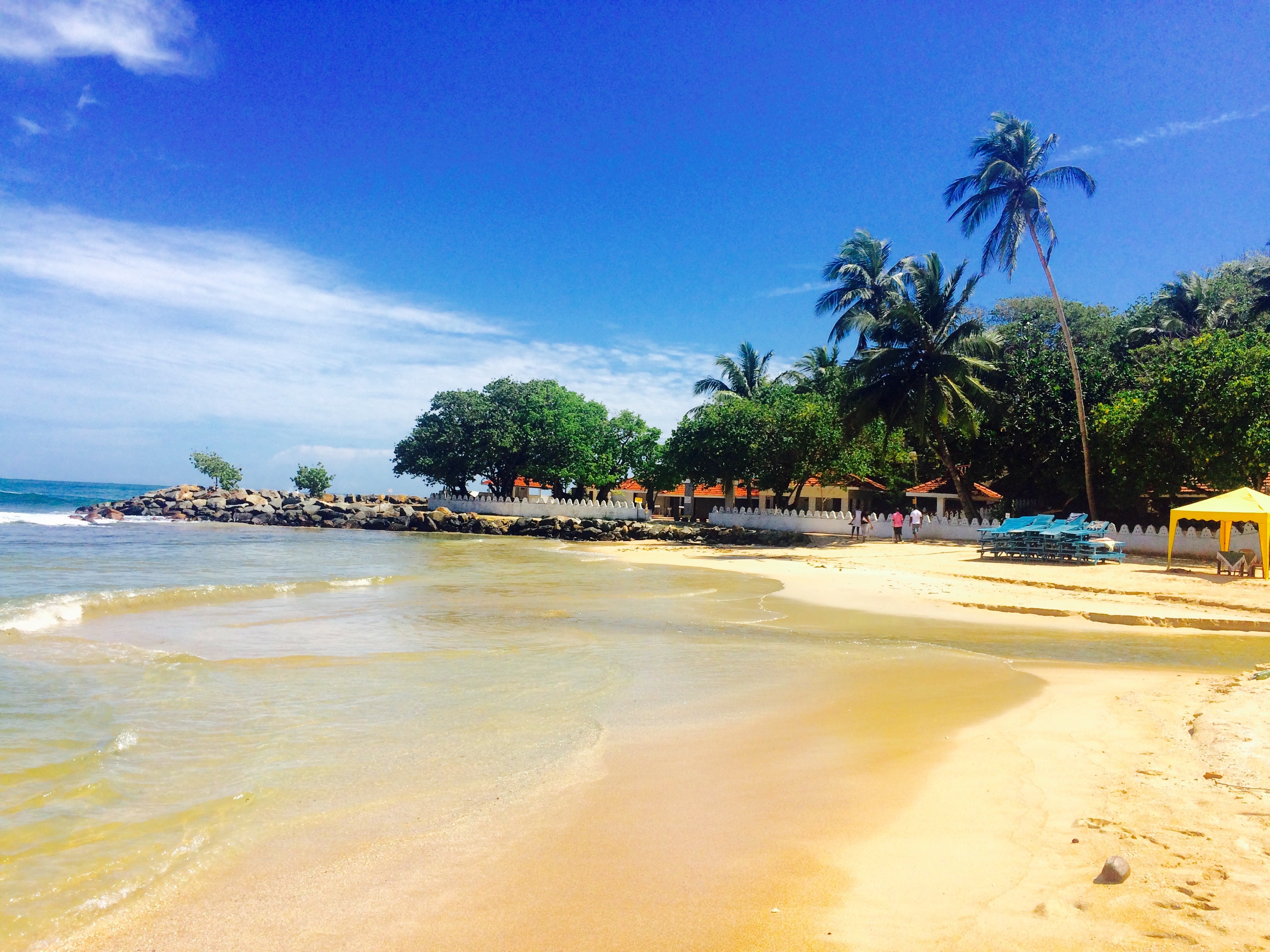 People of Sri Lanka
Generally speaking people in Sri Lanka are very friendly and helpful, nevertheless be aware of Colombo's rough side. Surely they would ask for higher tuk tuk prices everywhere, you should just inform yourself what is the average fare in the area. This is a standard everywhere in the world.
I wouldn't call Sri Lanka a perfect honeymoon destination as I found it on world wide web. There are doubtlessly many other places with more beautiful beaches, nature and lower prices. But it's fine to travel around and explore the country. Just please don't be antisocial and don't throw your rubbish and cigarets on the streets. Be respectful towards our splendid nature and don't forget you are a guest in a foreign country.
Still searching for some travel inspiration: How about to visit Maldives on a budget?