Sometimes you should be tricky and cheeky to achieve something, especially in the case of easy packing tricks! Why should you feel like a donkey every time you leave for a new adventure? Traveling should be fun and entertainment supported with a compact, light bag full of useful things. Right, useful things and not with something that may or may not be necessary. These tricks will help you to avoid overpacking and to focus on the most important part, adventure!
1.Trick: A bit of planing never harms packing
It may sound monotone and boring, but planing what you are going to do on your trip and writing it down, will help you to be prepared for all scenarios. No doubt, you can also do it mentally, but visualizing always helps to keep track of the whole situation. Additionally check the weather, this is a crucial factor for your planing.
2. Trick: Be yourself and bring planned outfits
Some of us associate traveling with breaking free, it means we can be different at a new place. There is nothing inadequate about being more open and chatty, but it's better not to experiment with your outfits. Travelers intention is to always  save space and time, it means preplanning and organizing your whole outfit is crucial. Having a trial for the clothes that you are not wearing home and taking random pieces will leave you disappointed.
3. Trick: Keep rolling, rolling, rolling while you are packing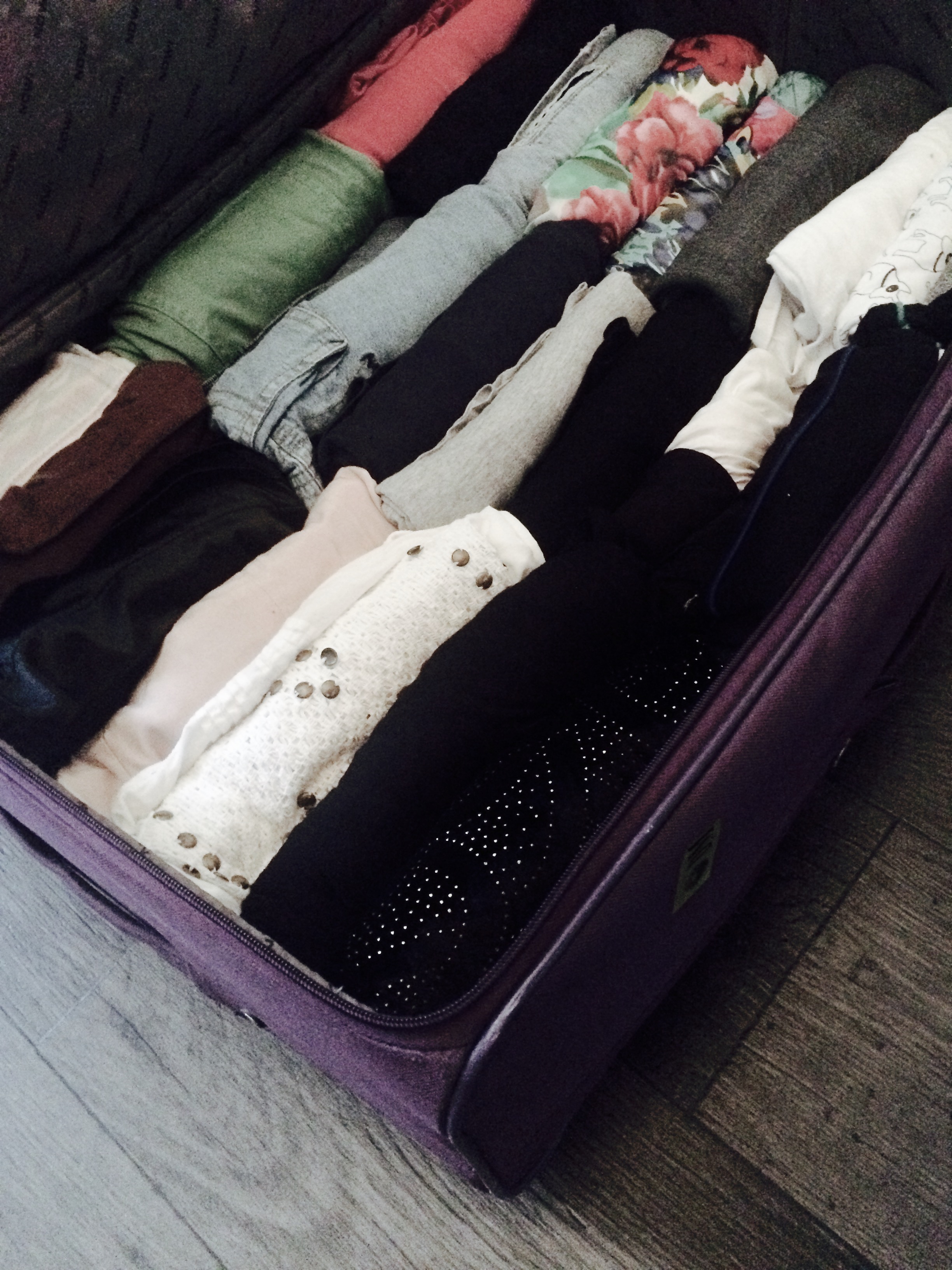 I've read about it many times but never thought it would be efficient for packing to roll up your clothes. This is a miracle and it saves space and leaves fewer wrinkles in comparison to folding. But, a more effective way is to combine both the folding and rolling methods, if you are going for a vacation longer than 1 month.
4. Trick: Mini toiletries are essential for your packing list
Travel-sized toiletries can sound like nothing new for you but it's the best possibility to save space. Furthermore we tend to forget about them, so by the end we just take what we have at home such as big and heavy shampoo bottles. There are two options: Be sure that you need all of these toiletries, if you are staying at a hotel, they might provide you with essential toiletries. The second one is cute separate travel-sized bottles,which you can refill with your own products from home. Voila!
5. Trick: Skip superfluous items
I always ask myself why do people take pajamas with them on short trips or even a 2 weeks vacation if they are going to stay in a hotel anyway? Leave it and let your skin breath again!
6. Trick: Make your travel buddy to your packing buddy
You have a company while you are traveling? So why not to make your company useful and transform it into a win-win situation? Split up the goods like phone charger, other electronic devices, toiletry items, sun creme etc.
Thinking what to take with you for your next weekend trip? Check my The Ultimate Weekend Travel Packing List