Explore Curacao off the beaten path
If you want to explore Caribbean islands then travelling to Curacao would be a great idea. This tranquil oasis is located outside the hurricane belt, about 90 miles away from Venezuela. It has over 35 beautiful beaches, great diving spots, great weather all year around and amazing Dutch colonial architecture in the historic old Willemstad which is also UNESCO's World Heritage since 1997. The name of the island is derived from the Portuguese word for heart (coração) which means this beautiful paradise will remain deep in your heart after you visit it!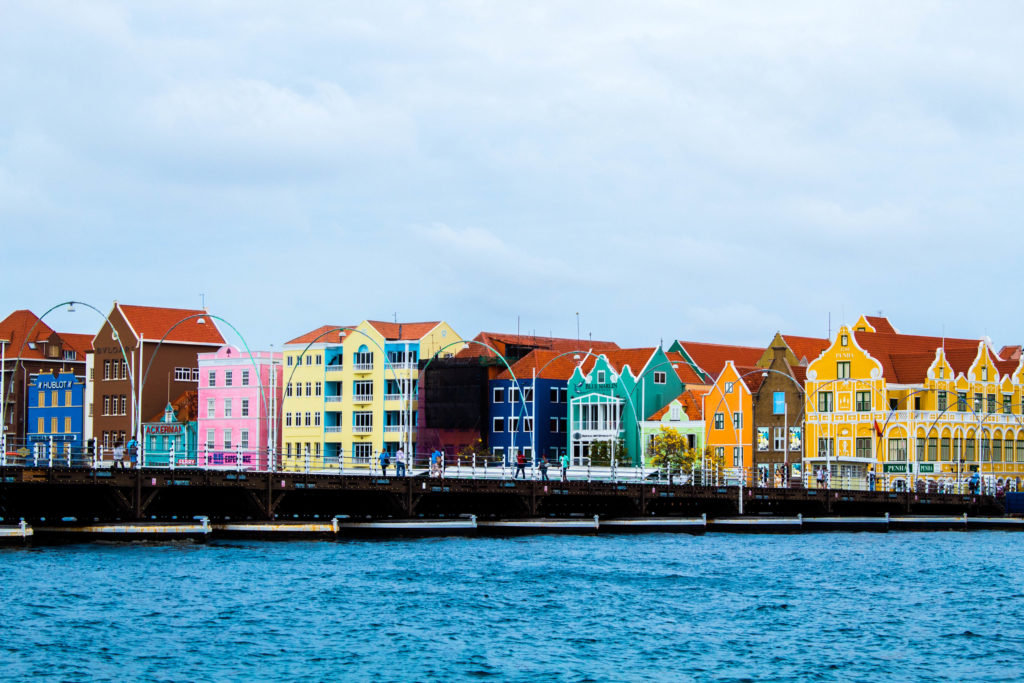 Curacao feels like a small but very colourful piece of Europe dropped in the Caribbean Ocean. Everyone around speaks mainly Dutch or the local language Papiamento nevertheless everyone communicates fluently in English and even Spanish. This little heaven on Earth is a habitat for friendly iguanas, cute hummingbirds and lovely sea turtles. The 444 square kilometres long island welcomes it's tourists but never becomes overwhelmed with travellers, which is great!
All you need to know when you travel to Curacao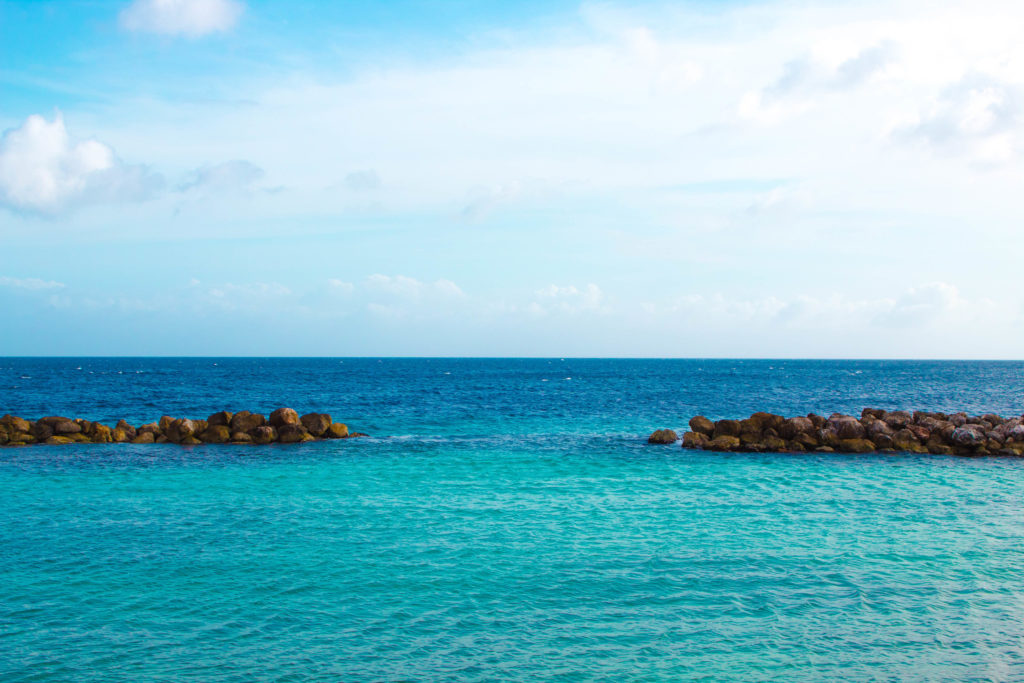 First of all when you plan your visit to Caribbean's paradise island, Curacao choose the best time to fly. Curacao is located close to the Equator and has about 27°C all year around with a refreshing wind. It's advisable to bring very strong sunscreen with SPF 30 or 50. The rainy season starts from October to February but has only occasional showers mainly at night. The most popular vacation months are December through March. Low season and in my personal opinion the best time to visit Curacao is May.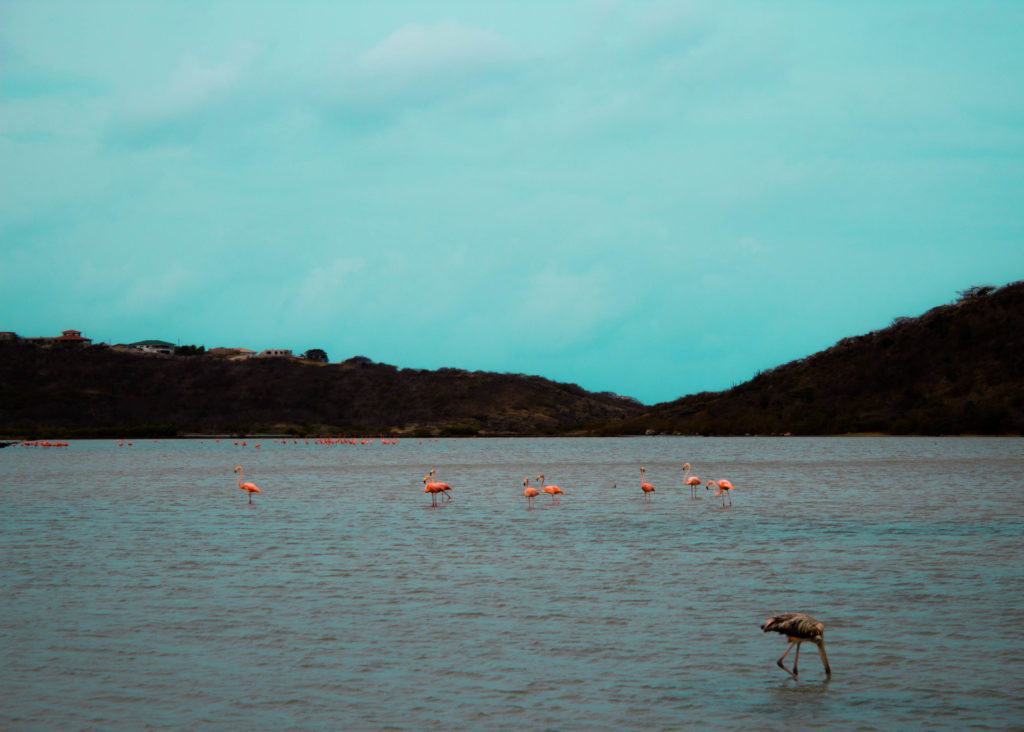 The local currency of Curacao is Netherlands Antillean Guilder but American Dollar is also accepted everywhere. Nevertheless if you purchase something in Dollars you might get Guilders back.
Important to mention that tap water in Curacao is drinkable. Furthermore you can have free cold tap water at every beach bar.
Driving in Curacao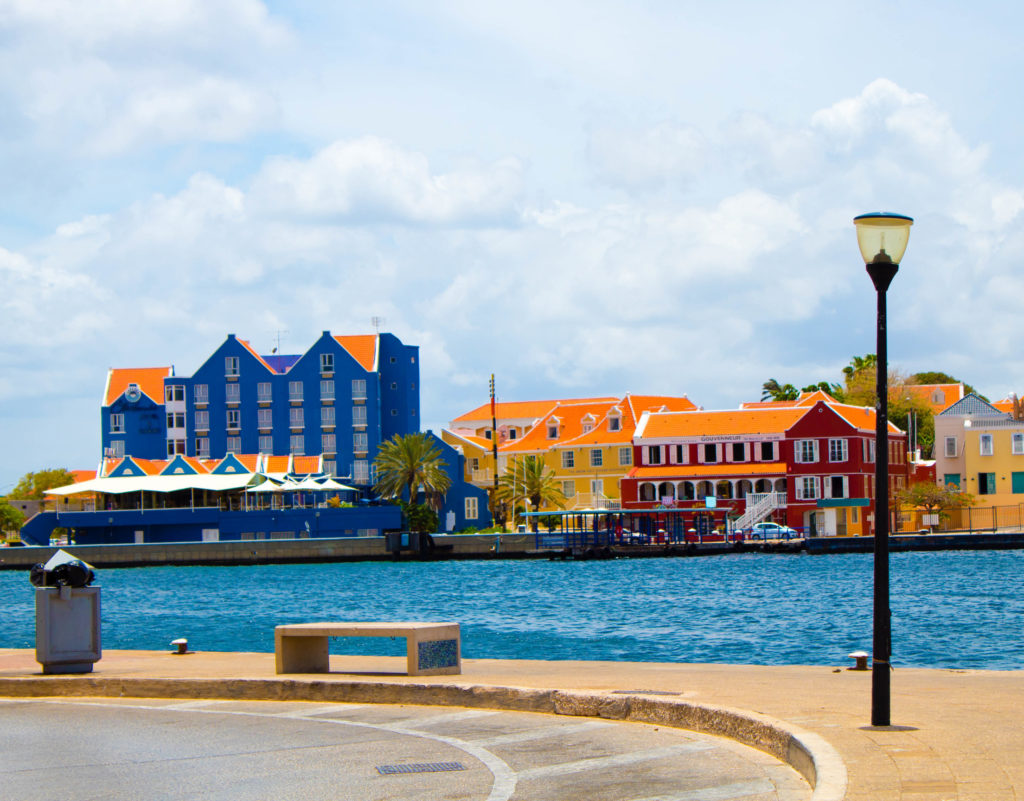 The best option to explore Curacao is by driving a car. Public transport doesn't have particular timetables so there is a chance that you will wait for hours for the next ride. I need to assure driving in Curacao is easy, it's done on the right hand side of the road and you can use your foreign issued driver's license. However drive very carefully because islanders have a tendency to forget about the rules and sometimes drink and drive.
We rented a car with Right Side Car Rental and were happy with our choice. They offer affordable daily rates which are even cheaper then with most car rentals and if you book a car for a longer period you will get a discount too. And great news, all cars have an automatic transmission and fuel (gas) costs only 1$ per litre.
Where to stay in Curacao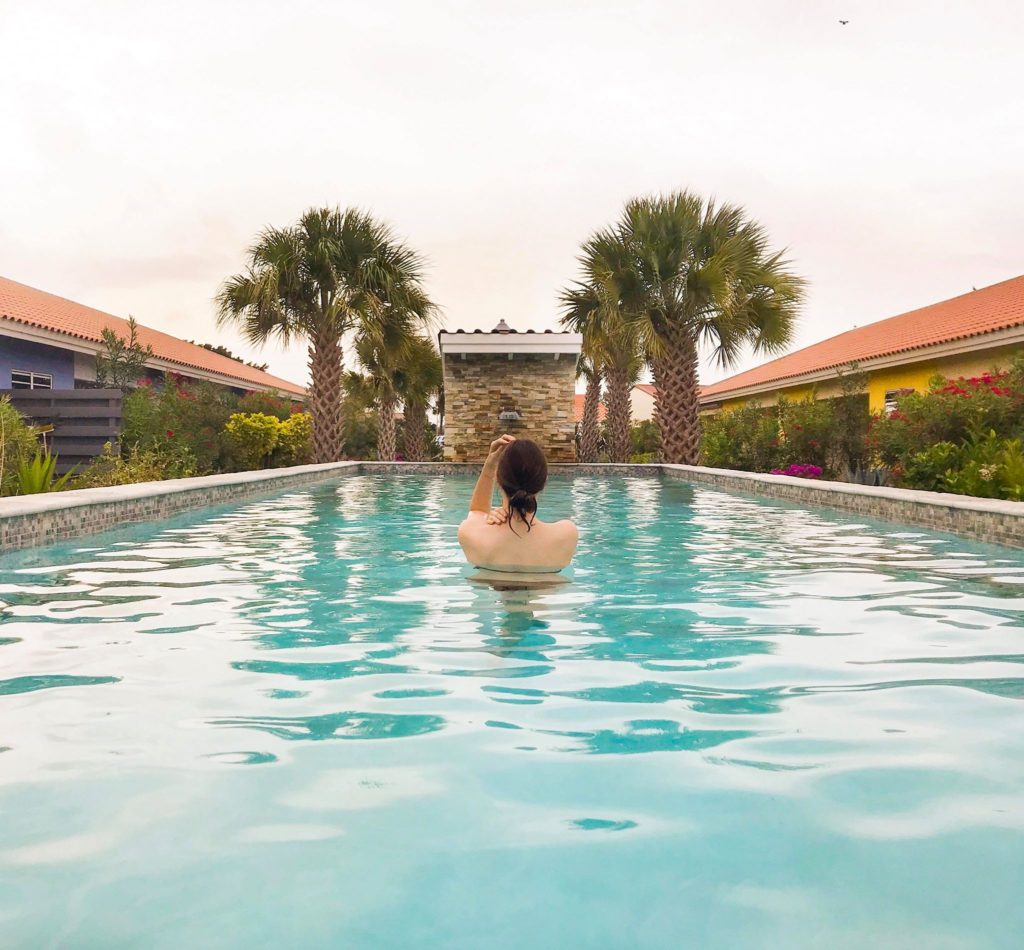 Curacao offers numerous resorts, hotels and even hostels. Of course it depends on your budget where would be the best place to stay for you. If you travel with more then just 2 people I would recommend to go through AirBnB options. There you will find plenty of beautiful houses with swimming pools so you will feel like home. We were staying at Marly's place "Casa Vita, close to beaches and shopping" which I would doubtlessly recommend especially if you travel with your family or kids. The price is fantastic and her accommodation is clean, modern and has everything you need for a great holiday.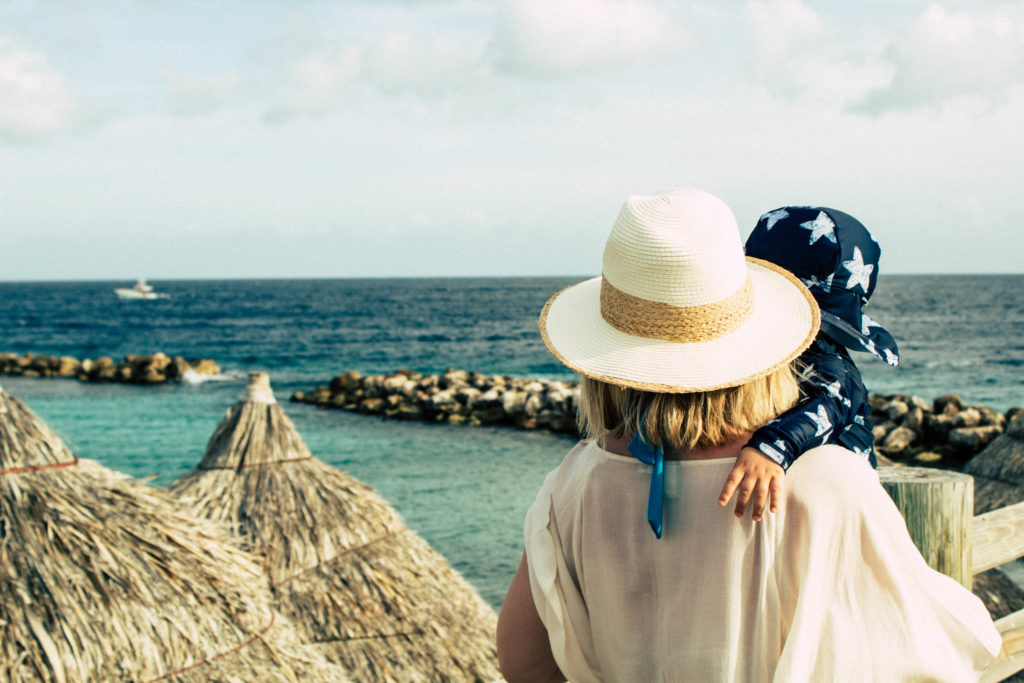 For those who would like to experience something different should book a room at the oldest hotel in Curacao, Avila Beach Hotel. This is also where the Queen and King of Netherlands prefer to stay if they need a vacation from their hard working days.
Top things to do in Curacao
Visit Curacao's capital, Willemstad
Historic old Willemstad is the capital of Curacao but also a UNESCO World Heritage City. At first glance Willemstad looks a little like a brightly coloured mini-version of Amsterdam. The famous historical waterfront is lined with the colourful buildings in Dutch colonial style. The law requires that they be kept in a vibrant colour palette and repainted every two years.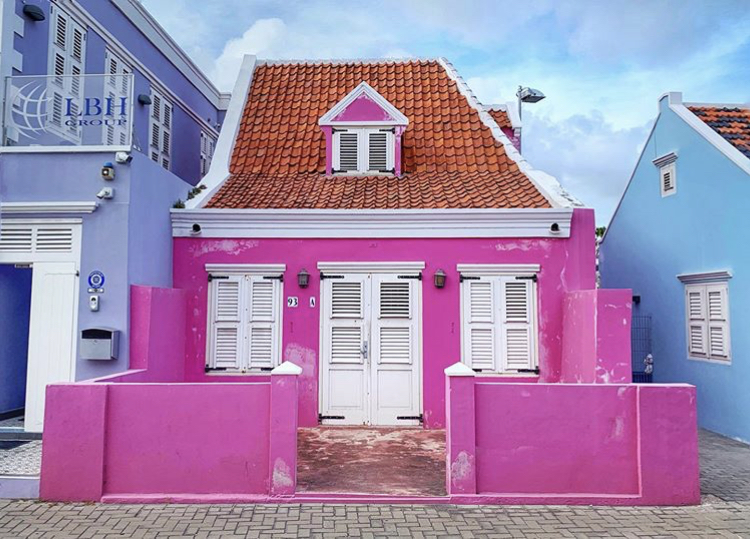 Willemstad is divided into two sections, Punda and Otrobanda. Punda's streets are full of people walking through narrow pathways packed with galleries, shops and cafés. At Pietermaai you can find various restaurants and bars. You can also do The Blue Curacao Experience tour and try this legendary blue drink from Curacao gratis.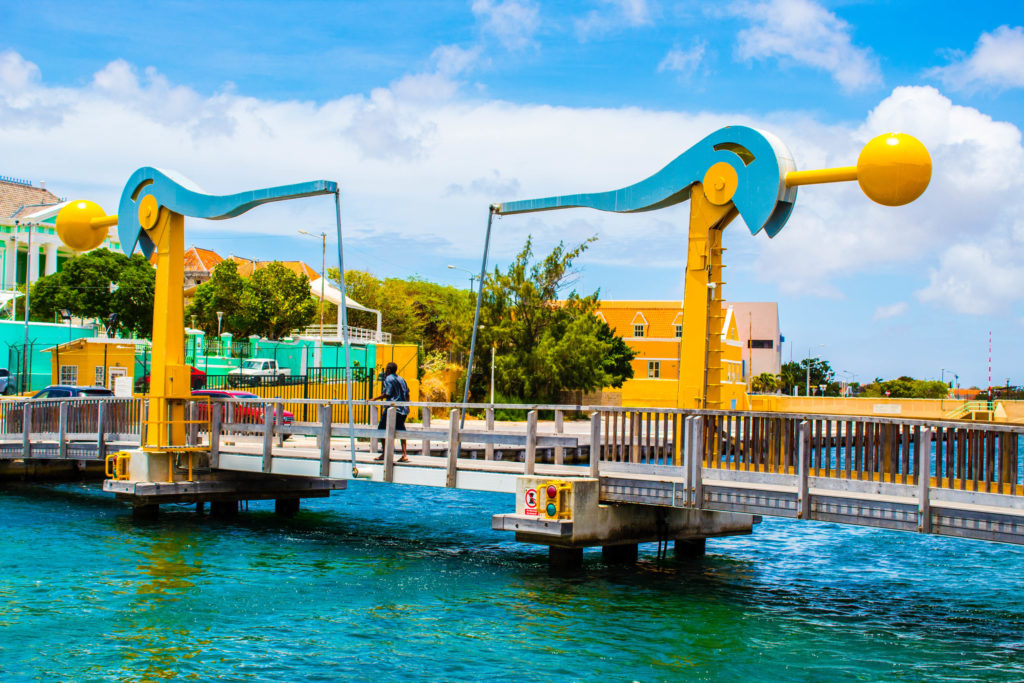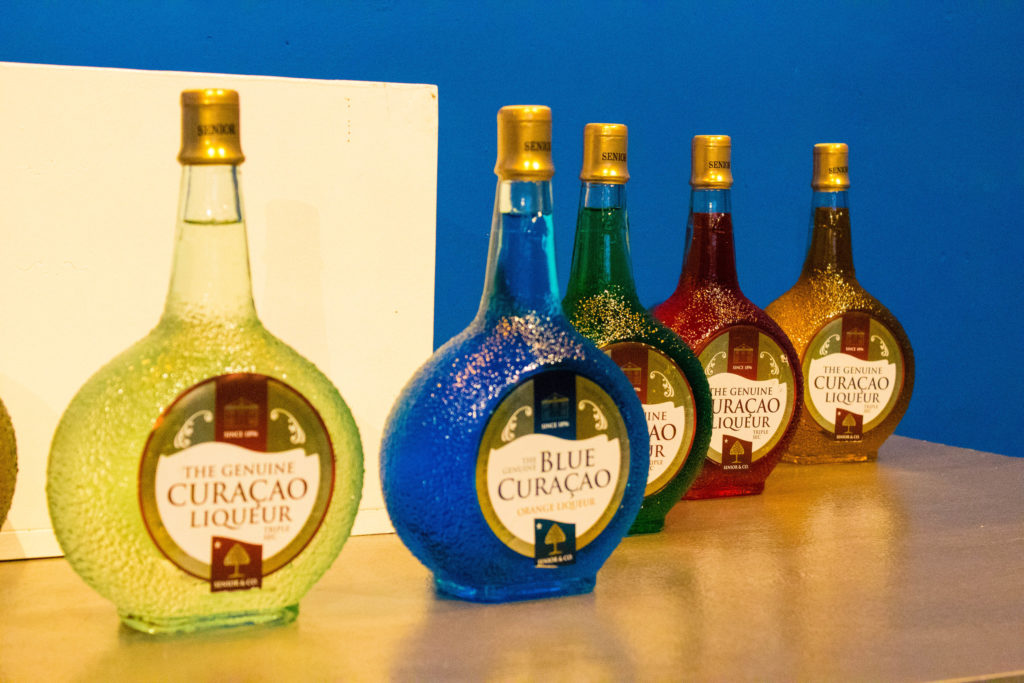 Pedestrians who want to go the other side need to use the Queen Emma Bridge, the longest and oldest floating bridge in the world. This bridge is a great spot to take pictures, observe the impressive Queen Julianna Bridge or watch how the floating bridge opens to allow large ships to pass through. At night the whole bridge is lit up and every Thursday between 8pm-9pm you can take a look at the fireworks from it.
Where to eat in Curacao
Curacao offers numerous amounts of various lovely cafés and restaurants where you can have tasty lunch or dinner. That's why sometimes it's a bit of a struggle to decide where to go. I would definitely recommend two must visit places on the island of heaven.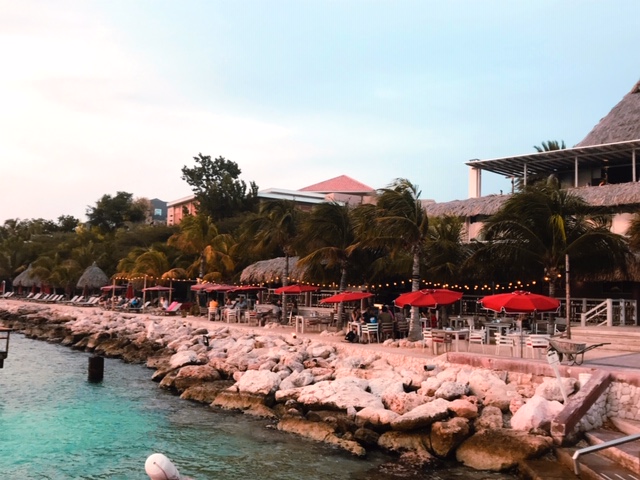 One of them is famous romantic beach restaurant Karakter. It's a bit out of the way because it's located at Coral Estate, outside of the busy touristic area. Which creates a unique and peaceful atmosphere. Karakter is extremely popular on the island of Cuaracao that's why it's important to reserve a table especially if you would like to enjoy the view from the seashore. We went there to have a dinner and watch the sunset. The food was good and the service was very relaxed, typical Caribbean style, no one is in a hurry.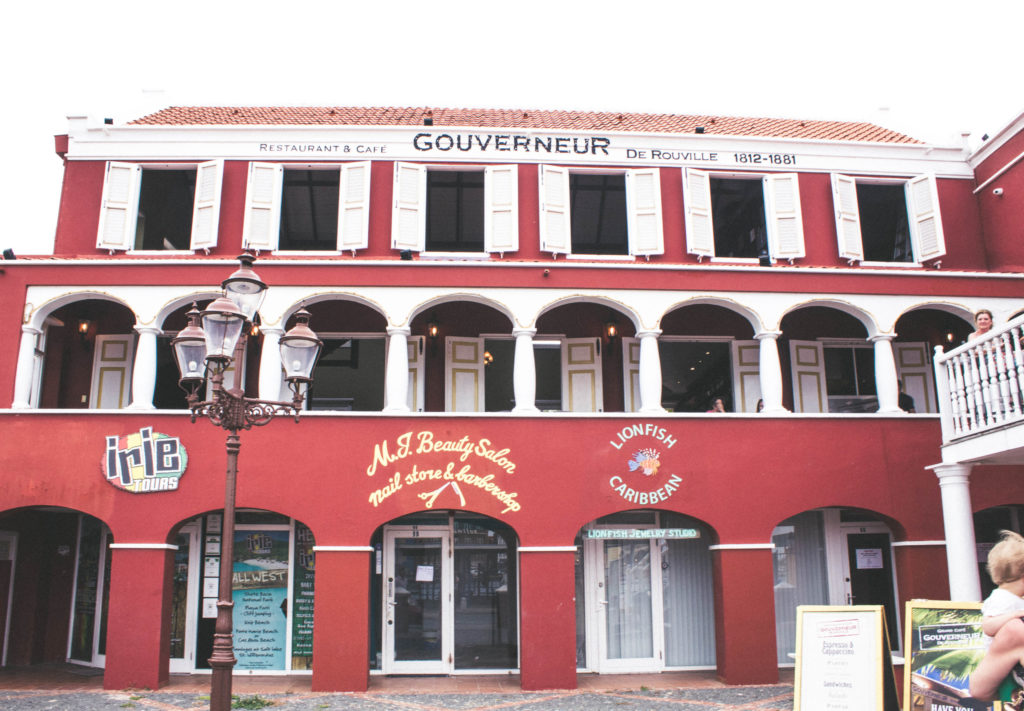 Another incredible restaurant with delicious Caribbean food and amazing views is Gouverneur de Rouville. You will find it in the heart of Willemstad on the historical waterfront. Definitely reserve a table so you will get a spot on the balcony with an imposing view of the famous lined up colourful houses in Dutch colonial style. Gouverneur de Rouville restaurant is not only spectacular from outside but also impressive inside. There is a bar with a gentlemen's club atmosphere and a garden with a fountain where you can also enjoy your lunch or dinner.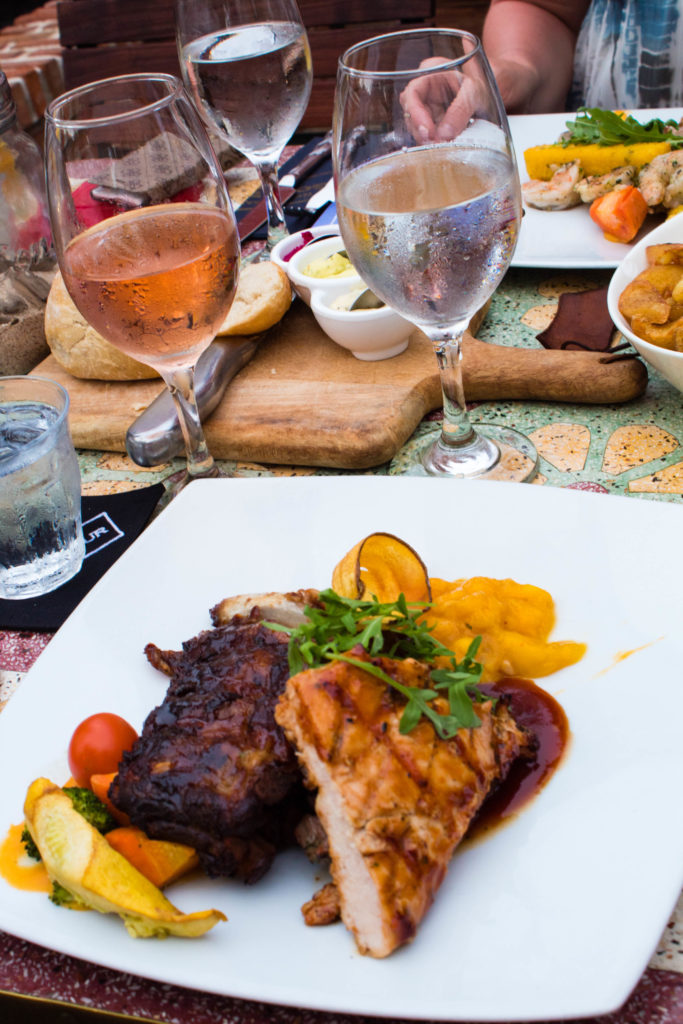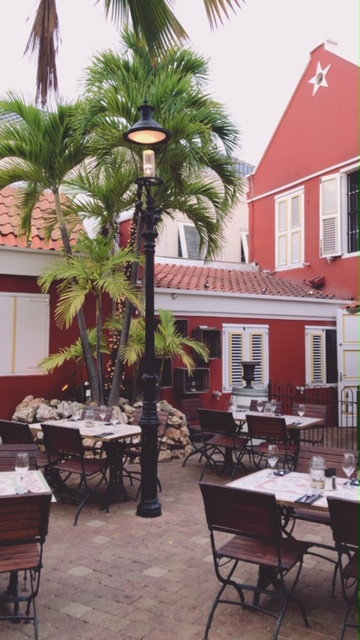 The Gouverneur de Rouville's menu offers a great variety of international and local dishes like famous chicken in prune stew and tasty banana soup. However every meal that we've tried was very fresh and flavourful. Doubtlessly leave some space for the dessert. My favourite was homemade brownies with pistachio ice cream, divinity on the plate! Last but not least the outstanding Gouverneur de Rouville's staff. Everyone is very polite, friendly and amusing. We asked for suggestions and drink tips and received great recommendations.
The best beaches in Curacao
Curacao is mainly famous for it's colourful architecture and interesting bridges. However it's a dream destination for beach lovers. Curacao counts more then 35 beautiful lagoons with white sandy beaches and crystal clear warm water. Every single beach on the island could be the perfect location for a Bounty ad. The major difference between the beaches is not their quality but if it's free or charged.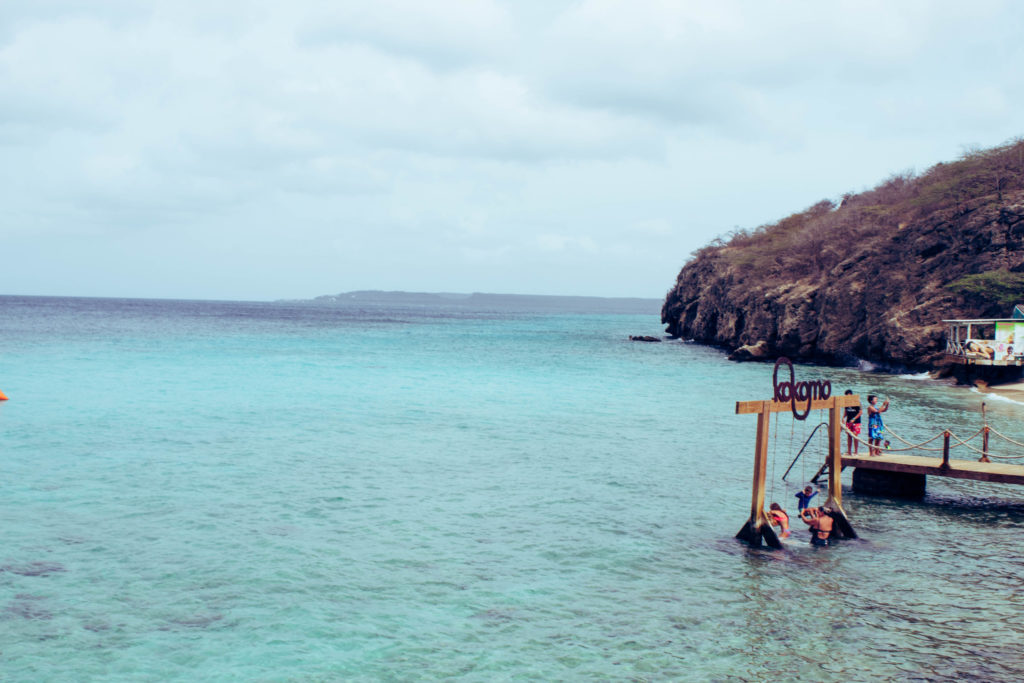 Kokomo Beach is a beautiful natural bay with crystal clear water and white sandy beach. It offers lounge chairs, palm trees providing shade and moreover there is no entrance fee. If you want to use chairs you just need to buy a drink or something to eat at the restaurant. Food and drinks are delicious and for a reasonable prices. There is also a spot where you can see and even feed plenty of friendly iguanas. Don't forget to stop on the way to Kokomo Beach at the lake Salina Sint Michiel to observe flamingos in their natural habitat.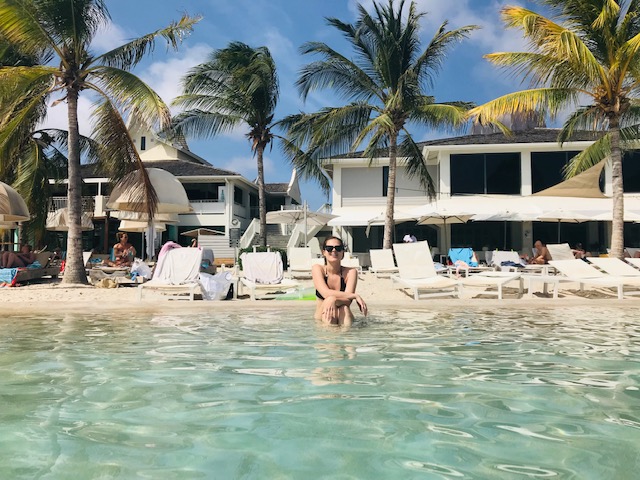 Jan Thiel Beach is one of the most famous commercial beaches in Curacao. It's big and very crowded. Here you will find different areas to swim and also an infinity pool. There are 5 restaurants to eat but I personally didn't like the food though, it's overpriced and very simple. Fees for the Jan Thiel Beach apply for parking, beach chairs and beach entry unless you are staying at a participating resort or joining one of the offered boat tours. It was my least favourite beach but worth of visiting at least once.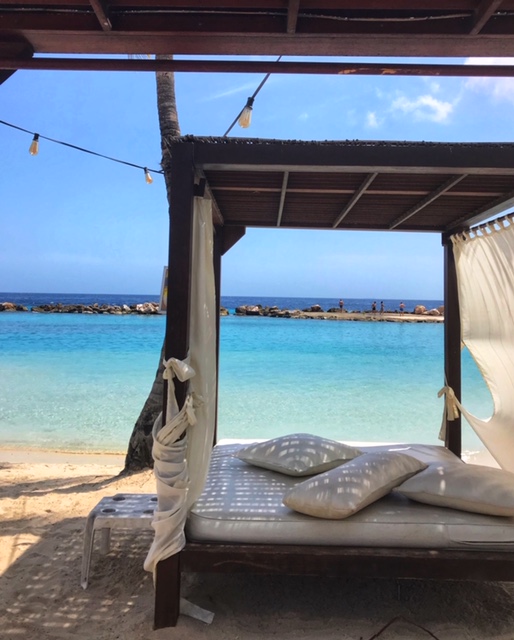 One of my favourite commercial beaches is Mambo Beach in the East of Willemstad. It offers everything from white sand, turquoise calm water, shopping area, cafés and house music beats. As any other commercial beach entering the Mambo Beach requires a fee of $3,50; beach chairs are lined up all over this beach and are available for rent for around $4.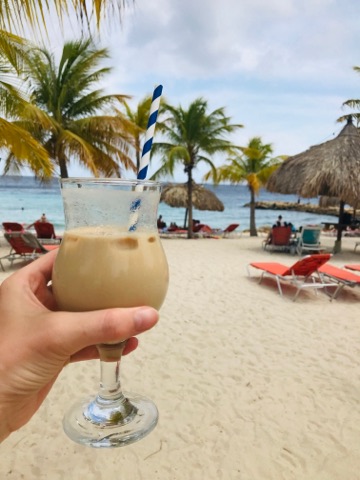 Blue Bay Beach Resort located on the southwest coast in Willemstad and offers lovely beach with white sand and calm water. The entrance will cost you $6 per person so you can use the facilities on the beach. The beach is relatively small and might be very crowded but there is a nice restaurant with relished dishes and even a spacious playground for kids.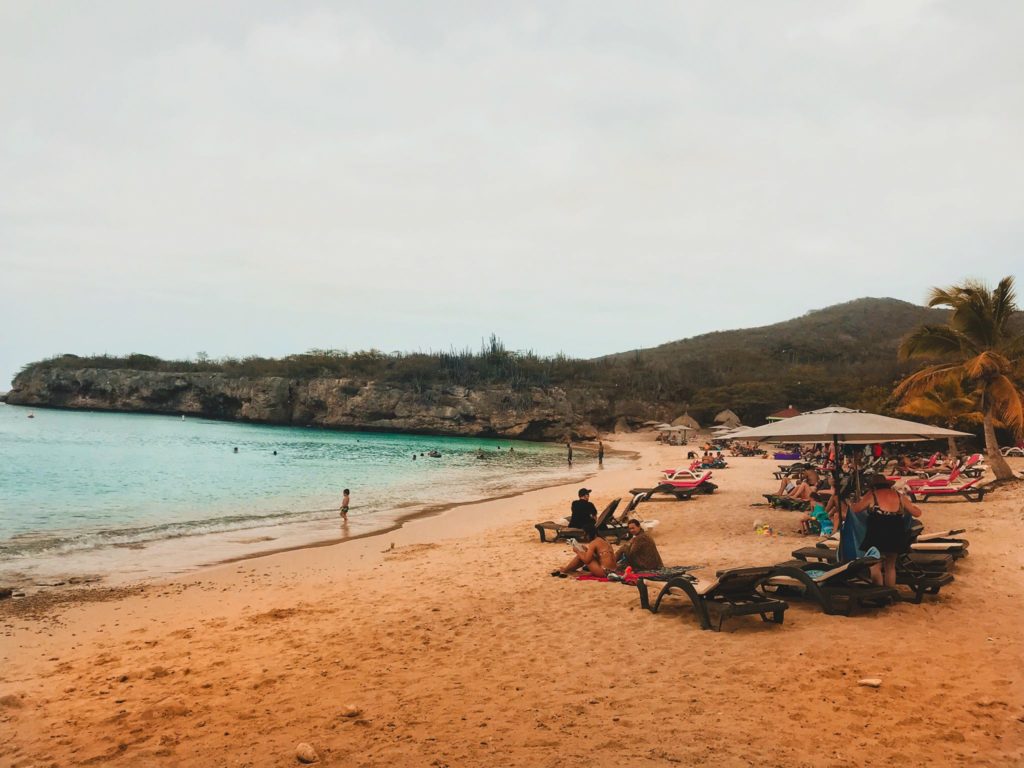 Grote and Klein Knip are perfect destination for those who would like to enjoy a wild and free public beach with beautiful crystal clear water. It's located close to Westpunt which is a less populated part of island. That creates a unique and the least crowded atmosphere. There is only one little restaurant that's why I would recommend to bring a lot of water with you to stay hydrated.
Enjoy Spa & Massage at Kokomo Beach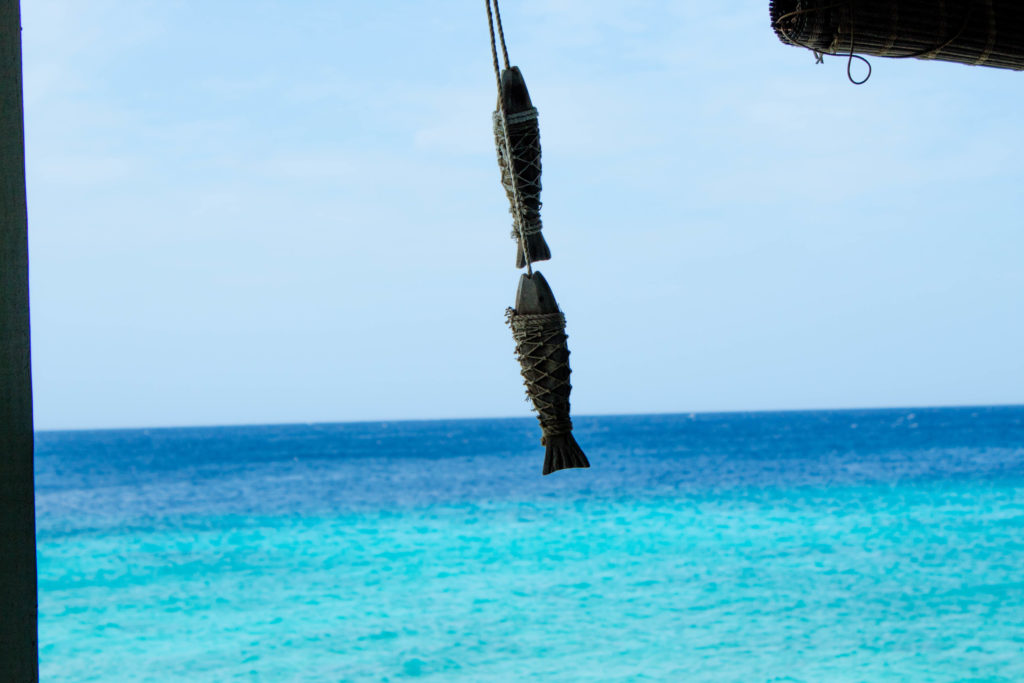 A beach holiday on an island paradise like Curacao is not complete until you've had a massage or any other enjoyable spa treatment. I decided to spoil myself and book some treatments at Natural Blends Estheticks at Kokomo Beach. The location is ideal just next to the turquoise water where I can listen to the sound of the Ocean and feel a lovely breeze on my skin. Which is essential for the memorable and beautiful massage experiment.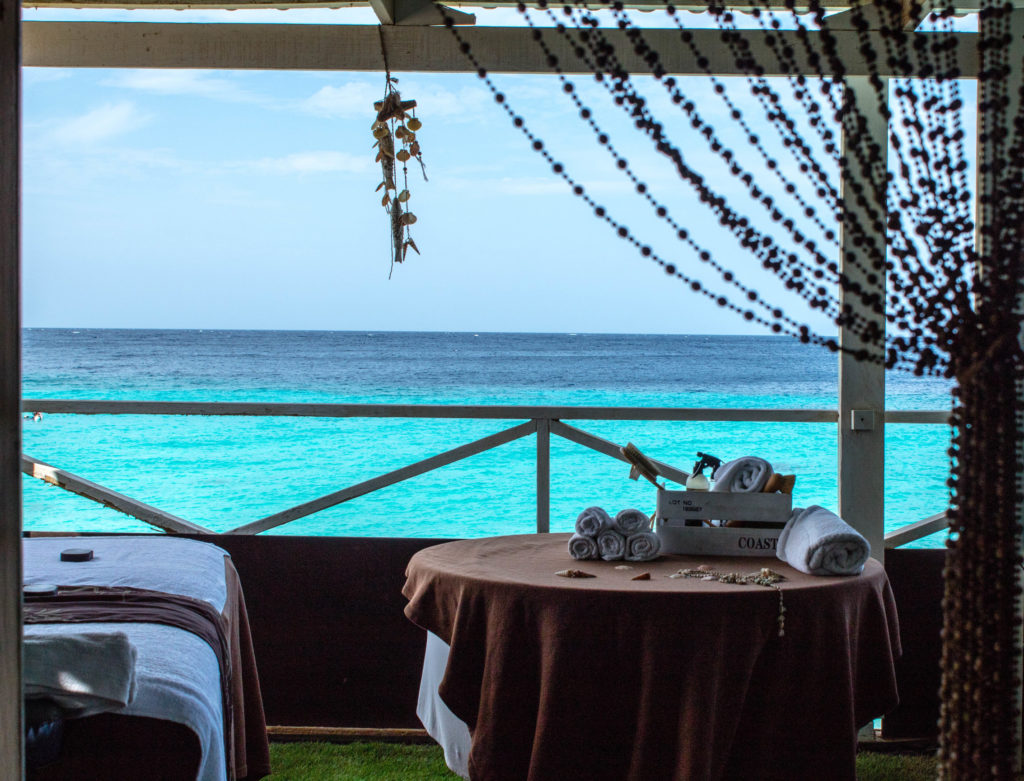 The massage area was just like from a postcard: soft and comfortable looking massage tables with a breathtaking sea view. My therapist Ann-Marie was very professional and knew what she was doing to relieve all the tension in my muscles. And I need to admit, I've experienced one of the best massages in my life! All my muscles could finally relax after our long flight to the Caribbean island.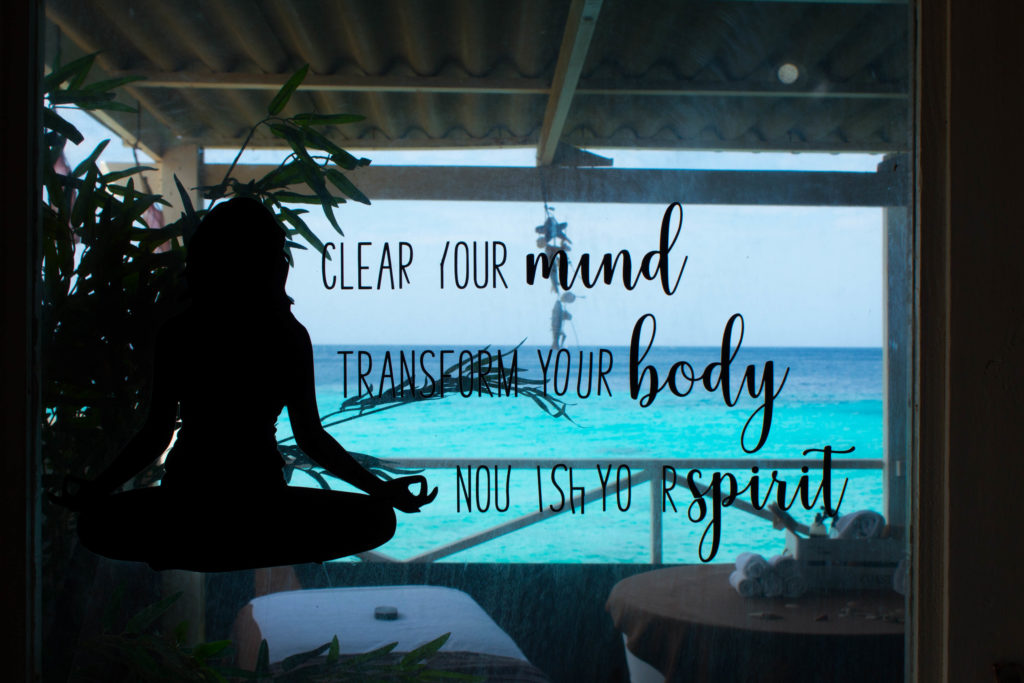 It's essential to take care of your feet and nails while enjoying the white sand of the beach. Also the constant exposure to the sun might burn or dry your skin. Moreover your feet are constantly on display to everyone else so I think it's nice to have beautiful and healthy feet with a neat nail polish. That's why I decided to restore the look of my toes and get them treated at Natural Blends Estheticks too. And it was a great choice just look at the result! Loved it!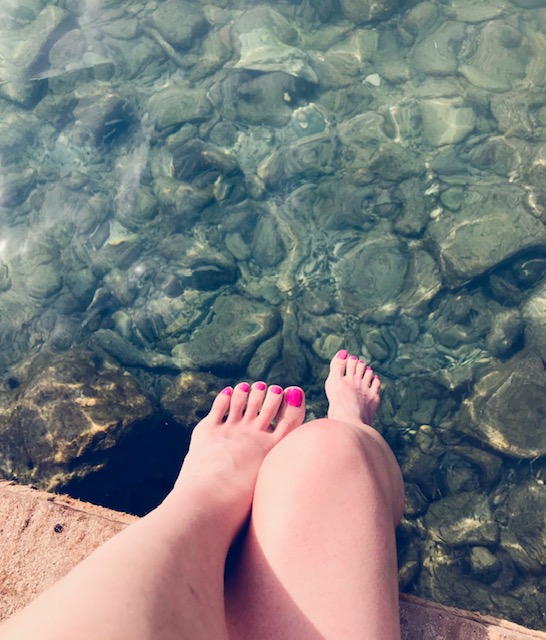 I also believe it's important to take care of your face after the sun heat. We all know that it can lead to the skin damage, wrinkles and dryness. Ann-Marie recommended me to do Hydro Mini Facial to improve my skin after one of the day on the beach and I decided to follow it. The treatment consisted cleansing, exfoliation, steam, application of a mask, toner and moisturizer and was just extremely relaxing. My skin felt much better and was glowing afterwards. Amazing 75 minutes of quality time were added to my holidays!
Spend a day at Avila Beach Hotel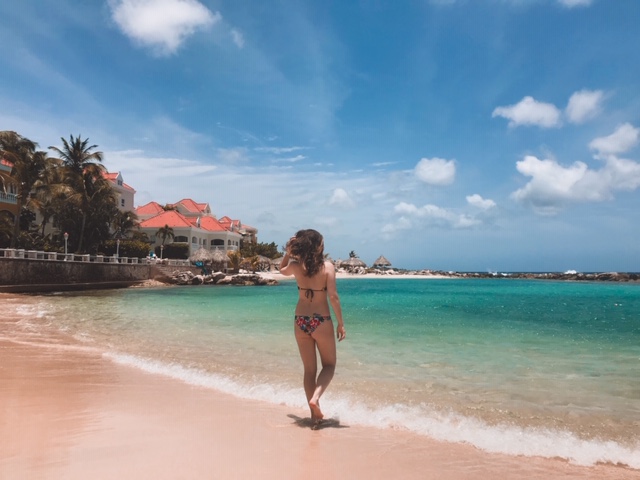 Avila Beach Hotel is the oldest luxury hotel in Curacao located in Willemstad at the spectacular beachfront. It has witnessed hundreds of years of the island's history and has also hosted important people. Still it's one of the most favourite places to stay for the King and Queen of The Netherlands when they visit Curacao. Couples and honeymooners love this place too! Now and then you can also gorgeous weddings. Furthermore this beautiful landmark offers almost 150 modern rooms divided over 3 different hotel wings with a various price range.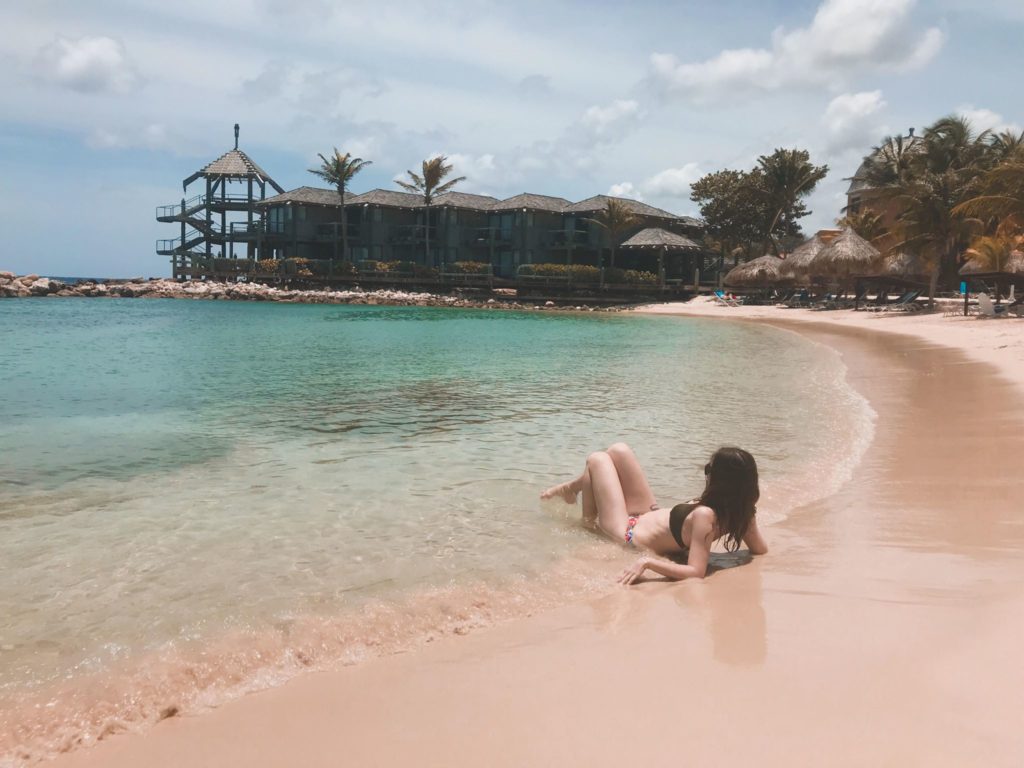 Great news about staying at Avila Beach Hotel is that you can also purchase a Day Beach Pass and enjoy a private strip of white sand beach and two bays with crystal clear calm water. Choose one of the beach chairs or hide in the shade of the beach umbrella and immerse into the relaxing experience facing beautiful lagoons. This is what we did on our very first day in Curacao.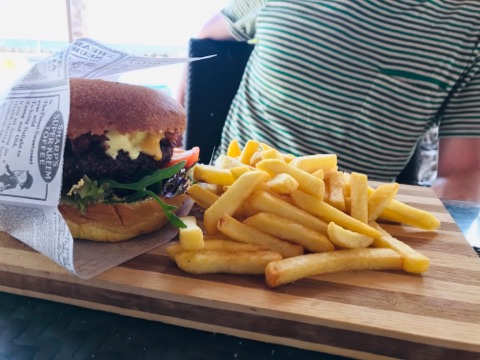 During the hottest hours between 11am-2pm the best decision is to hide from the vicious sun at the bar or have lunch at open-air restaurant. This is a feeling of an ideal vacation when you hold a refreshing cold drink with views of surreal turquoise-coloured waters of Curacao. Foodies should definitely try the scrumptious traditional Caribbean food like Kashi Yena.
Visit Klein Curacao
If you are visiting Curacao then it's a must to join a boat tour to the uninhabited island, Klein Curacao. It's 25km off the coast of Curacao and it's the perfect getaway. There are various companies that offer a day trip to Klein Curacao. We decided to go with PowerBoat because it promised to get to our little heaven in less then an hour while other bigger boats need over 2 hours. Furthermore because of the strong winds and currents travellers on the big boats have tendency to get sea sick.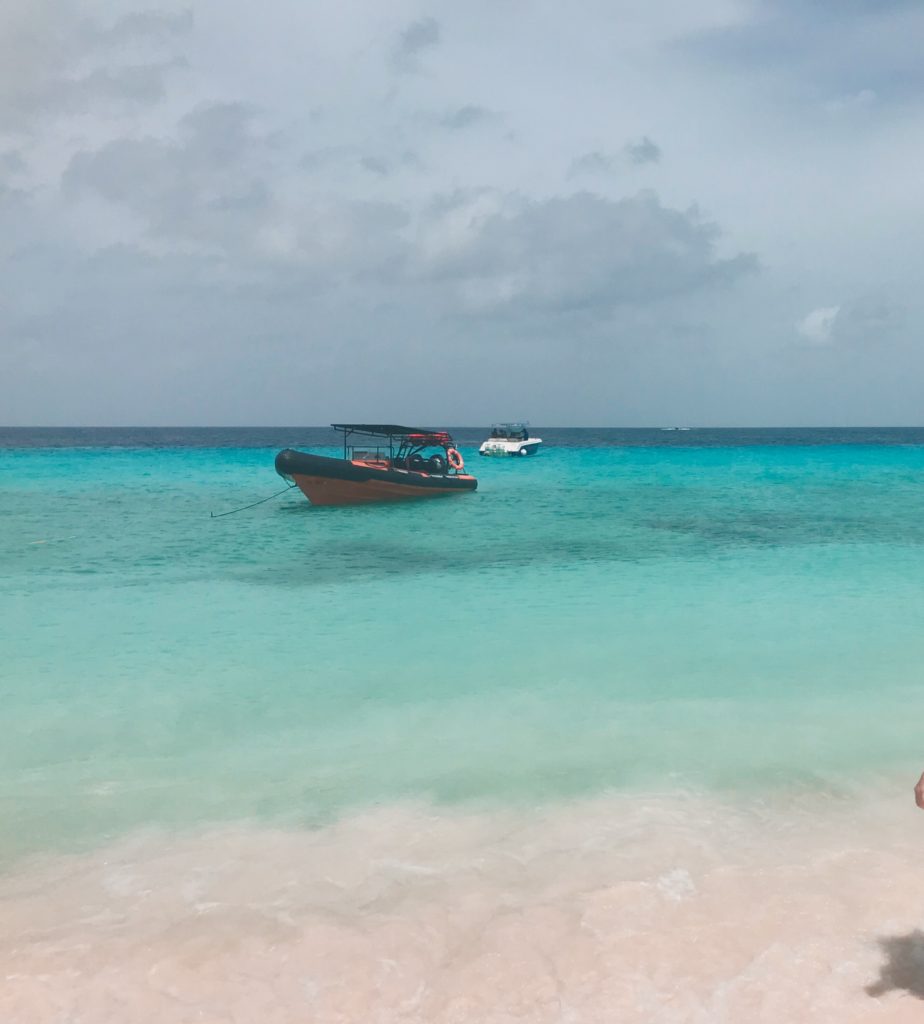 We were picked up at 10am from Jan Thiel Beach. The sea wasn't as rough as usually so we could get to our powder-white beach with turquoise waters, and sea turtles within the time. The trip might be a bit bumpy for some people, I would compare it to a ride on the wild horse but if you are an adrenaline junky then it's definitely something for you. Travellers with back, neck or knee problems should choose another option.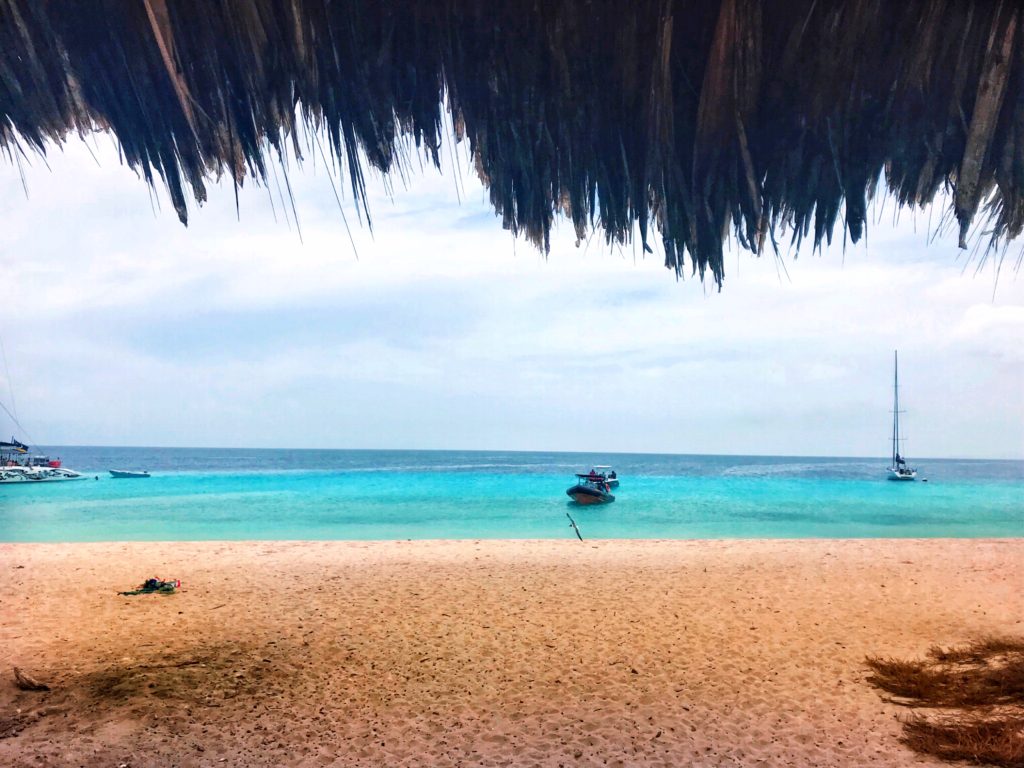 One half of the island is a picture perfect beautiful beach side. The other half is a rugged, rocky coast with shipwrecks and an abandoned lighthouse. The two sides of Klein Curacao are perfect opposites of each other. The sun is very strong on this tranquil little island but there are also awesome shady shelters to protect you from it's heat. We could stay and explore the island for half the day. PowerBoat tour also provided us with a great amount of different drinks so we all stayed hydrated.
Explore Spanish Water by stand up paddling
Spanish Water is another beautiful highlight of Curacao that is worth of visiting. The best way to explore this terrific lagoon, characterized by mangrove forests and outlined by villas and the Tafel Berg is by paddle boarding. It's exciting and fun, furthermore you can get into the narrow parts of the lagoon where it's impossible to get by the boat.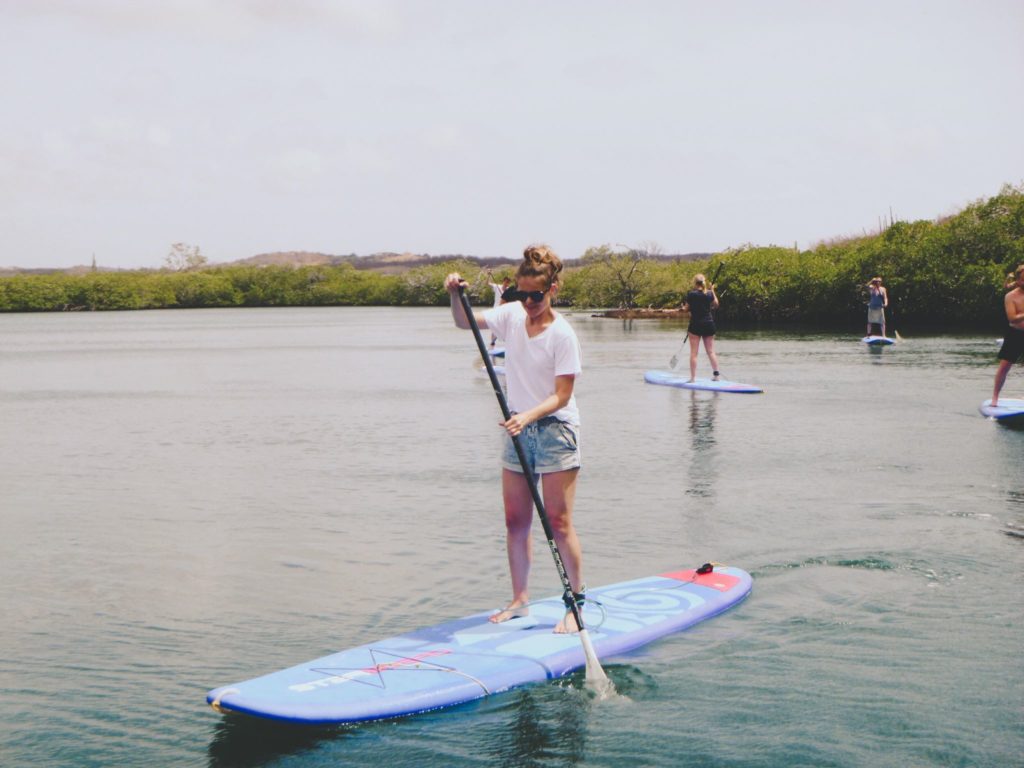 We decided to book our tour with SUP Curacao and we were very happy that we went for it. Paddle boarding is not complicated but we still received great instruction on how to manoeuvre it. After a few tries you feel very confident with the paddle and are ready to travel through the Spanish Water. All in one the tour takes around 2 hours with a little snack break and lovely chats in-between. The tour guide also takes pictures of everyone which we all got on the same day!
Visit Hato Caves
Hato Caves in Curacao is another unique geological element of the island that definitely must be seen. It's one of the caves where you need to go upstairs to reach the entrance which is very seldom. We joined the guided tour to get to know more about the wonder of nature.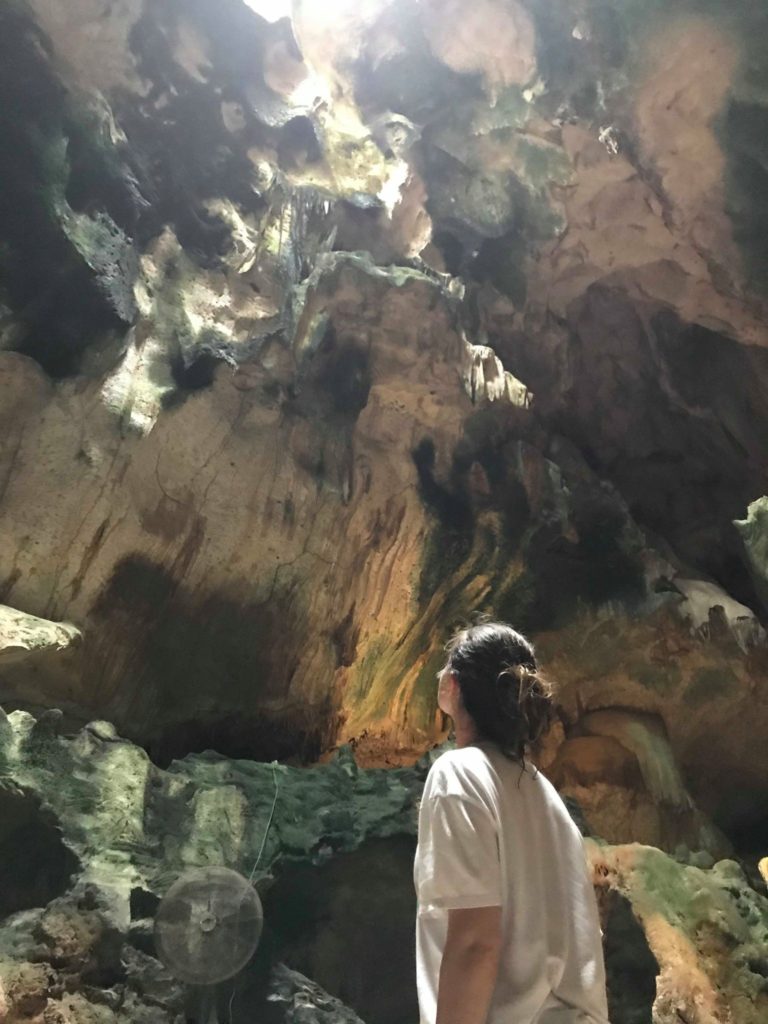 The tour was very entertaining and informative. Now we know that the Hato Caves are 300.000 years old and consist of marine coral limestone. These caves used to be a shelter and hiding place for slaves but nowadays you can find only numerous amount of cute long-nose fruit bats. The tour through the Hato Caves is impressive and memorable.
After the Cave tour you can stroll through the park to get to know the flora and fauna of Curacao. There you will see big cacti, little lizards running around and slowly walking iguanas.