Every blogger's goal is to get more traffic and to see how their audience is growing. I've seen many bloggers getting frustrated that they can't get where they want, trying all kind of Social Media tricks and writing great content. Don't get me wrong, content is the king but without using proper SEO no one will be able to find and read this awesome information.
Beginner's Guide to SEO
To be the best in ranking for the first page on Google you should get to know the techniques of SEO, Search Engine Optimisation. Here you will find out more about SEO strategy, to build your audience and finally get more traffic to your blog and rank on page 1 of Google. You probably know that 60% of all Google users click on the first 3 results. If you make it happen to be in the first three results your site will get more authority, visibility and finally more traffic.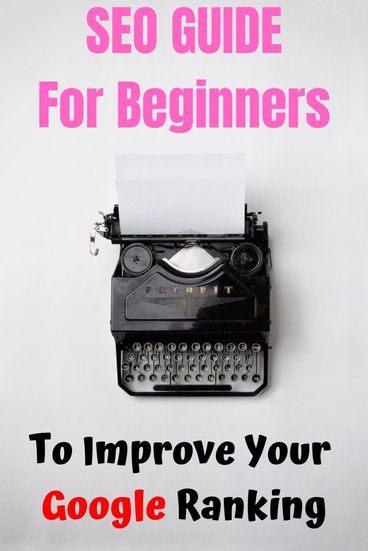 If you are ready to improve your blog, finally save your time then it's time to implement some important techniques. After you apply these simple principles you will see immediate results.
What is SEO
On-page SEO is an essential factor to get your posts at the top of the search result pages. Search Engine Optimisation means to apply specific techniques to be identified by search engines like Google, Yahoo etc. as the best answer or solution for the users.
The simple truth is: The better you optimise your blog or site for these search engines, the more traffic and page views you will receive. It means you won't need to promote your blog on social media or various Facebook groups because it will naturally come to you through organic traffic.
What else does it mean to you? Being ranked in the first three results of Google will lead to more visibility for your site, which means the more money you can make, the greater the opportunities and deals you'll be offered, additionally the higher will be your domain authority.
The Most Important SEO Strategies You Should Use
Create Great Content
As I already mentioned before content is the king. It's important to write High quality and useful texts to be in the first results of Google page. But what does it mean to write great content? How many words should a proper article include?
Nowadays there are so many competitors, so many various bloggers who are writing about the same things but some get a high amount of cyber attention, others just get lost on the e-web.
There are 5 main aspects that should be considered to get higher traffic and to improve your content.
Step 1: Work on Your Title
The title is like a business card of your text. It's important to write a catchy title that shows exactly what your post is about. To write better headlines I'm using this awesome free tool that I would recommend to everyone, Headline Analyzer.
Step 2: Solve the Reader's Query
When we are searching for something on Google we want to see the high quality and quick result. That's why your title and your content should be about a specific topic, so the user won't be tempted to click on the other search results. Just try to immerse into the users shoes to understand what he or she is searching for to give the best answer to their question.
Step 3: Check your Competitors
Before you start writing your next article, you should always see what your competitors have written about it. I would suggest first to pick up the long tail keywords and then find other bloggers who are ranked on the first Google page.
The best way to do it is to open an incognito window and type in the keyword phrase that you would like to use. I always go through the results of the first Google page. Commercial websites like Tripadvisor shouldn't be your concern.
After going through your competitors pages look at the length and the plot of the texts. Try to write a better post by adding more qualitative information, more insights, details, better meta description, pictures.
Step 4: Increase the Amount of Words
Toast.com has written that longer posts get higher chance of ranking well in Google. It has been proven that articles of around 2000 words get better results. That should be your goal to implement more information and more keywords into these amounts of words.
How to Choose the Right Keywords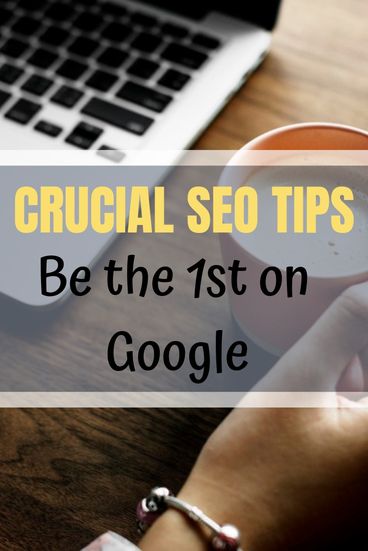 Keywords are the base for every existing site in the internet. Every search engine is based on keywords, so if you are planning to get ranked on page 1 of Google then it's time to learn how to research and use the right keywords.
Believe me, it's much easier to research keywords than everyone thinks. You should find the useful long tail keywords before even planning to write your new article. Otherwise it's a pure waste of your time. Imagine you've written a great text, you've spend hours to research it and to take or find awesome pictures. Afterwards you find out that no-one is searching for this kind of information and there are no useful keywords for this topic or it's too hard to compete with the other articles? It's a shame, right?
Your goal is:
Find great long tail keywords, it means the keyword should contain 2-3 words. Longer and more defined search phrases will help you to get more attention. It should also have a high search volume and low competition. I will explain it later.
Write high-quality texts, better than you competitors with the intention to give full answers for the readers
Add 10-20 other related keywords to your post.
Online Tools to Find Great Keywords
There are various free online tools that you can use to find keywords. I'm using Keywords Everywhere to get some inspiration. It shows the search volume and cost per click (CPC) for the phrases. Again I believe it's good to find some ideas but it doesn't give you very accurate information regarding ranking.
Another famous one is Moz. You can only search for 20 free keywords per month but it shows you keyword volume range and difficulty score. Every successful blogger would tell you though if you want to see quick results you need to invest into the keysearch tool. And there is a great one that doesn't cost much but will provide you with all necessary information: Keysearch.
Keysearch is one of the most popular and reliable tools that will help to save time and will make blogging even more fun. If you want to know more about it read Review of Affordable Keyword Search Tool, Keysearch.
It's easy to use Keysearch and they provide you with videos where they explain every step. To find your target keyword just type the chosen phrase into the keyword analysis search bar. You can filter your results depending on the score, volume or CPC. I prefer score.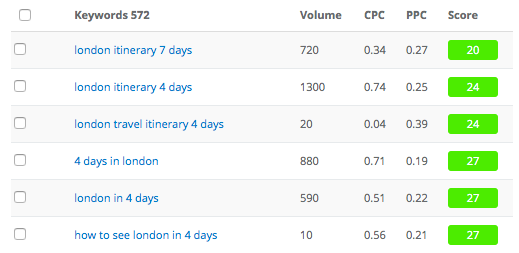 The score shows how difficult it is to rank the keywords and how hard the competitiveness is. It depends on the colour of the score but as you can guess green means it's a good keyword. Keysearch will show the top 10 competing sites and a list of related keywords. First check if there are sites with lower DA then yours and if you can write your article better than they did. There are many other useful features that you can definitely use for your blog.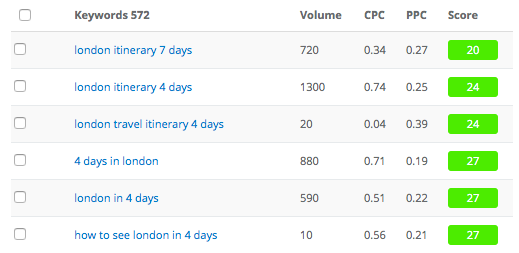 If you want 20% off Keysearch use the code: KSDISC and sign up here.
Easy On-Page SEO Strategy
On-Page SEO means that you need to optimise your content and implement specific indicators to make your posts more visible for search engines. I would recommend after you've finished your article to go through it again and make sure that you've included your keywords in all important areas.
Your Title, H1, must contain your target keyword phrase.
The URL should also contain your target keyword. Use maximum five words for this one.
Use around 10-20 different keywords that are related to your topic in the text.
Remember to use internal linking to your own content but also external linking to trustworthy pages.
Write a good and catchy Meta Description with your target keywords.
Optimise your images. It means resize your image and include description, caption and also alt tag.
Use your second important target keyword in the subheading H2 and implement it close to the beginning of the post. Also put more keywords into other subheadings.
Improve Your Off-Page SEO
Off-Page SEO means that you need to improve your brand or blog outside of your site. There are different ways but in my opinion the main one is link building and social media. I didn't know that but only after a few years I've read that backlinking is a crucial part of a good SEO strategy.
Technical Side of your Blog
This is actually the most boring part. Because most of us bloggers want to focus on the creative part but not on the technical side. And of course there are so many factors that are important for the technical SEO, I will tell you about 4 of them.
Create and submit sitemap to Google.
Check your page speed and improve if it's necessary. For example you can compress and optimise images before upload them. For WordPress users I would recommend to download the free plugin WP Smush.
The problem that I'm struggling with: Move to HTTPS otherwise if you still have HTTP google will recognise it as an insecure site. Good hosts will help you to do it for free or for 10-15¢. Unfortunately I'm using GoDaddy at the moment and they are expecting their clients to pay over 100€ for this service. Rip off I would say.
Last but not least make sure that your site is mobile friendly.
Get Organic Search Traffic
SEO might seem complicated but once you start to implement all these strategies into your site you will see how organic search traffic will bring you results. It might take some time so be patient but continue to follow the listed techniques. I promise you will be able to start ranking higher on search engines like Google and your audience will grow.
By the way, you can start earning money before your organic search traffic kicks in. How? Check my other article: Top Paying Affiliate Programs to Make Quick Money Online