In the beginning of this year we decided to plan our ski holiday in Europe. After some research I found out that Austria offers over 400 ski resorts, with 7000km of ski slopes, breathtaking scenery and moreover world-renowned ski resorts in almost every valley. It's one of the most popular destinations in Europe for skiing due to it's fast modern lift systems, excellent snow making and one of the more important aspects for us: the quality of it's hotels and the family atmosphere.
Travelling with two kids it's important to think about the budget since a ski holiday is one of the fancy types of vacations. And comparing value for money, in Austria it's cheaper than in the highly popular French ski resorts. So it is possible to enjoy a skiing holiday that won't break the bank but offer the best lift systems in the world, giving speedy and seamless access to linked ski areas with tree-lined slopes, fantastic ski schools for young and old, eating out choices, and even partying. Sounds great, right?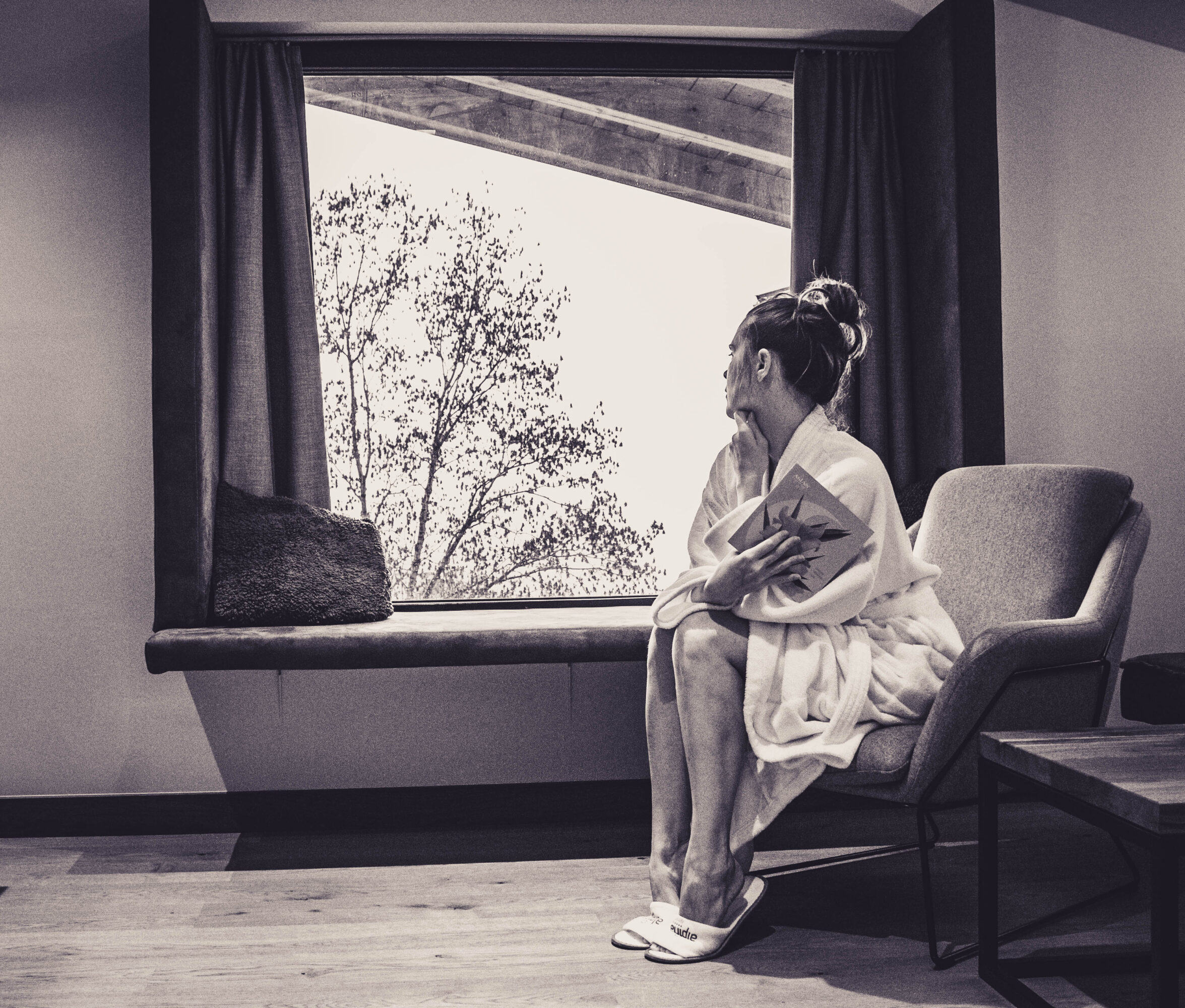 Austria's ski resorts are extremely charming, since they are located in cute Old-World villages with magnificent churches and a long tradition of hospitality. I found out recently that most of Austria's hotels are family-run, which adds a homely atmosphere and cosiness. Last but not least, Austrians have a great wellness culture. So most of the four- or five-star ski resorts in Austria have their own spa facilities. After a long day being outside you definitely need to relax in style.
Best time to ski in Austria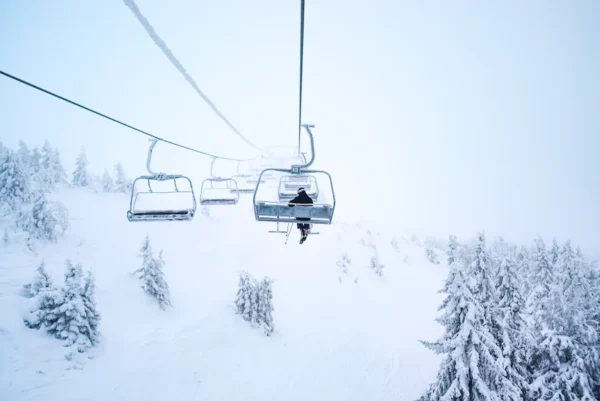 The Austrian ski season starts in December and goes to April. You can usually rely on good snow, especially if you visit Austria in January. Snow-guarantee is a crucial factor when choosing a skiing holiday destination. Austria's Alps are blessed with a long and splendid snow season. During the Christmas period, the towns are filled with festive atmospheres and most have traditional markets where you can sip glühwein and shop for gifts. If you plan to go in spring time like March or April, I would recommend to pick a high-altitude resort or one with a glacier to get the best conditions. And if the weather God won't be kind to the skiers, Austria's resorts also feature awesome snow-making facilities, ensuring for all of us ideal pistes no matter the weather. No worries, 90% of them use green energy.
My tip: The most crowded time is the period from December the 25th until first week of January. Advanced or beginner skiers may want to avoid this time as slopes can be too full.
Austria's Top Family Ski Resort: Alpina Family, Spa & Sporthotel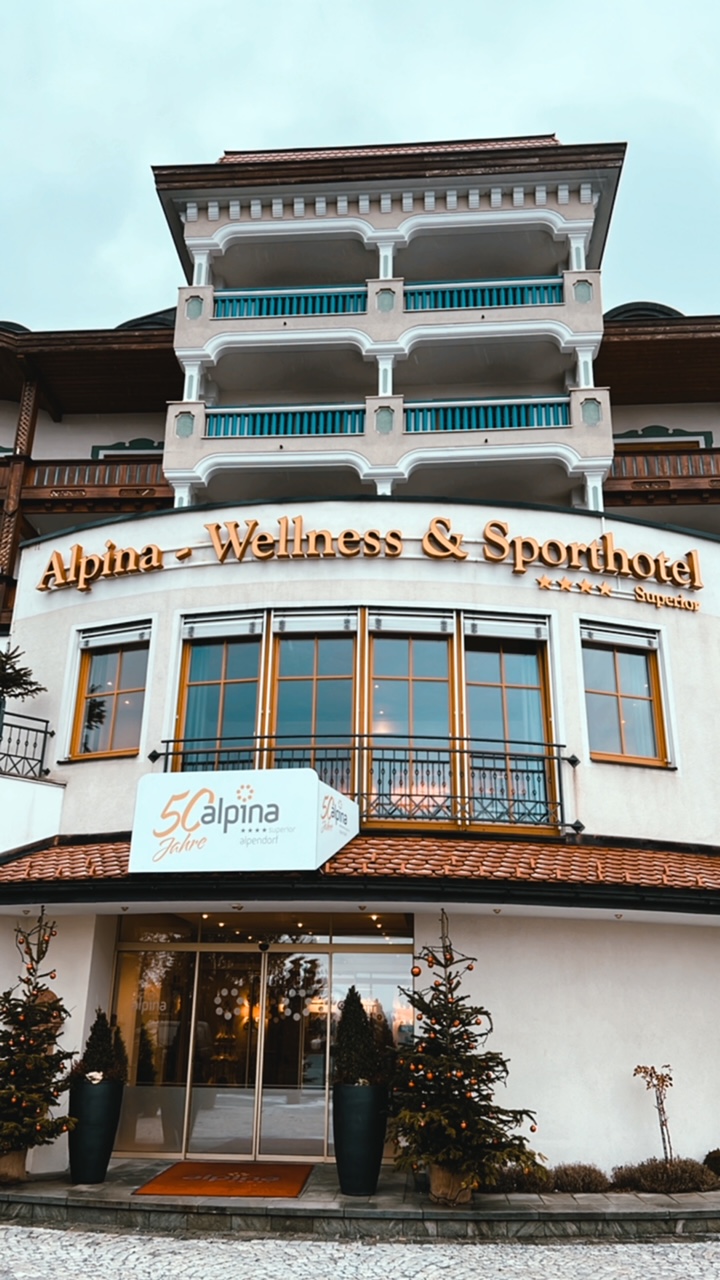 So after reading all the important information about the ski season in Austria and also searching for the ski resort with perfect conditions for beginners we've found 4-star Alpina Family, Spa & Sporthotel. No doubt our focus was to enjoy this vacation with children so we were specifically searching for family friendly accommodation. That means safe slopes for children and of course childcare for kids where our 5 year old can be entertained. Because as parents we would like to enjoy holidays too and have some quality time with each other.
We were so lucky to discover Alpina Resort in Salzburger Land, which is just 1 hour away from Salzburg by train. It has been family-run for already three generations and it's located in Alpendorf, at the train station St. Johann im Pongau. The resort also offers free transfer directly from the train station in case you are not coming by car like we did.
When we arrived at the location we were mesmerised with the stunning view of the surreal mountains surrounded by cosy rustic mountain huts. It felt like being in one of the winter postcards! Just look at these pictures!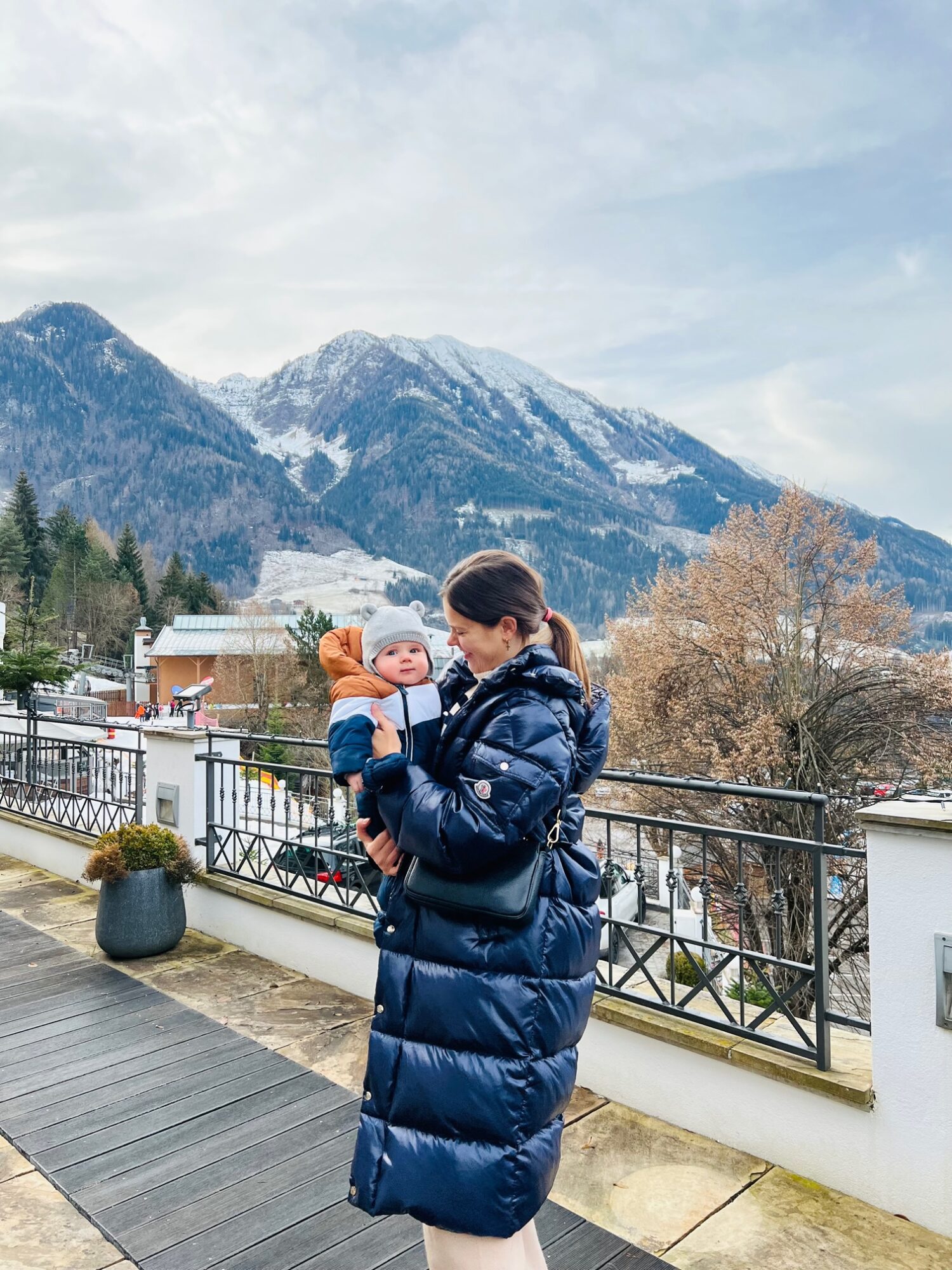 We arrived outside of the winter holidays which was ideal since we wanted to get away from the hustle and bustle of the crowds. I've heard that Austria's mountain resorts meet the best standards, but I haven't expected that they will exceed them in value and service! I'm not kidding, as is the Austrian way, service and gratuities are always included in the rate. The staff, waiters and everyone who worked at the resort were very friendly, kind and helpful. Moreover it didn't feel like it's part of their job but just being authentic.
Our Room at Alpina Resorts St. Johann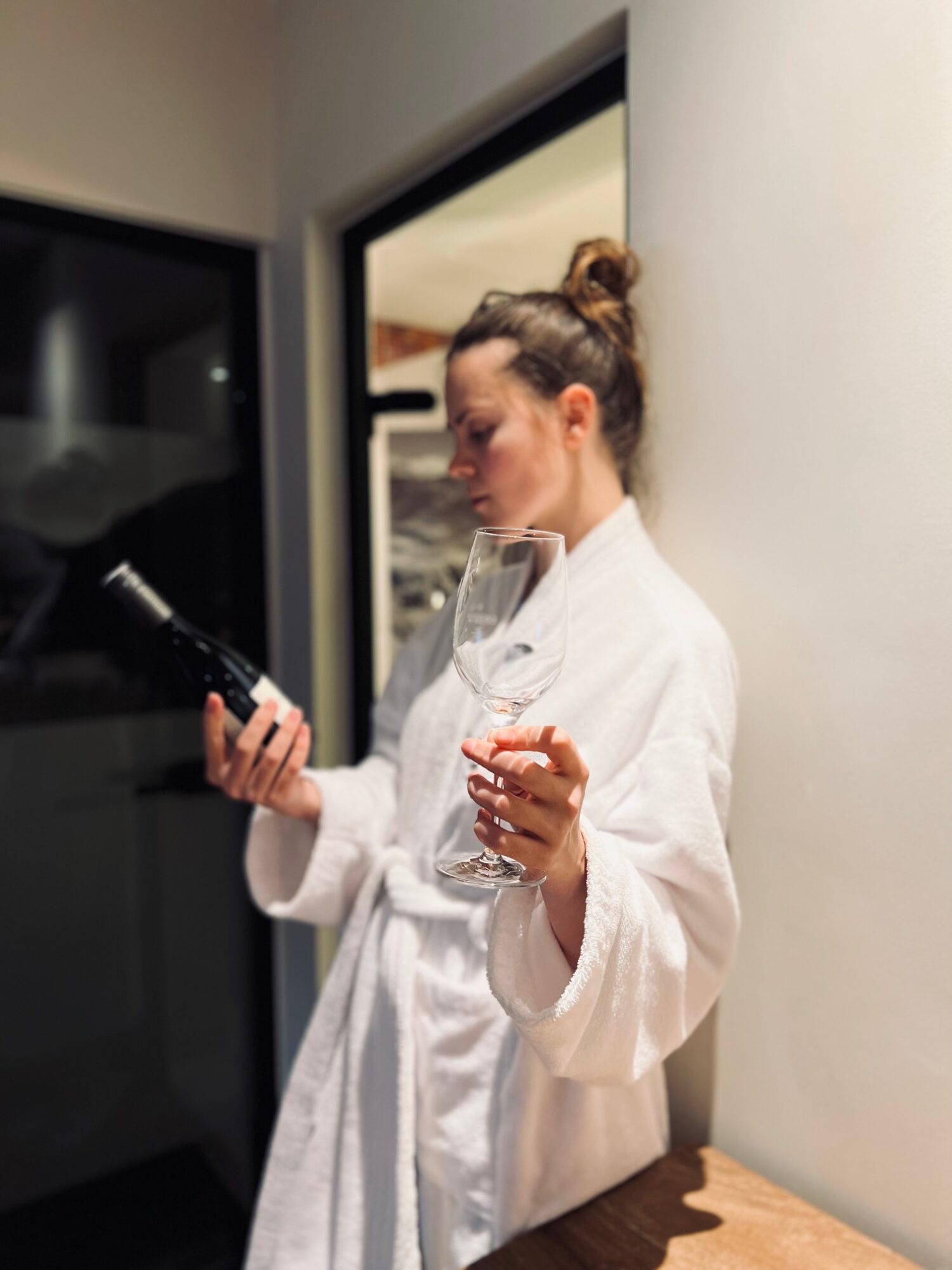 Alpina Resort offers numerous kinds of rooms for every taste and budget. We decided to book a family room since we were travelling with 2 kids. The room was spacious with 2 separated bedrooms. One is of course bigger than another so it's easy to decide where your kids will sleep. There were 3 TVs so as parents we didn't need to watch cartoons the whole time which is a great extra. Our bed was huge and very comfortable. All in one we felt immediately at home!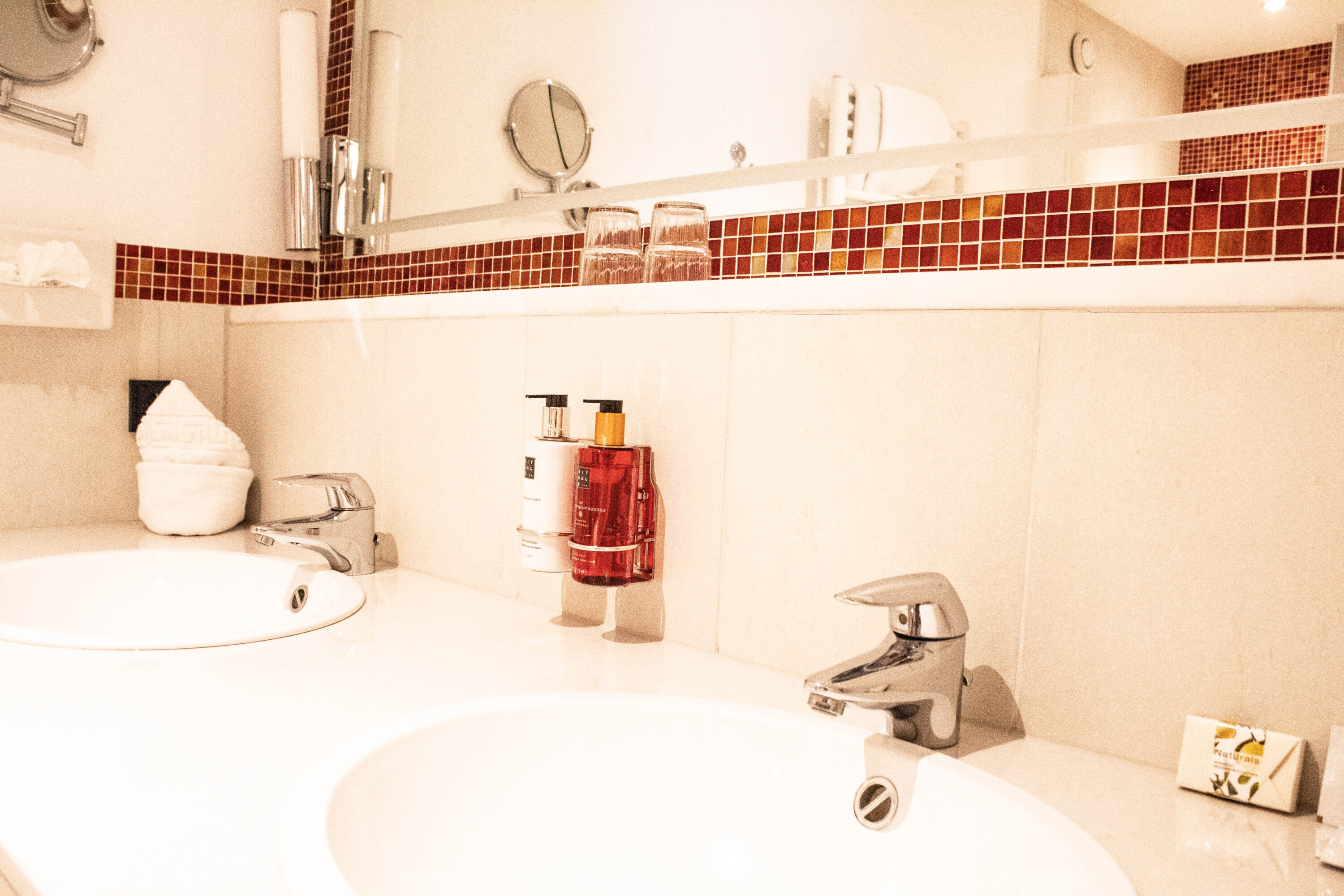 The first thing that delighted us was the rustic and homy design, in the bathroom we found Rituals beauty products like shampoo, hand wash and lotion. The mini bar was filled with local drinks. We also had a balcony but the highlight of the room was the view from the big window. You could admire the beautiful snowy mountains directly from your cozy bench. That was truly a dreamy spot and an epitome for every Instagram picture!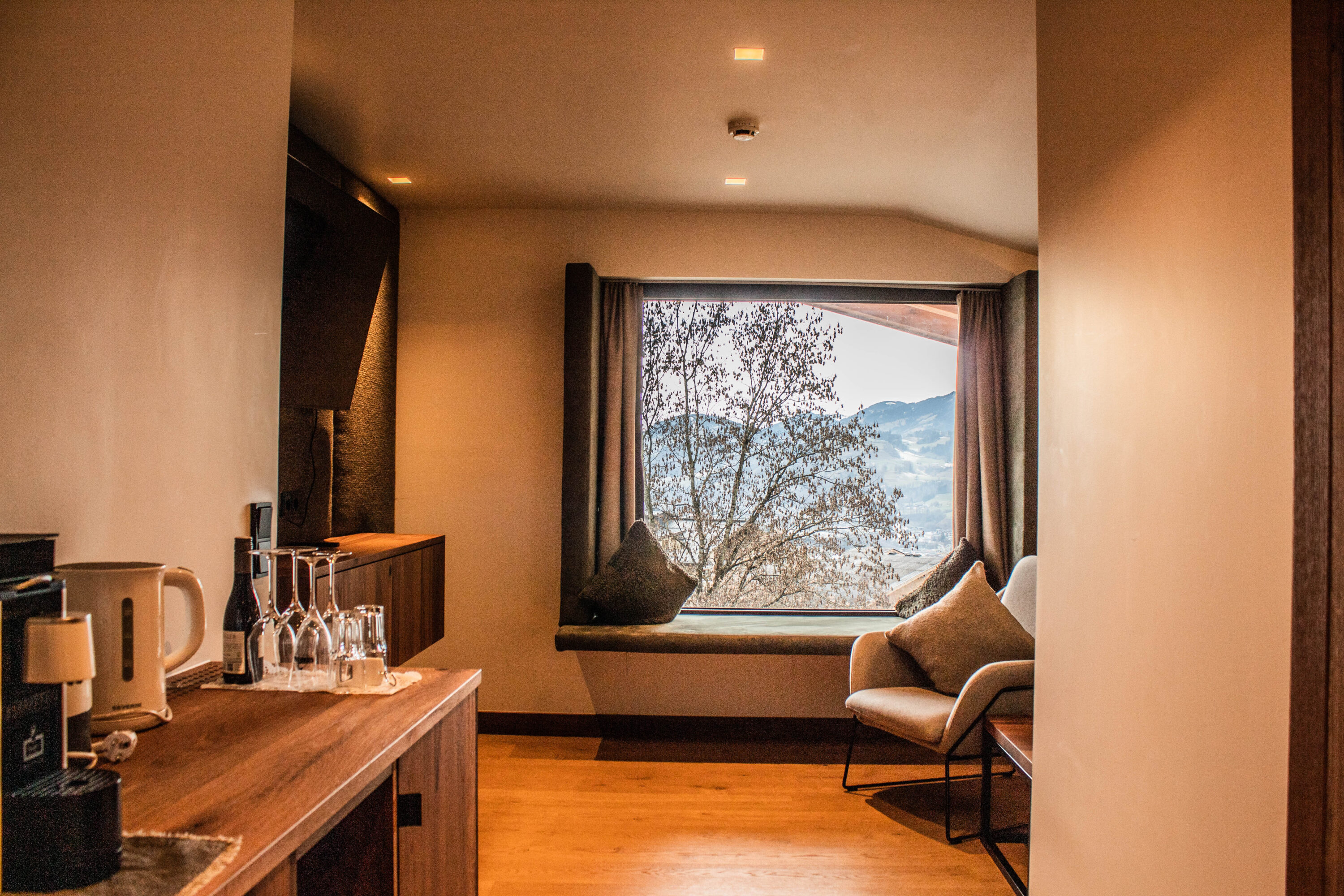 Since it's a Spa & Wellness Resort we also discovered bathrobes, a pool bag with pool towels, slippers and even fitting bathrobes for the kids in our room! So cute!
Why it is a perfect resort for families
As a parent the first what you do when you search for the family holidays is to check what kind of activities are offered for kids. I was astonished to see that there are so many great and fun things to do for children! Moreover if you have a baby there are professionally trained supervisors for children from 4 weeks of age! The whole area for kids looks like a big kindergarten with climbing walls, slides and plenty of toys. Every day there is a new activity planned to keep the young ones creative. On some days they bake on the other they go outside to explore the surroundings.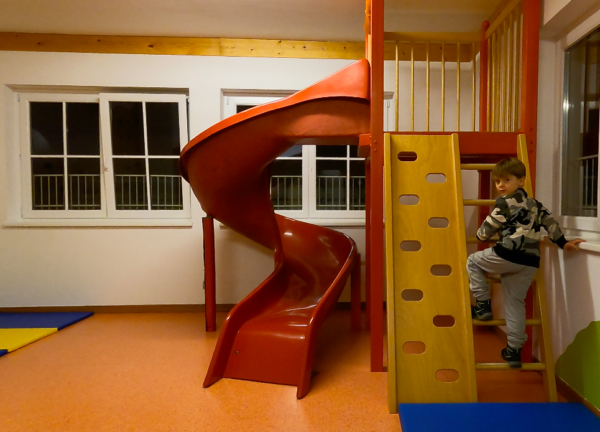 If your kid can't swim or ski there are professional teachers who will take care of it. And even if they can the instructors will help them to refine their skills. Unfortunately we haven't participated in any of these lessons because in 3 days we just couldn't find any time. There is just so much to do! Spa, swimming, walking, relaxing and so much more. So we will definitely do it next time! But our oldest son was so happy to go to Mini Club, that was his first question when he woke up every single day: "When can I go to play?".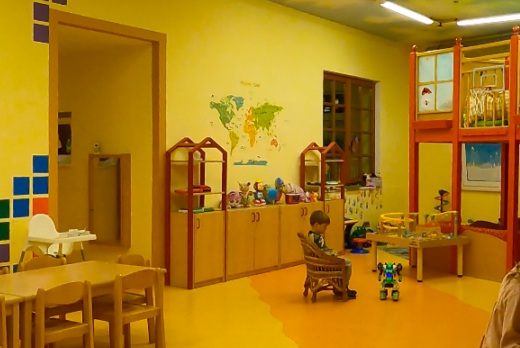 During the warmer season it is possible to visit an adventure park for the whole family on the Gernkogel, Geisterberg. There are hiking trails, panorama towers, climbing mountains, big slides, swings, water games and many other fun things to explore for kids and parents.
Spa & Wellness Area at Alpina Resort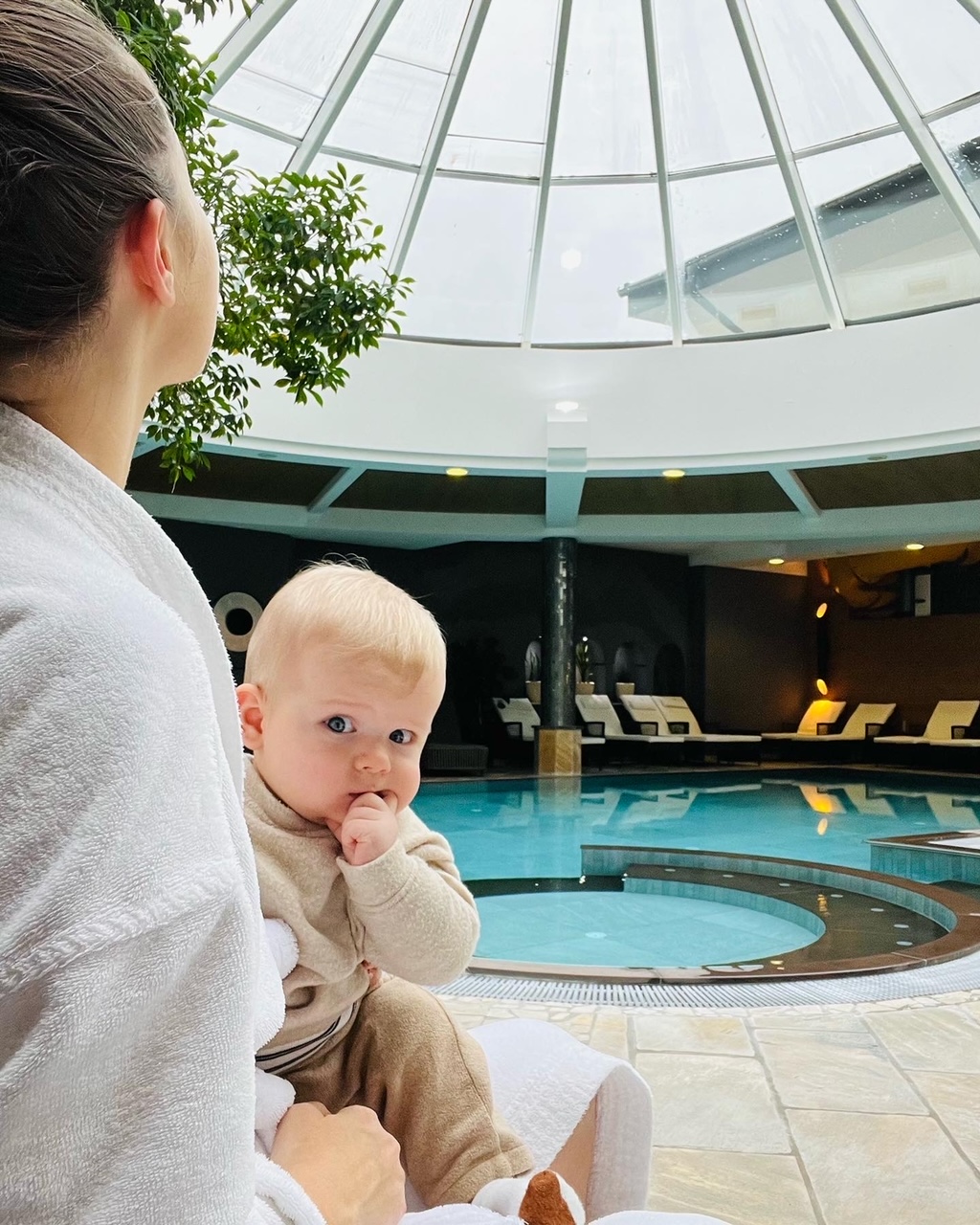 Ok, let's talk about the fun part for parents. This is where we've spent a lot of our time, at indoor lagoon pool and outdoor infinity pool. The indoor lagoon pool is situated in a spacious area with a sun dome and various water attractions such as waterfall, floor bubbles, massage jets and a whirlpool. The water was heated in every pool so also our kids could swim with us. Nevertheless there is a separate baby pool with mini-slide and a separate kids pool with bigger slide. Ideal for kids of any age to enjoy themselves in the water! Of course it's well known that when children swim, they should always have adult supervision— no matter how shallow the water.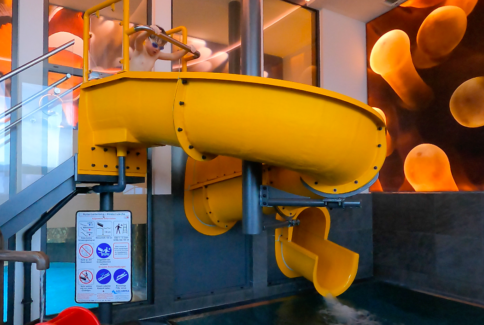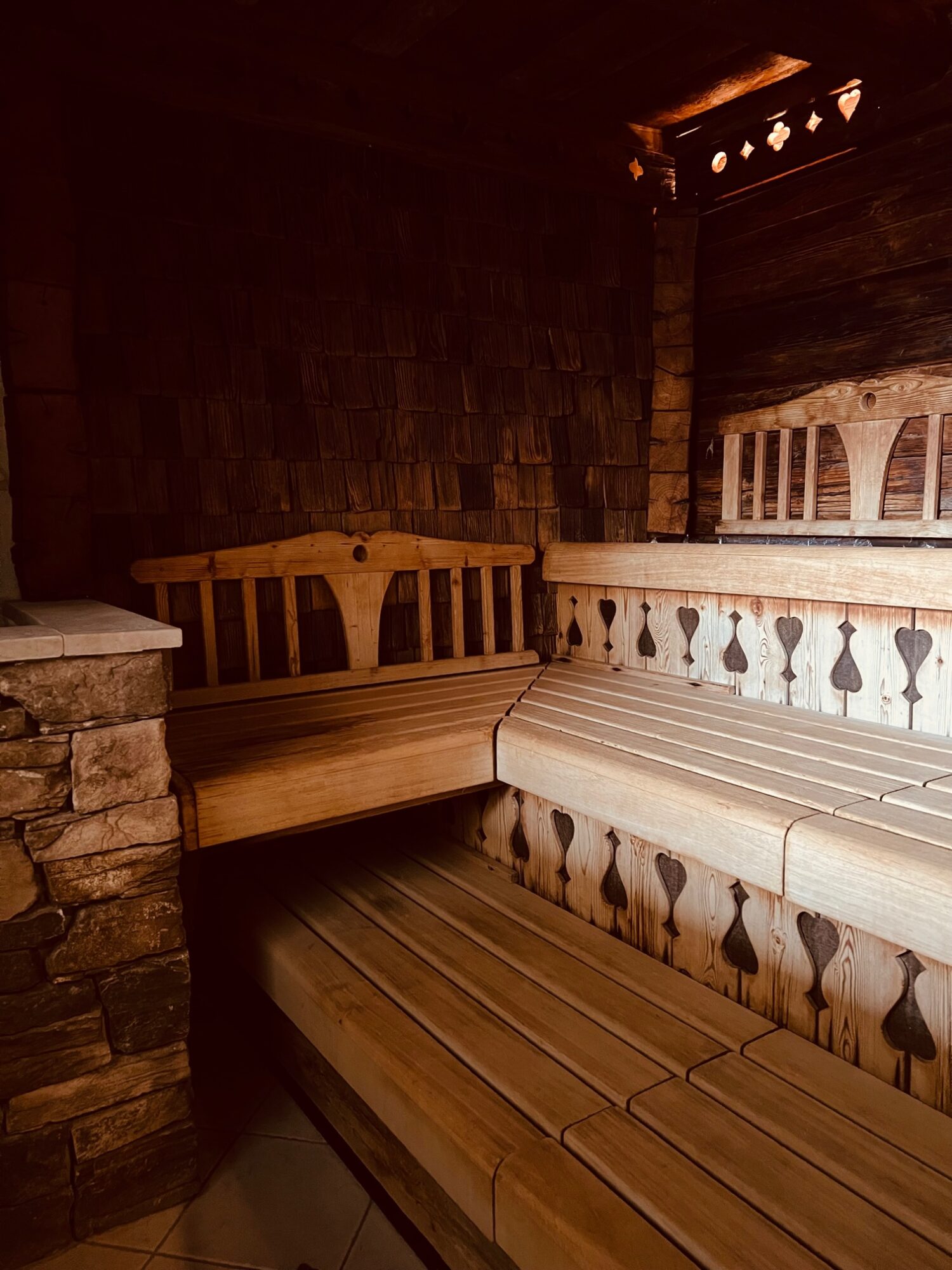 The wow effect of the spa is doubtlessly the heated infinity rooftop pool which is even more special in winter. You can enjoy the panoramic view of Salzburg's snow-covered mountains and riding gondolas at any time of the day and at any season. In the summer you can sunbath on the sunbeams and during the winter like us dip in the heated pool with or without bubbles. Divine, right?
There is no wellness without sauna! And at Vital Garden there are 5 different saunas: Finnish, Herbal, House, Infrared Saunas and Steam bath. After the session you can enjoy one of the relaxation areas or even the fresh air terrace. Everything is very neat, clean, cozy and looks new. But before laying down it's recommended to cool off in one of the adventure showers. There is also a foot bath to stimulate skin circulation. It's important to stay hydrated so there are different types of water with or without flavours, tea and fresh fruits gratis for the guests.
Part of wellness is also a rejuvenating massages and treatments which can be found in the spa area. The spa area is pretty spacious and it feels like you immerse into another world resembling the Bali vibe. We couldn't resist to book one of the massages!
Sport & Skiing Holiday at Alpina Resort
Austria has a long tradition in skiing and as I mentioned before it has some of the very best winter sports infrastructure in Europe. I like how it harmoniously combines contemporary time with the genuine vibe of the past. Cute winter hubs, Austrian authentic cuisine, and an unrivalled après-ski culture. For example unlike in other ski-beloved countries, the party starts already in the early afternoon. That means there are amicable crowds, tasty food, catchy tunes, local drinks, accompanied with a joyful aura. Everyone is smiling, chatting to each other and it feels like one big family gathering. This is what we've experienced when visiting skiing regions next to Alpina resort.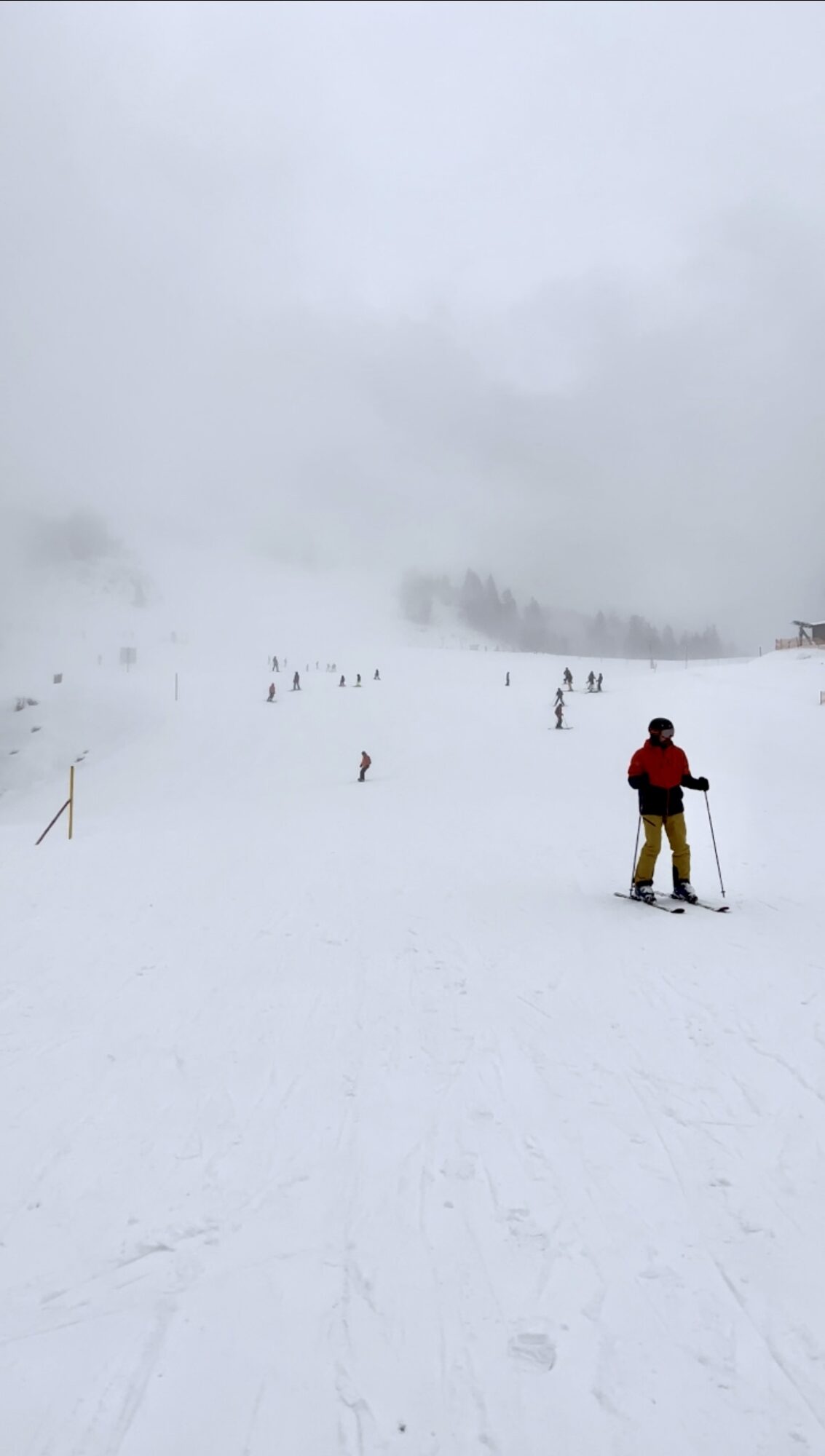 How we got there? The cable car was just next to the resort so on one of the days we decided to go up and observe the winter wonderland with our own eyes. We got tickets for the gondola, jumped in even with the pram. The nice hosts helped us to get it in of course. It took around 8 minutes to get to the top of the mountain while we were admiring the view of the Alpendorf from the bird's perspective.
Important to mention that the Alpendorf Ski Resort offers the first entrance to Austria's largest ski area. By getting a ski pass you will be able to access over 850 km of great slopes. And those who can't ski can just learn it directly there. Everyone can get lessons and learn how to ski even kids of all ages. Runs for every skill level can be found here, giving you the chance to practice your newly learned moves and techniques. And those who don't want to bring their own ski equipment can rent it directly in the hotel. This is pretty handy.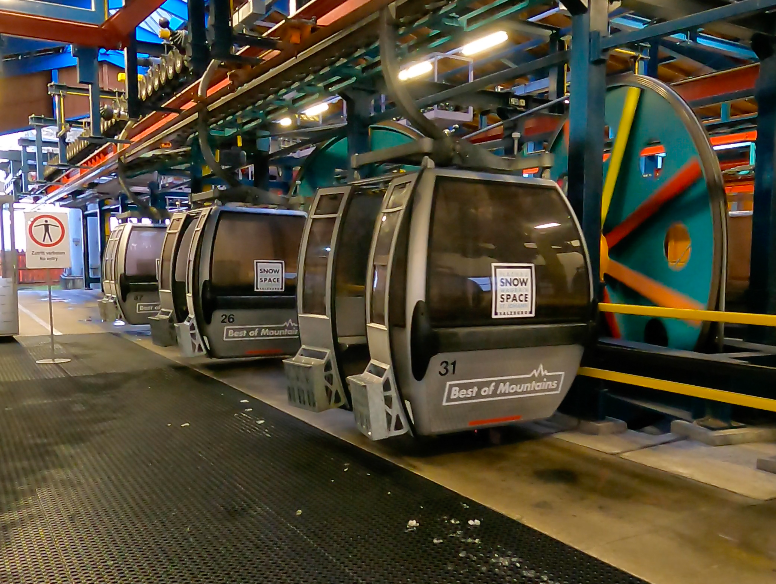 For those who are not into skiing ( I need to be honest, that's us at the moment. We haven't managed to ski but enjoyed the fantastic winter fairy-tale view and planned it for the next time when our youngest is a bit older.) there are plenty of other activities involving snow. One of them is the horse-drawn sleigh through the Alpine village or snowshoe hiking tour. And even if you don't have your own snowshoes there is a possibility to rent them at the hotel!
The gym lovers will be spoiled with the great fitness studio just next to the wellness area. Plenty of machines and space to exercise. There are daily 30 minutes programs suitable for anyone like yoga, stretch or pilates. If you prefer to play tennis, guess what? There is an indoor tennis court! And there is just so much more to do regarding the sport! So definitely take your sport clothes with you to burn some calories after the hearty Austrian food.
Dining at Alpina Resort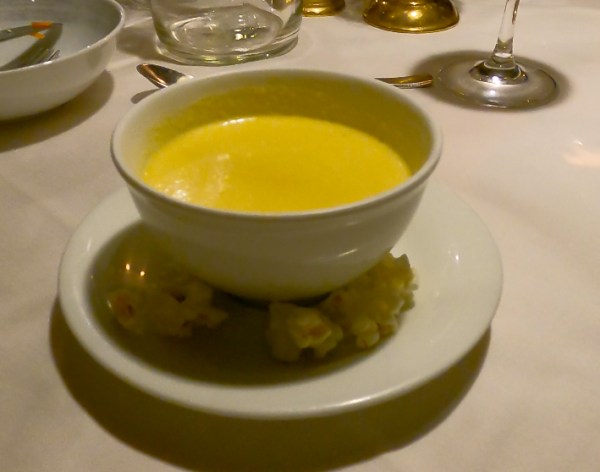 Let's talk about food! We had Alpina's Deluxe Meal Plan which included the fantastic breakfast buffet in the morning, coffee & cake in the afternoon and well diverse 5-course gourmet menu a la carte in the evening. I believe this place should be listed as a gourmet foodie destination, spoiling their guests with a great choice of meals! First I was worried that it might offer mainly meat focused dishes since Austria cuisine is famous for it. But I was positively surprised that vegetarians and even vegans will have plenty to choose from too!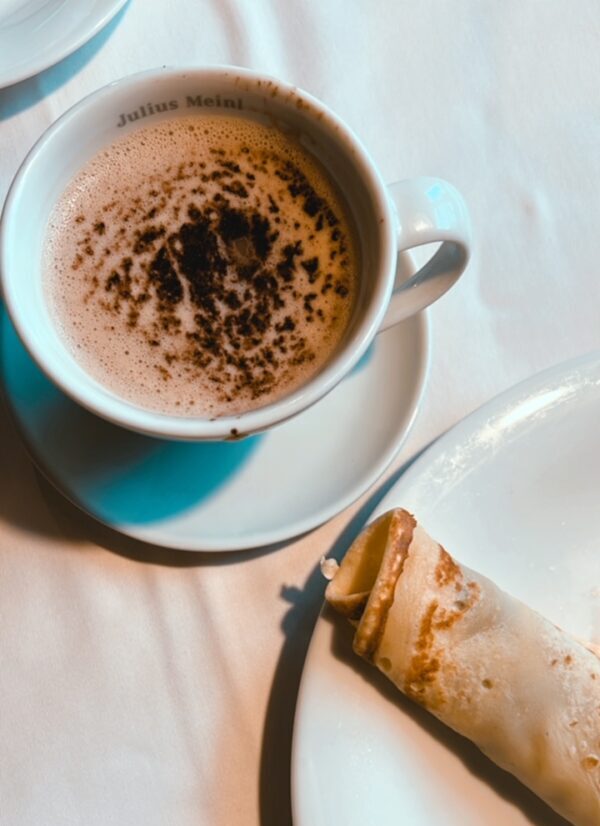 Our day started with a gourmet breakfast buffet including all kinds of muesli, vegetables, fresh bead. There were 3 highlights: Live cooking of eggs, pancakes and waffles. Another one a fruit- and vegetable centrifuge so you can make your own healthy juices. Moreover those who travel with babies could find a corner with baby food and bibs! As a mama I was so amazed with this well-thought service. I think after travelling to so many places and visiting luxury hotels I've never experienced it.
The breakfast and dinner were served in a beautiful authentic Austrian styled restaurant. Families with kids were separated from those who were travelling without. Which is a great idea since only parents can handle their naughty kids and it's still considered to be a relaxing holiday.
For a lunch we went to Bistro-café-pizzeria which is on the same level as a breakfast and dinner restaurant but in a different room. This place is famous for it's wood-fired oven pizzas so we didn't hesitate to order one. And OMG! It was so good, sumptuous, satisfying and honestly just finger-licking good. I think in Austria they just know how to make high quality and tasty food.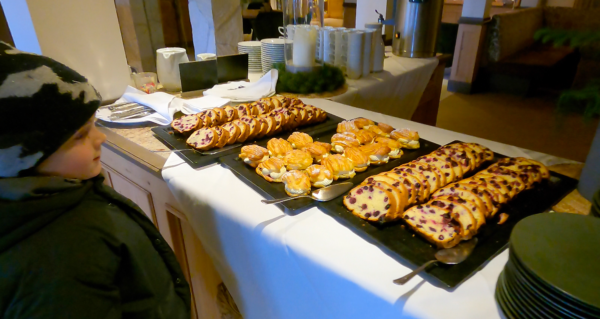 Coffee and cake we could enjoy in the Bar & Lounge area with the charming open fireplace. There is also an open terrace that we inspected in the beginning of the day. It offers a marvellous panoramic view but to enjoy our coffee we decided to stay close to the fire place. So we could keep ourselves warm and even play some board games.
All in one from the moment we arrived at Alpina Family Hotel we fell in love! I would highly recommend to anyone to visit this place if you are planning to have an active or relaxing holiday in Austria. If you are interested to pass by Salzburg, then definitely read my article about "One Perfect Day in Salzburg".