Winter time in Europe is not the most attractive season, that's why we decided to escape the winter blues in February by flying to The Canary Islands. There are eight main islands and some more smaller islands. The most popular ones are Tenerife, Gran Canaria and Lanzarote. But we decided to pay a visit to the best all-inclusive resort at Fuerteventura, on the island of beautiful beaches and great family resorts. Furthermore Fuerteventura is well known for being a child friendly destination. If you are wondering where else you can go with kids in Europe, read 10 Best family friendly cities in Europe.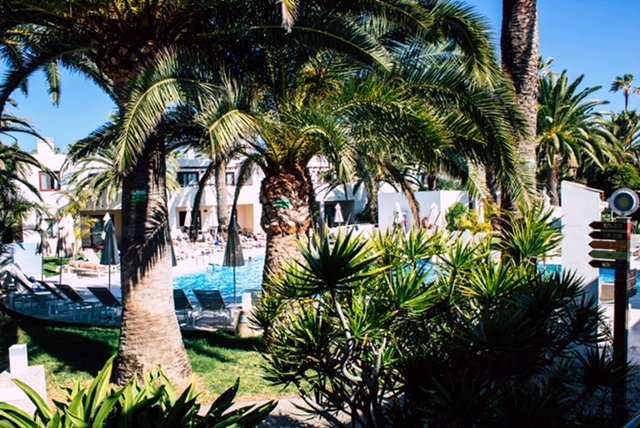 Fuerteventura is famous for year-round sunshine, about 3000 hours of lovely baking sun per year. It's also known for the biggest and best beaches in the Canaries. The island is situated in the Atlantic Ocean, one hundred kilometres off the coast of Africa. It was formed by ancient volcanoes and shaped by the winds from the Sahara desert. No wonder that it was declared a UNESCO Biosphere Reserve in 2009.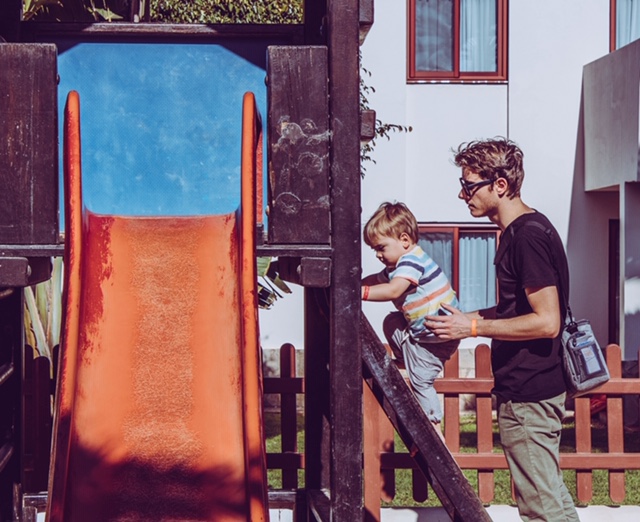 Fuerteventura is not only the perfect destination with kids but also an ideal place to master the waves and enjoy windsurfing. Yoga lovers will be also spoiled with various retreats. All in one it's an ideal destination for those who love sport or want to enjoy luxury resorts. It's without a doubt a perfect holiday destination for families, couples and surfers.
What language do they speak in Fuerteventura?
The Canary Islands are a part of Spain that's why the official language is Spanish. However because of the great touristic development many people speak English and German.
How to get to Fuerteventura?
To get to Fuerteventura from Brussels, you need to take a 4h flight. The easiest way to get to the airport is to use Easy Transport services like we did. Especially if you are travelling in the early morning and would prefer to have a stress free start of your holidays. Anyway we flew with Ryanair, the flight was a bit long especially with our child but it was still manageable. Just take plenty of snacks and some entertaining toys to keep your kiddo busy.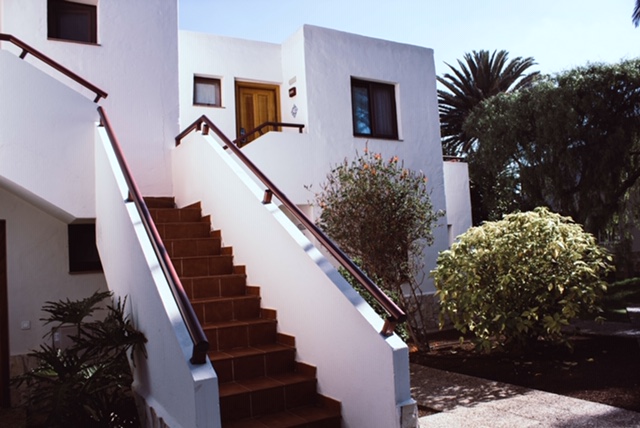 After our arrival at Airport De Fuerteventura we decided to take a taxi. Our aim this time was to enjoy the pool and the activities inside the Suite Hotel Atlantis Fuerteventura Resort. It took us around 30 minutes to get to our destination for the price of 50€. But if you want to discover the island then I would definitely suggest to rent a car and drive around. As a volcanic nature reserve, the island is completely free from traffic and the roads are very well maintained.
Why you should stay at Suite Hotel Atlantis Fuerteventura Resort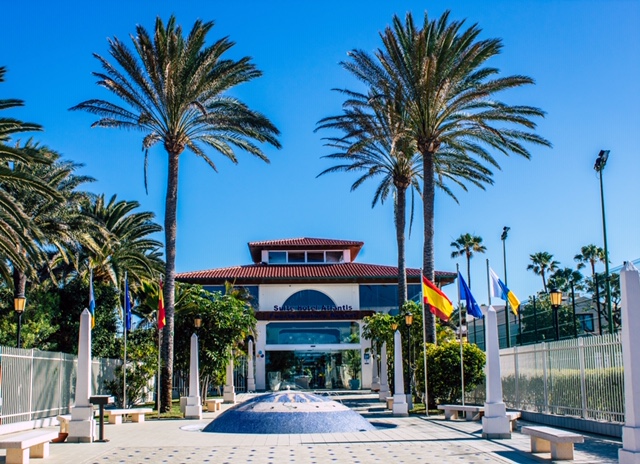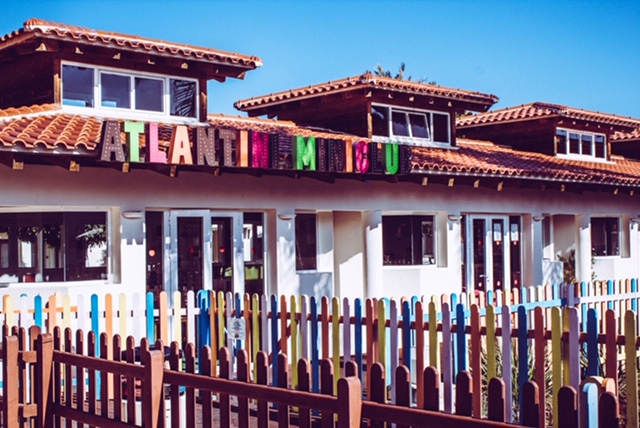 Suite Hotel Atlantis Fuerteventura Resort is located only 50m away from Corralejo, on Fuerteventura's north coast. It offers everything what could satisfy your holiday wishes: From various swimming pools, a spa, fitness centre to a delicious all-inclusive buffet. It's an ideal place to come with the kids because of the playground and activity clubs for children organised at Atlantini Mini Club. Our little one didn't want to get out of the heated baby pool. That's why we needed to get tons of sunscreen to protect him from the vicious Canarian sun.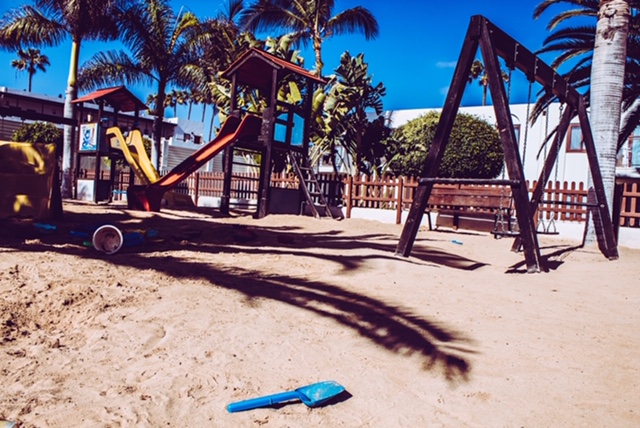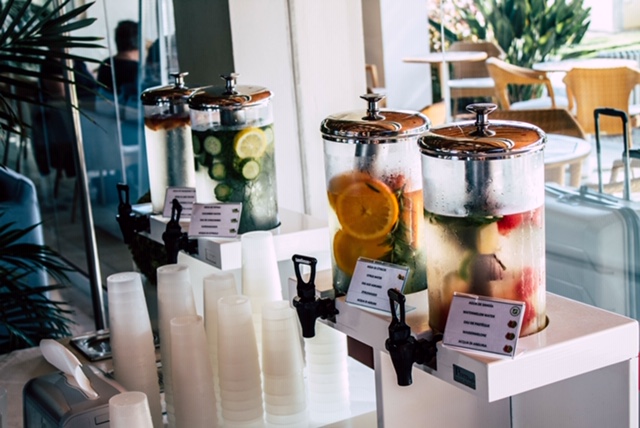 Due to the mild temperatures of around 21 degrees and strong wind swimming was not always very pleasant but there were also deep swimming pool with warm water. Which is a great extra. Another amazing feature is the 6 bars, such as a cocktail bar and a poolside bar you can frequent to help you stay hydrated. Or also enjoy tasty cocktails to bring you even more into the holiday mood.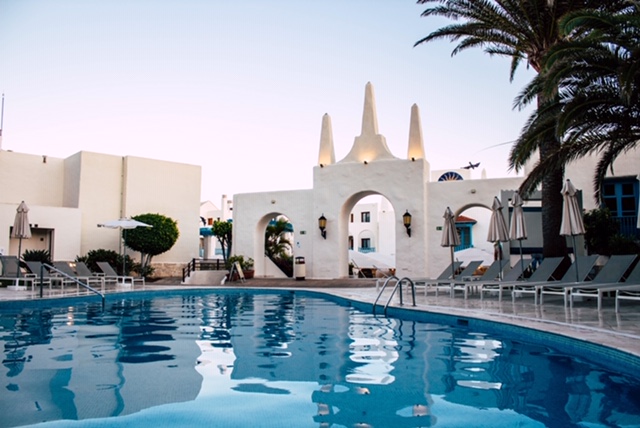 I haven't seen the Adult Only area but it features a sun terrace and relaxing area with Balinese beds. So if you are not ready for the kids and just want to be sure that it's quiet in your perimeter then definitely check the Adults Only Premium Club.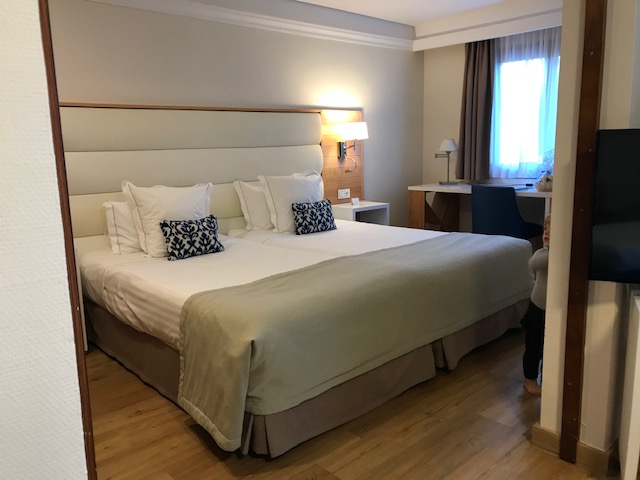 As I already mentioned we were in love with the modern and stylish facilities. You could see that everything has been recently renovated and painted in clean white colours with blue accents. The rooms were also nice with spacious beds, bathrooms with walk-in showers, lovely balconies and a TV. On our first day a bottle of bubbles and fruit basket were expecting us in the room. On the last day we received some presents: Canarian traditional jams, one with almonds and another one with papaya and oranges. How considerate is that?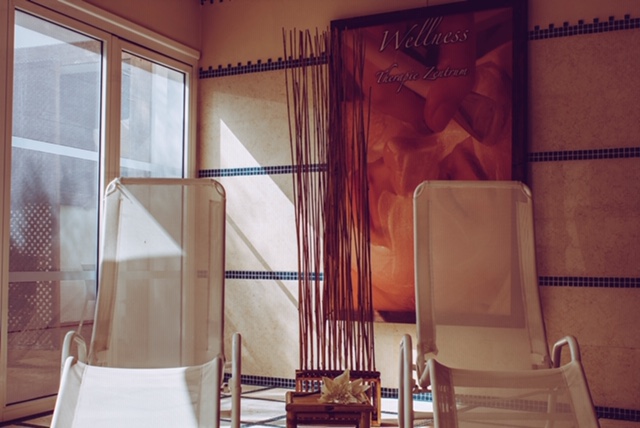 I would recommend to visit the spa area. There are two saunas and an outside area where you can lay under the sun or umbrella if it's too hot for you. I couldn't resist and booked a relaxing massage. It was a great choice, the masseur was very professional: It was not too soft not too hard. One hour passed by like a minute!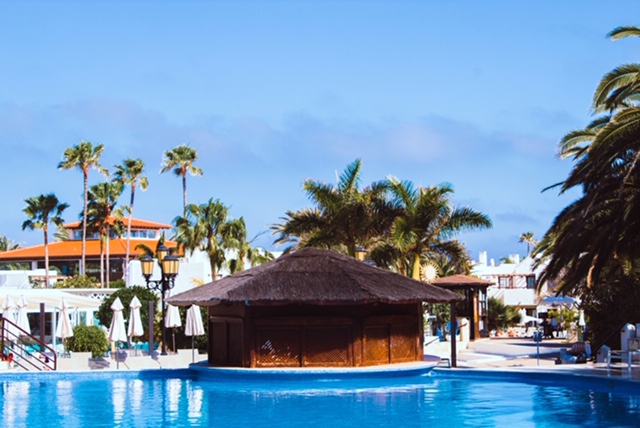 The active ones can play volleyball, football and some other games next to the pool. The hotel also offers various activities like aquarobics, yoga and many more during the day. In the evening there were entertaining shows but unfortunately we couldn't see any of them because of our 2 year old rebel who needed to go to bed.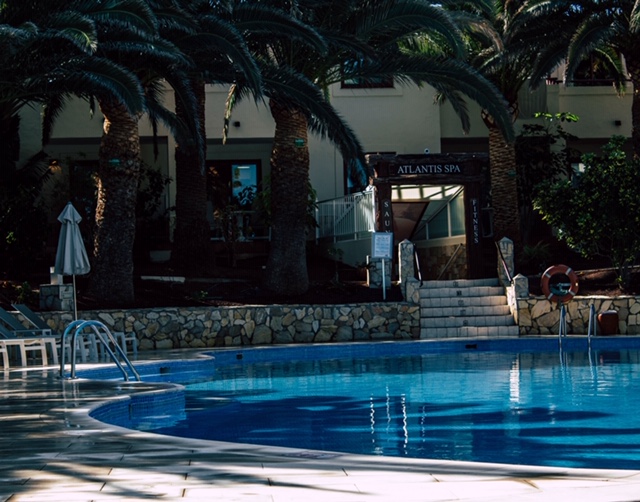 Important to mention are the exclusive 5 restaurants with top quality food. Every day there was a new theme and the menu always offered something new. We also could reserve a table in a smaller restaurant offering Spanish meals at "Atrium"and Asian cuisine at "Rambutan". So don't even think to visit Suite Hotel Atlantis Fuerteventura Resort while being on a diet!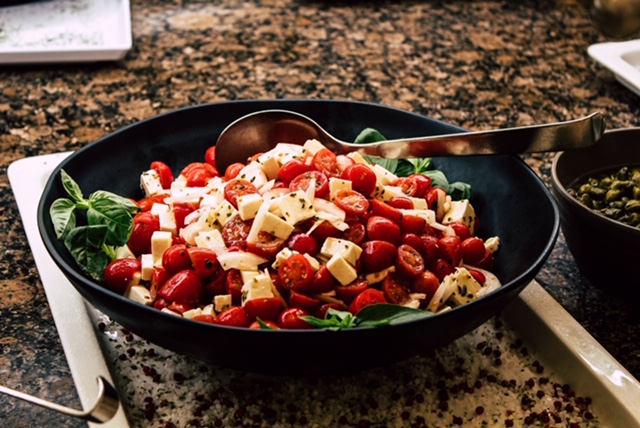 What to do outside of Suite Hotel Atlantis Fuerteventura Resort
Suite Hotel Atlantis Fuerteventura Resort offers a free shuttle service at specific set times to the nearby beach, Natural Park Corralejo Dunes. It's a great opportunity to enjoy the beautiful beach side of Fuertventura and take some memorable pictures. But again just be sure to take plenty of sunscreen.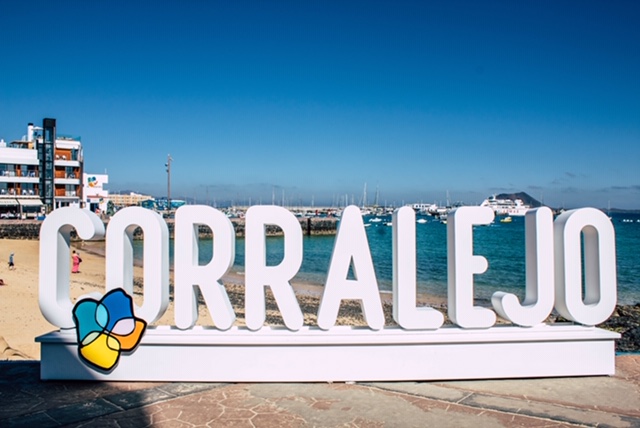 You can also visit Corralejo, a town located close to the resort so you can easily reach it by foot. The once small fishing village has grown into vivid and colourful town with the help of the development of tourism. On the main street in the town you will find most of the shops, bars and restaurants. There is also a beautiful harbour where you can enjoy a cocktail and watch the sailing boats. The atmosphere is very charming and laid back.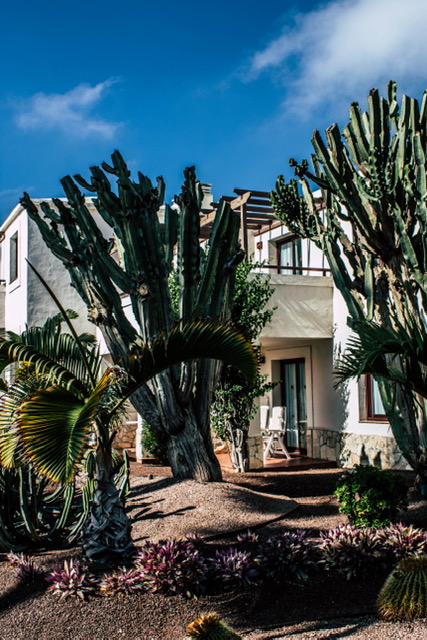 There are also plenty of possibilities to enjoy water sport like windsurfing or kayaking. So there is definitely no time to get bored on the Canary island of Fuerteventura! And for those who are searching 5-star luxury hotel in Fuerteventura and want to be treated like a king I would recommend to visit Gran Hotel Bahia Real.
If you would like to stay here too you can contact Suite Hotel Atlantis Resort, Fuerteventura via email reservations@atlantishotels.com or phone number +34 928 536 151