Winter is the coldest season of the year in Europe and often it associates with cold days and a lack of sunlight. Nevertheless if you decide to experience European cities during this period you will be surprised how some cities can be completely transformed into a wonderland! There's doubtlessly something special about visiting Europe during winter. This season creates a visiting experience that you just can't have at other times of the year.
Winter brings with it some festive dates, like Christmas and New Year's Eve. That means this time of the year is perfect to connect with your family and create beautiful memories while travelling with your kids to Europe. Moreover these special holidays allow local culture and traditions to shine through, showing you and your kids a unique side of a city you'd otherwise never see.
Unfortunately not every destination in Europe is great to visit during the winter, but those that are, will astonish you with it's decorations, festive vibes and delicious treats. Let me show you five special winter destinations in Europe that you and your family would be tempted to visit every year again and again!
Salzburg, Austria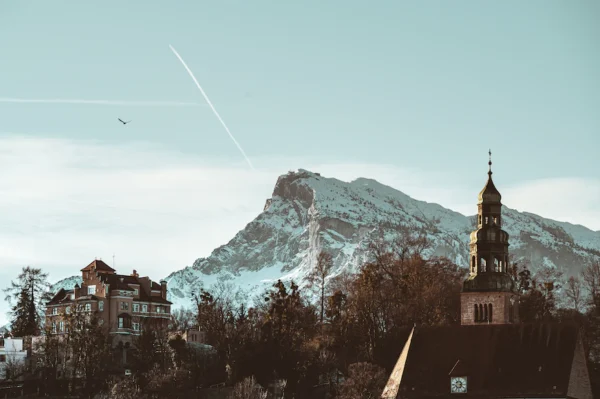 Salzburg is one of the most magnificent places in Austria. Visiting it during winter is especially magical, it can feel like you're stepping into a postcard. Salzburg with kids can be very entertaining, since there are so many interesting things to explore outside. Furthermore there are plenty of museums and places you can go to warm up. Walking around the city with it's architectural masterpieces and the snow falling feels like being in a winter wonderland.
The Austrian city of Salzburg is not only famous for it's cobblestone streets, charming shops, beautiful palaces, and baroque buildings, it has a rich history. It was founded in the year 696. In 1997 it was added to the UNESCO World Heritage List. Known all over the world as Mozart's birthplace, it is also home to one of the largest medieval fortresses in Europe, Hohensalzburg Fortress. A great story to tell your kids: This monument was initially built to protect the princess and archbishops, and it was never once captured!
After being outside for so long you can warm yourself up in the oldest coffeehouse in Austria, Café Tomaselli. Can you imagine that even Mozart frequented this lovely coffeehouse! It's also a great place to taste the famous sachertorte, a classic chocolate cake that originated in Austria.
Walk through the famous Getreidegasse, admire Mozart's statue and the Salzburg Cathedral. If it's way too cold for your kids to spend too much time outside then there is a chance to visit The House of Nature. It is the most popular museum in Salzburg which offers a Science Center and a reptile zoo. There is just so much to explore for an ideal winter family vacation.
Rovaniemi, Finland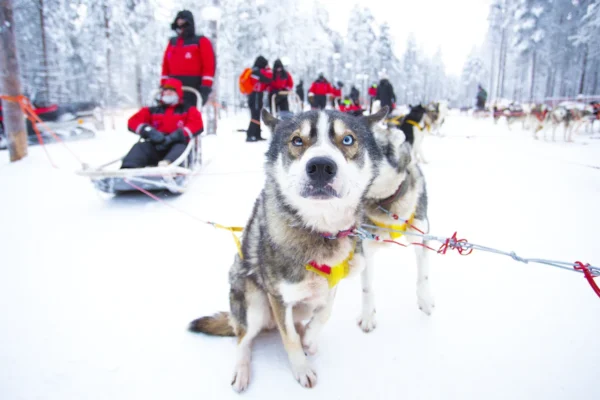 You can't write about winter holidays in Europe without mentioning the must-visit place, Rovaniemi in Finland. The capital of Finnish Lapland is an epitome of the perfect snowy fairyland for young and old. Finnish Lapland is where all your snow-filled fantasies come to life. After all, it's the Official Hometown of Santa Claus.
Rovaniemi is an urban city, located right below the Arctic Circle. It's surrounded by arctic nature, where Lappish culture and Santa Claus Village meet. Santa Claus Village can be visited all around the year but no doubt it feels the most special during the Christmas season. Kids will have the most memorable time because they will be able to meet the beloved Father of Christmas, Santa Claus himself.
Finnish Lapland is where all your snow-filled fantasies come true. There is a wide range of unforgettable activities starting with the mesmerising Northern Lights – or Aurora Borealis – to reindeer sleigh rides and adorable husky sledding. After being outside in the cold the whole day you can warm up in a finish hot sauna. Remember to combine it with a plunge into the snow afterwards. Extraordinary experience for the whole family!
Bruges, Belgium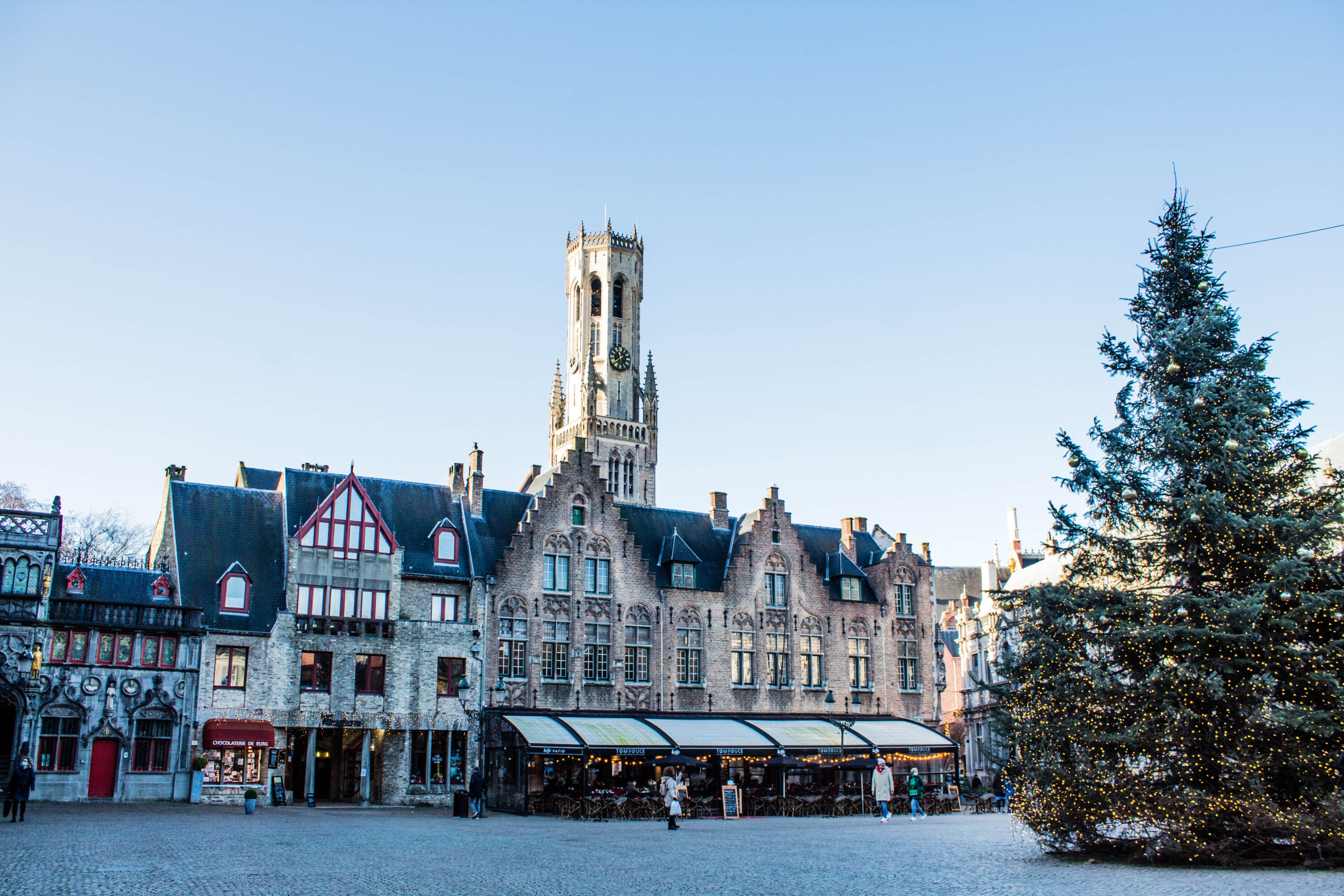 Bruges in Belgium is another magical winter destination in Europe. The predominant part of medieval architecture in Bruges stayed unharmed, making it one of the most well-preserved medieval towns in Europe. In 2000, the historic city centre of this romantic place was added to UNESCO's world heritage list. So the charming town with it's spectacular architecture, cobbled alleys running alongside pretty canals and the sweet scent of waffles all over the town will put a spell on every visitor each time of the year.
In winter Bruges turns even more into the surreal fairyland decorated with Christmas trees, colourful lights and lovely markets. Nevertheless in this period it's the best to explore Bruges with your kids when it's dark. The town comes alive by night and the reason for it is the Winter Glow festival. You just need to follow the trail of light installations around the city. You can find them at the main sights and also at lesser-known places. And there's also ice skating for young and old to burn calories after trying all the delicious pastries and drinking hot chocolate at the Christmas markets!
Vienna, Austria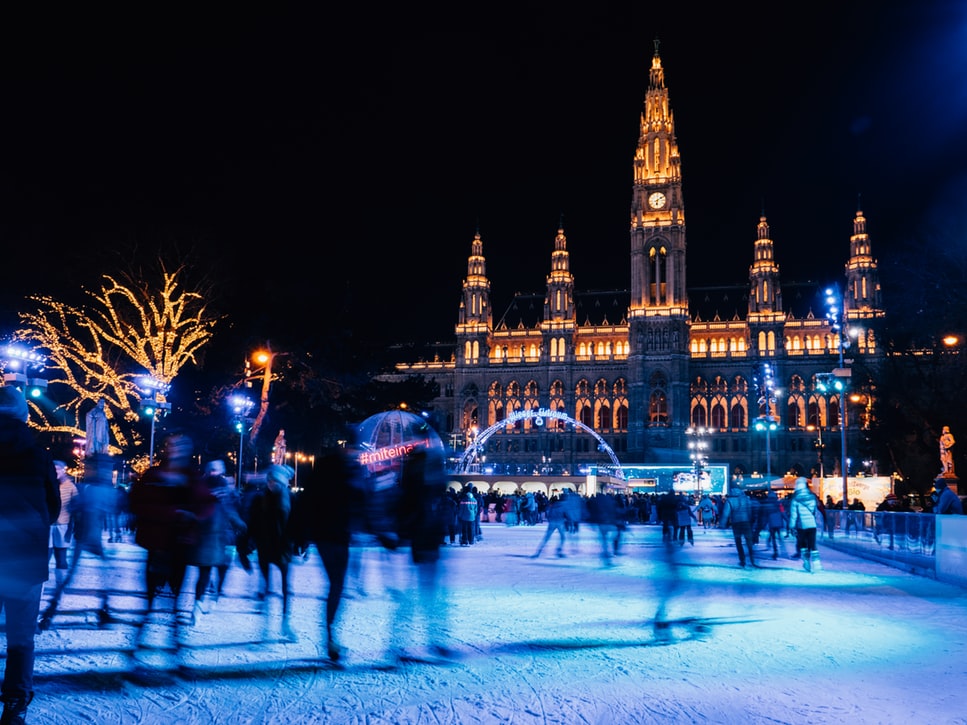 Vienna, Austria is a must visit at least once in your life during the winter period. There is so much to do and see for grown-ups and kids. First of all from mid-November until Christmas, most of Vienna's squares are transformed into miraculous Christmas markets. The scent of delicious Christmas baking, hot punch and toasted almonds floats in the air. The whole city is decorated with festive lights that spread the Christmas spirit and a jolly mood.
At the Vienna Ice World at the Christmas Market, everyone can enjoy ice skating by making rounds through the illuminated City Hall Park. If you're little one is still not a professional at skating, most skating rinks have learning aides available. And there is so much for children to be entertained with: there's a 12 meter-high multi-level carousel, in the park a Christmas world with reindeer train, nativity scene trail, children's chalet and so much more. Honestly there are so many amazing Christmas markets that you just need to go and see it yourself!
And if it gets too cold there are also plenty of various museums that will be interesting for your little ones, like Naturhistorisches Museum or Zoom Kindermuseum. The last one is dedicated to children between 8 months and 12 years of age.
Tallinn, Estonia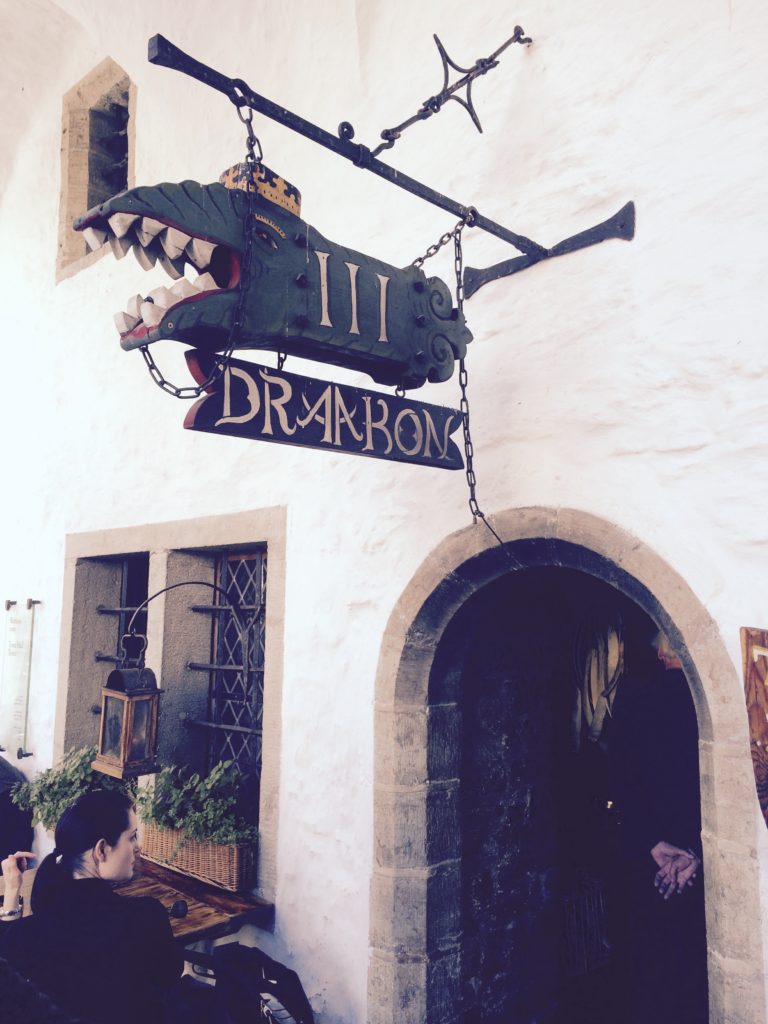 You won't read much about Tallinn, the capital of Estonia but exploring it during the winter with your family is like immersing into a fairytale. It's well-preserved Medieval Old Town, winding cobbled streets, cute houses and witch hat turrets will make your family holiday in winter very special. The winter mist surrounds the buildings and makes the old town look mystical (You get it "mist"-"mystical"?). Moreover Tallinn is a family focused city so you will find various interesting activities not only for yourself but also your kids.
There are many opportunities to have an active family holiday at adventure and snow parks, play centres, and great museums. The Tallinn Old Town looks looks like out of a picture, where every child can feel like a knight or a princess. And not to forget plenty of Tallinn's museums like Children's Museum Miiamilla or exhibition "Childhood Wisdom".
When your kids need a break, as a parent you can find everything you need in the mother and child's room in Tallinna Kaubamaja. It's located in the centre of the city. Make sure not to miss all the beautiful Christmas markets that make the Old Town look even more magical. And of course ice skating at the Uisuplats pop-up rink on Harju Street is another great opportunity for your kids and you to have an awesome bonding moment.