Why you should spend your holidays in Zakynthos?
Greek islands are famous for it's beautiful landscape and friendly holiday vibes. Zakynthos is no exception, it's even an epitome for all the great things that you might heard about Greece. Zakynthos is the third largest Greek island which lays in the Ionian Sea of western Greece. It's also known as "Zante" and "Flower of the east". It's a compact island which can be explored effortlessly. The main sights that made this island worldwide famous is Shipwreck (also called Navagio) beach. Nevertheless there is much more to find whether you're looking for a relaxing escape or a wild adventure. You can travel to the island even from Athens.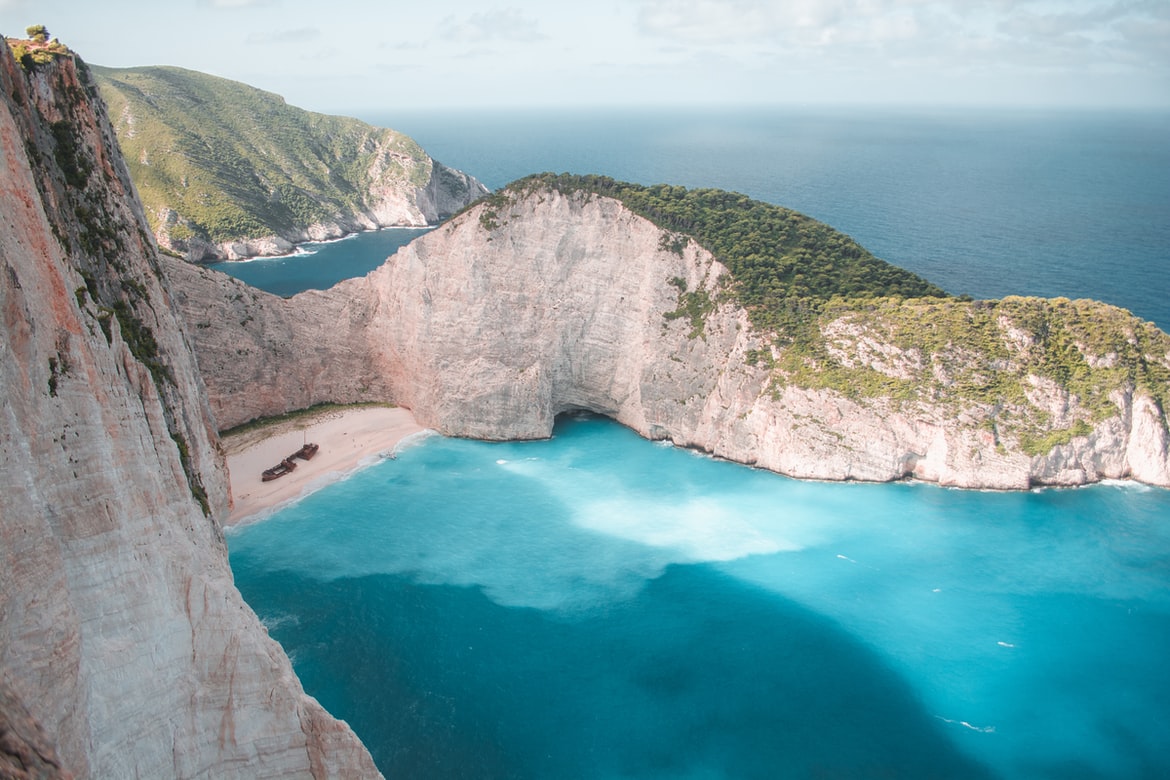 We personally fell in love with Zakynthos despite our unlucky situation with the rainy weather. We were travelling in October. Still we had a chance to observe and experience the beauty and variety of activities on this magical island. Hiking, biking, horse riding or just sunbathing in a fancy resort with swim up rooms, Zakynthos has something for anyone who plans holidays for the coming year 2022. And did you know that today olive oil from Zakynthos is considered to be one of the best in the world as it carries very low acidity and peroxides which make them of premium quality. Super healthy and delicious!
Best Time To Visit Zakynthos
The best times of the year to visit Zakynthos are April-May and September. You will be able to enjoy the best temperates of Zakynthos: Warm days and cool evenings. Summers on the Greek island tend to be hot, 30-33°. Additionally it's also the high tourist season. Winters on Zakynthos can be cold and rainy. You may also find that many restaurants and hotels are closed at this time.
Getting Around Zakynthos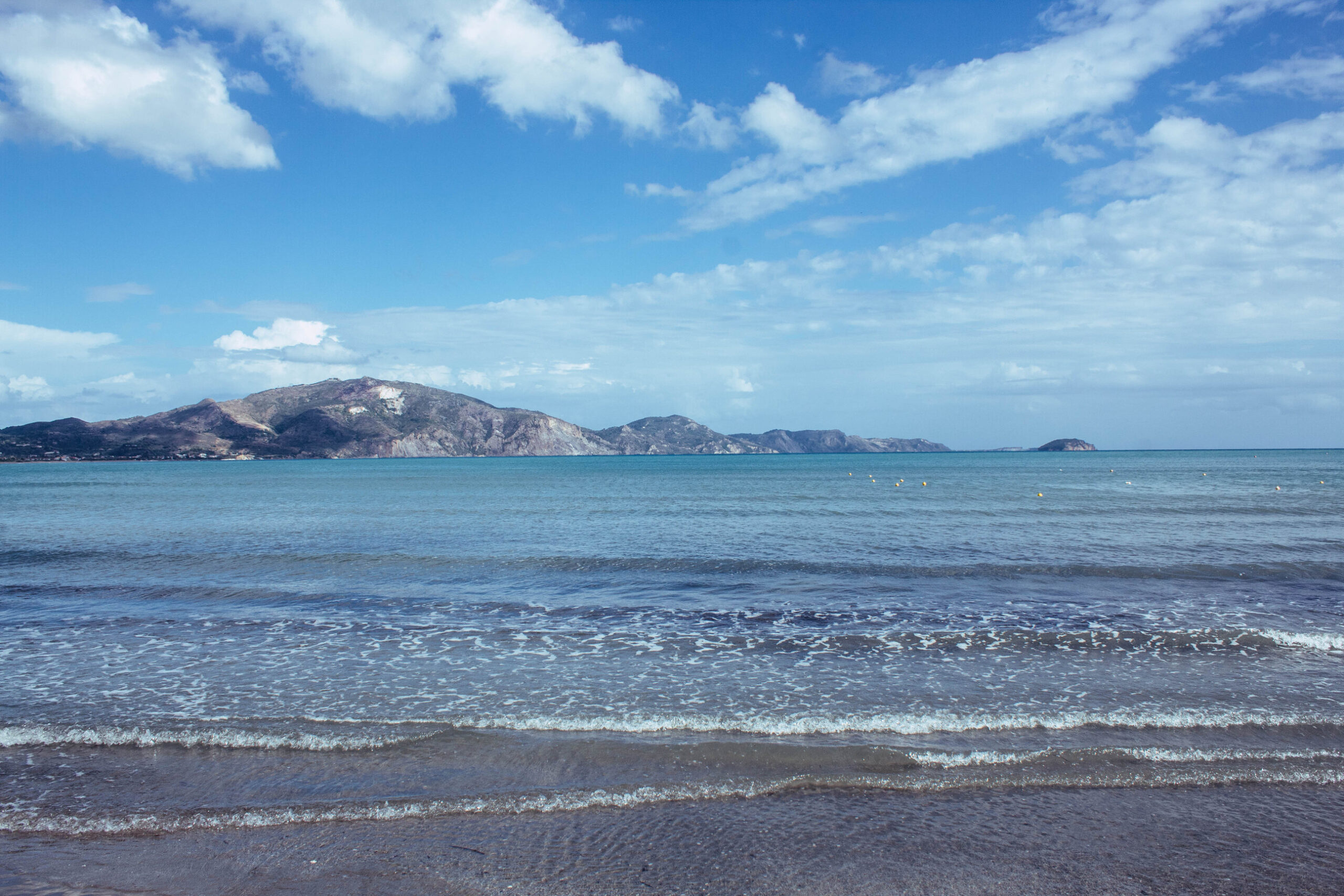 There are several options to travel around Zakynthos island. The best one is with a rental car. The prices vary between 30-40€ and the driving on the island is safe and easy. Furthermore you are more flexible to explore the surroundings, panoramic views and beautiful beaches. The most expensive way to get to your destination is by taxi. Still it's not too pricey, for example from the airport to Laganas will cost you 20€.
Last but not least you can travel by bus. Nevertheless the buses go irregular and they do not always follow the exact time schedule. But it would cost you just 1,60€ for a ride. It's manageable if you want to visit the major towns of Zakynthos.
Where to stay in Zakynthos?
Amazing all inclusive hotel in Zakynthos for couples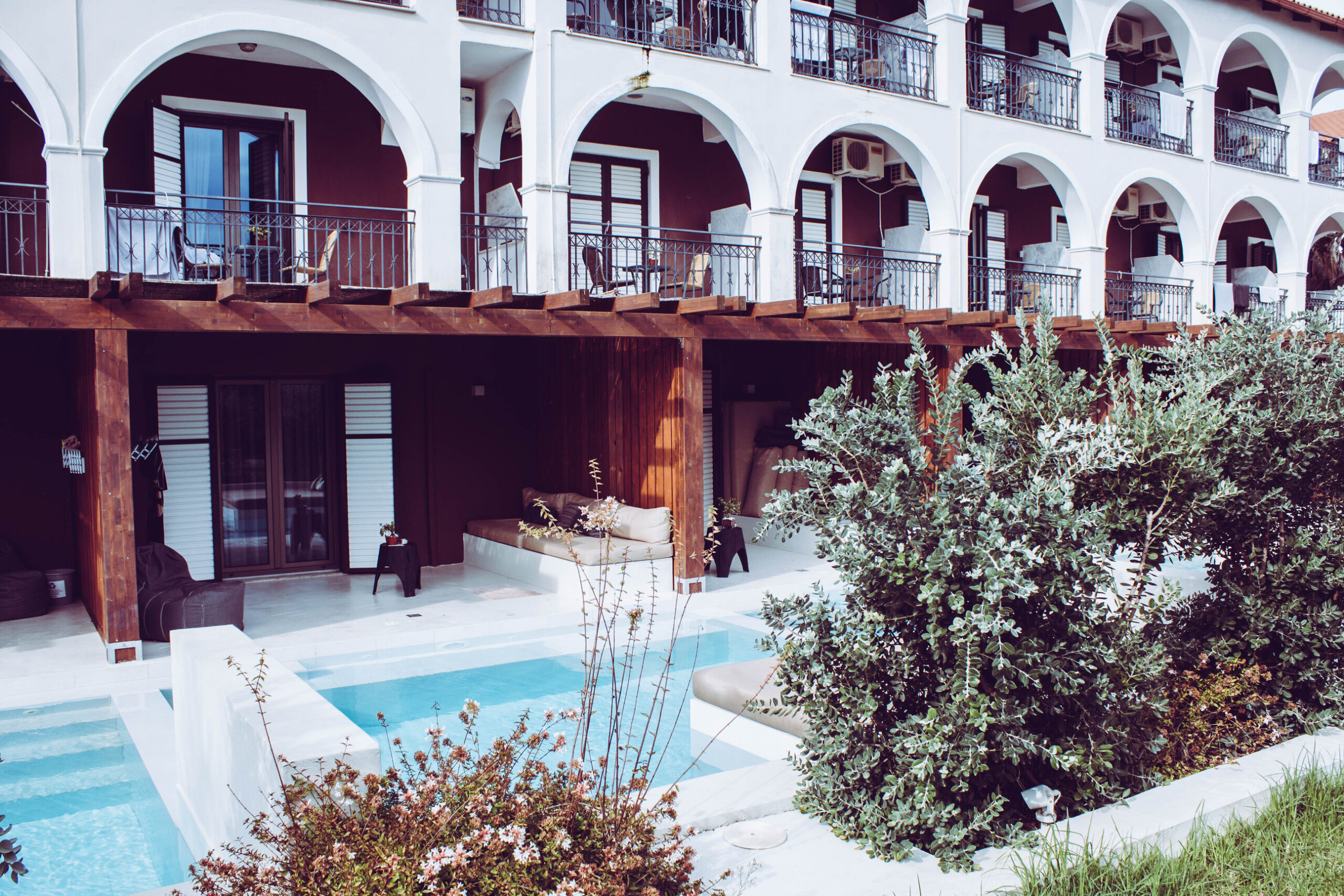 During our trip to Zakynthos, we stayed at the fantastic and tranquil Castelli Hotel. It's an Adults Only family-run (Lougaris) boutique hotel which is set on it's own farm and located at Agios Sostis, a mesmerising location of Laganas bay. I would describe it as a hidden oasis among the olive trees where you can really feel at home away from home. Despite being situated in Laganas, which is famous for it's party area, this gem is tucked away from all the noise and hectics of the outside world.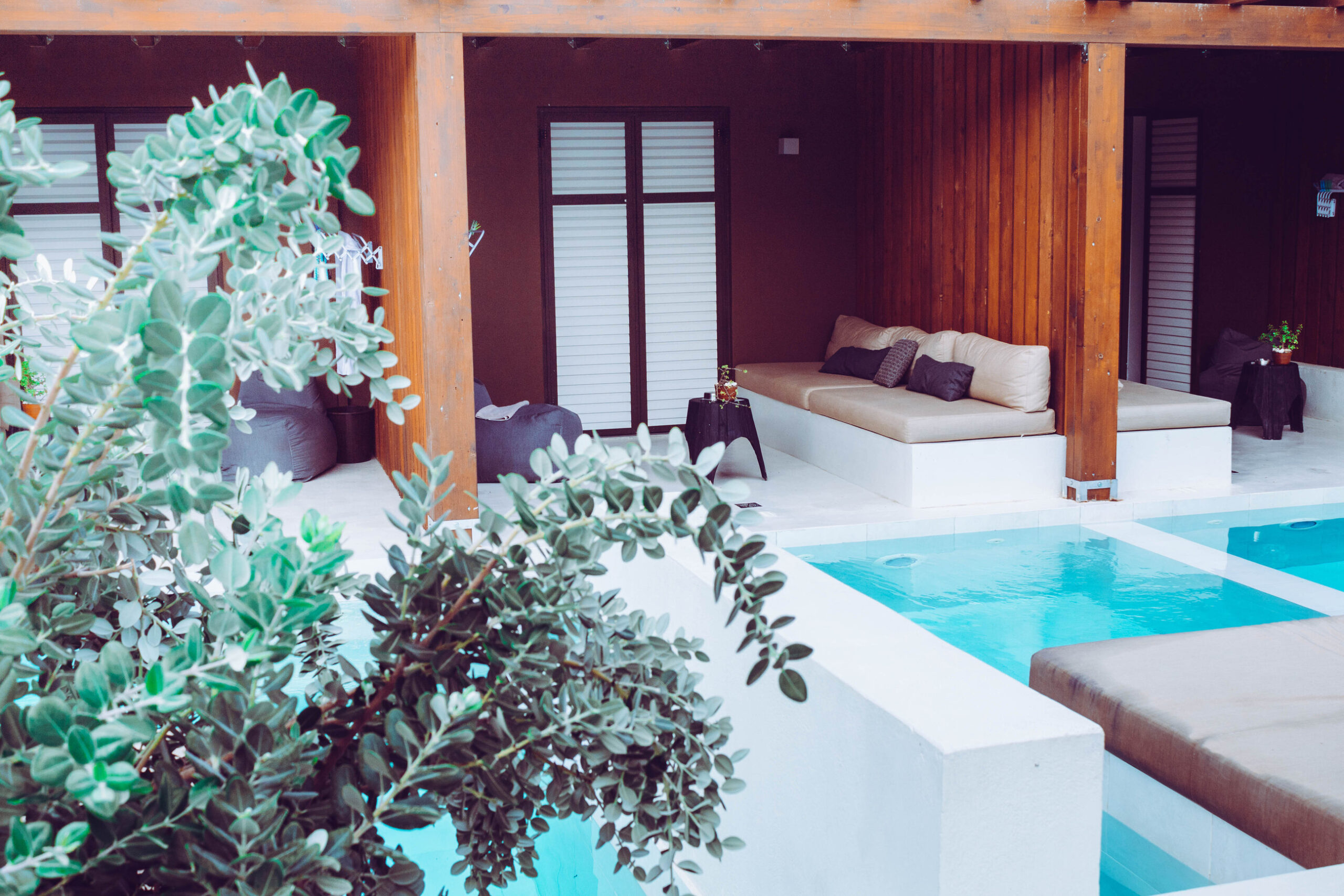 We immediately could feel a friendly and loving atmosphere from our very first step through at Castelli Hotel. The staff and the owners greeted us and helped with every request we had. It was amazing to chat with them about the island but also to receive Lougaris secret tips (So if you are there too don't hesitate to ask them!).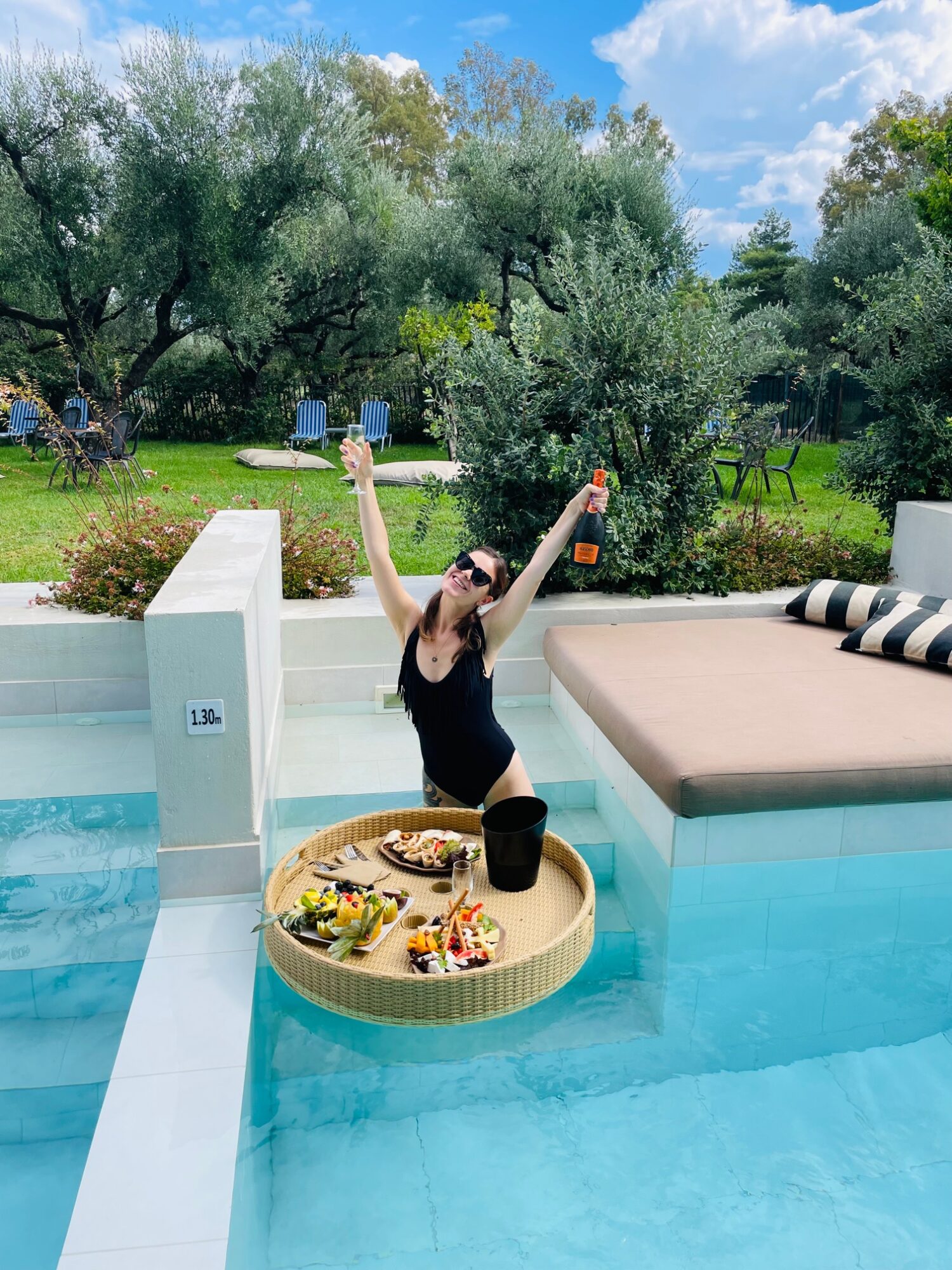 Surely the main reason why we chose Castelli Adults Only hotel is the promise of the pampering feeling combined with activities like yoga, pilates, massages, relaxing treatments and water aerobics in the greenery and peace. And our expectations were definitely fulfilled. Furthermore you will never get bored here because there is always something happening.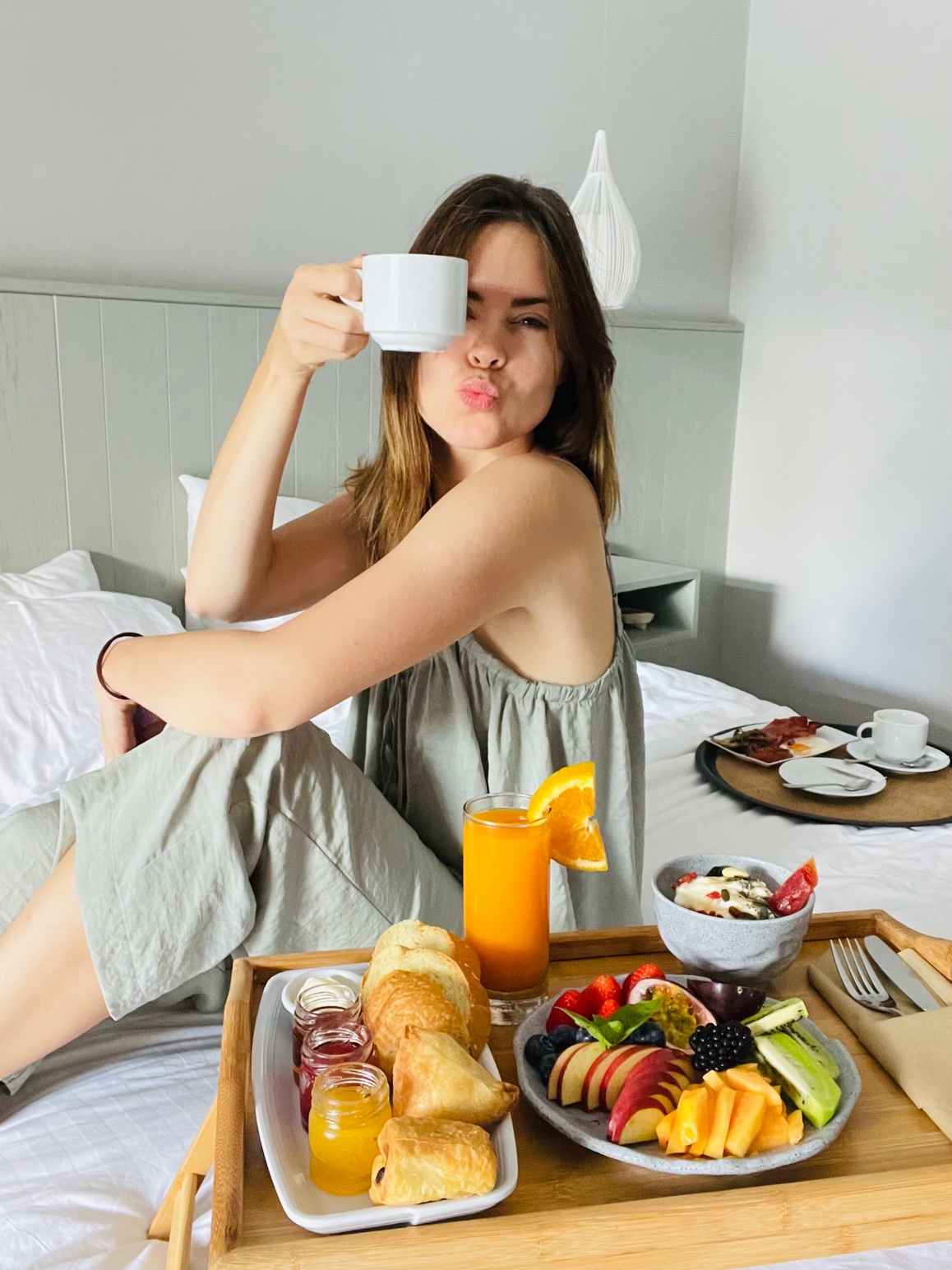 The rooms are also a fantastic addition to the relaxing experience: Spacious beds with comfortable mattresses. So easy to sleep in! That's why one of the days we decided to order breakfast in bed. We were enjoying our romantic holiday without our little boy and didn't feel like to rush for the breakfast. Oh my, I could get used to it easily!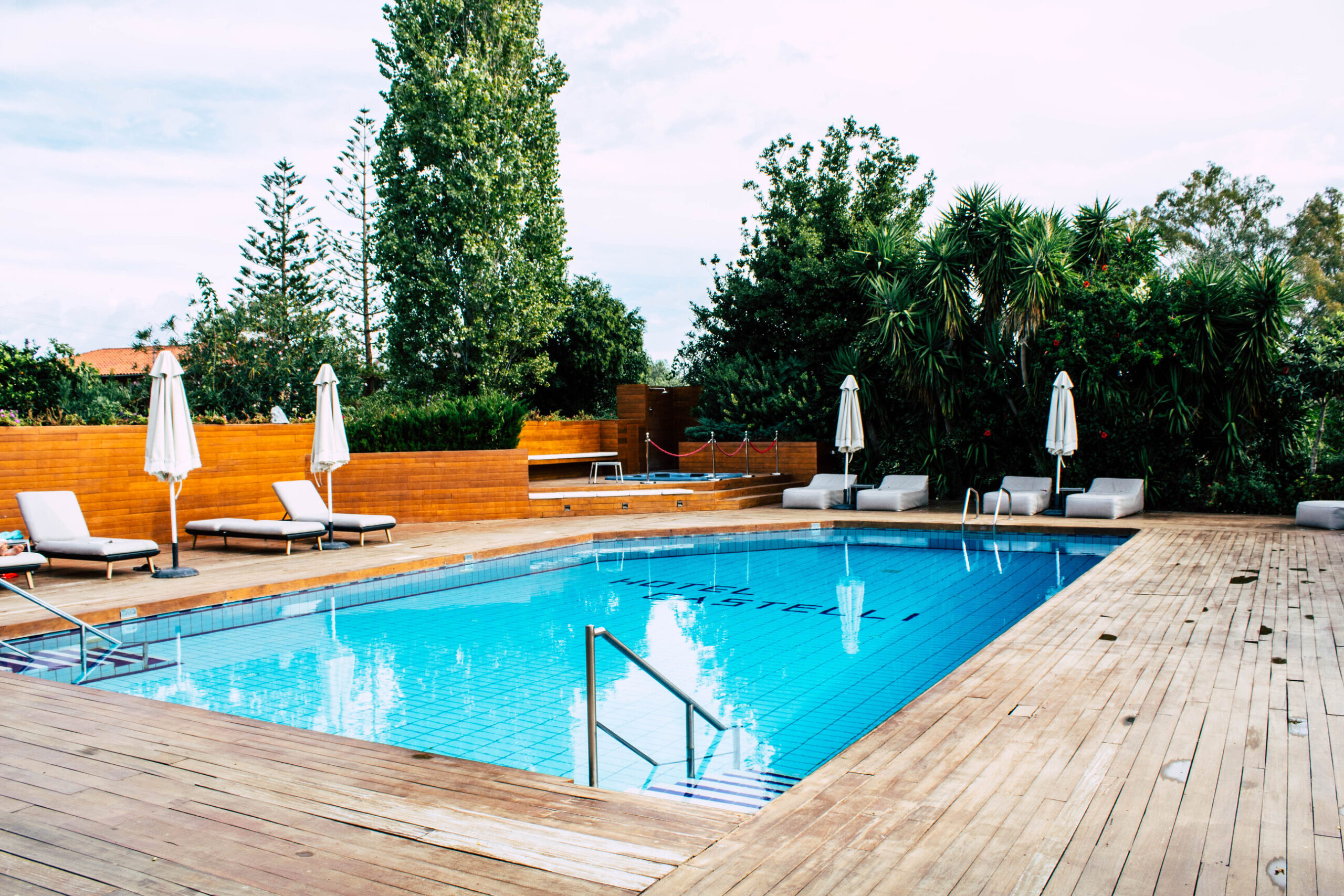 Another alluring fact about that boutique hotel is that you can book a swim up room. Isn't it amazing? Your own private pool that you don't need to share with anyone? You can jump in it any time directly from your room! In case you prefer some privacy while brunching or you have a reason to celebrate you can enjoy the floating surprise. We did it and we absolutely adored it! I've seen it only on Pinterest & Instagram from travellers who went to Asia. So I was jubilant to experience it for the first time at Castelli Hotel in Zakynthos.
One of the most fascinating facts about Castelli Boutique Hotel is that it's following an environmentally-friendly philosophy. For example, the building was constructed in an angle shape to preserve Zakynthos' oldest eucalyptus tree, which is approx. 200y old. By that tree you will also find a "Love Corner" where guests can leave a love note on a wooden heart. Cute and romantic!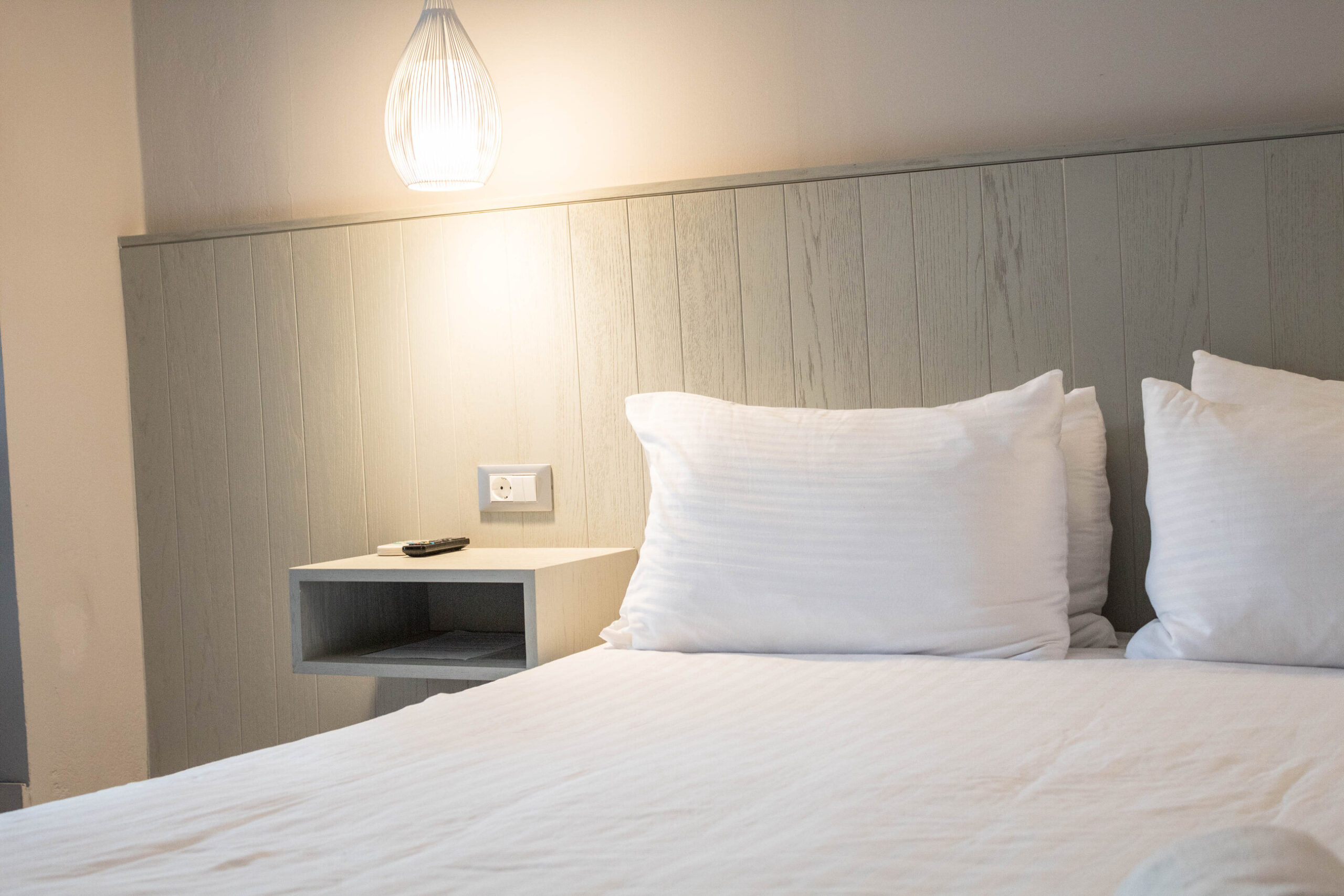 In addition, the hotel supports the protection of the Caretta-Caretta turtles, very important inhabitants of Zakynthos island. Because of the growing tourism numerous species get disturbed and endangered. Often volunteers are trying to raise awareness among tourists on the subject. Castelli Hotel is a supporter and a sponsor of the NGO that protects the sea turtles, and weekly they organise informative presentations for the guests. That's why don't book a tour to watch turtles there are other more delicate ways how to observe the beautiful Caretta-Caretta.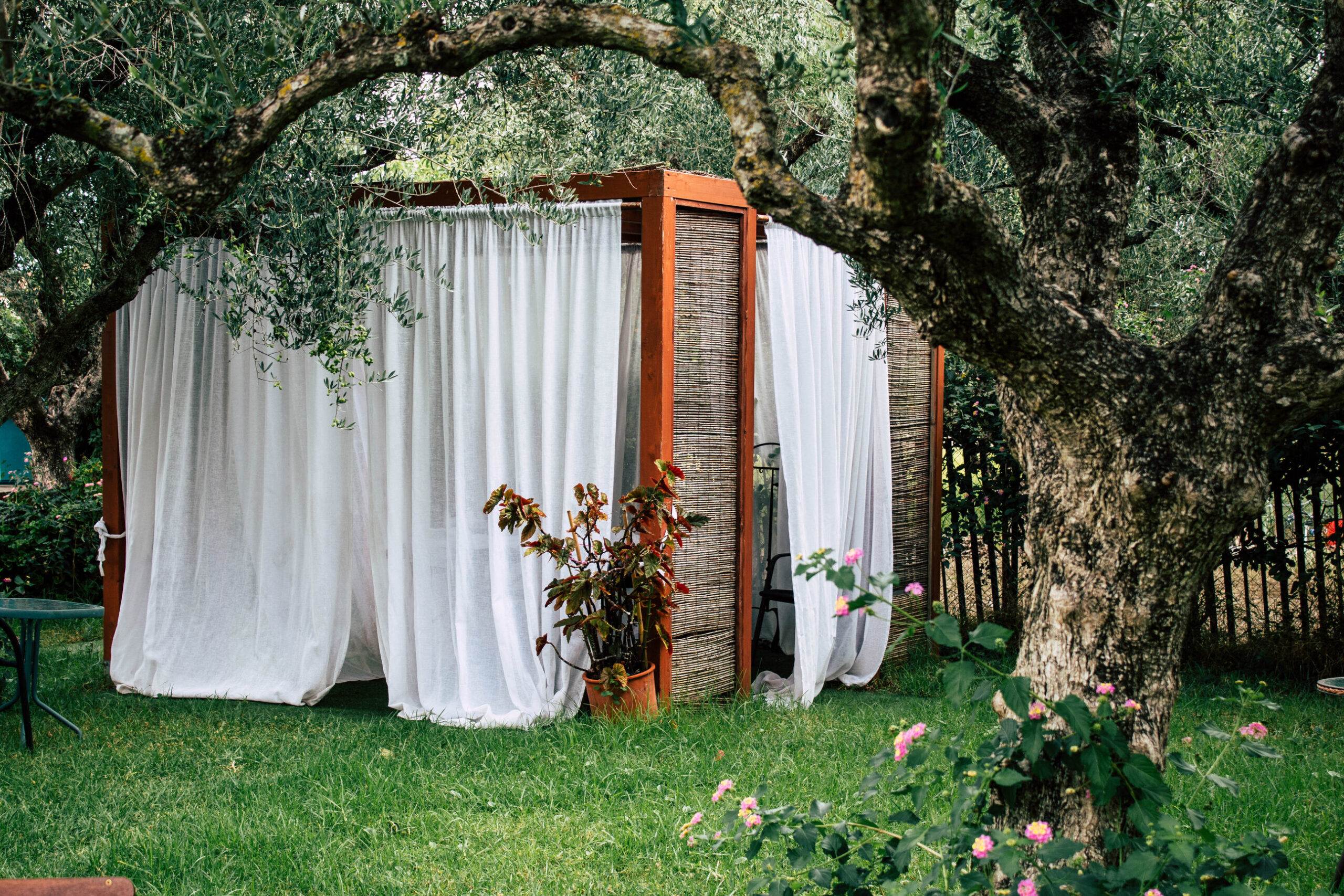 Most of the products you will find in the souvenir shop of the hotel come from local producers. That makes the travel experience more authentic and help you to immerse into the culture of Zakynthos. To learn more about the Greek traditions you can participate in the olive harvest and in cooking classes during which you can learn how to prepare tzatziki like a local. An amazing skill to bring back home!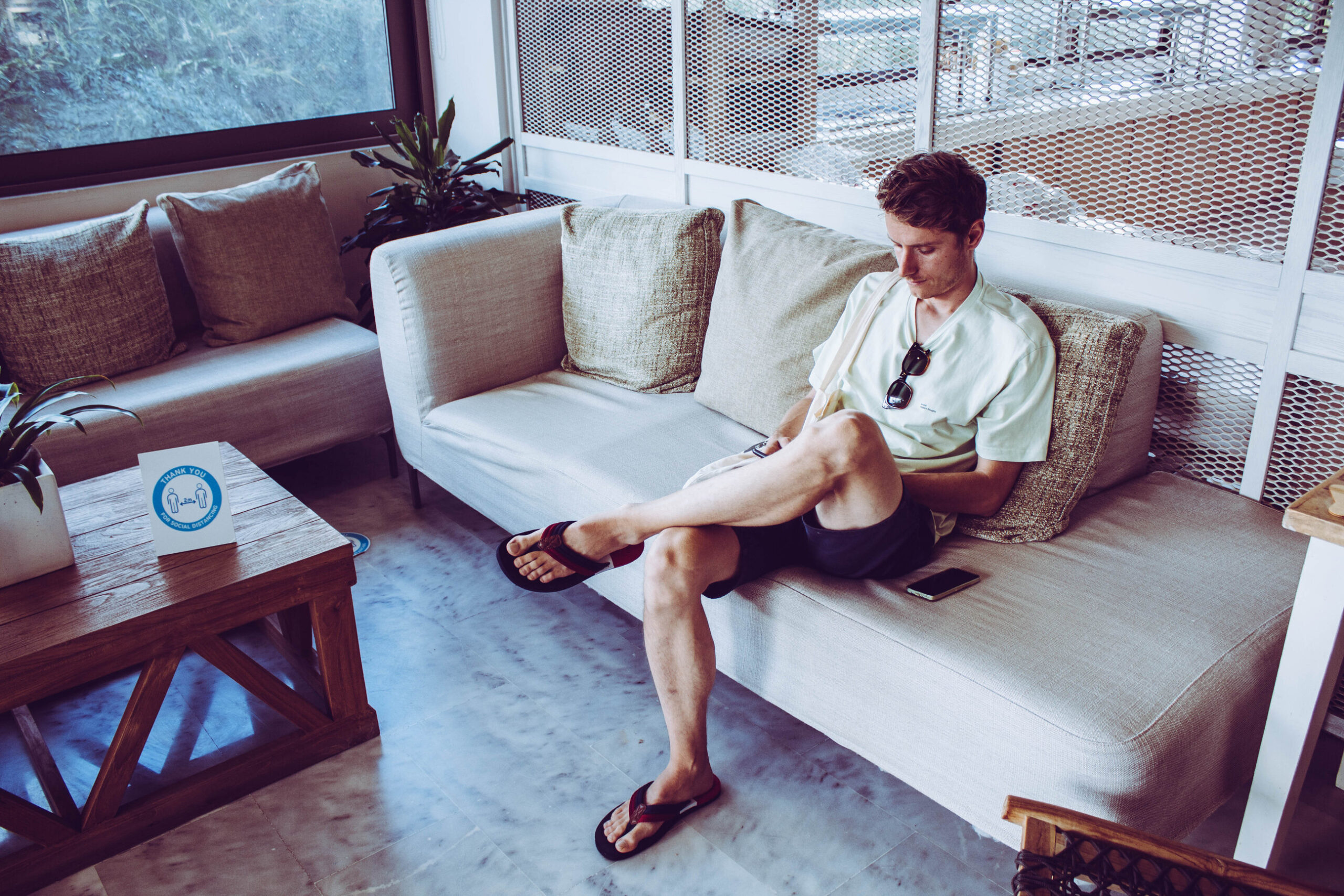 And last but not least is the great food experience. The wonderful owner of Castelli Hotel Maria told us that they are using local goods, organically grown produce, offering a Greek based buffet. Every day there was something different to taste. Wine lovers will be happy to have a glass filled with a real product of Zakynthos, made by small wineries.
All in one Castelli Boutique Hotel is a romantic getaway for adults, couples and even yoga fans. We loved it!
All inclusive resort for families in Zakynthos
For those who travel with kids I would definitely recommend to stay at Atlantica Eleon Grand Resort & Spa 5*. It's located on the beautiful coast line of Tragaki, on the eastern part of the island of Zakynthos and offers a private beach with crystal clear water. The resort is based on an olive tree farm which gives an authentic Greek holiday experience. While we were there we could observe a lovely wedding that was organised by the hotel. It looked very romantic and idyllic. The small group of around 50 people gathering together in beautiful gowns under the olive branches and with a fantastic view. Dream!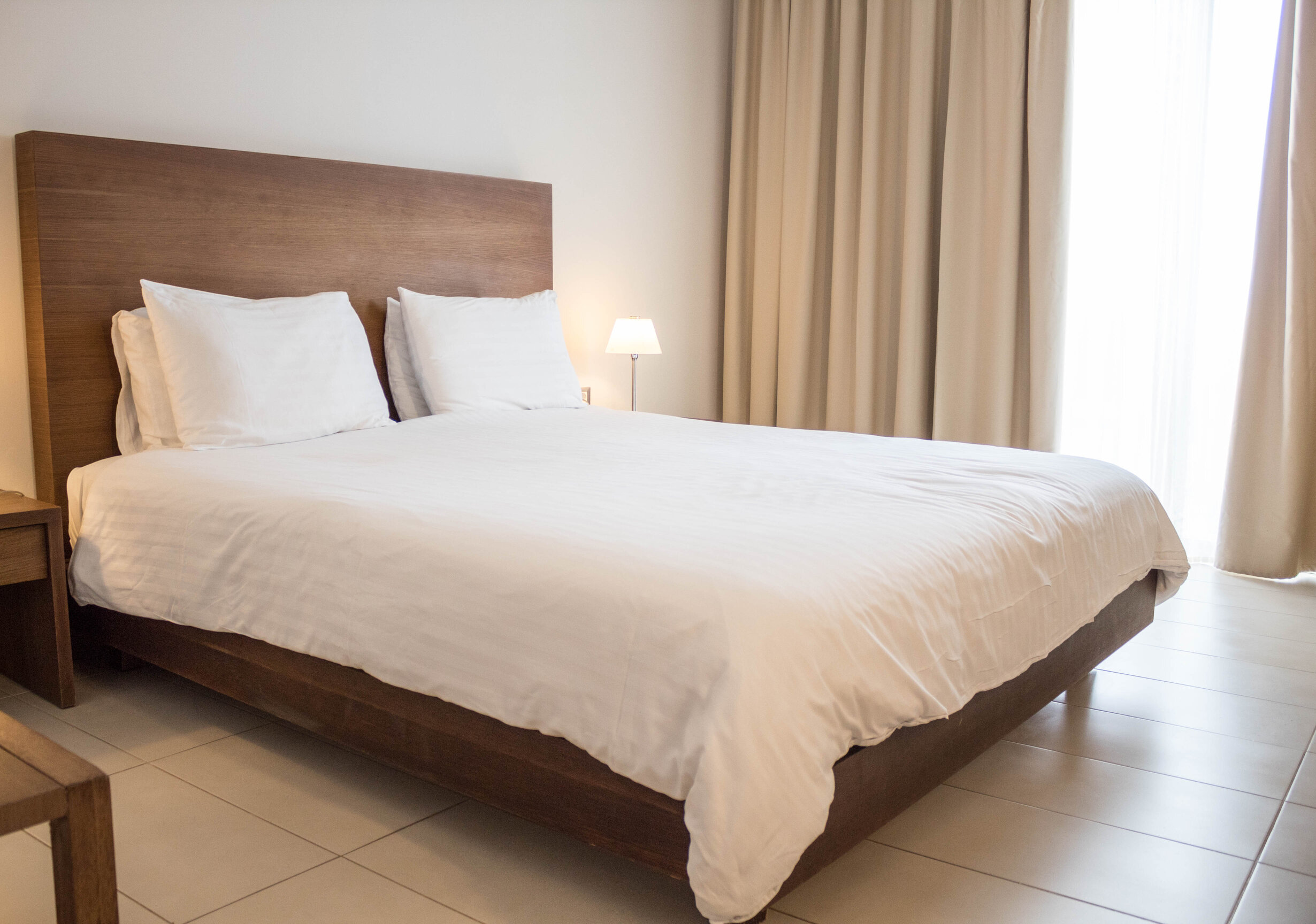 There are different types of rooms for every taste but since we were staying at Atlantica Eleon Grand Resort & Spa 5* just few days we booked a double room with a sea view. The room was spacious with all required necessities. A bottle of wine, fresh fruits and a welcoming note were waiting for us. The highlight of every holiday is of course a comfortable king sized bed! You can easily loose your partner here but who cares when you have all this space for yourself? Another important aspect I would like to mention is the great quality of the shampoo and body creams.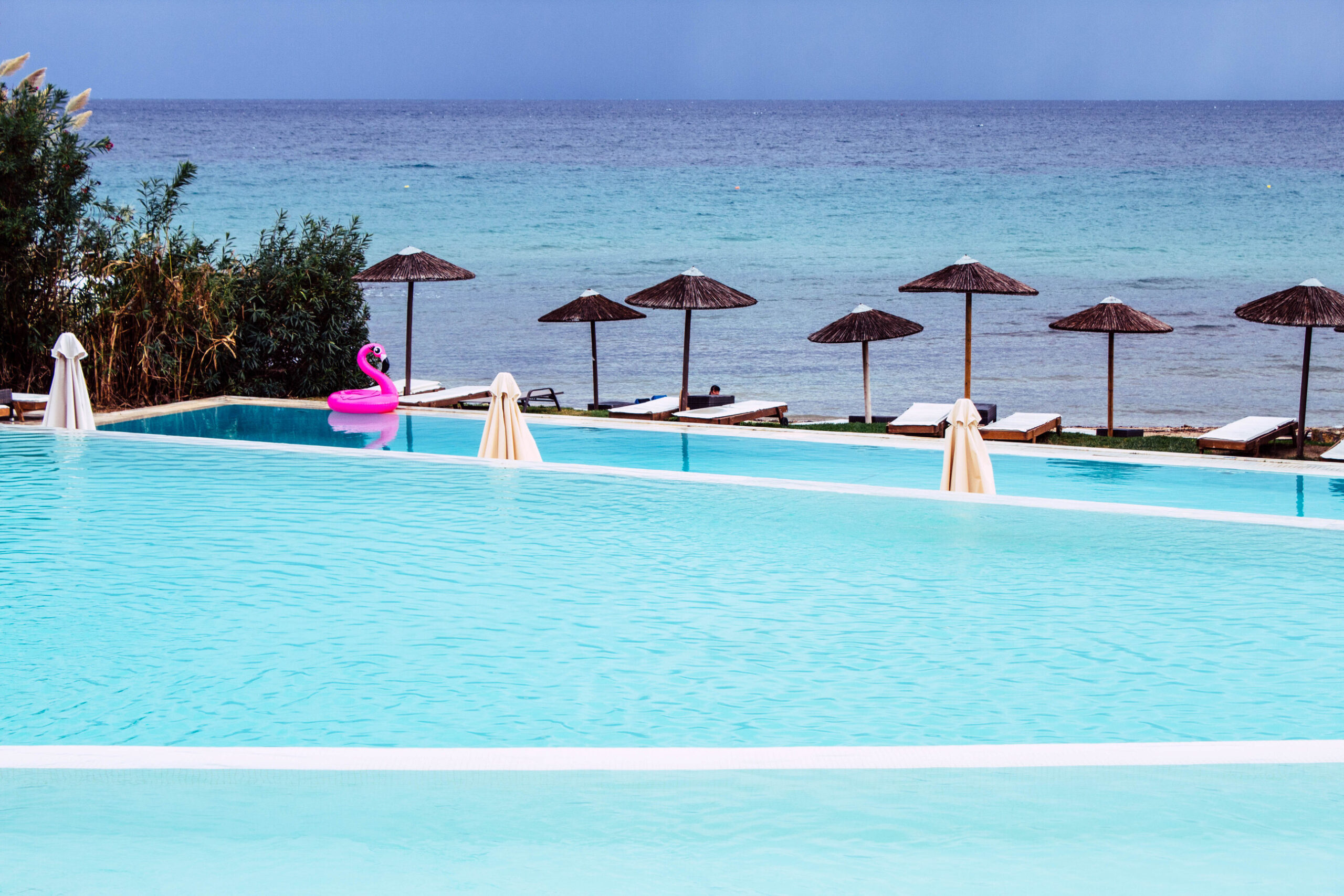 Atlantica Eleon Grand Resort has plenty of wonderful features. First of all there are 4 outdoor swimming pools, including an impressive infinity pool, waterslides, and a shallow splash area for kids. There is also a cute playground for kids and various activities for the grown-ups: Table tennis, tennis, a gym at the resort. Furthermore the area is popular for cycling. The latest addition is archery, which we also immediately attended. We've never done it before so we were extremely curious. And it's so much fun! Try it to tick it from your bucket list.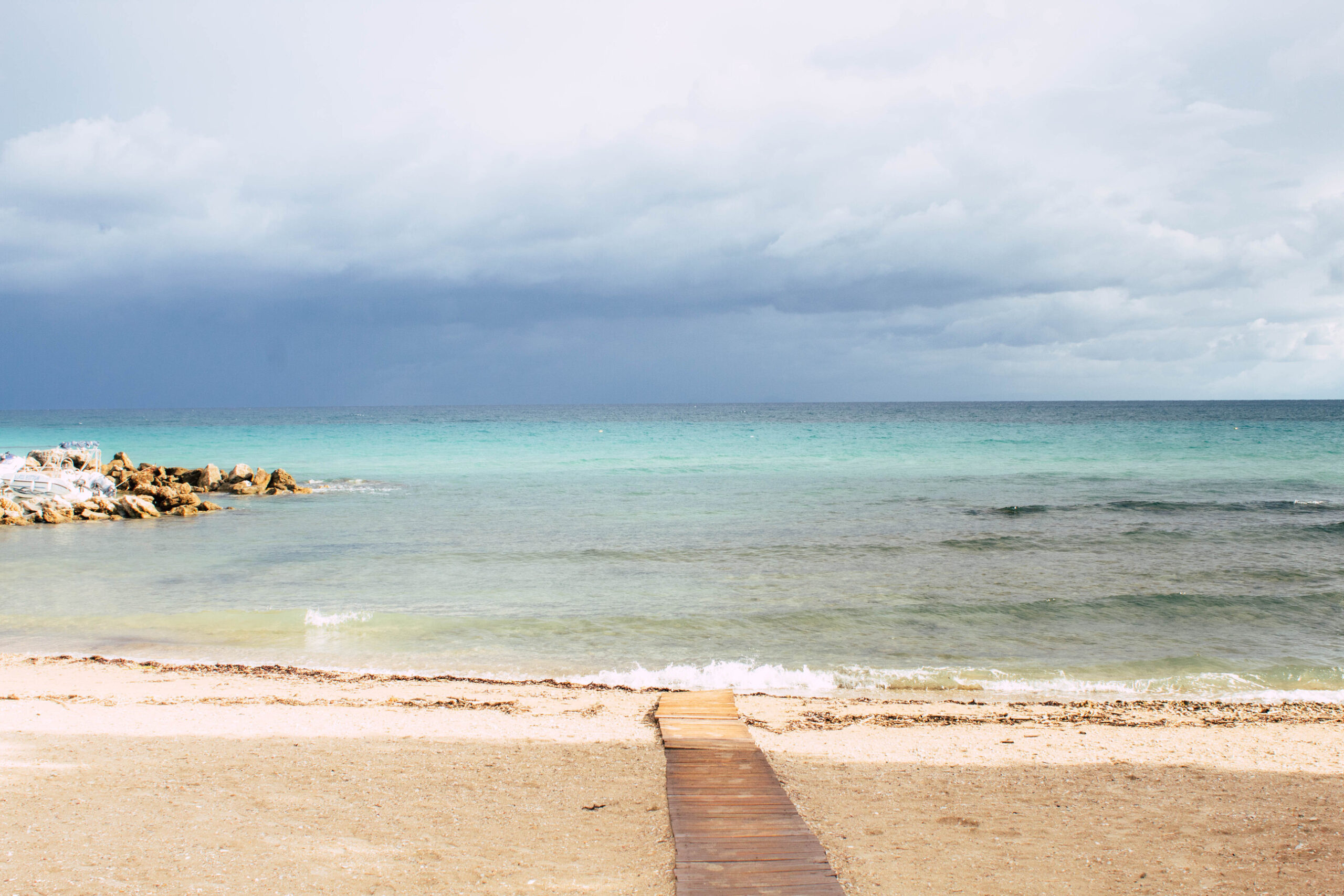 Let's talk about an important part of holiday: Food. Atlantica Eleon Grand Resort will doubtlessly spoil you with various choices of a Greek styled food. Be prepared to come back with some extra holiday kilos because everything is delicious and you just can't get enough. The all inclusive buffet is always different, the highlights are fresh waffles and omelettes for breakfast. As a vegetarian I was happy to see plenty of delicious veggie-based options (We all know that Greek cousin is famous to include plenty of meat). All in one I would say there is something for everyone even if you are a kid. Yes, there is a separate food station suitable to the kid's size. So the little one's can choose their own food. This is not something you can see in every hotel!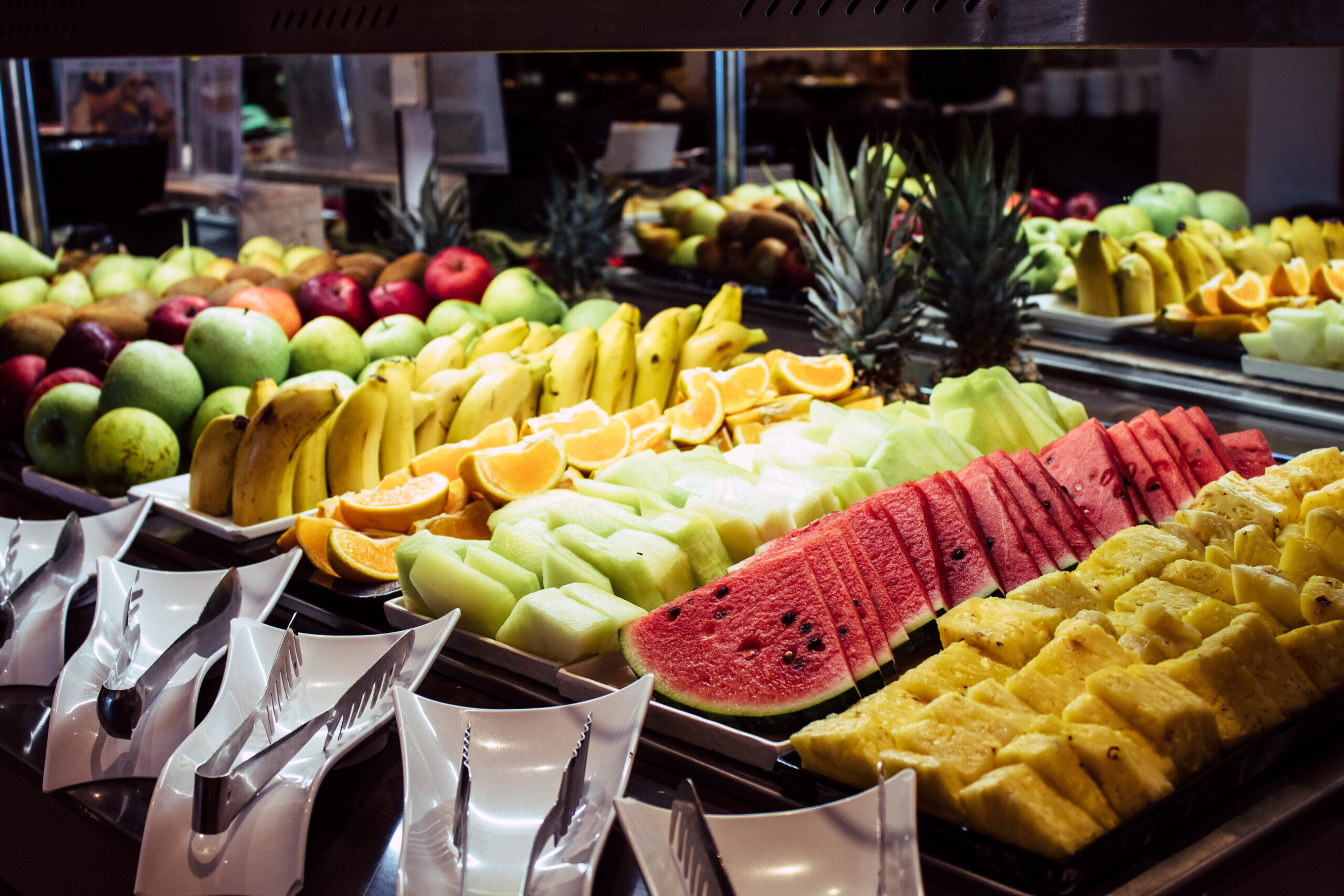 At Atlantica Eleon Grand Resort you can eat literally the whole day! If you missed breakfast, there is a lunch. You were out and about during the lunch? No problem, there is a bar with food and drinks at the pool area. This is the perfect place to enjoy your holiday and not have any kinds of worries. Moreover if you get bored there are various activities at the hotel or you can book an excursions to explore the surroundings.
The Best Things To Do On Zakynthos
1. Shipwreck Beach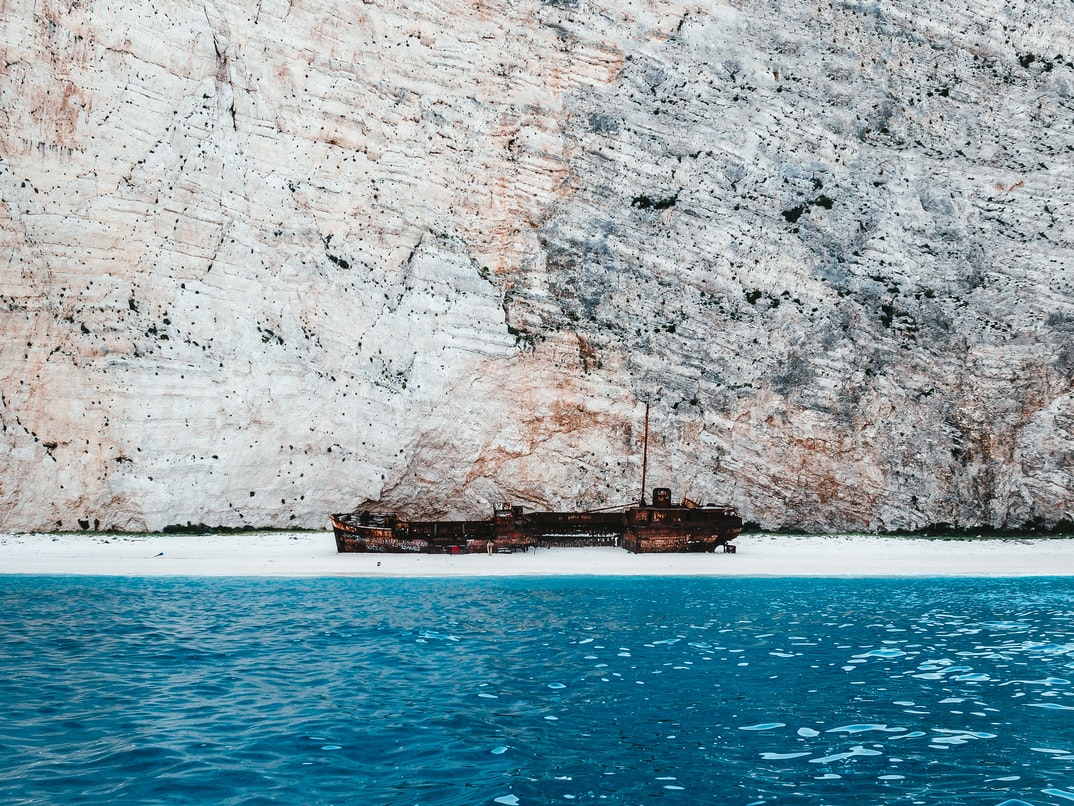 You can't visit Zakynthos without experiencing the astonishing Navagio Beach (Shipwreck Cove). There are two ways to see the beach, one is from the cliffs above the beach (Here you can take plenty of iconic photos), and the other is to take a boat to see it. This is by the way the only way to visit the sandy part of the beach.
2. Visit Cameo Island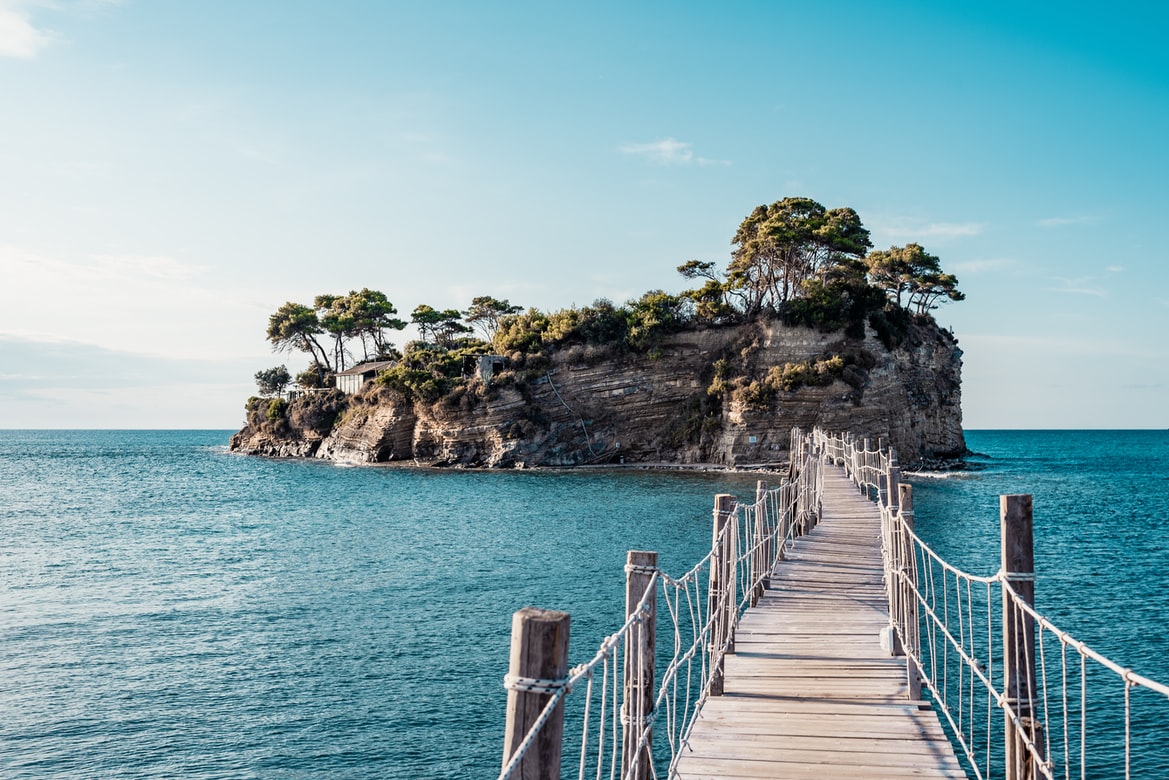 Cameo Island or Agios Sostis is located at the Ionian Sea in the Laganas area. Centuries ago, it was part of Zakynthos. However, after an earthquake in 1633, this part of the island was cut off from the mainland and became separated. Therefore, it is now connected to Zakynthos by a small bridge. From that bridge you can also spot turtles. On the island itself you can find a church, various eateries and a lovely beach with crystal clear water. It offers an idyllic scenery and you might want to stay there for the whole day!
3. Horse riding in Zakynthos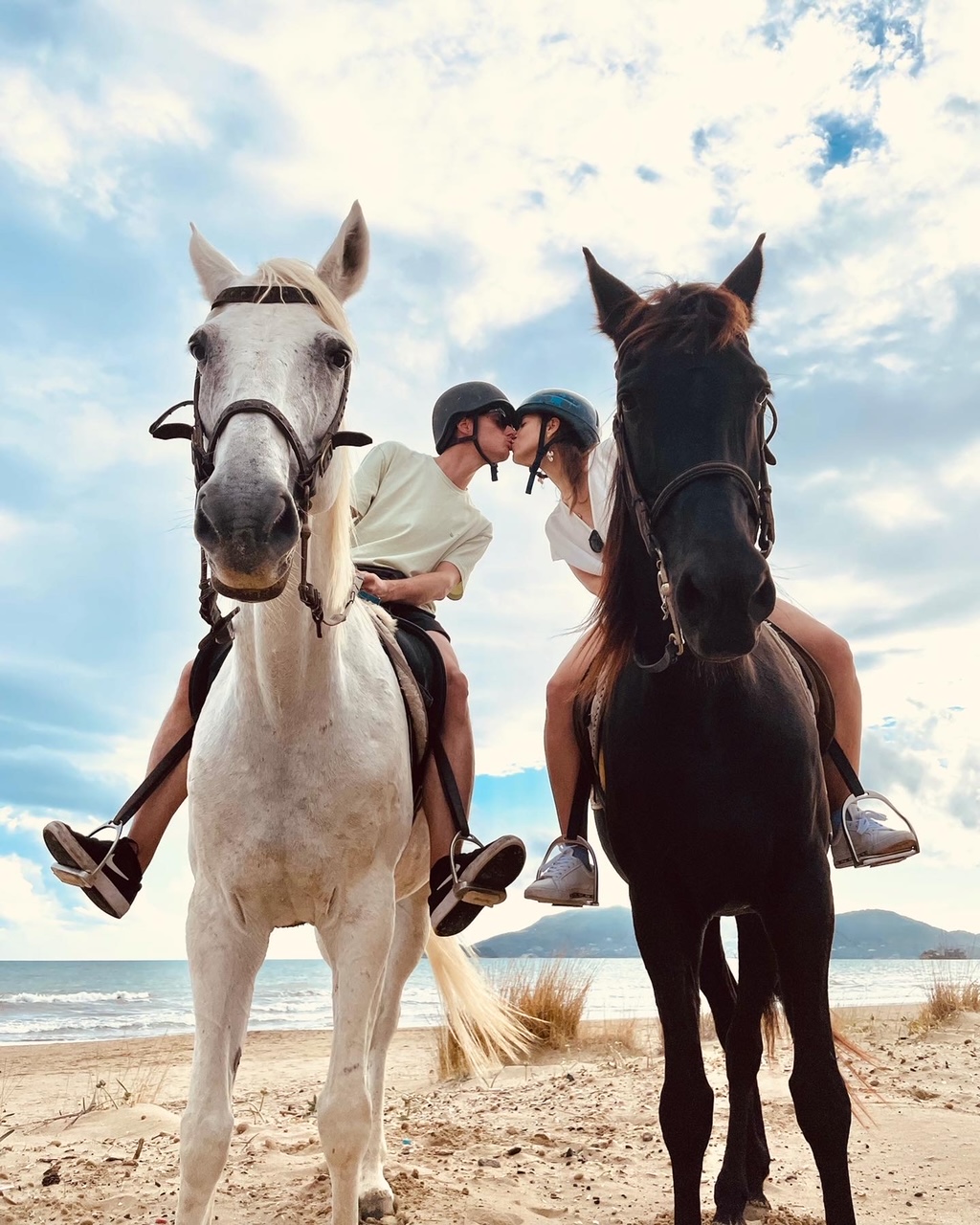 I've never done horse riding before but it has always been my dream. So when my partner and I saw that there is an opportunity to ride horses on a scenic beach we booked it on the spot. Castelli Hotel organised everything for us and just for 25€ we could have one of the most memorable experiences. Since I was a beginner I was pretty nervous but soon it all disappeared. The horses were very friendly, gentle and well-trained. I felt secure and safe while we were riding through gorgeous quiet olive groves towards the beach. It's an incredible experience so if you are visiting Zakynthos don't hesitate to book a horse riding. Nevertheless if you are a beginner just like me I would recommend to book 1h first.
4. Hiking & Biking Tour
Zakynthos offers magnificent scenery which is ideal for hiking and biking tours. The inconsistency of the landscape – mountain, plain and sea – offers routes with mesmerising views and low altitude, approachable for all ages. Did you know that being in nature reduces stress, depression, anger, and increases vitality? Everything what we experience in our daily life. So holidays aren't only about laying next to the pool but recharging our batteries in the best way. Hiking and biking in this case are effective in the treatment of mental stress. Some group exercising and the breathtaking Zakynthian nature are the best combination to bring you joy. Ask at the hotel to organise it for you with a local guide. This is how we did it.
5. Visit the capital of Zakynthos
The capital city of Zakynthos is the lovely little town Zante right on the sea. This is also the largest city on the island and a wonderful place to have a stroll. The buildings were rebuilt in the traditional Venetian Style after the destructive earthquake of 1953. There are numerous restaurants, shops, some pretty squares and the gorgeous Agios Dionisios church. This miraculous church was completed in 1948 and didn't experience any damage after the earthquake in 1953. Agios Dionysios is a Saint who is also buried in this church. Still people from all over the world come here to pray. Even if you are not religious you will be impressed with the astonishing gold icons, paintings, marble columns, chandeliers and red velvet seats. Just be aware of visiting hours since the church is not open the whole day.
6.Blue Caves Zante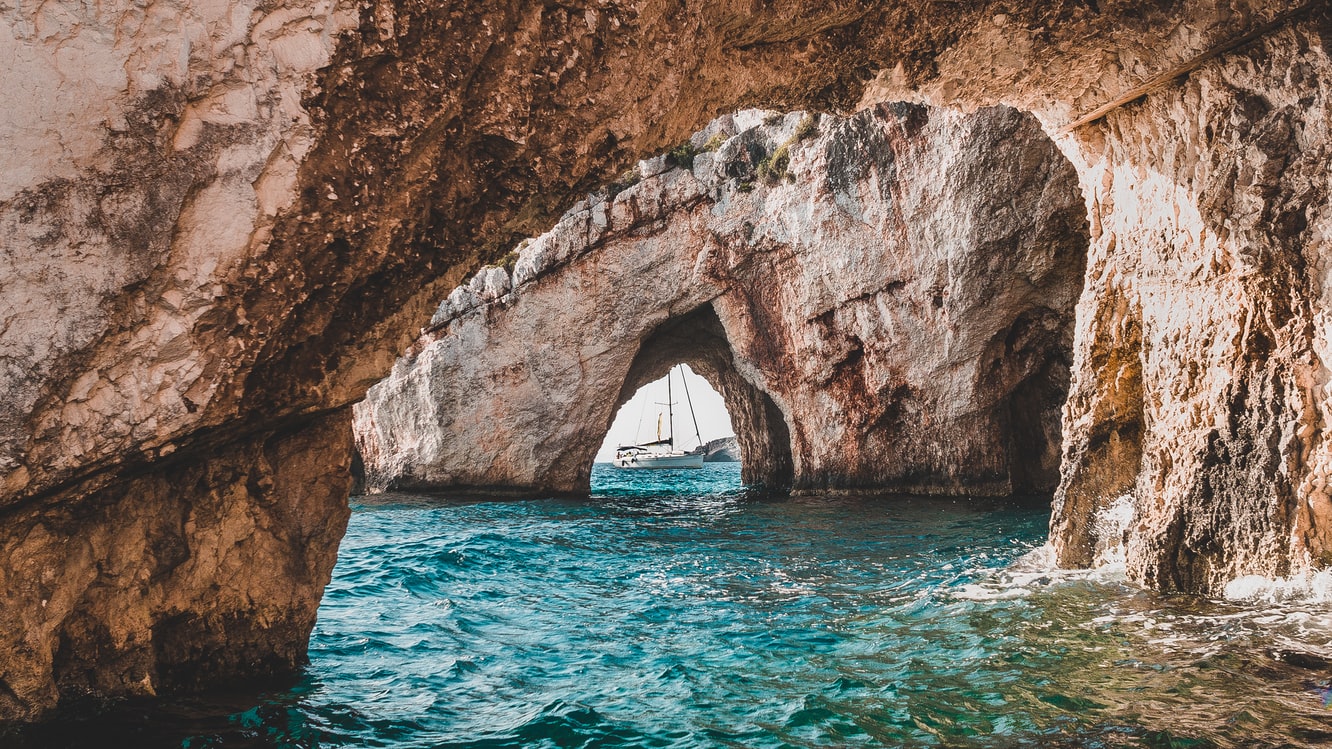 The Blue Caves are doubtlessly one of the most popular and advertised attractions of the Zakynthos island. There are 2 options how you can visit them: With your own boat or with one of the many organised tours. I would recommend Get Your Guide. You can combine visiting Shipwreck and Blue Caves for just 45€.
The Blue Caves consist of particular geologic formations. Their name comes from the reflections of the water in the caves. Most of them can be visited with a small- medium boat but some only by expert swimmers and divers.
7. Fantastic Beaches in Zakynthos
Xigia Beach Zante
Xigia beach is very unique in Zakynthos. It's accessible by car, here you will find parking, umbrellas and sunloungers. The special fact about this place is that it contains a large proportion of sulphur, hence the distinctive aroma. The sulphur comes from neighbouring caves. It's also a quiet beach with not so many people but crystal clear water and even a cantina with affordable snacks.
Daphne Beach Zakynthos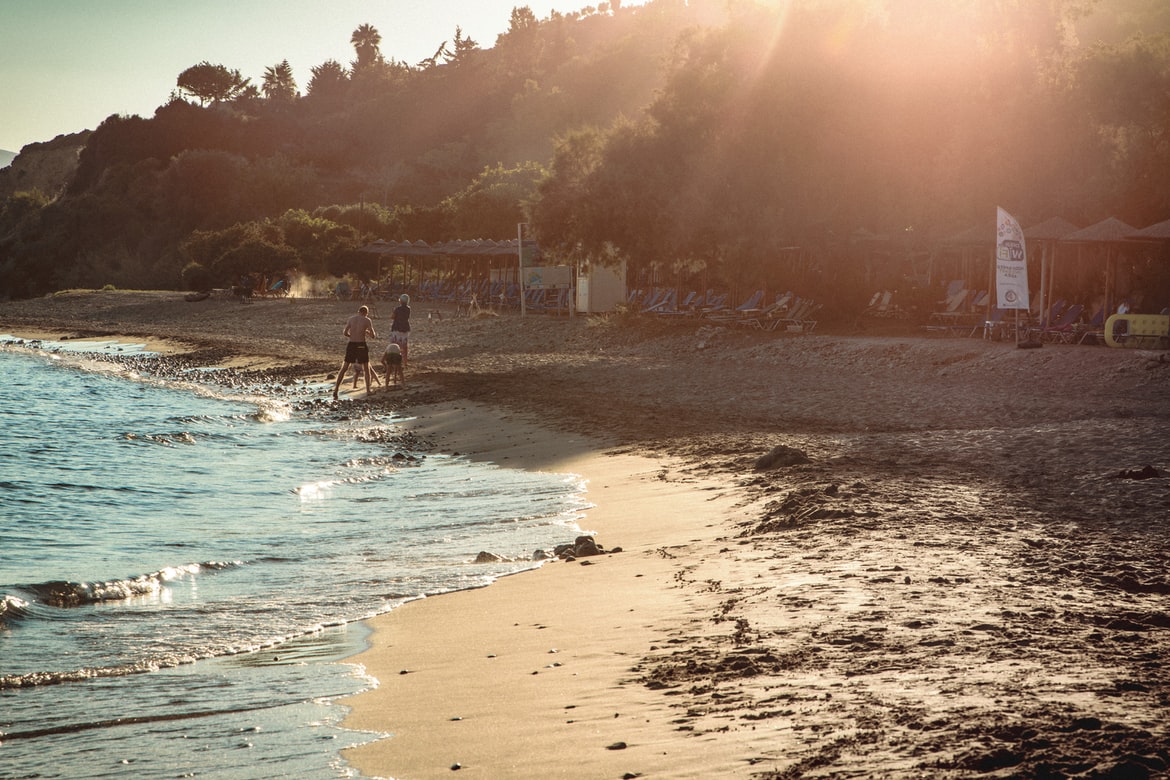 Daphne Beach is another beautiful and must-visit beach in Zante. It's is located in the southern part of the island and it's part of the National Marine Reserve. It's coast was chosen by Caretta Caretta turtles that come here for breeding. Colonies of turtles who swim to the shore for reproduction can be seen here. The beach's bay and it's surroundings are also popular amongst underwater swimmers. That's why it's quiet and calm here. Please keep it that way and remember to throw your waste into the bin.
Argassi Beach Zakynthos
Argassi is a famous but not the best in Zakynthos. It lies in front of a tourist resort, just 5 kilometres from the capital of Zakynthos. It's a long golden sandy beach that extends one km. Additionally the beach area offers a wide range of water sports facilities. Moreover you can also find typical tourist attractions like accommodations, taverns, bars and shops.
Alykes Beach is one of the places where you fall in love with the beautiful water of Zakynthos. At the wide sand strip you will discover cafes and restaurants. Moreover the beach is family friendly. If you like paddle boarding, then this is your beach!
Keri Beach Zakynthos
Alykes Beach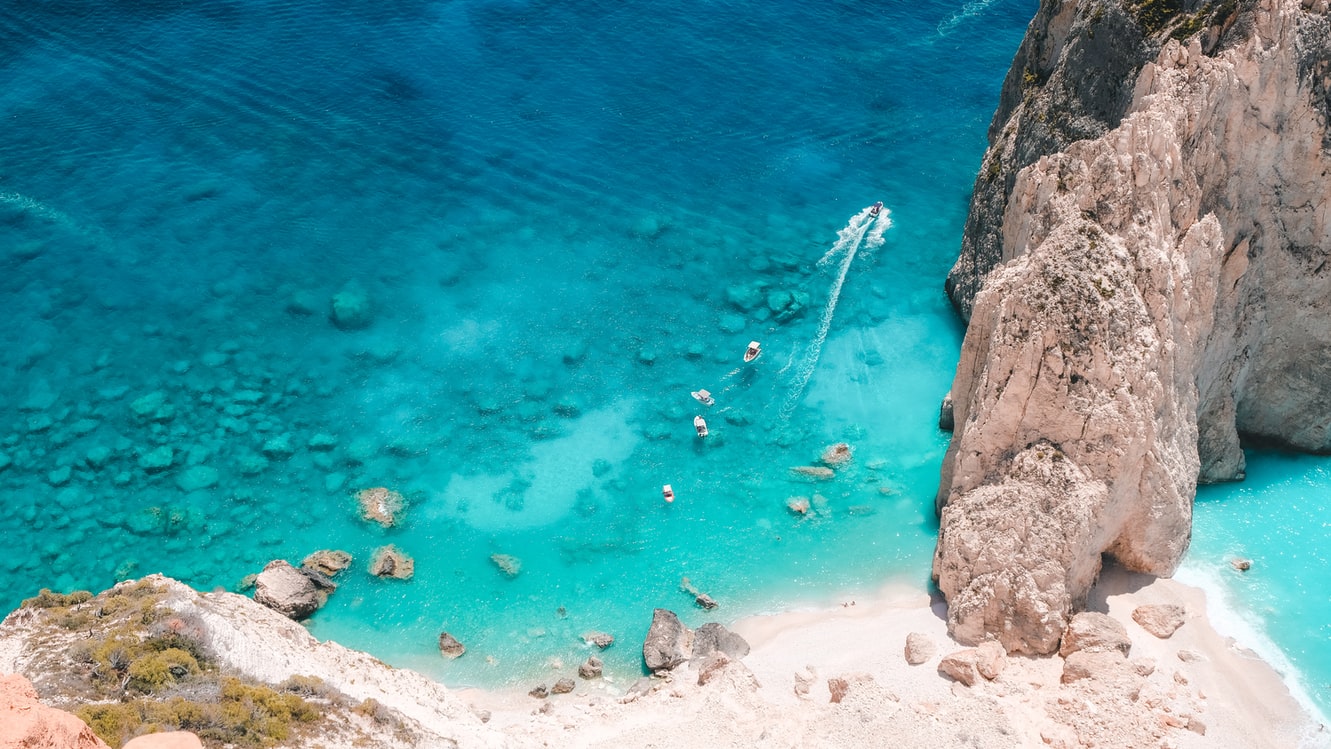 Keri is a small and tranquil resort based on a wonderful bay with golden sand and turquoise shimmering waters. It lays in the southern part of Zakynthos. A few taverns and cafe-bars are scattered along the bay where you can also enjoy an amazing view over the isle of Marathonisi. The port of Keri offers organised boat tours to the famous Blue Caves.
Kalamaki Beach
Kalamaki is located at the end of the eastern side of the bay of Laganas. It's a small and crowded resort with many families and water sports lovers. The area is part of the National Marine Park and is still pretty undeveloped.
Our Experience Travelling in Zakynthos Greece
When we started planning the trip to Zakynthos we haven't even heard of this island in the Ionian Sea. I believe it's still one of the hidden treasures of Greece that's why hurry up with planning your holidays for 2022 before it becomes mainstream. Getting to and from the island is easy as well since there are plenty of international direct flight connections.
Zakynthos is definitely one of our favourites islands in Greece. We fell in love with it's stunning beaches, a picturesque coastline and plenty of things to do and explore. But the best of it is the hospitality of the island: Kind, friendly and chatty people, made our trip unforgettable!
You can visit Zakynthos from Athens. And if you also love Greek islands like we do then I recommend to check out some tips for the trip to Cyprus too.