Holidays in the Belgian Ardennes
Durbuy is a hidden gem of Belgium, located in the French-speaking community of Wallonia. You can find this beautiful region in the Ardennes, south of Belgium. It's not only famous for it's magnificent old charm and tranquil atmosphere but also for being the "smallest city in the world" with it's population of 11.ooo inhabitants. Ardennes in Belgium is also an ideal holiday destination with kids in Europe. It has absolutely everything to make parents and their children happy. if you are interested in more family friendly destination in Europe the read my article 10 Best family friendly cities in Europe.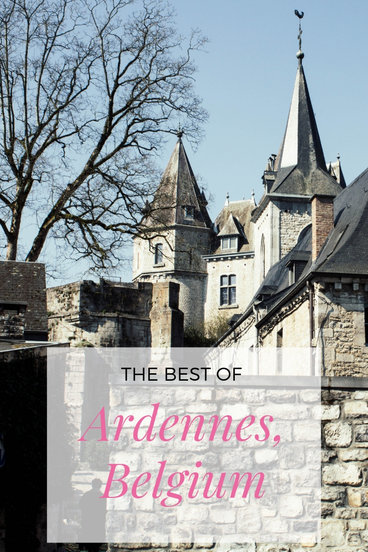 It's very easy to fall in love with the medieval city of Durbuy, filled with cobbled streets, authentic ancient stone houses and a beautiful castle at the centre. The city is surrounded by impressive hills that used to be one whole structure. But overtime the river carved a path through them by eroding the strong stones. After some time the river changed it's direction and people built the impressive little town that welcomes around 2 million tourists every year.
Top Things to do in Durbuy
Explore the Old Town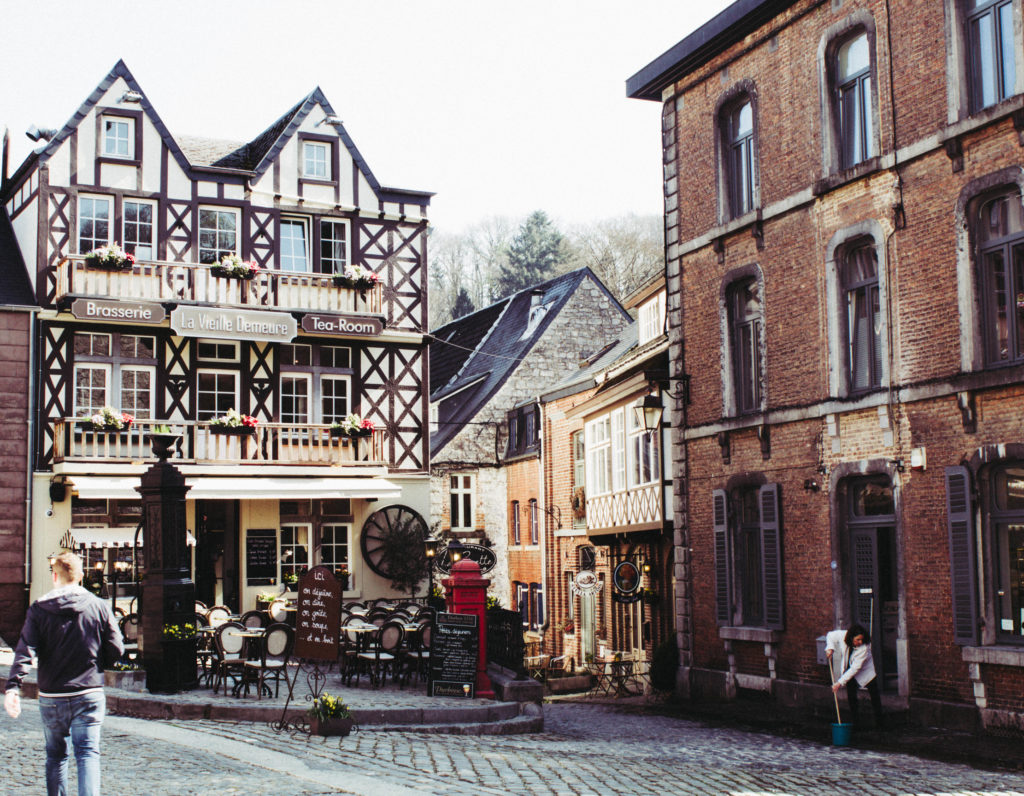 The magnificent Old Town of Durbuy enchants only 50 inhabitants, the majority live in the surroundings of the Durbuy region. Nevertheless the historic centre has plenty of interesting things to discover. There are a few lovely shops with local goods such as Durbuy's dandelion jam, artisanally brewed beer and of course famous Belgian chocolate. The most prominent one you will find at Rue Alphonse Eloy.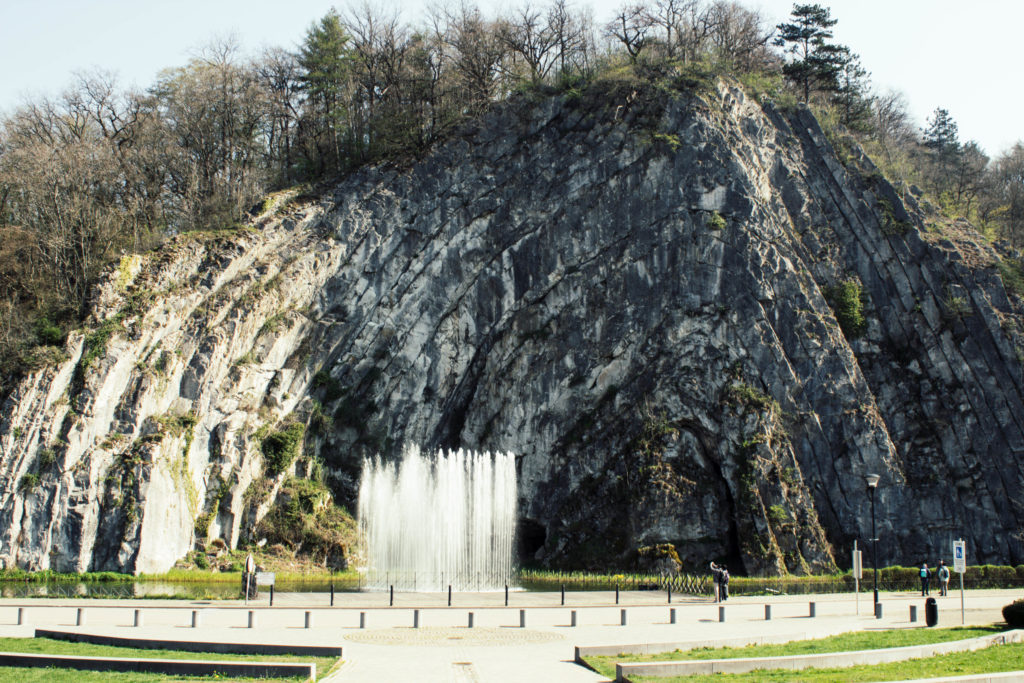 Furthermore mesmerising Durbuy is the perfect place for photography lovers. Every corner is a great spot and opportunity for an impressive picture. Especially if you visit it during late spring or summer time.
Dine in a nice restaurant
Durbuy has a great reputation for hosting high quality food. You will be surprised how many restaurants and cafés this tiny town accommodates. You will be spoiled for choice, wherever you choose will be a good choice. We enjoyed our lunch at Saint Amour. It offers a relatively simple and old-fashion ambience but don't judge book by it's cover. Their lunch menu was voluptuous and sumptuous including a delicious variety of starters with paté and quiche. Furthermore there were unexpected refreshing surprises between the dishes. I would recommend to visit this restaurant and be prepared to spend at least 2 hours of happy feasting there.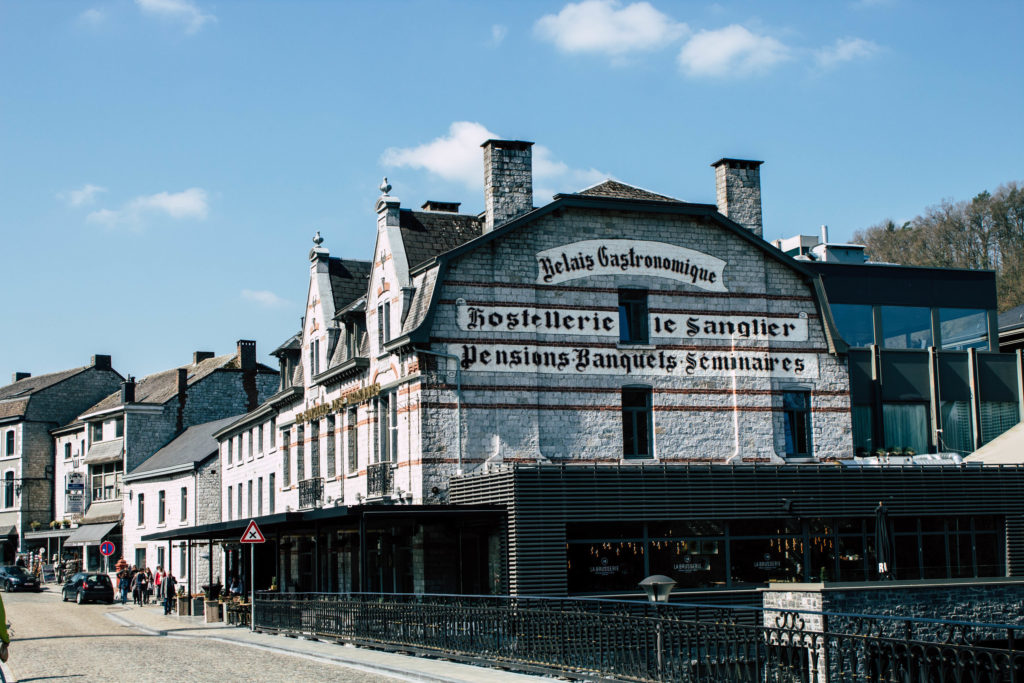 If you are searching for a more over the top fancy dining experience then reserve a table at La Bru'sserie. You won't be disappointed with the modern beauty of the interior and the quality of dishes.
Enjoy Wellness & Spa at Azur en Ardenne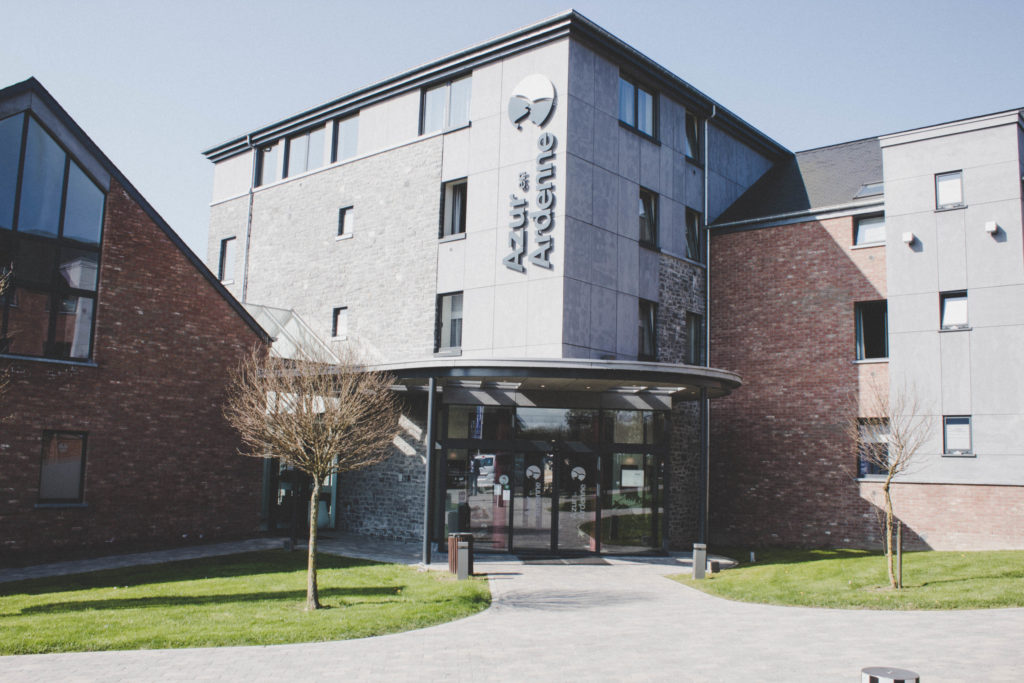 The Ardennes are an ideal region to get away from chaos and immerse into tranquil nature surrounded by greenery. It's perfect to unwind in one of the spas and recharge your batteries. We were staying at Azur en Ardenne, the wellness oasis surrounded by a beautiful forest. It's also perfectly situated close to Durbuy's Old Town and various activities, which you can easily reach on foot. Another perfect Getaway: Naxhelet Golf Club in Wanze.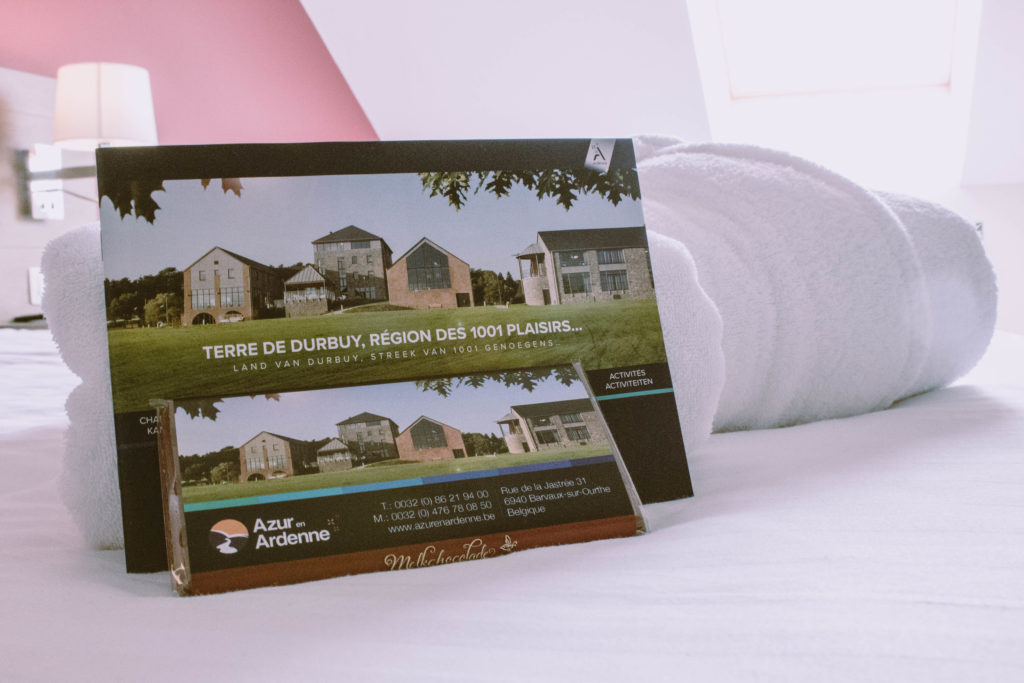 We booked the Comfort Room for 2 nights to disconnect from the outside world. The room was simple but well equipped. We received bathrobes and a welcome chocolate bar from the local chocolatery. I really liked the spacious white bathroom with a nice shower and a big bath. There was also tea, instant coffee, kettle and paper cups. I would definitely recommend to take some body cream with you after visiting sauna because hotel provides only with soap.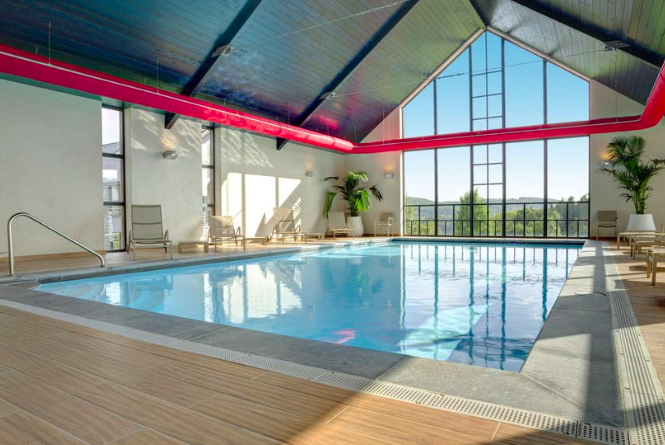 The best part of the Azur en Ardenne is the wellness area with a lovely indoor swimming pool. Furthermore there are 2 saunas, jacuzzi, hydrogen massage and a great panoramic view. The atmosphere is very relaxing and peaceful, accompanied with soft background music.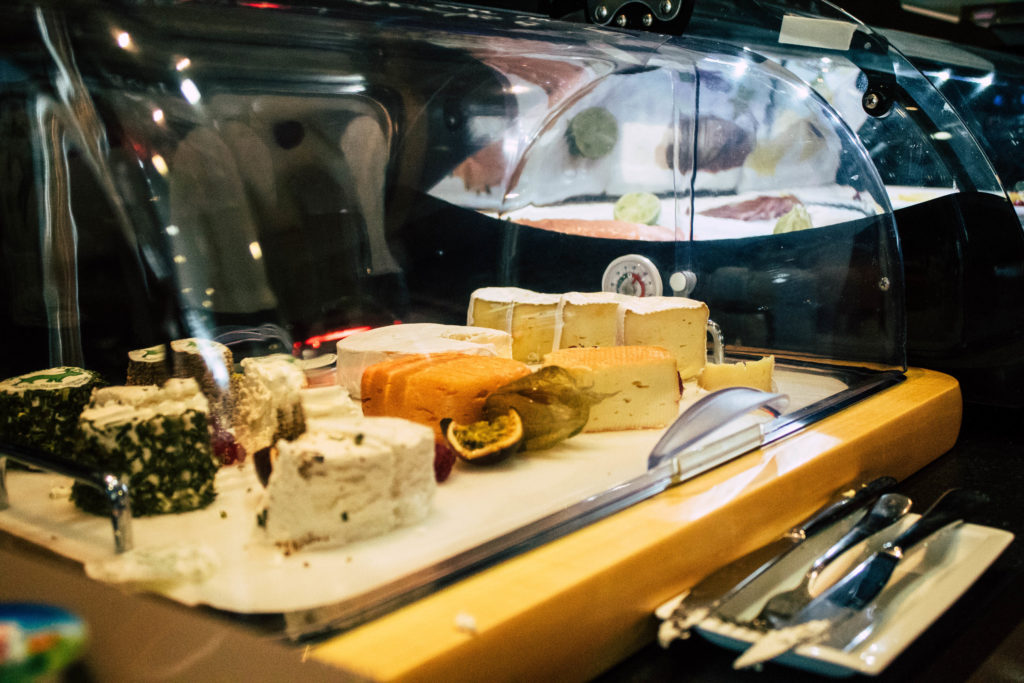 Wait until you see the breakfast that is served at Azur en Ardenne! It's an epitome for the perfect start of the day. You can find everything what your foodie soul can crave for: muesli, fruits, warm waffles and pancakes, eggs, proper bacon, cheese, all kinds of teas and soft drink and even almond milk. It's wonderful to wake up with beautiful views and voluptuous choice of treats.
There is also a restaurant that unfortunately didn't approved my expectations but I got an insider tip: Just down the road there is place where all the chefs of Durbuy go to dine: Gastropub Gaspard . If you plan to visit this restaurant definitely reserve a table in advance because it's small and always full!
Radhadesh Retreat Centre
You will be surprised to discover that in the middle of the Belgian Ardennes, in a fairytale castle you can find the spiritual community and one of the most important Hindu centres in Northern Europe. The beautiful castle Château de Petit Somme is home to the largest community of Hare Krishna, a Gaudiya Vaishnava Hindu organisation in Belgium. It's an interesting experience to see the contrast between the grey cold stones of the huge castle and colourful interior and sculptures held in Indian tradition.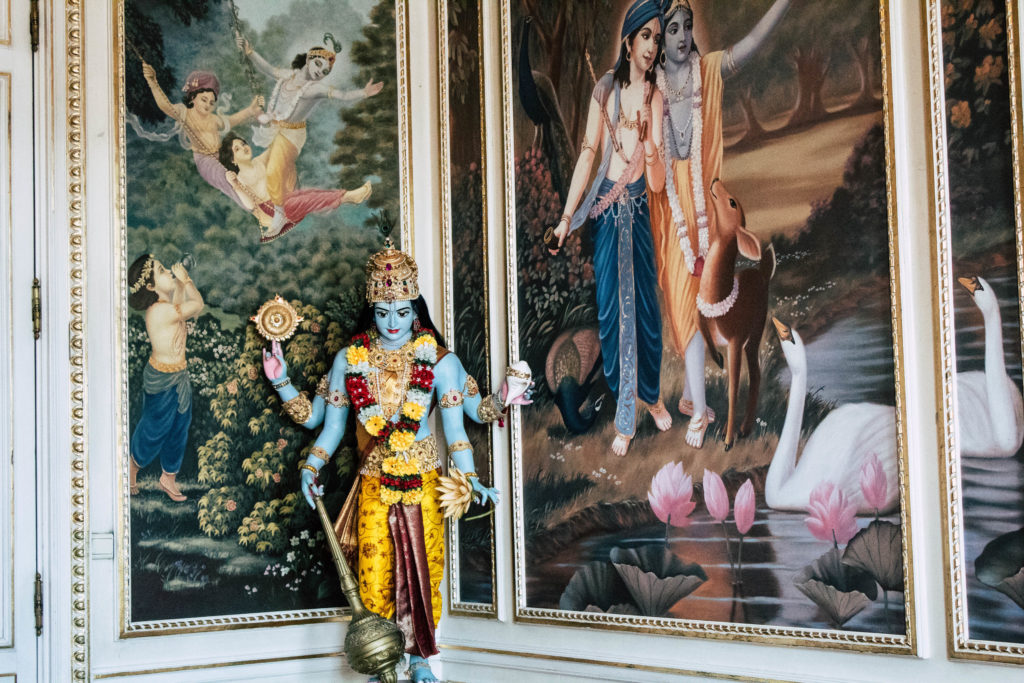 Radhadesh is a non-profit organization administered by a democratic general council and is the main center for the International Society for Krishna Consciousness in the Benelux. Additionally it's also a retreat where you can join various courses and even cultural festivals like popular Holi Festival. I personally enjoyed visiting the Museum of Sacred Art where you can observe Indian art traditions and enjoy various exhibitions. Also worth visiting the vegetarian restaurant and cafeteria.
Mystical Megaliths: Menhirs and Dolmens of Weris
There is a lot of mysticism around the Durbuy area and one of them is the 8 km rows of megaliths made of huge conglomerate, nature's version of concrete stones. These stones are well anchored into the ground and date back to the Neolithic era, that means they are over 5.000 years old. Scientists are still asking themselves how people could put these massive stones in alignment with almost no tools?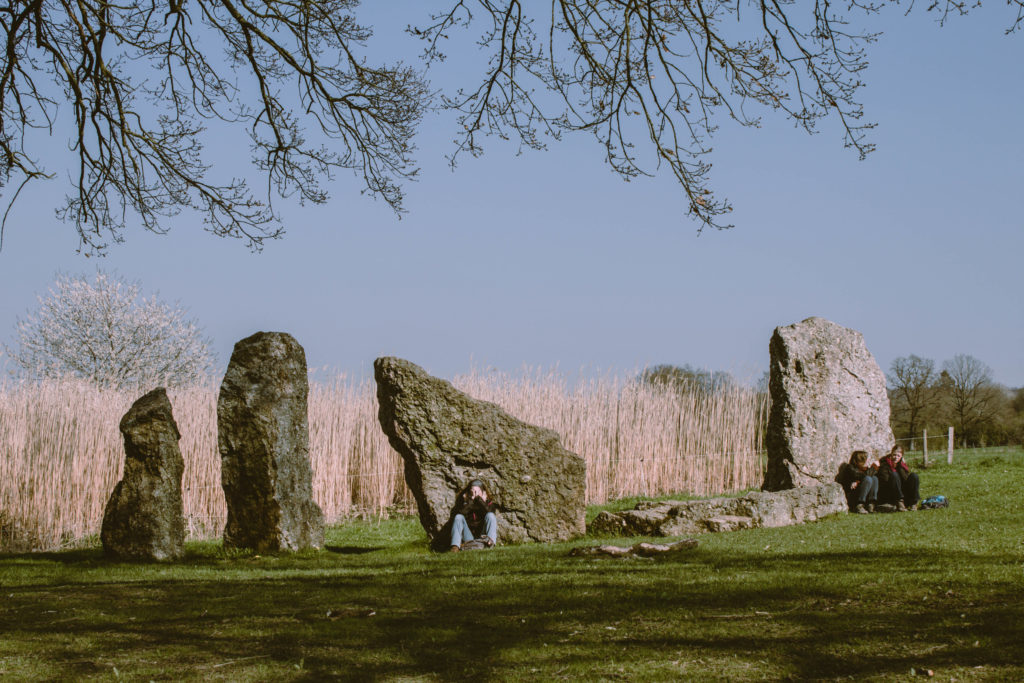 There are two main sites which are categorised as Weris 1 and Weris 2. The purpose of the menhirs is still not clear but there are some conclusions that it once was a spacious megalithic center for religious ceremonies, astronomical observations, healing of people and manipulation of the Earth's energies. Nowadays people are still coming to immerse into the strong field of energies.
Interesting building: La Maison de Hary Cot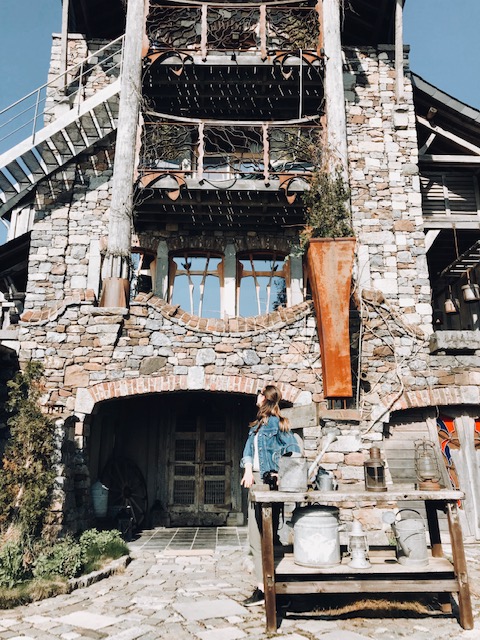 Close to the mystical megaliths you will discover La Maison de Hary Cot. A house that resembles Tim Burton's crazy and intriguing creations. I was surprised to find out that it's actually one of the finest restaurants in the region of Durbuy. Unfortunately it was not open when we were passing by but I would doubtlessly recommend to try to reserve a table at this admirable establishment which by the way belongs to the young couple Gael Colinet and Fanny Perreaux.
Visit Durbuy's local brewery
Every town in Belgium is famous for their local beers. That's why it's a must to taste Durbuy's own locally brewed beer, La Ferme au Chene. The brewery was established in 1560 by Philippe Marckloff and it's located along the river Ourthe. Here you can also dine in the the local cuisine restaurant.
Sensation seekers should visit Adventure Valley
Adventure Valley in Durbuy is an amazing and challenging park with various activities for young and old. You can choose between climbing the side of the mountain with different difficulties, free fall from 32m high, going through the 3D labyrinth or enjoying the tumbling slide. There is also a possibility to crawl and climb between trees at different heights but also experience mega zipline.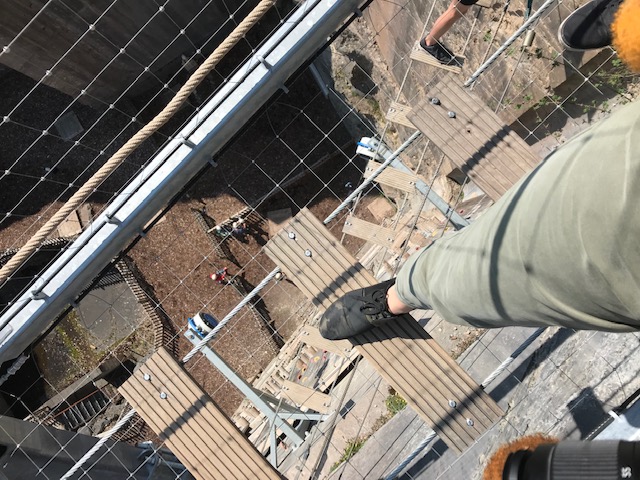 Additionally all this fun is very safe, everyone receives a professional explanation in addition to helmets, security belts etc. You can see little children of age 5 and 6 being much braver than their parents and fearlessly climbing the various heights. It's definitely memorable fun for the whole family! There is also a huge and gratis playground next to the café in case you don't feel like spending money on an adventure.
Admire the World Largest Topiary Park
Have you ever heard of Topiary? It's a beautiful practice of shaping or better to say clipping trees into ornamental figures. Since 1997, Durbuy Topiary Park has numerous amounts of tree figures, 250 masterpieces to be exact, on a 1-hectare garden. Moreover there are 39 flower bed and a breathtaking view over the river Ourthe and Durbuy castle. It's truly a highlight and a must visit in Durbuy so plan to spend a few hours admiring the green art!
Outdoor activities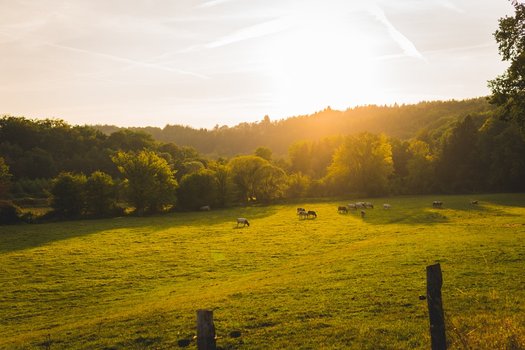 Nature and sport lovers will be surprised about the amount of outdoor activities that Durbuy can offer. You can enjoy the river with canoeing, rafting and kayaking. Moreover there is a possibility for horse riding and mountain biking. Last but not least Durbuy has incredible hiking trails with beautiful views. Just get more information at the tourist info point in the Old Town or at hotel Azur en Ardenne.
Best places to visit in Belgium
If you are spending a week or maybe even longer in Belgium then definitely visit the following cities:
Bruges, the fairy tale town of Belgium. The romantic atmosphere, smell of waffles and chocolate, mesmerising houses, bridges and swans on the canals will doubtlessly let you escape reality.
Brussels, as the capital of Belgium, attracts it's visitors with beautiful historical monuments and world-class museums.
Ghent is a student city with beautiful and impressive medieval architecture and surprisingly un-touristy atmosphere.