The small island of Cyprus has a great history. It has been honored in Greek legends as the birthplace of Aphrodite and since then names an island of love. Desired by empires across the centuries because of Cyprus' fantastic position in the Mediterranean sea, everyone who rose to power in the Eastern Mediterranean wanted to possess it.
Nowadays Cyprus is famous for its rocky, sometimes sandy beaches andnumerous resorts. Nevertheless Cyprus is more than that. Travellers curious for more than sand and sun, you're the lucky one, as Cyprus has a fascinating history, plenty of archaeological sites, fine Byzantine churches, and monasteries and interesting museums. It's also an amazing place to go hiking with it's unique flora and fauna. Visitors can explore ancient castles, marvel at the beauty of waterfalls, or enjoy delicious meals in authentic restaurants. Moreover the friendliness of the locals is admirable.
If you are also interested in Greek islands then definitely check out this recommendations: Athens & Zakynthos.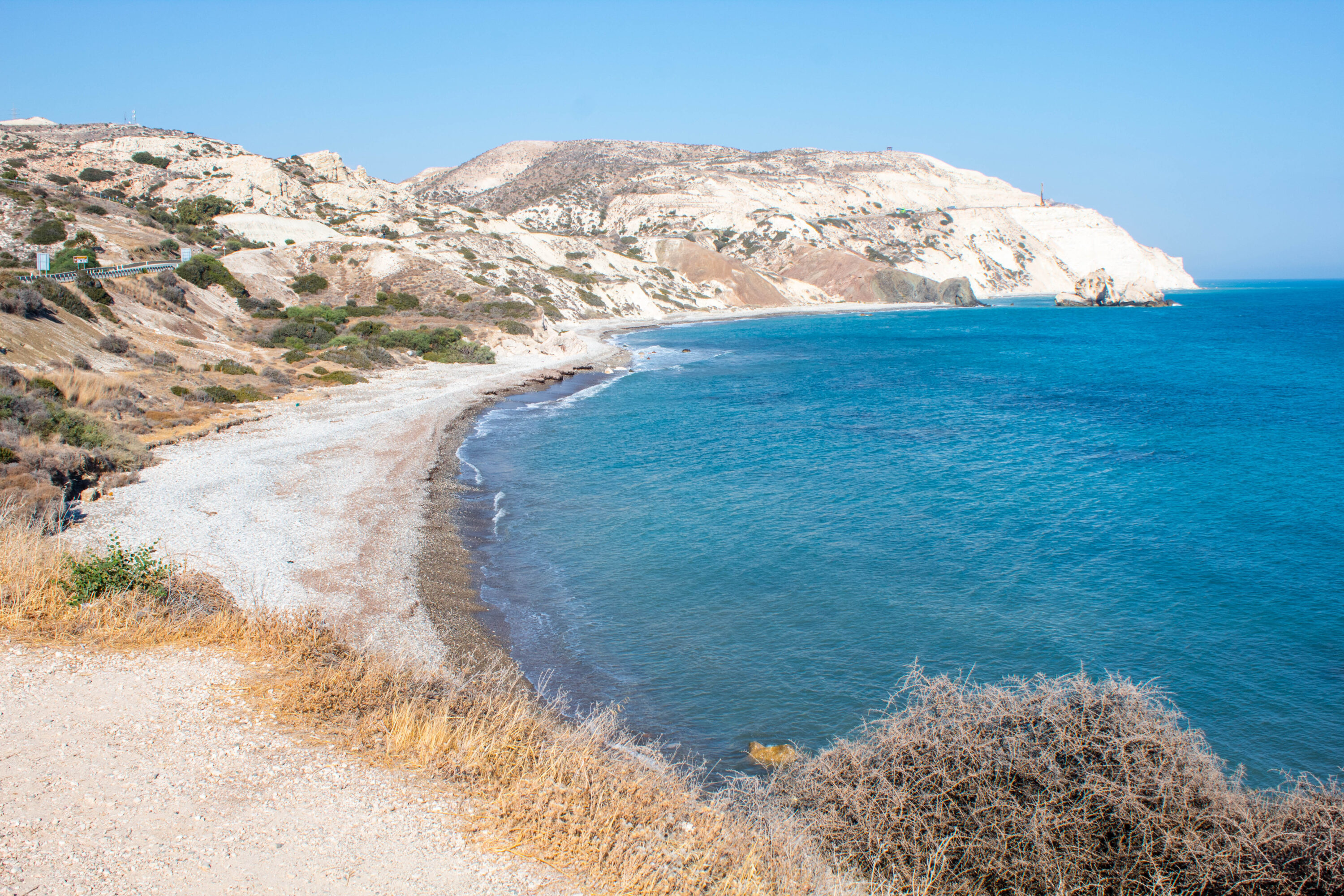 The great aspect is, it's so compact that you can easily base yourself in one town and plan your day trips from there. Also cat lovers will enjoy Cyprus since there are more cats than people. There is a legend that St Helena sent a shipload of cats to get rid of severe snake problem on the island. The goal has been achieved but as a result furry felines enjoyed Cyprus so much they didn't want to leave anymore.
Best Time to Visit Cyprus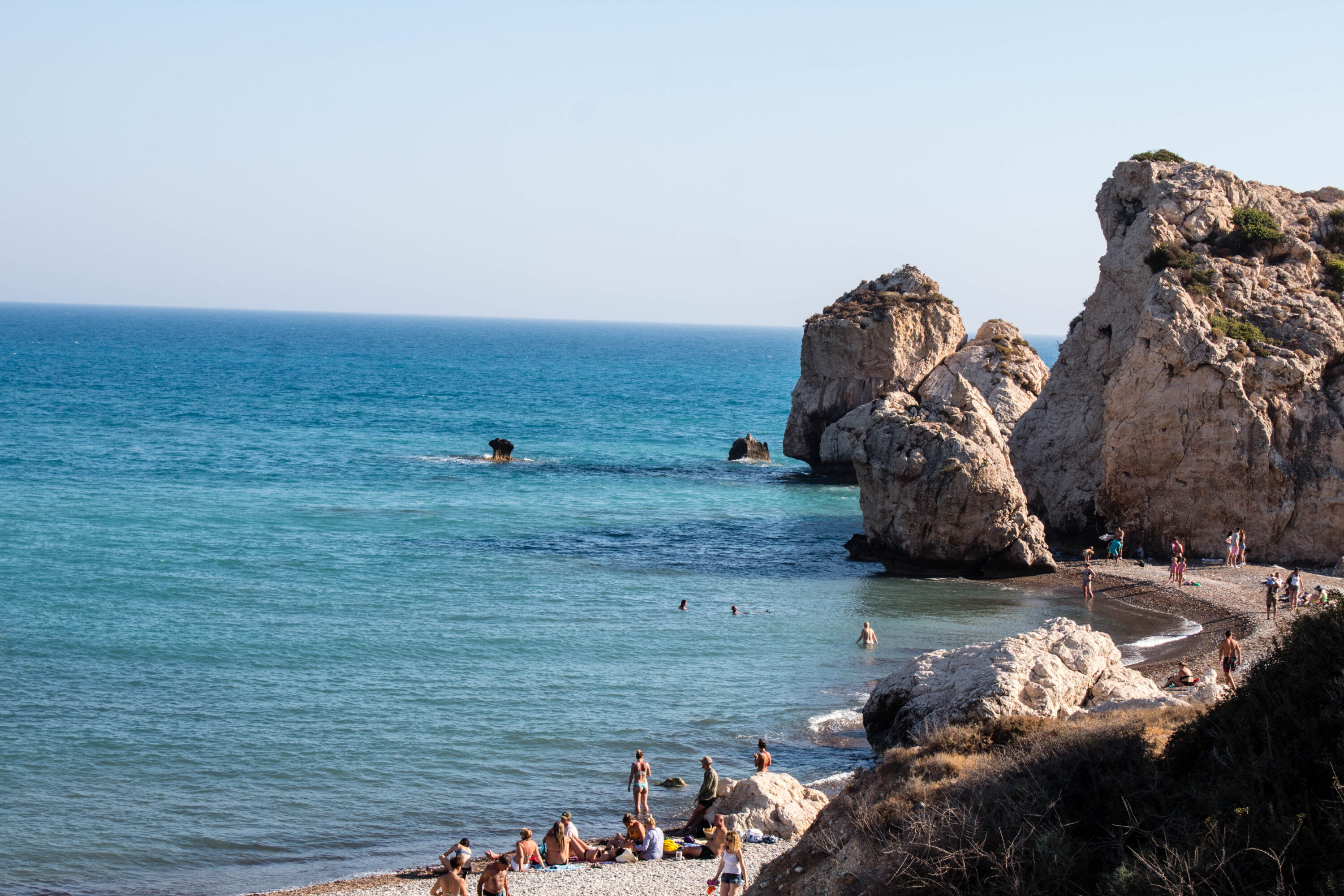 Located in the southeastern Mediterranean, Cyprus offers over 300 days of sunshine every year, it can seem like there may not ever be a bad time to visit Cyprus. Its perennial warm and sunny climate is definitely an amazing choice to escape the cold winter months on mainland Europe. Nevertheless There are some months that I would recommend to skip: July, August. The temperatures can rise over 30-35°C which makes sightseeing and exploring the island near unbearable. Many tourists from England and Scandinavia end up in the hospital with burned skin because they underestimate the sun.
If you are looking for some warmth and sunshine without increasing the risk of heatstroke then visit Cyprus in the months of March-May and September-November. These time of the year is still nice and sunny and tend to have more agreeable temperatures than the summer months. Furthermore there are also less tourists during this period.
How Many Days in Cyprus?
Despite it's compact size, there is a surprising amount of things to experience on the island. 5 days in Cyprus is a great choice for the first time visitor. You will have enough time to explore the surroundings but also get some tan by the sea.
Where to stay in Paphos, Cyprus?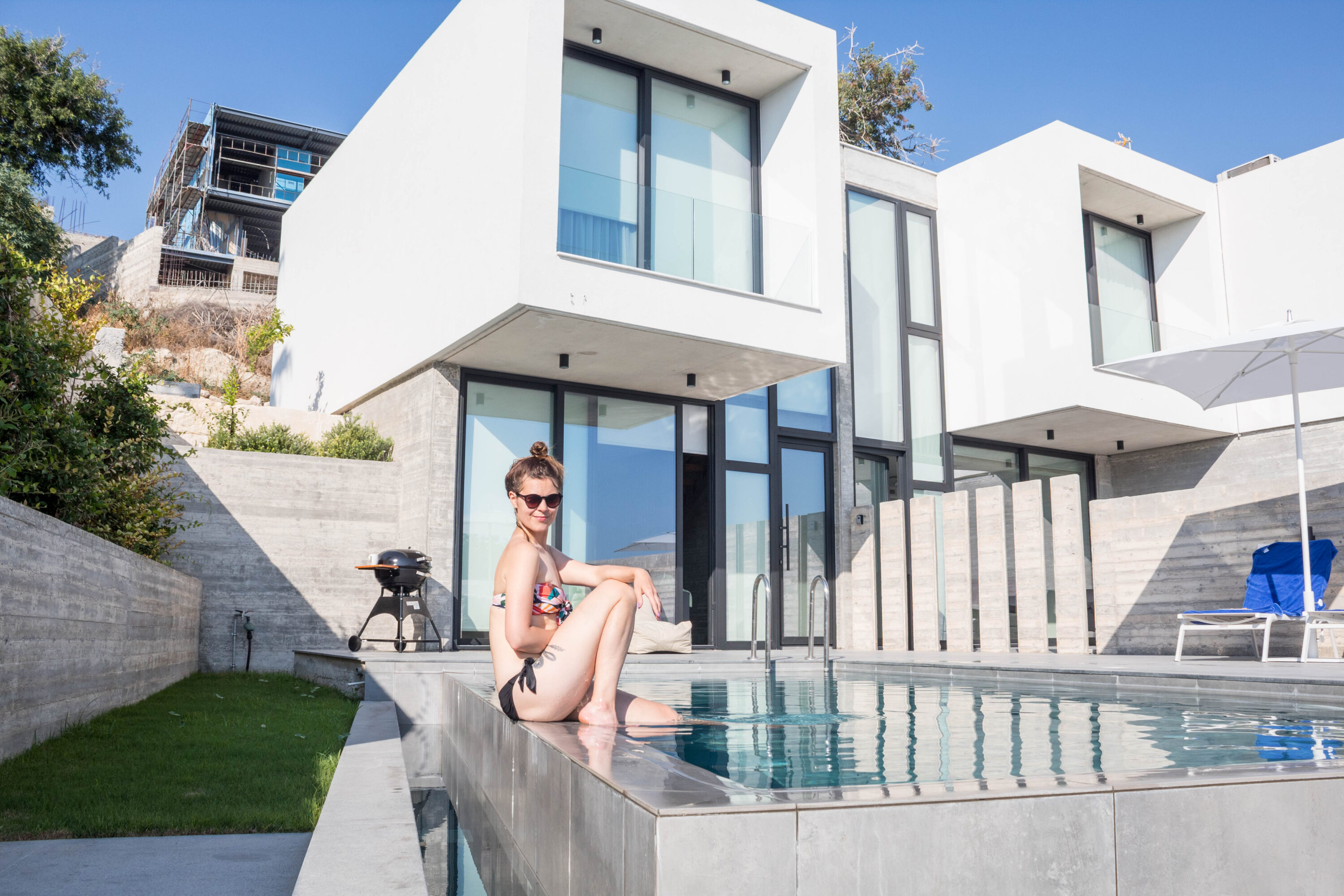 Since it was my boyfriend's and mine romantic getaway we were searching for something fancy and tasteful. We stumbled upon the amazing Sunset Park Villas in Paphos, Cyprus. You know that feeling when you see the pictures online but when you arrive it's actually not exactly the same? And in the end you are disappointed? Definitely not in this case! The pictures on the website and booking.com are stunning and in reality it looks like a cubic heaven!
The highlight of the Sunset Park Villas is doubtlessly the private infinity pool. And believe me you need it in Cyprus because it's very hot. What a great start of the day to jump into the refreshing water of your own pool! Important to mention the spacious rooms, huge flat-screen TV, two rooms with comfortable double beds, modern shower and kitchen. And yes, Wi-Fi is very fast here.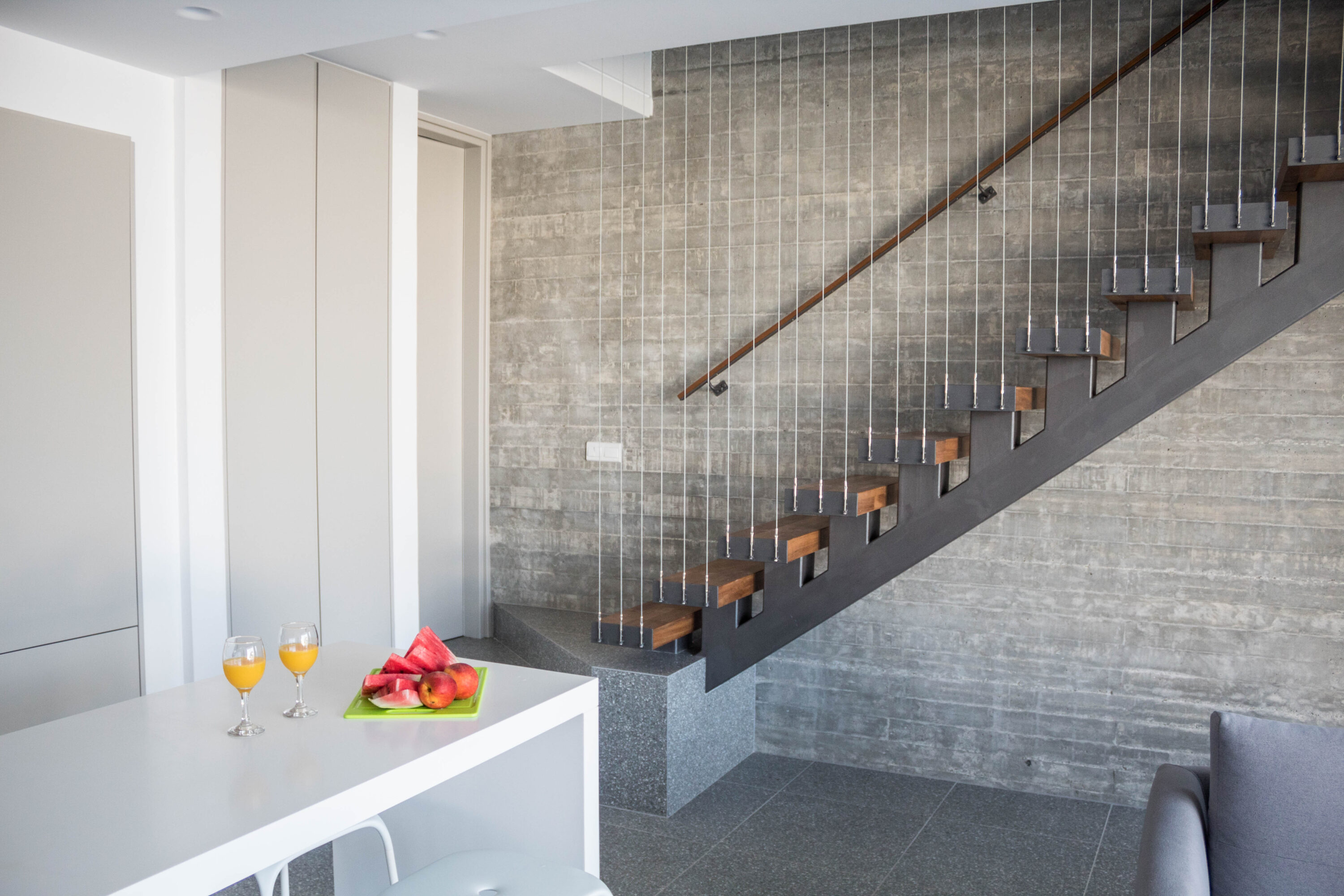 A two-level townhouse in contemporary architectural designs has also a private parking and amazing large verandas with barbecue. The location is ideal: 10 minute walk to the supermarket, few minutes walk down the road to the bus stop (It's better to hire a car or travel by taxi in Cyprus though), harbour of Paphos, the town centre with numerous restaurants and the beach side is also nearby.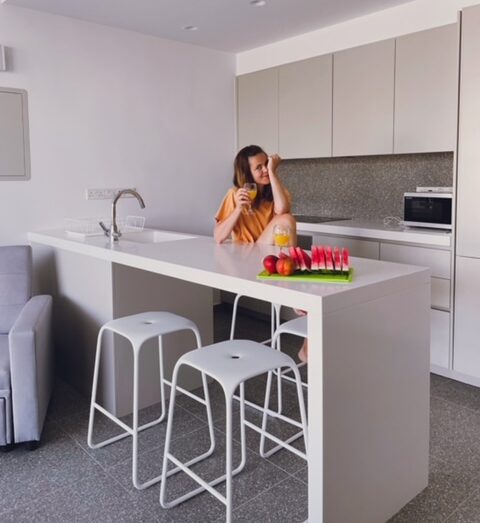 We were very happy to spend our 5 days in Cyprus in Sunset Park Villas. Sometimes we needed to force ourselves to leave our "new home" to explore the island. It was a great choice to spend our holidays here. And we also realised that it's a fantastic place to rent with friends or family. And if you are searching for new friends then leave some food at the veranda and in no time you will have a lovely cat for company. Cyprus is well-known for it's numerous amount of fluffy feline inhabitants.
Day 1: From Larnaca to Paphos OR from Paphos to Larnaca
We arrived at Larnaca airport in the morning but needed to get to our holiday house in Paphos. So we booked a taxi service with iTaxi. Our intention was also to see the sights on our way so we wouldn't lose the day since it's around 1,5h drive to the end destination. We had a great driver, Panos, who picked us up from the airport and showed interesting spots on the island.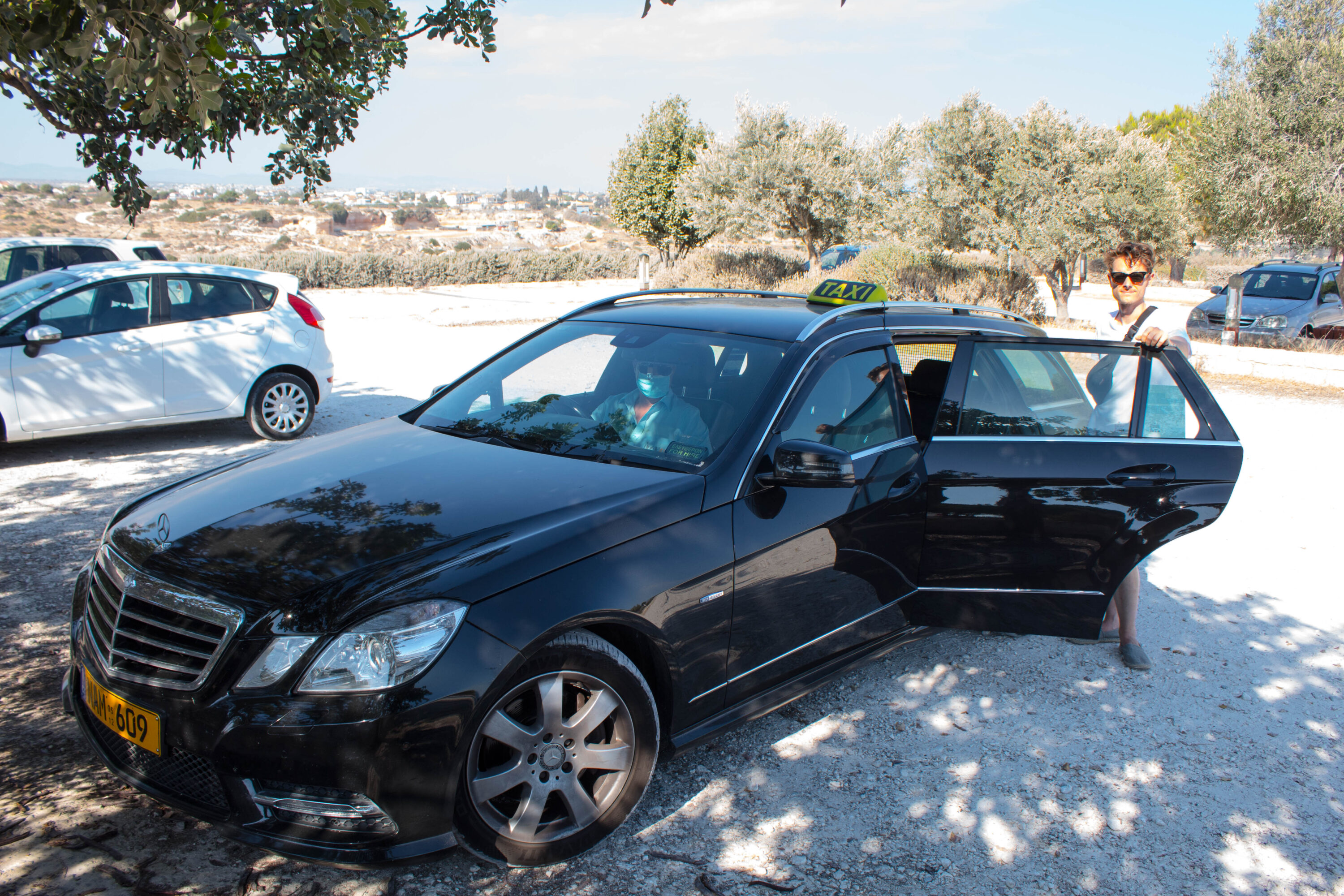 We started our journey with a local coffee shop where we could get a snack and an ice coffee "Starbucks" style. Ice coffee is extremely popular in Cyprus and you can get it anywhere even with different types of milk (Always go for oat, it's the best!). Next stop was Choirokoitia, a Neolithic village in Cyprus. It's on UNESCO Work Heritage list and has been discovered in 1934. It's contains evidence from the 7th millennium B.C. that the area was of collective use with cultivated products like pistachios, figs and olives.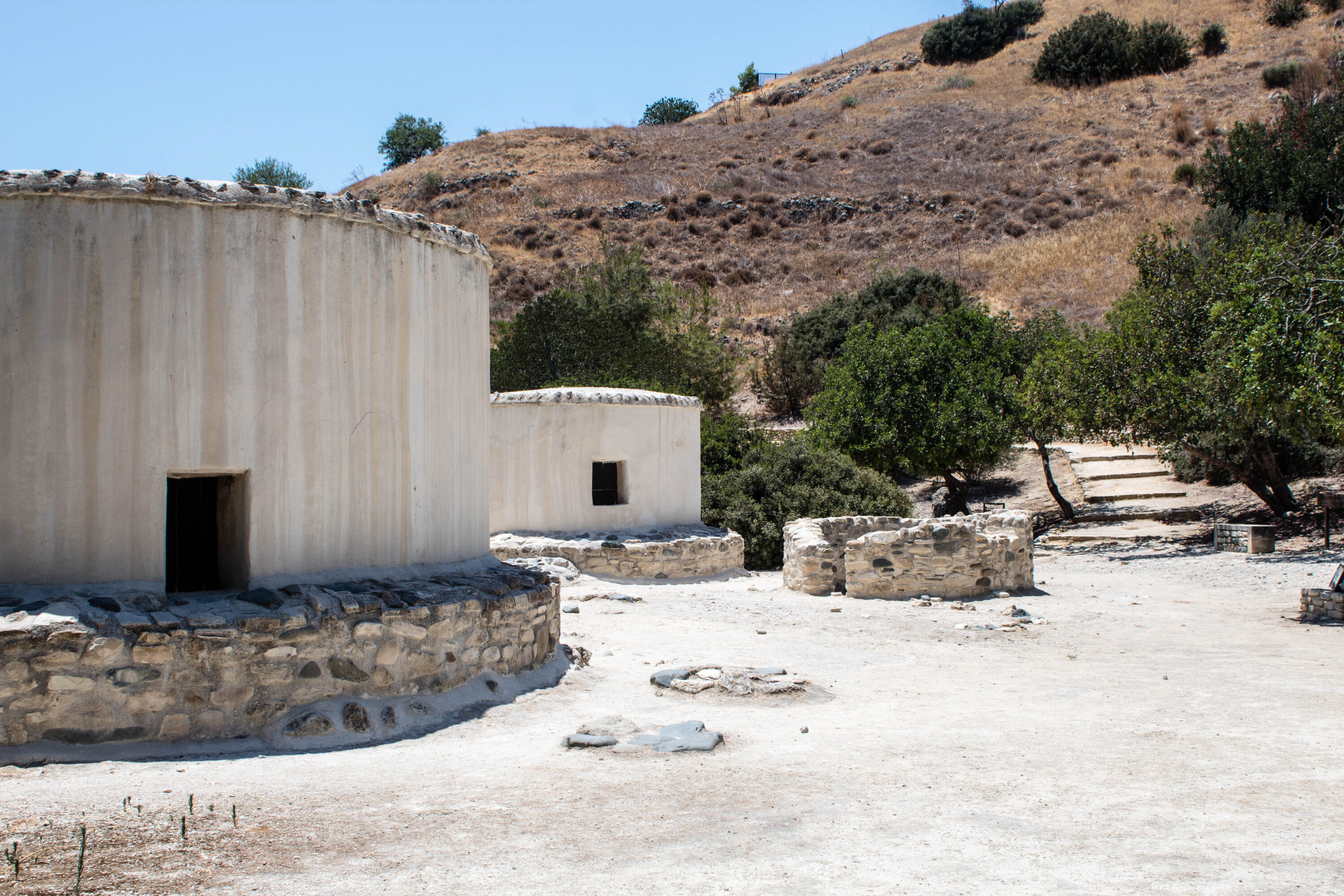 Tip: Here you can get the day ticket for 8,50 per person so you can visit ALL the sights around. Just ask for it.
Since we didn't eat much we were craving for some authentic Cypriote cuisine and Panos drove us to the beautiful Loizos Koumparis. It's a fish tavern located in one of the harbours just next to the crystal clear water. And as a typical tourists we went for the Cypriot meze. It's a dining experience that consists 30 small plates of tasty dips, vegetables and a several small fish and meat dishes. We could only finish half of it, we could definitely share it with another 3-4 people. Which is a bit of waste in my opinion and afterwards I've heard from locals that it's actually mainly made to attract tourists. But it was tasty and we enjoyed it!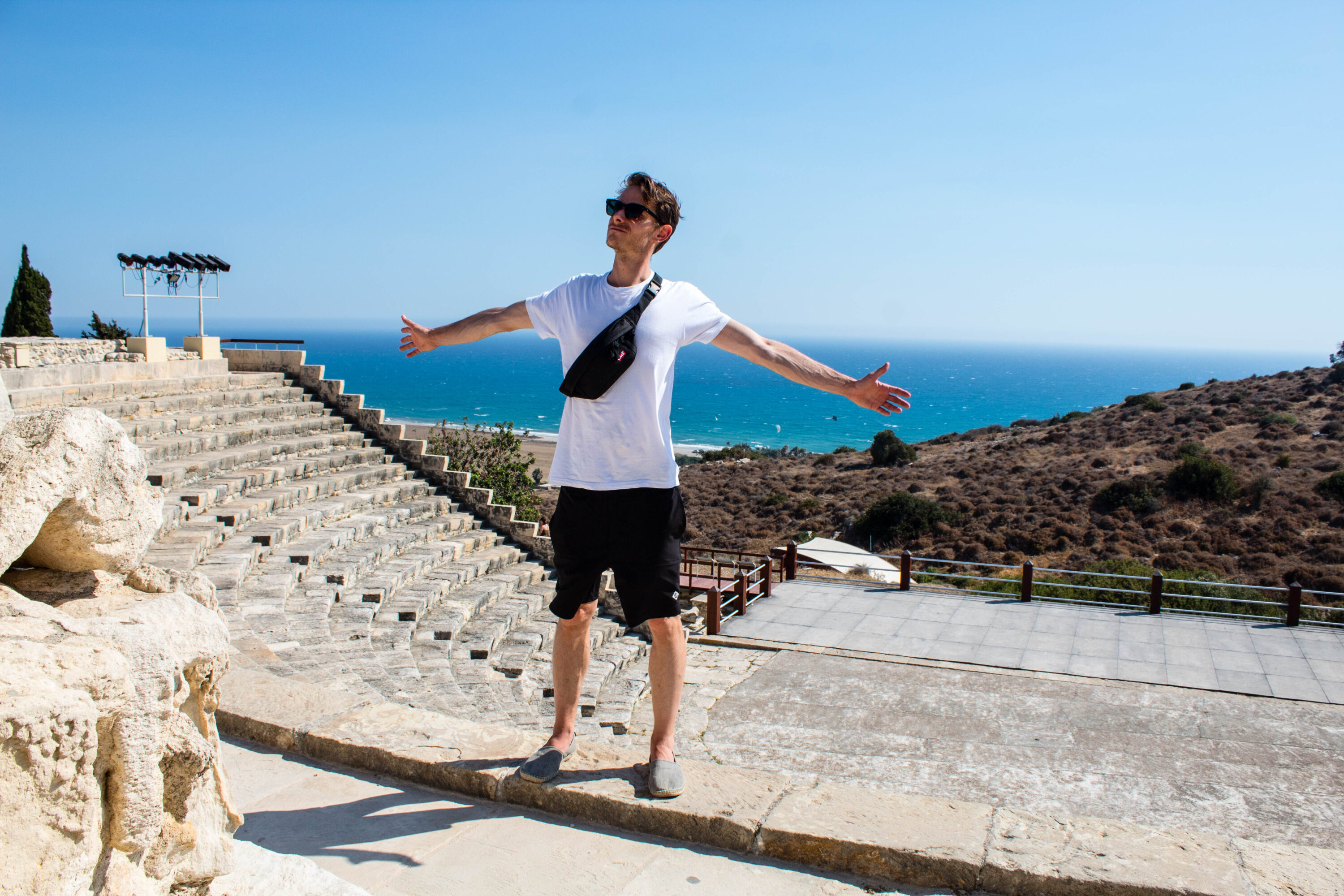 Kurion was our next destination, the most impressive archaeological sites in Cyprus. Its amphitheatre – built on the southern end of a steep hill which offers spectacular views. The theatre was constructed at the end of the 2nd century BC and it's still in use today, especially during the summer season because of it's incredible acoustics. In the beginning of the 3rd century AD it was also used for fights with wild animals. It's a great place to walk around, enjoy the ancient ruins, the view and take instagramable pictures.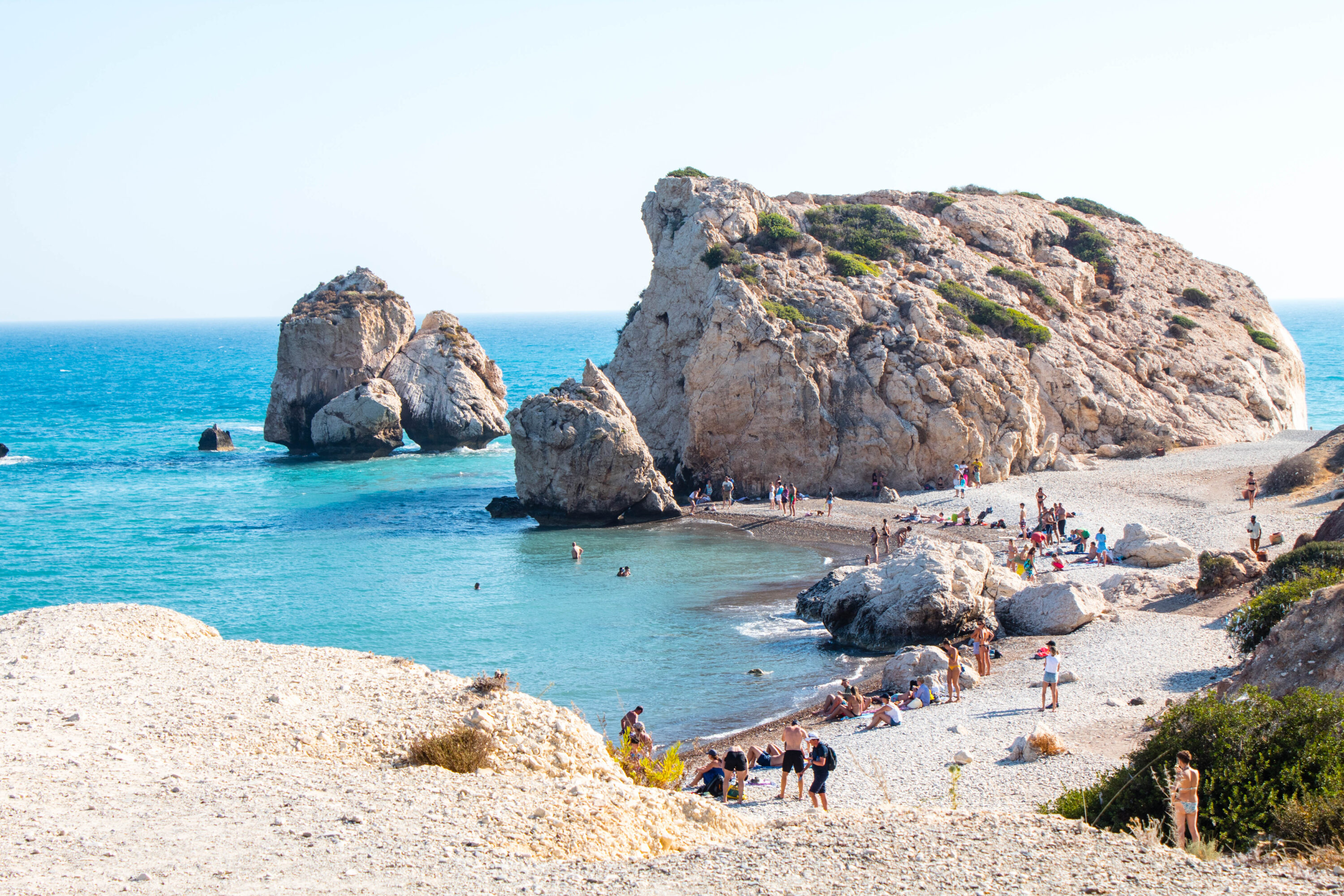 Last but not least we visited the famous Birthplace of Aphrodite. This beach is one of the most beautiful sites in Cyprus. The pebbly beach at the Birthplace of Aphrodite and the dramatic white cliffs in the distance make this place very special. Closer to the shore, large rocks comes out from the water, which has been named Aphrodite Rock. The myth of Aphrodite's birth is about the beautiful Goddess of Love emerging naked from the water. She had just been created from the foam of the waters caused by Cronus castrating his father Uranus and throwing his genitals into the sea of Cyprus. Ancient Greeks and their uncensored myths, right? Anyhow this place is very popular so expect to see plenty of happy tourists.
We also used iTaxi services on the way back to the airport and were very pleased with everything. I would recommend them to everyone!
Day 2: Paphos
Paphos is a wonderful place for holidays and for those who are thirsty for history and knowledge. The harbour and castle are definitely worth a visit, but the main attractions of the city are the Tombs of the Kings and the Paphos Archeological Park.
The Tombs of the Kings are huge burial chambers dating from the Hellenistic and Roman periods and is another UNESCO World Heritage Site. It's possible to enter many of the excavated tombs, and the whole site will take your breath away.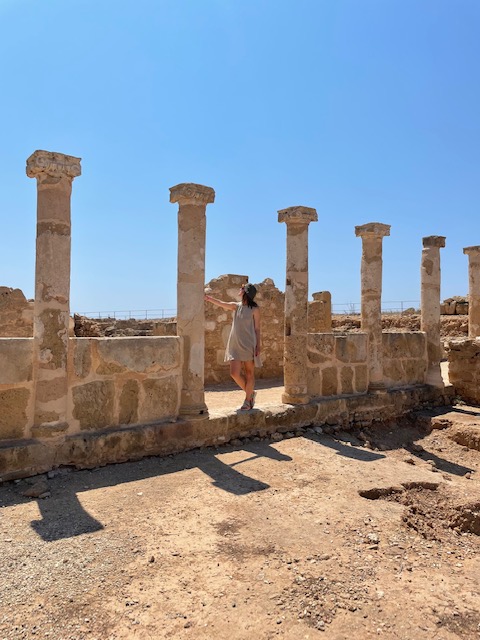 Near the harbour, you will find the entrance to the Paphos Archeological Site, an UNESCO World Heritage Site as well , that encloses a Roman Odeon, a Lusignanian castle, and the site's main highlight, the impressive mosaics of four Hellenistic villas. These mosaics, illustrating ancient Greek myths, are among the world's best-preserved and beautiful Greek mosaics. A walk around the park will take you right back in time!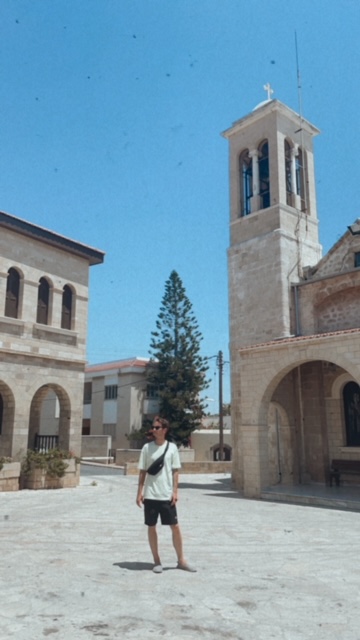 Getting hungry? From Paphos harbour you can take a direct bus to Paphos town centre. There you will find a wide range of authentic and modern bars and restaurants. The best time to visit is after 7pm since in Cyprus dinner time starts when the sun sets. Otherwise almost everything will be closed. But the vibe and atmosphere there are amazing, very relaxed, many young people. Nevertheless no one is getting obnoxiously drunk which as I've heard can easily happen in Limassol.
Restaurants Paphos, Cyprus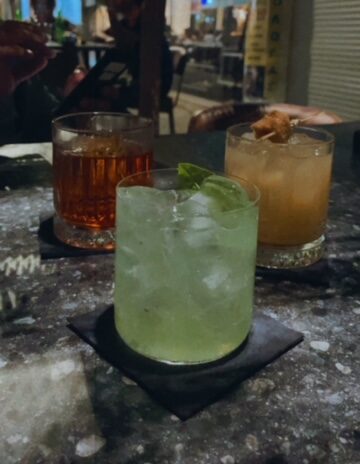 If you are in Paphos and you would like to experience something out of this world then go and visit Honey restaurant. It offers an ideally hidden setting and a great range of local wines. Everything feels exclusive here, the staff is very friendly and even the bread is special. I was surprised about the black, red and green colours of the bread which had flavours of red beet, spinach and activated charcoal. The starter was a beautiful masterpiece that I didn't want to destroy with my spoon. The main dishes were tasty too: pasta with octopus and white fish with potatoes & veggies. And the great end of the dinner, 3 different desserts! You should definitely try the creme brûlée here, I've never eaten anything like it!
Another great bar to visit in Paphos, Cyprus is SOHO. 79 Bar. Wide variety of yummy cocktails and sushi lovers will definitely be satisfied here.
Day 3: Paphos, Cyprus Beach
Every perfect holiday should include a full resting beach day. But be careful what beach you are going for. Unfortunately we went for the main touristy one, Coral Bay. I read only good reviews about it online and on other blogs. But what a shame that not every blogger is honest and sometimes you step into the trap. So don't repeat our mistake and skip your visit to Coral Bay. In my opinion it's a pretty old fashion area with many over priced restaurants. The beach area could be beautiful if it wouldn't be packed with plenty of tourists who leave their trash in the sea. But there are many other nice beaches to visit!
One of them is a tranquil beach at Sea You Beach Bar. It's not with the golden sand but you will still enjoy it. The bar is famous for it's sunset views. The food is overpriced and not as great but you should try the Mango Frozen Margarita or Pina Colada. And again enjoy the view and the beach front!
We've also heard about the sandy beach behind Venus hotel in Paphos which should be quite alluring.
Day 4: Spa Treatment at Azia Resort & Spa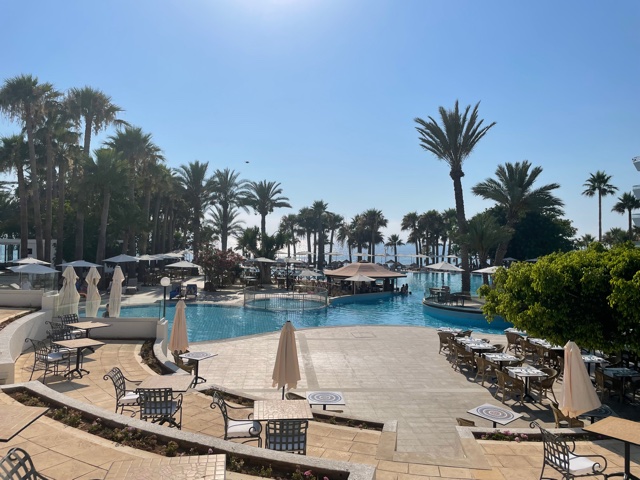 We all have different intentions when we go on holiday. I do believe that it's a must to have at least one relaxing spa or treatment day to recharge your batteries and come back with a rejuvenated body. I've noticed that it's extremely easy to get absorbed in the daily routine and neglect your body's need for relaxation. And holidays offer a great opportunity to spoil yourself. This is what we decided to do and made our arrangements at Azia Resort & Spa in Paphos.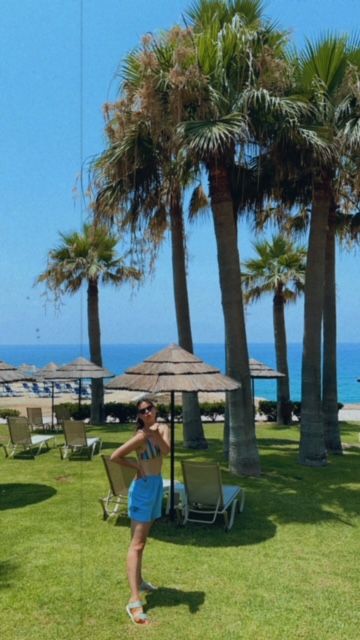 First of all Azia Resort and Spa is a 5-star award-winning hotel which literally invites you to a capsule of tranquillity. Beautiful modern design, a lot of greenery, multiple swimming pools, including an "Adults Only" area, and magnificent views over the sea. The staff is very friendly and helpful which is key for a great holiday in my opinion. You know it's all about the vibes.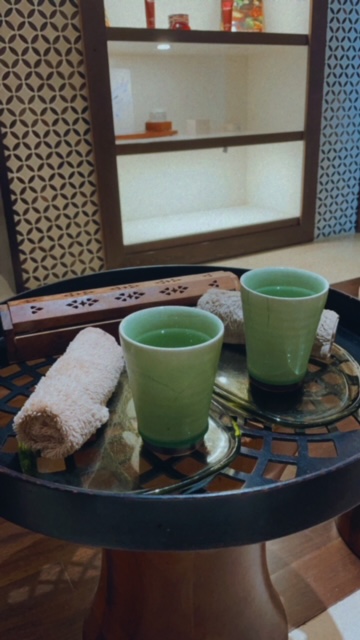 We needed some mind-soothing treatment so we booked the 1h couple massage. The staff was very friendly and kind. We received bath robes and fresh towels so we could undress ourselves before the planned treatment. While we were waiting for the masseuse we received healthy drinks. Afterwards we were brought into a clean and tidy room and were asked to lay on the comfortable massage tables. I prefer hard pressure for my massages and my masseuse did not disappoint! All in one the massage was amazing: Great pressure, great technique and a lovely atmosphere.
After our spa treatment we had the chance to spend our day at the hotel's pool area which is as an oasis in hot sunny Cyprus. Various pools and beautiful views from the cliff as I described before are ideal for the perfect holiday. The staff circles by from time to time with refreshing towels, drinks and watermelon. What a service! We enjoyed our day at Azia Resort & Spa to it's fullest!
Day 5: Limassol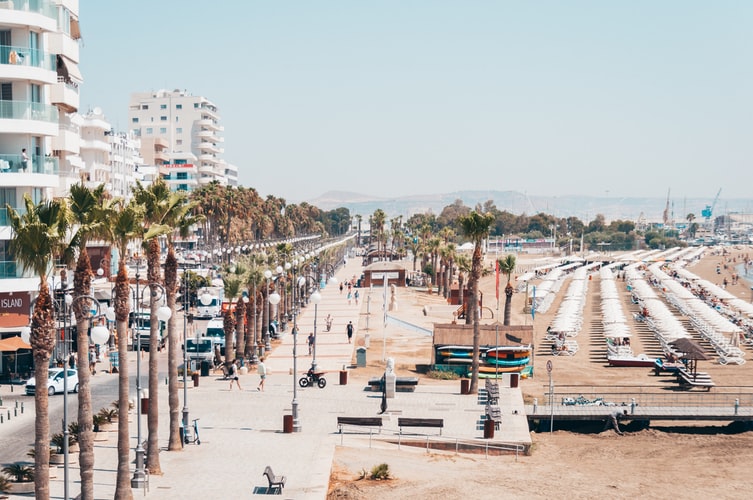 The last day is the perfect opportunity to dedicate your time to Limassol. It's on the way to Larnaca International Airport so why not to make a little stop also at Lefkara for a stroll. This charming traditional cobbled village is well-known for its lace-makers. Afterwards, drive towards Limassol which is known for being a dynamic, cosmopolitan seaside city. Here you will find a 14th century castle. You can have a coffee in the quaint old town. Have a stroll through the town and check out the coffee shops, local dining cafes and restaurants, as well as wineries. Take a walk or bike ride along the tidy promenade and visit the brand new marina for shopping and dinner. After all this you will be ready to head back to Larnaca's Airport for your scheduled departure.