You will be surprised but there are various top secret Paris attractions that no one tells you about. And no wonder, Paris is the second largest French speaking metropolis in the world. You are probably surprised, but Kinshasa, capital of the Democratic Republic of the Congo is in first place. Nevertheless growing from a small village, today it's an influential and tremendous metropolis with secret Paris attractions.
Undiscovered Paris
Undiscovered Paris offers numerous possibilities to entertain yourself, from historical museums filled with artworks and sculptures, beautiful theaters and 9,057 of different open terraces, where you can savor incredibly delicious food and great wine. And if you are in love with bread, then Paris will be an epitome for you: There are 1,784 bakeries in Paris. Apropos love: It's amazing to walk around and see lovely couples kissing and looking deeply in each other's eyes, without being ashamed of showing their sensitive sides. The French language and behavior resembles love doves cuddling under the roof. It means Paris is an ideal place to fall in love in the city and with the city.
But before you get lost in this French urban jungles, overwhelmed by the choice of sights, let me guide you through the best unique places in Paris. Just one reminder, don't forget to charge you camera, to capture the beauty of the magnificent city. My advice, take a power bank with you. I'm using Lumsing® 16000mAh, which is great. It charges your phone within 30 minutes and you can use the battery 8-10 times until you need to plug it in again.
Getting around in Paris with public transport
Regarding Paris´magnitude you might be using the public transport. It's very simple to orientate yourself in the city, because there are plans and signs everywhere, showing you the way. If you stay just for a weekend you might get 10 tickets for 14, 10€. If you want to buy a single trip ticket, it would cost you 1,90€. If you are planing to stay for longer, it might be worth to get a rechargeable week card, which works from Monday until Sunday and costs 5€. For 25€ you will be able to use every public transport up to 18 times. You can buy these cards at any counter, just don't forget to bring a photo of yourself in a passport size.
The Perfect Start in a Traditional Parisian Café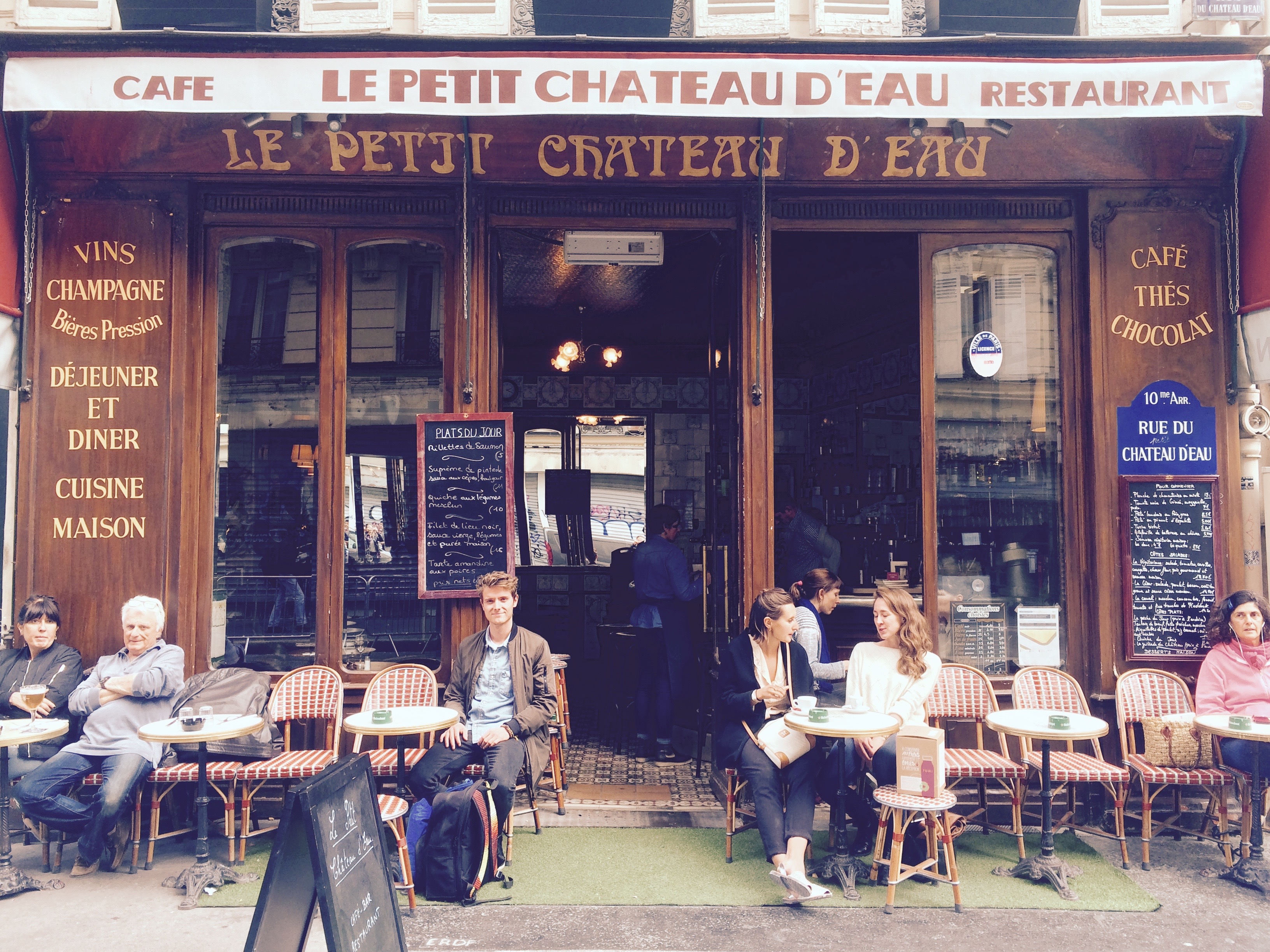 If you want to experience Paris off the beaten path visit this charming traditional Parisian café Le Petit Château d'Eau. It's close to the Republique metro station, where you can have a terrific start of your day. Surrounded only by locals, in secret streets of Paris, away from the chaotic big city, the wonderful Le Petit Château d'Eau will provide you with a typical French breakfast: delicious croissants with various sorts of cheese and an awakening coffee. The little oasis is owned and delegated by the family since 5 years, which gives it a cozy feeling, as if you would visit your friends. Furthermore the delicious food and typical French design of the café will let you immerse into the traditional French culture and have an excellent beginning of your lovely trip. You can also visit Le Petit Château d'Eau in the evening and have a drink with the chatty patrons.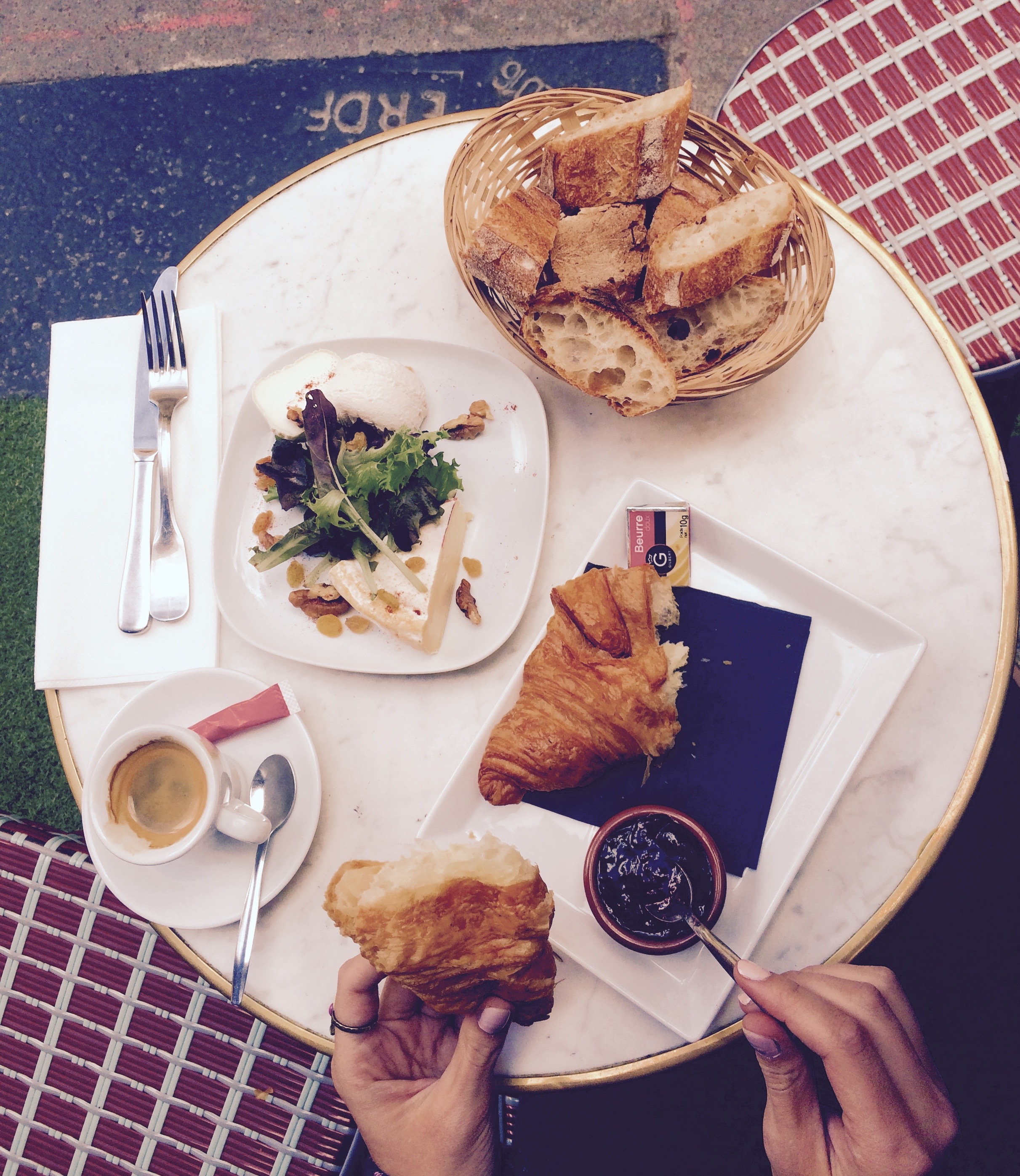 Cool & Famous Places to visit in Paris
After an amazing waking up procedure in Le Petit Chateau you can visit another cool place in Paris, which is just a 15 minutes walk away and it's next to metro station Etienne Marcel. This district is popular with it's numerous cafés, open terraces and restaurants. It's a great spot to have a break after the never-ending sightseeing and get some inner fuel. Additionally it's a place to be in the evening, when every location seduces French habitants and curious tourists with it's happy hour.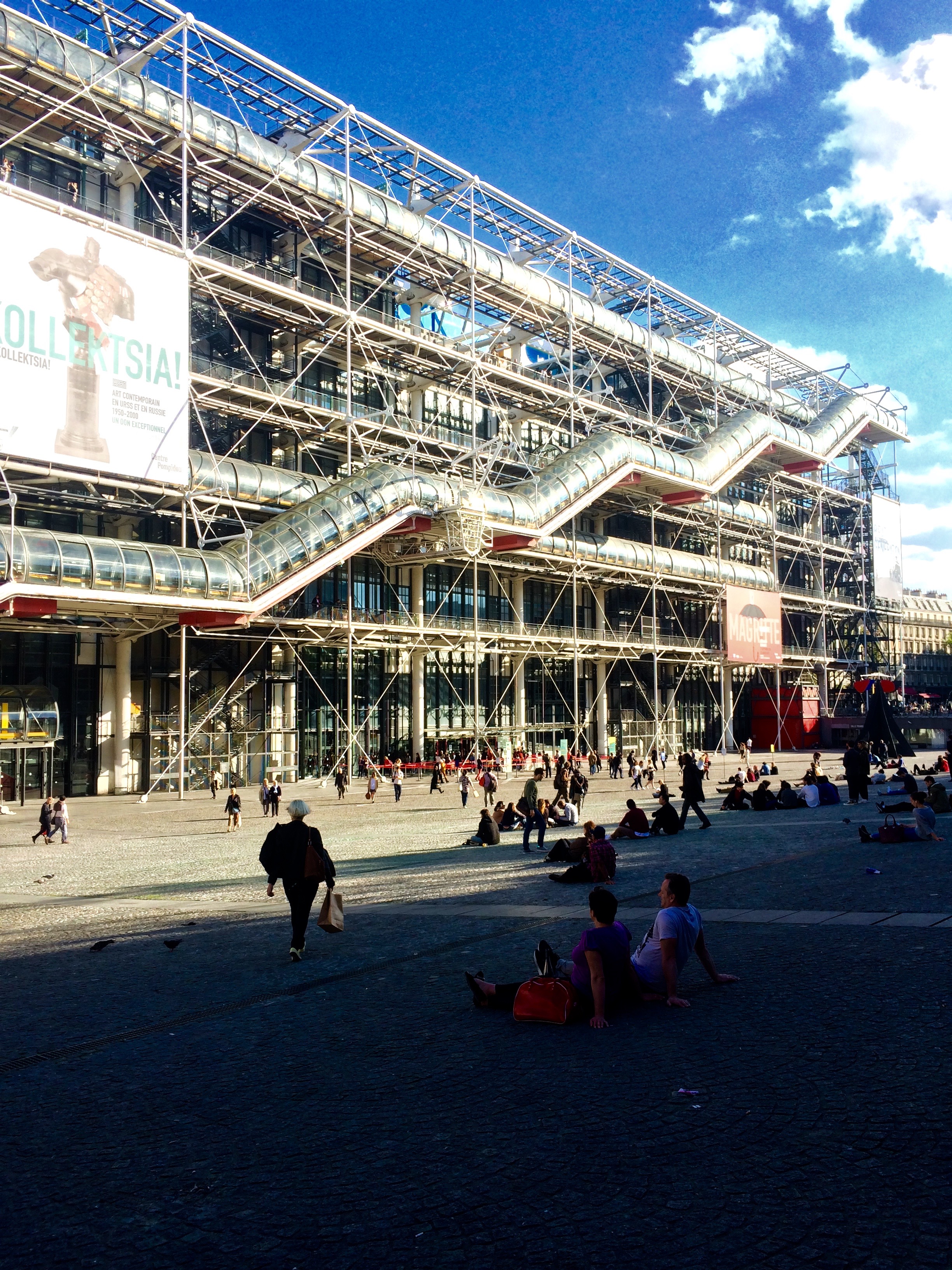 Unique Things to Do in Paris
Just a stone's throw away you will discover the unique & well-known Centre Georges Pompidou. It's a vast public library, the largest museum for modern art in Europe and also a centre for music and acoustic research. You might not fall in love with the complex building on the first sight, but don't judge this book by it's cover. It may still seem to be under construction, which is not true apparently.
The story of Centre Pompidou
 Centre Pompidou has a smart soul: The architectonical statement and radical design was born by known architects Renzo Piano and Richard Rogers in the 1970´s. They decided to focus on the beauty of the functional elements of the structure, that's why the building is classified as Structural Expressionism. The main idea of the Centre Pompidou is being flexible and able to be reconfigured to suit new conditions. To achieve this, they turned the construction inside-out to maximize the internal magnitude.
On the west facade of the complex you will see color-coded ducts: blue is the climate control, yellow is electric wires, green is plumbing and red fulfills the role of communication. The pipes, tubes, escalators and ducts create the illusion that it is a machine. The terminator carcass gives a possibility to realize emptiness, amazing light structure and a flexible interior by using temporary walls and partitions. The result is a genius building for the exhibitions from the architectural point of view, from the esthetic side it's ambiguous though. Nevertheless it's one of the Paris's most visited  attractions.
Every first Sunday of the month the entrance to the vibrant arts exhibitions of Centre Pompidou are for free. If you missed that opportunity then you can also visit the hyper-industrial restaurant, Georges, with magnificent panoramic views of Paris. You can access the restaurant by a free elevator.
The Top secret Place in Paris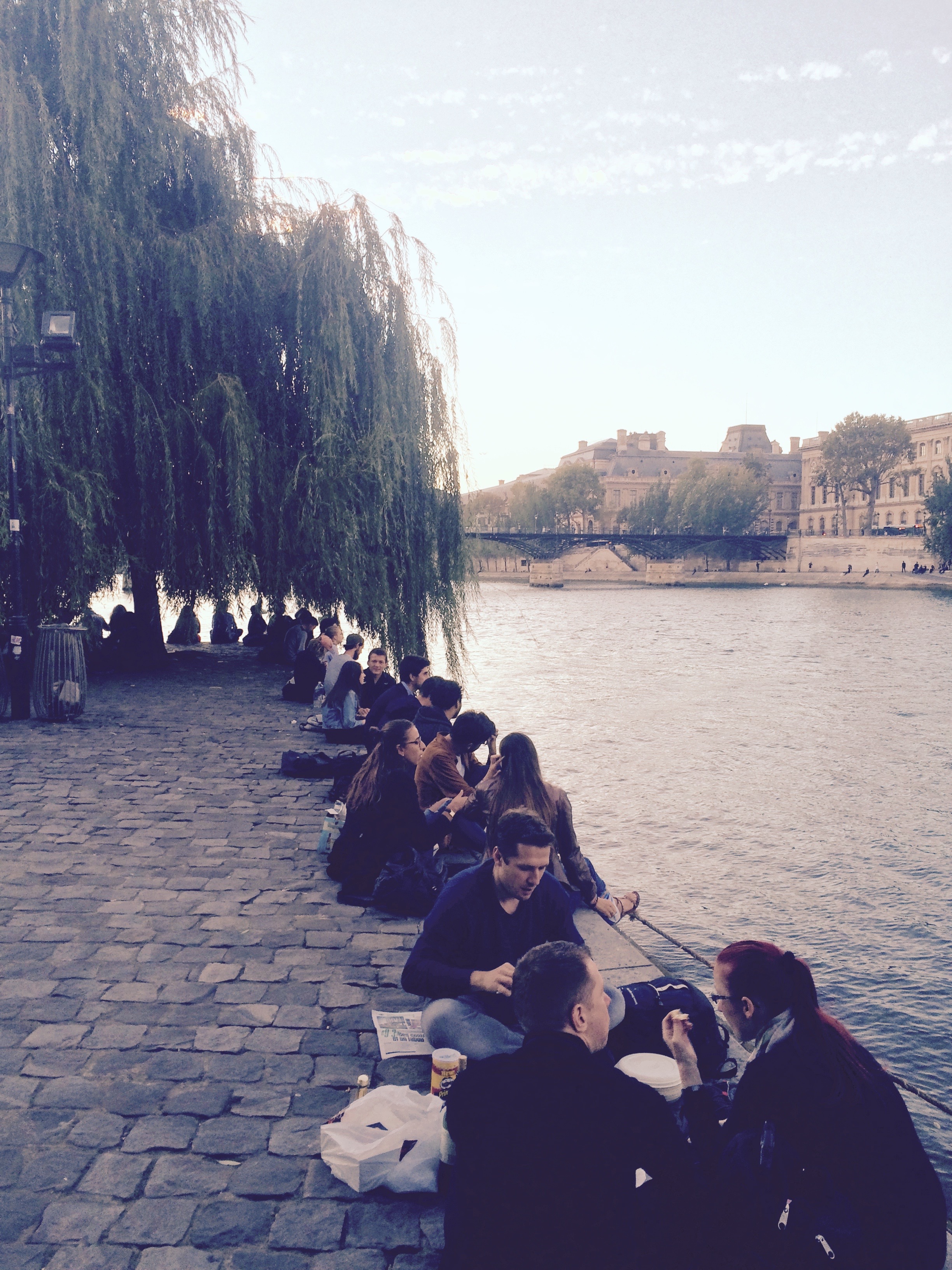 There is a top secret okay in Paris that only locals know about. It's located on the Square du Vert-Galant, just follow the stairs, leading you under the bridge. It may sound suspicious, but it's a beloved spot by locals to observe the scenic view of the river and Louvre. Take a drink and you will have the optimal justification to stay longer. Afterwards you can visit the Eiffel Tower, which starts sparkling between 8 – 9 p.m. A memorable show!
What is Montmartre famous for?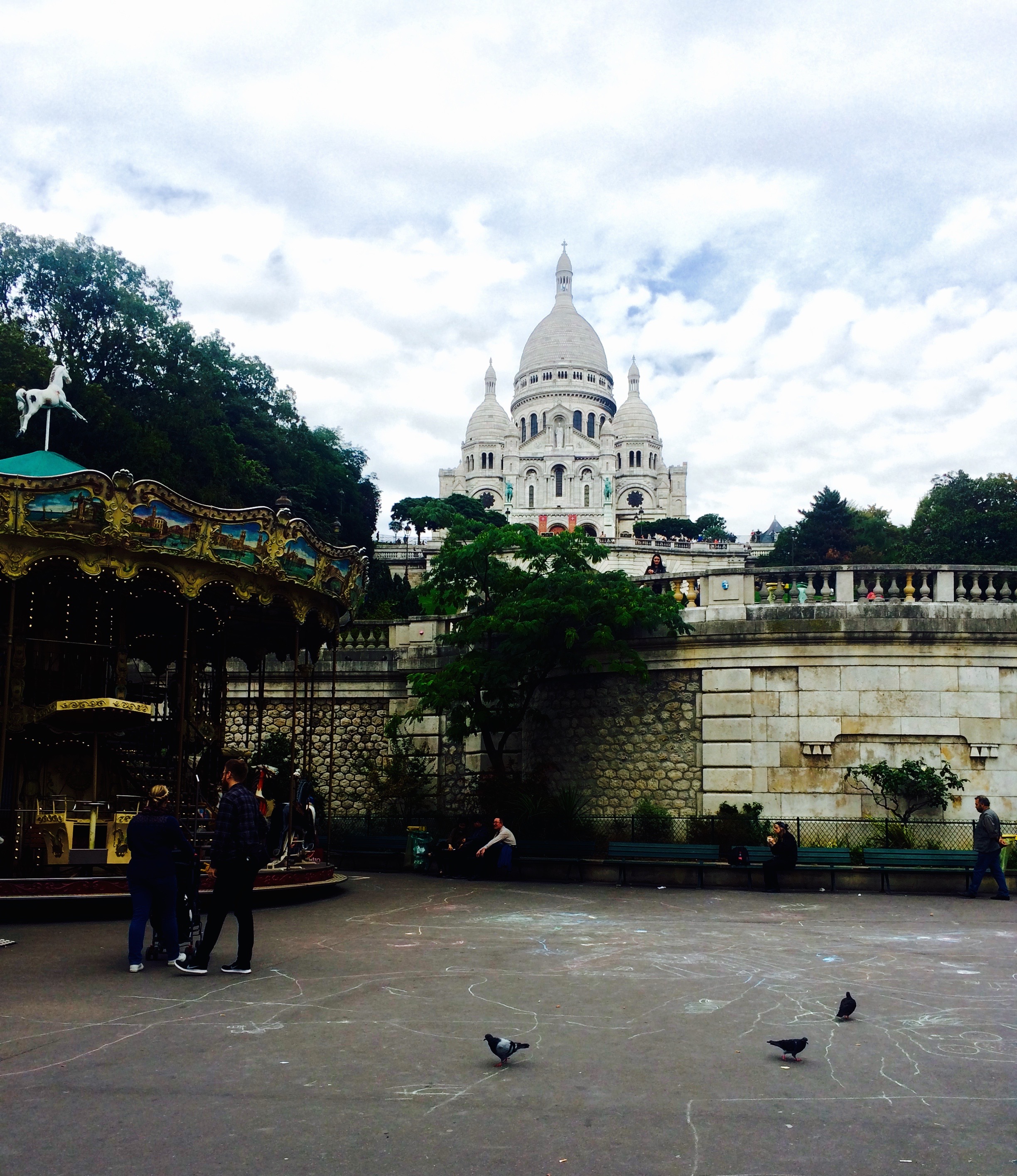 Montmartre's hill is the highest point of the city, which reaches 130 meters and is proudly topped by the landmark, Church of Sacré-Coeur. The basilica was built between 1875 and 1914 and it's name means "Sacred Heart". It's a reference to Jesus' heart. The word Montmartre itself means "Mountain of the Martyr" and comes from the brutal martyrdom of Saint Denis, the bishop of Paris in 250 AD.
Saint Denis was a missionary who was sent to spread Catholicism in the city of Paris. Unfortunately not everyone liked it and one of the local pagan priests sentenced him to death. According to the legend Saint Denis was decapitated on the famous hill, but even then , he stood up, picked up his head and walked another 10 kilometers preaching a sermon. So over time when you see sculptures, paintings or watch the movie "Sleepy Hollow", you will know from where the inspiration came.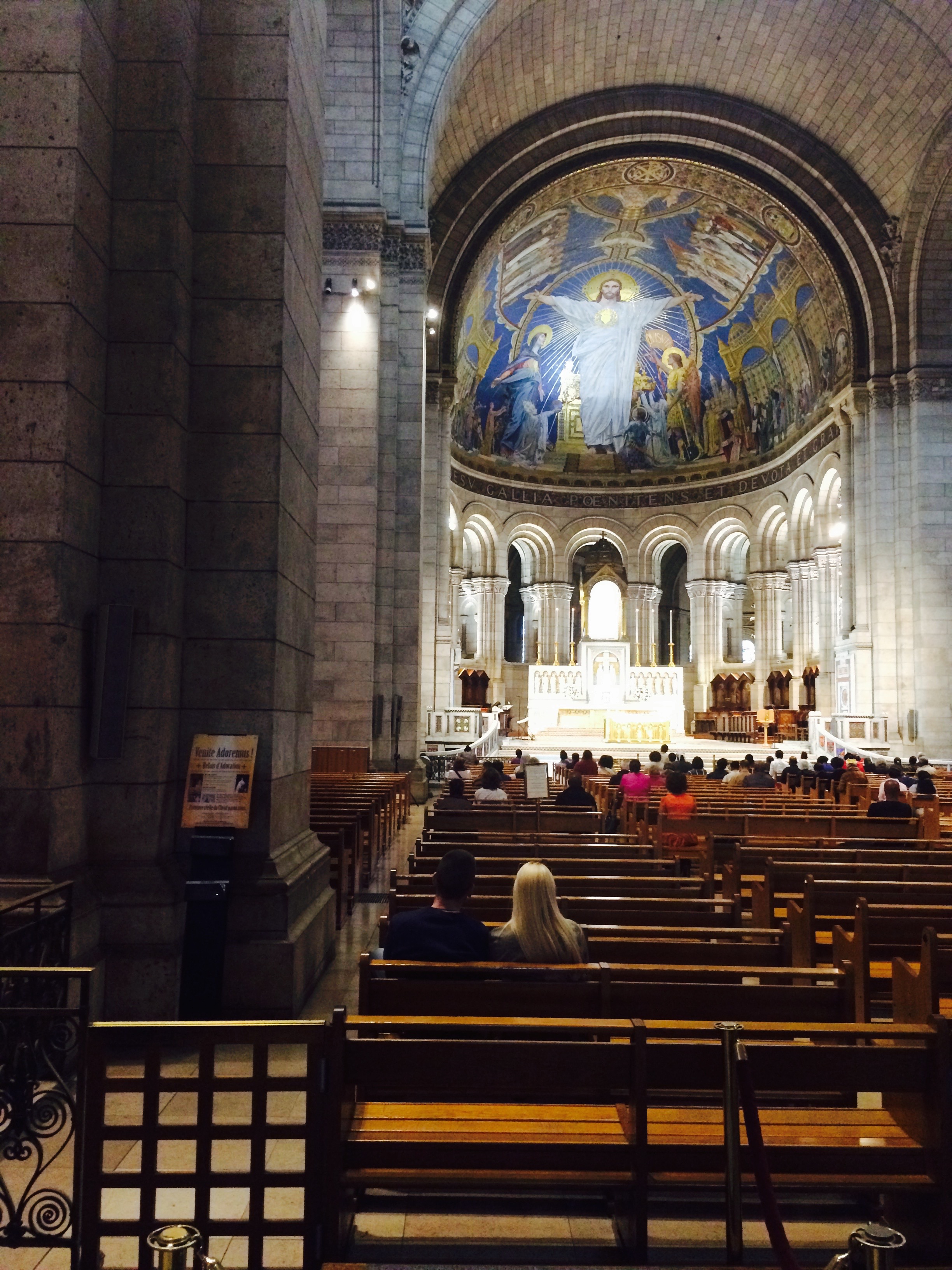 Climb the stairs and as an award you will see the picturesque view of the metropolis. Montmartre has long been known as a home of various Bohemian artists, like Picasso, Matisse and Dali. The area inspired and provided ideas for the incredible masterpieces for such great painters like Van Gogh and Utrillo. Nowadays you can find numerous painters on a square Place du Tetre, which is located just a few steps away from basilica Sacré-Coeur.
Amelie Filming locations at Montmartre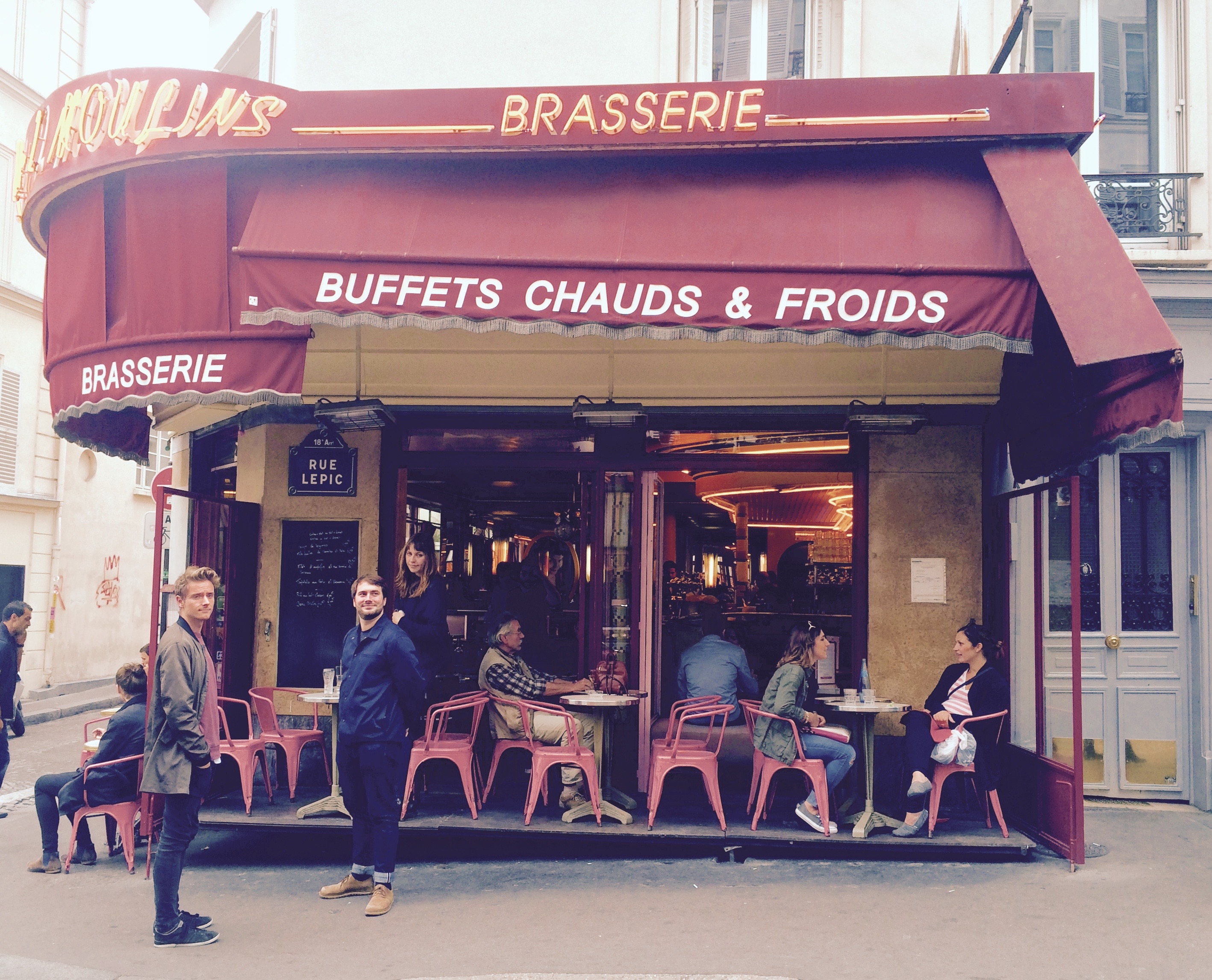 There are several Amelie Filming locations at Montmartre. As an authentic fan of the movie "The fabulous destiny of Amélie Poulain", you should know that there is a "Cafe des Deux Moulains", which is very close to the Cathedral Sacré-Coeur. You can soak in one of the movie scenes and imagine that you could meet Amelie here personally. The location has almost an exact environment that is familiar to us from the movie. The only missing piece, is the tobacco shop. Definitely enter the restroom and not only for being part of iconic Georgette's and Jesophe's love scene, but also to admire the film's artifacts displayed behind the glass, one of them is the legendary travel gnome.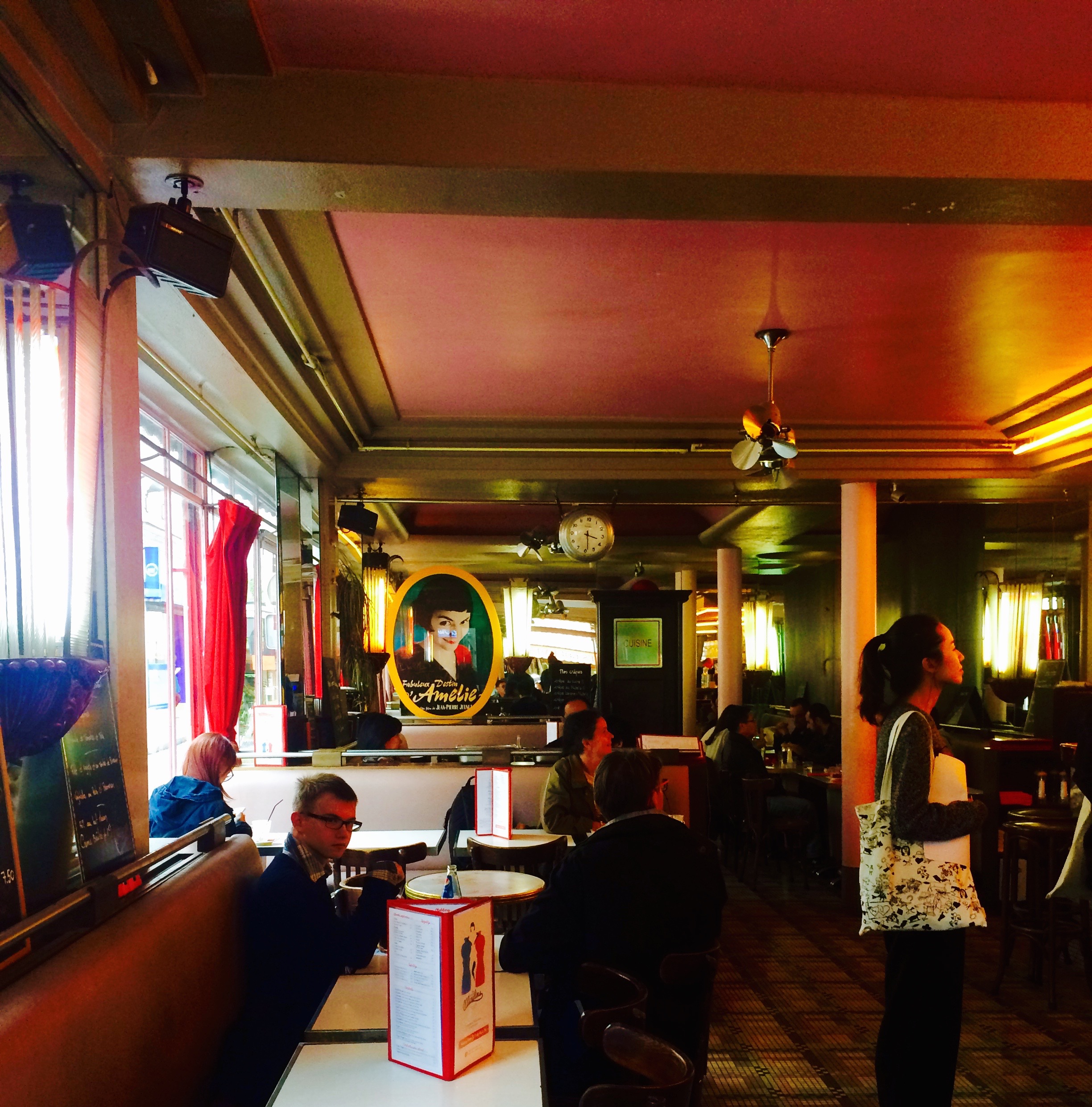 Undiscovered Paris: The Crazy Ice Cream in Paris
This is one of the hidden gems in undiscovered Paris: A crazy ice cream shop, Glaces Glazed, with naughty but delightful flavors. The names of the sweets will make you giggle, but the mix of ingredients will make you curious. I really liked "Porn Cop", a combination of pop corn and caramel. It already sounds divine! We even got delicious waffles for free.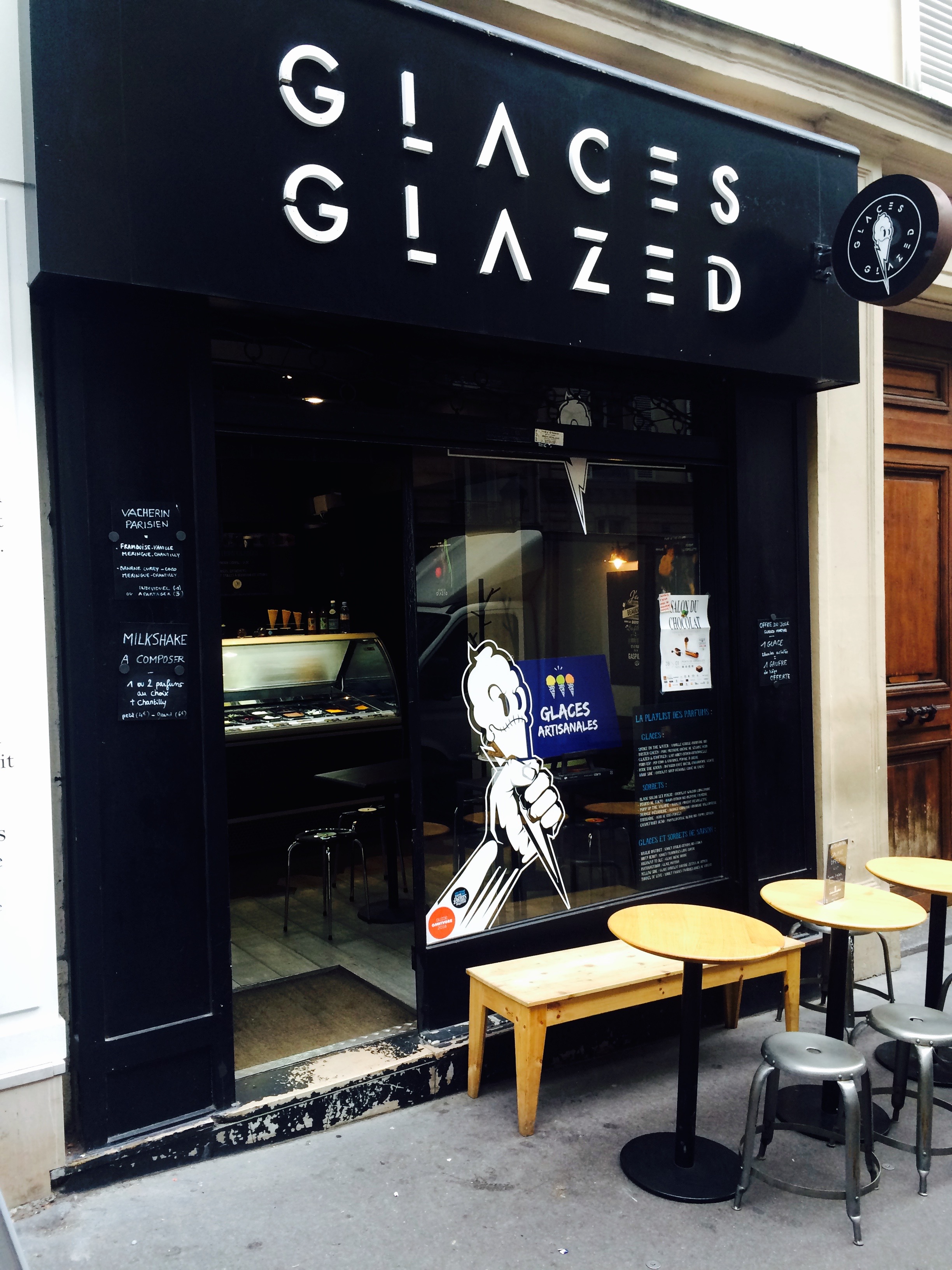 Interesting Place to visit in Paris, Philharmonie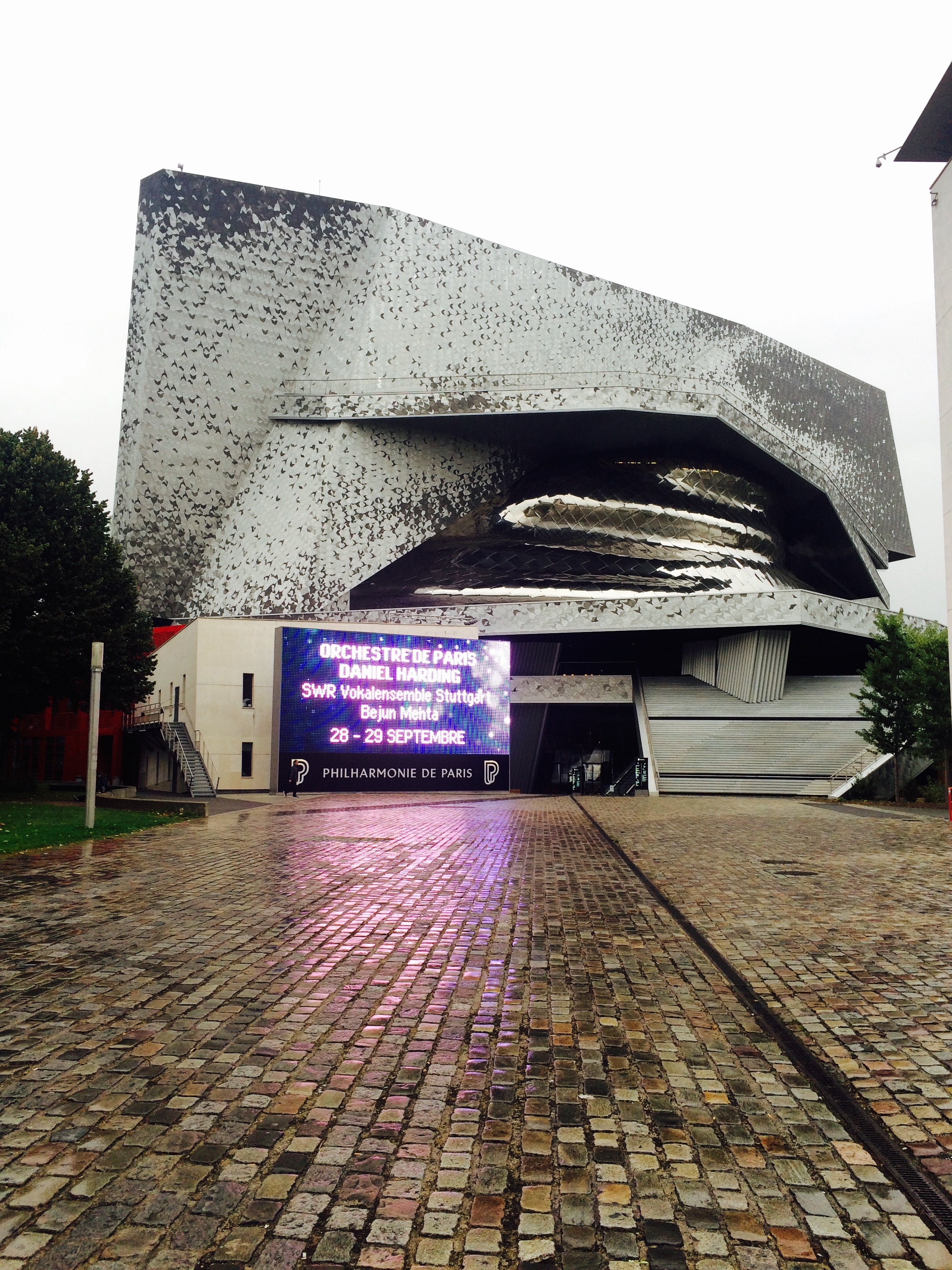 Since a couple of years every big city is willing to spend a huge amount of money on futuristic buildings of Philharmonics. Paris is not different, in 2015 this vast space ship, designed by the French architect Jean Nouvel, was presented to the public. The cost of constructions were expected to be just 170 million Euros, after having an enlightenment that it was not enough, the costs were multiplied 3-4 times. France self-proclaimed it's innovative cultural center as unique in the world. But if you think about the invested money then it doesn't make sense to spend the same insanely high amount into a twin building.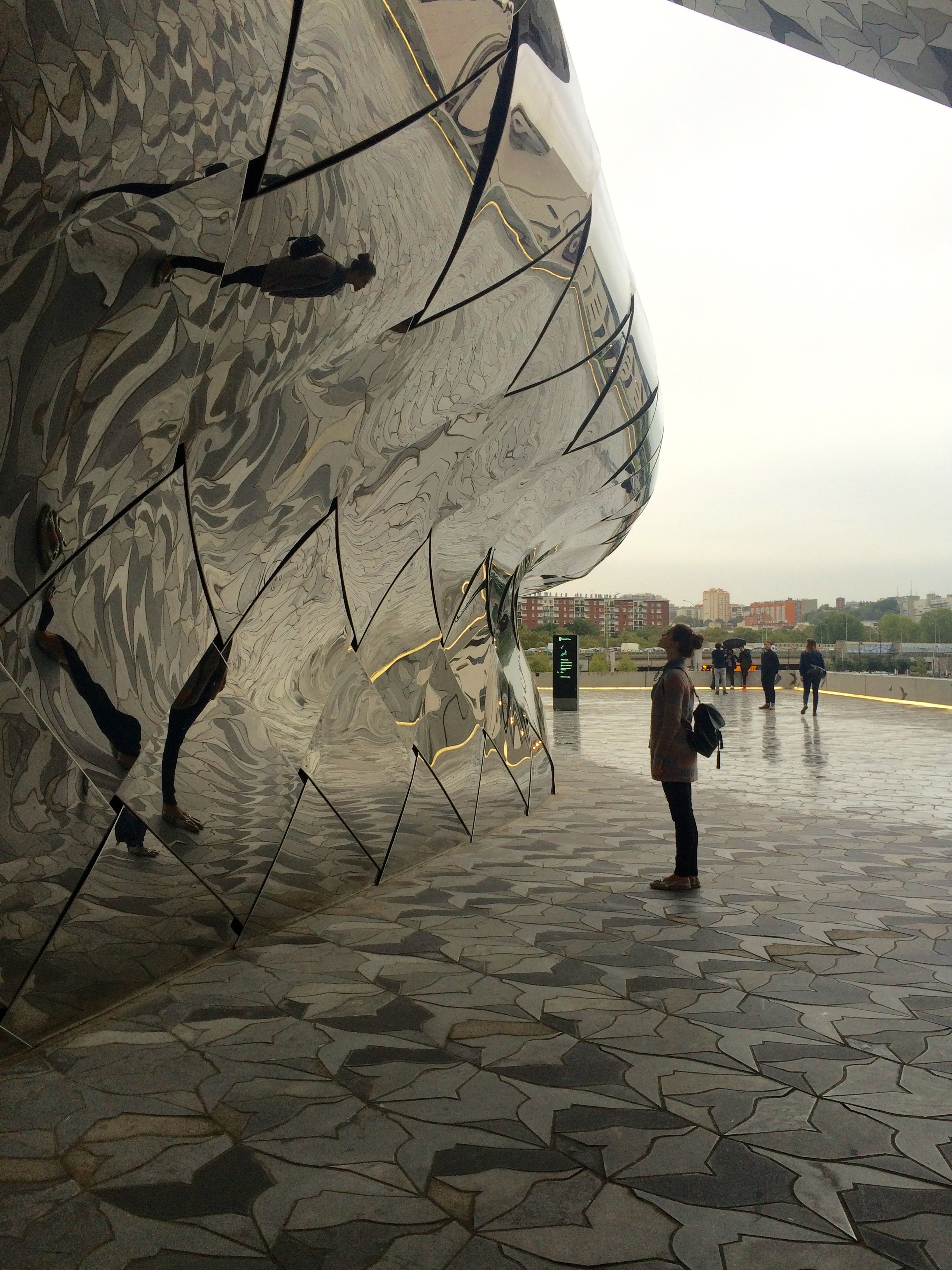 Philharmonic of Paris, France
So Philharmonic of Paris is another interesting place to visit in Paris. The new music complex entertains it's visitors with concerts and various exhibitions. It's also possible to climb to the the top of the roof of the Philharmonic and enjoy the view of the city.
Unusual Things to Do in Paris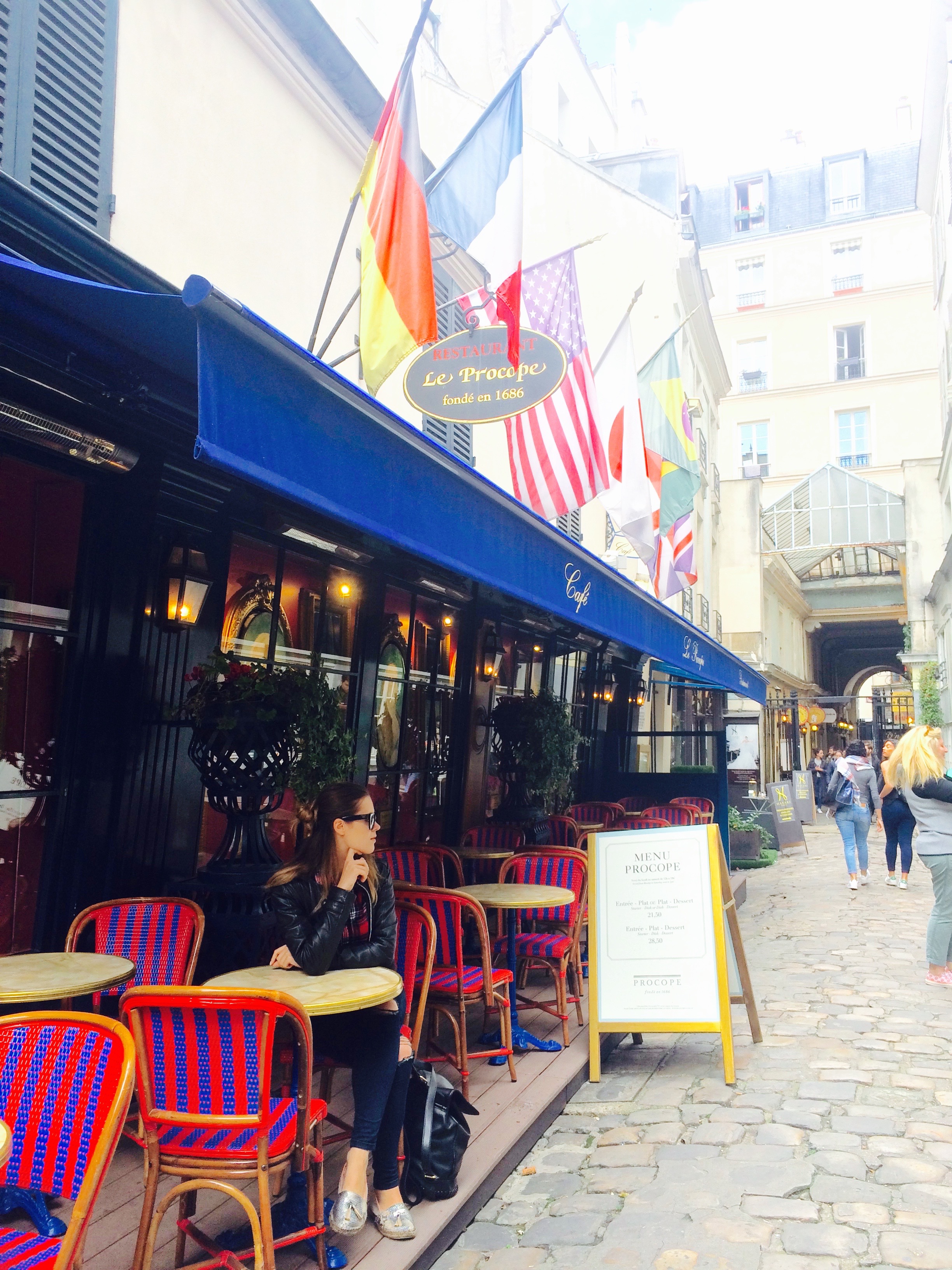 There is one awesome and unusual thing to do in Paris that you should try out: A tour with Mon Beau Paris through one of the most significant neighborhoods of Paris, rich with important moments of French history, Saint Germain. It's 2,5 hours walking tour which is not only informative but also entertaining and memorable. You will get polaroid cameras with 10 snapshots. Few know secret places in Paris where was the very beginning of the city of Paris, the way we know the metropolis nowadays. After plenty of revolutions, massacres, beheaded kings, it became an upscale district combined with vivid youthful energy, filled with interesting streets, which are covered by art from known street artists.
Best Photo Spots in Paris
 During the tour you will be shown best photo spots in Paris but you can also check instagrammable Paris here. You will also see the café which was the pioneer in serving coffee not only for the spoiled nobles, the spot where the cruel guillotine had it's premier and many other intriguing insiders, which you would never read anywhere else, because you just basically don't have time for that.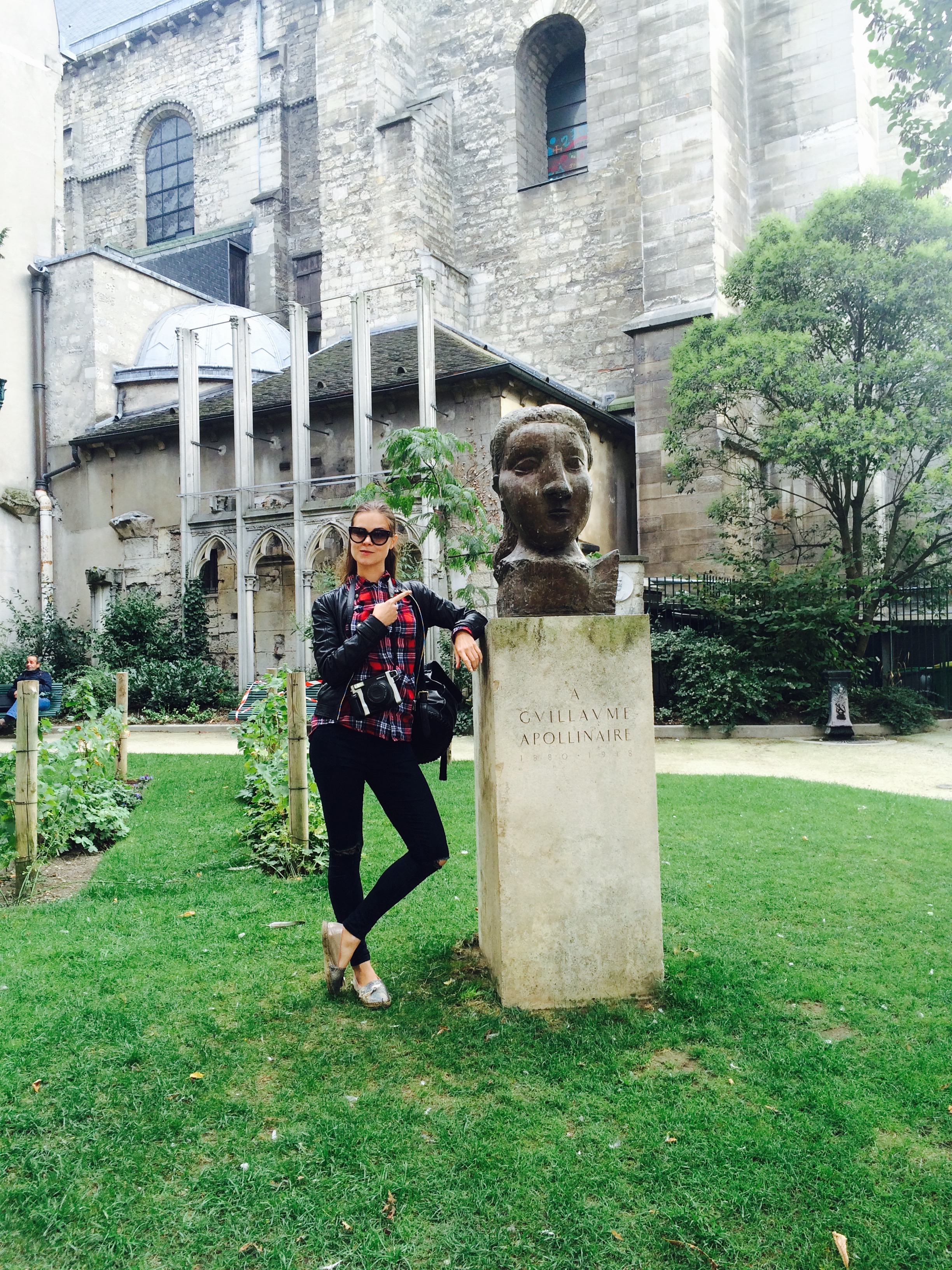 Paris Hidden Gem: Sculpture of Picasso
In addition you would never guess what you can discover in the parking spots of St. Germain. There is a Paris' hidden gem a sculpture in the garden of the famous church of St. Germain des Prés from the world-known artist, Picasso. There is no sign, so everyone just passes by. As you can see there are numerous Paris' hidden gems in the streets of a metropolitan and to immerse in it's history and to refresh your knowledge, it is necessary to have a guide. My advice, join one of Mon Beau Paris tours for an affordable price and enjoy a toury time!
Paris of the Beaten track
And again, it's impossible to describe all the amazing sides of Paris. The city has just too much to offer, you need to write a book about it. And while you are writing, there are new incredible places growing in the streets of the expressive metropolis. Visit Paris for a week, see the beautiful cemetery Pére Lachaise, with the tombs of famous people like Jim Morrison, Oscar Wilde and Edith Piaf. Observe the splendid magnitude of the opera hiding a huge artificial lake under it's facades. And now start planing your trip and bon voyage!