Perfect Bali Backpacking Itinerary
With 10 days in Bali you can be sure that you will have enough time to visit the best attractions in Bali. The island is unbelievably beautiful and has mysterious diverse culture and amazing atmosphere. It's the perfect spot for backpackers who prefer to explore Bali on a budget. But luxury lovers will be also spoiled with fancy resorts and big swimming pools. Indonesia has indeed many choices.
Many people compare Indonesia to Thailand or have a feeling that these two countries are similar. I need to clarify that point of view: it's definitely not true. Both of these countries are contrastive regarding all aspects: food, culture, mentality, architecture and even nature. The only condition that we could compare is the weather: very humid and hot. There is no need to take too many clothes with you to Bali and these tips how to pack light will be very useful for you! Furthermore Thailand has been attracting more and more people from Europe and Russia, Indonesia though is a very popular touristic place for Australians.
Things to Know about Bali, Indonesia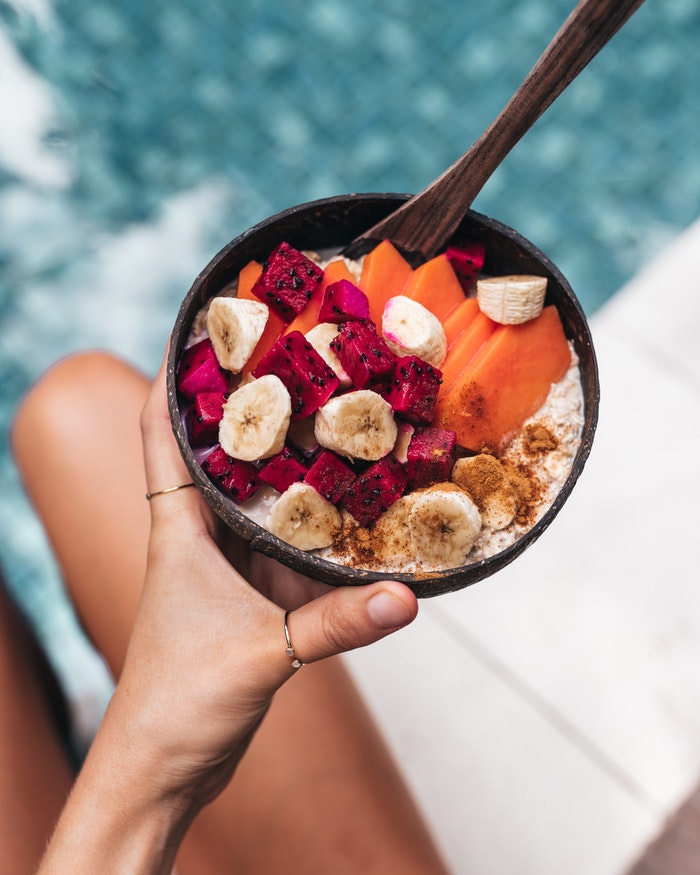 Indonesia consists of different islands and the most famous and visited are Bali, Lombok, Gili Islands and Sumatra. The islands are incomparable to each other, because Indonesia has numerous cultural influences from various religions during it's history. As a result each province has it's own traditions, religion and even language. Although it has the largest Muslim population in the world. Despite the ethnic differences citizens of Indonesia have a strong group feeling, so they are very helpful and friendly towards everyone. Tourism makes up to 80% of Bali's economy. 
Day 1: Visit Seminyak
Seminyak was our first destination in Indonesia. We decided to skip Kuta and everything what's below, because we knew it will be full of drunk Australians. You can compare that part of Indonesia to Mallorca in Europe or Phuket in Thailand. So that's why Seminyak was a great place to get away from the the whole hectic. It's Bali's sophisticated spa-resorts and shopping capital. Prepare your wallet because the area is full with trendy restaurants and long rows of designer shops. The prices are pretty high for an Asian touristic place, but it offers plenty of entertaining possibilities.
Where to stay in Seminyak
Best place to stay in Bali in Seminyak is Villa Chandra. We really liked that place. Small, quiet resort with very welcoming and sympathetic staff. Our room had a lot of space and a big comfortable bed. The resort is not in the middle of the town, but everything is tiny in Indonesia, so it's possible to reach the streets with main happenings in just a 10 minute walk. Furthermore it's more interesting to walk around and explore the area.
Where to eat in Seminyak
Just in front of Villa Chandra is a tiny café with local food and delicious coffee. The prices are very low and the taste of the food is delightful. You should undeniably try traditional Indonesian Gado-Gado dish there, but only if you are not allergic to peanuts, because it contains a lot of them! It's a huge and tasty salad with an incredible peanut dressing served with crunchy prawn crackers.
The easiest Way to travel around Bali
There are various possibilities to travel from A to B in Indonesia. One of them is very popular because of it's flexibility and low prices: the scooter. Driving habits and rules of the locals are pretty atrocious though, it means there are no rules. Pedestrians cross the road whenever they want, road markings and traffic lights are ignored. Something is always happening on the roads, so it's your own responsibility if you want to have an adventurous ride.
Another option is to take a taxi. You can ask the same driver to transport you around your entire trip in Indonesia, so you can get a decent price. Although the best decision is to order a taxi via Uber. The prices are triple cheaper than normal taxis and via the App you can always see if there is an Uber-Taxi close to you.
Day 2: Best thing to see in Bali: Tanah Lot Temple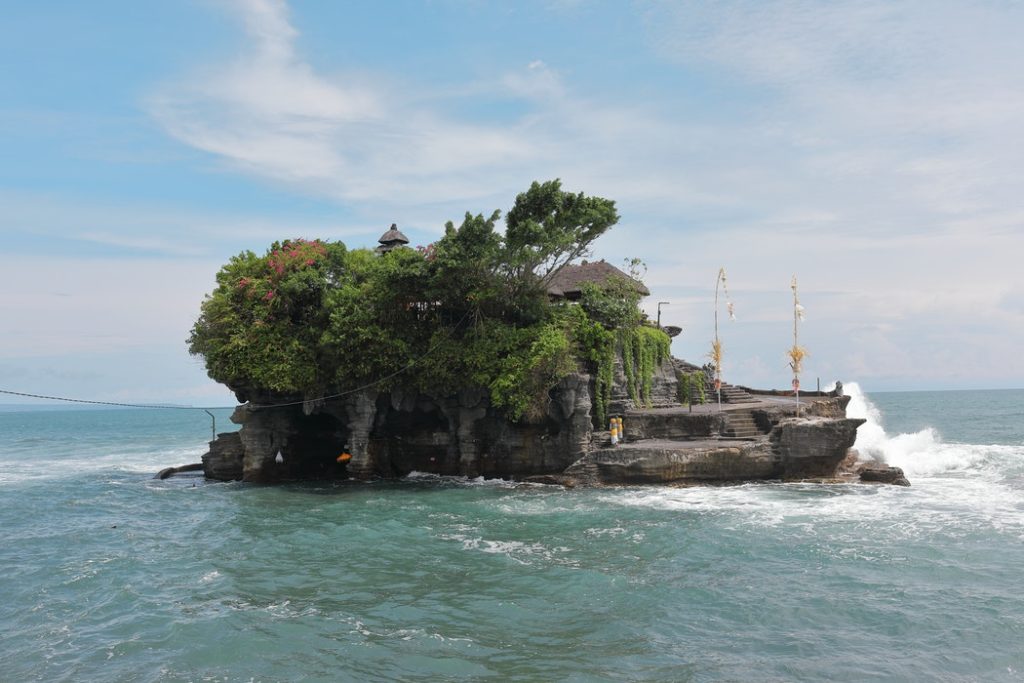 Tanah Lot Temple is one of the Bali's important landmarks, popular for it's offshore setting and beautiful temples. The temple is located in the Beraban village on the top of the rock. The best way to visit this iconic place and one of the Bali's main attractions is on the way from Seminyak to Ubud.
Day 3: Best place to visit in Bali is Ubud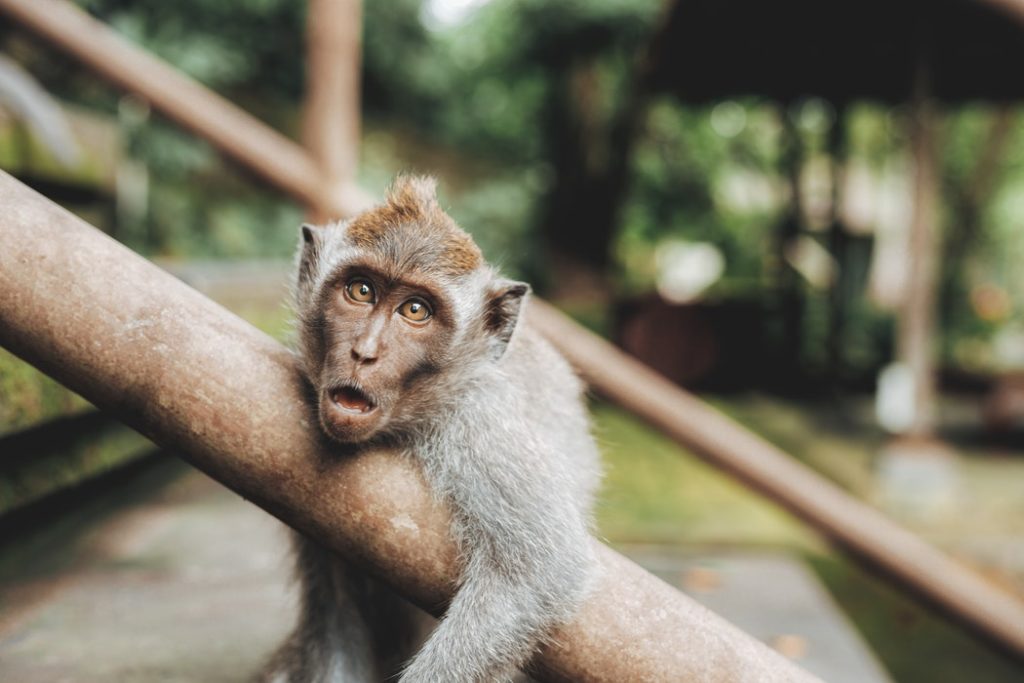 Best attraction in Bali is Ubud. This mysterious place can give you everything your free spirit craves: yoga, great food, wide culture, knowledge and friendly people. In the beginning of the 20th century many of european artists came to Ubud for inspiration and to learn traditional surrealistic wayang style. Ubud offers plenty of museums with a great selection of famous artists, like Walter Spies and Walter Bonnet. The combination of mystical myths, precise details and different techniques astonishes you again and again how magnificent art can be.
Ubud travel tips
Here are some great museums in Ubud that you definitely need to visit:
ARMA museum offers a huge amount of Indonesian artistic treasures. If you want to learn about Bali's cultural heritage, you should doubtlessly see exhibitions at ARMA.
Museum Puri Lukisan doesn't offer only a gorgeous view inside of the building with the secret gardens and stunning exotic plants but also modern paintings, among them you will also find paintings of the two Walters, Spies and Bonnet.
Neka Art Museum is an ideal place for art lovers. The exhibition provides with the endless richness of Balinese art, history and culture. It's a quite long walk from the town, but it's worth it!

Where to stay in Ubud
When we arrived in Ubud we were fascinated by the peaceful hippie atmosphere all over the town and in all resorts. We've changed a couple of sleeping places until we could find the perfect little utopia: Tungeh Inn, in the heart of Ubud. Very romantic, comfortable, perfect service,low prices for accommodation, so in one word: paradise!
The backpackers can enjoy their staying in the cozy hostel In Da Lodge. Very clean and enjoyable place to sleep and also get to know friendly travelers.
Day 4: Things to see in Ubud: Elephant Cave
Ubud is surrounded by a trove of cultural landmarks and panoramas of beautiful rice fields. One of the most impressive archaeological sites is Goa Gajah, where you can discover temples and one of them is the magnificent 11th century Elephant Cave. The cave's entrance shows a giant face with it's wide opened mouth as an entrance. Important to mention is that you need to wear a sarong, so don't forget to take your own, though you will need to buy one for a high price.
Day 5: Ubud Guide: Monkey Forest
The best known place to visit in Ubud is the Monkey Forest full with cheeky grey macaque inhabitants. It is placed in the main centre of Ubud. You can enjoy the view of the rainforest and the majestic temples, walk through the stunning pathways, watch playful monkeys. It's very tempting to touch the cute monkeys, I advise you not to do it though. They are wild animals, some of them have big teeth, so it'd be better for your own safety to avoid a conflict with them.
Tagalong Rice Terraces in Ubud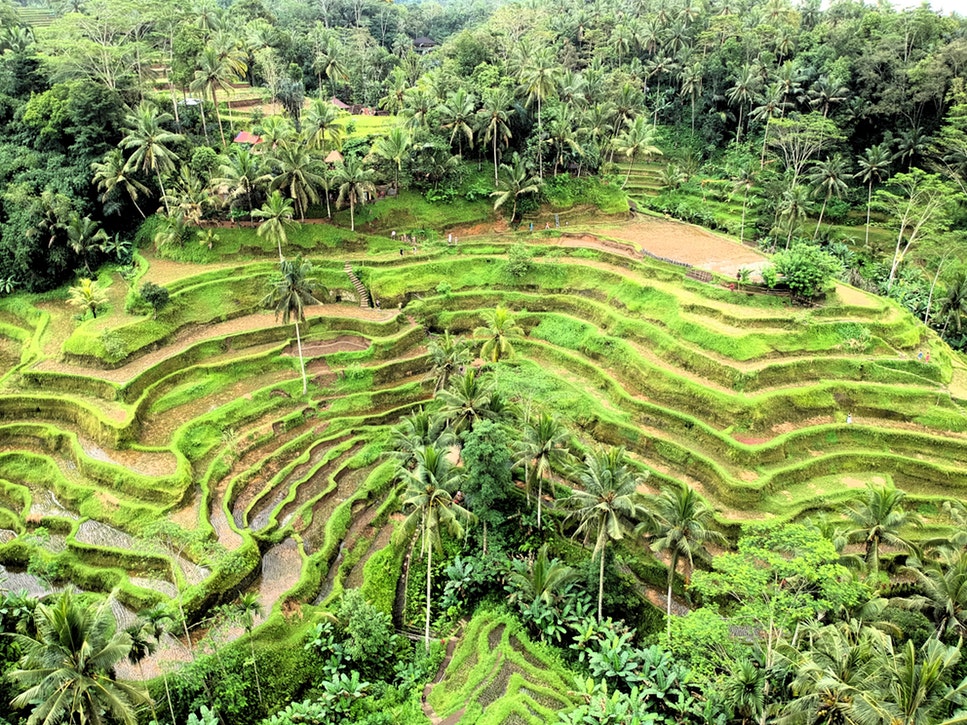 Several minutes drive away from Ubud lays a famous traditional region Tegallang Rice Terraces. It's an ideal place to witness the beauty of the nature and to take a picturesque photo.
Day 6: Luwak Coffee Farm
Another thing to do in Bali is to visit a coffee plantation near Ubud, where you can try different teas and coffees and one of them is the most expensive all over the world, Luwak coffee. Luwak is an Indonesian tree cat that likes to eat coffee beans. These coffee beans are pretty hard to digest, so it excreted in the cat's poop. The poop gets collected, washed, roasted and is ready to serve. The reason why Luwak needs to eat the beans is that the bitterness of the coffee becomes smooth after digesting. All in one you can experience the local way of roasting coffee and in the end even purchase Luwak coffee. Perfect souvenir for you or your family members.
Bali Travel Tips: Tirta Empul Temple
My Bali travel tip is to visit mesmerizing place Tirta Empul Temple, which is famous for it's holy spring water. There you can face pools filled with holy water with healing powers. You should dive your head under each water stream and say prayers or your wishes. I'm still waiting for my wish to come true!
Tour to Volcano Batur
The majestic mountain Batur located next to the Batur Lake. It's still an active volcano smoking all the time, which erupted the last time in 1974. The crater is surrounded by many restaurants, so you can enjoy your meal and a mesmerizing view. Don't expect too much from the food though. It's typical touristic place, so the highlight in that case will be the volcanic masterpiece of nature.
Day 7: East Bali Temple Tour
Not far from Ubud you can find the most famous and amazing temples of Bali. One of them is the largest temple of Bali, Puma Besakih. Take your Sarong to be able to walk around and admire the architecture.
Tirta Gangga Temple is a water temple that used to be a royal palace. Here you will be able to see beautiful gardens, fountains and pools.
Pura Luhur is another important temple that considered to be the most sacred temple in Bali. Unfortunately you need to hike around 1-2 hours to reach the shrines. Nevertheless if you get to the top you will be rewarded with the breathtaking view – a gate that frames Mount Agung.
Typical Indonesian food
Food and drinks in Ubud are one of the best pleasures. First of all it's important to mention that coffee in Bali is indescribably good and tastes differently then anywhere else in the world. The Balinese traditional way of serving a coffee is mixing hot water and fine grinder coffee directly in the cup.
In the heart of Ubud you will find a street Monkey Forest Road, which is full with restaurants, an energetic nightlife and easy going, spiritual visitors. It's an area where you can enjoy appetizing food, great music and interesting company. There are plenty of Balinese performances, festivals and rituals during the day and night. In that area you can find a good place try Indonesian dishes: Laughing Buddha Bar. Definitely try Gado Gado, Cap Cay or chicken sate.
Day 8-9 : Where to stay in Bali for couples: Candidasa
If you are searching for a perfect stay in Bali for couples and you want to escape reality, to enjoy a moment of tranquility, then I have good news for you. There is Crystal Beach Resort located in Candidasa in the rainforest, so you will be surrounded by exotic trees and singing birds. If a swimming pool is not enough for you and you need vitamin "sea", then you can follow the little stairs to the water. The modern rooms are amazing and the beds are like clouds. There are also beach beds everywhere, which gives the environment a very relaxed and peaceful atmosphere. If you need to get rid of tense muscles then it's possible to ask for a massage on the reception. So you will get a 1h massage on the beach for 4€.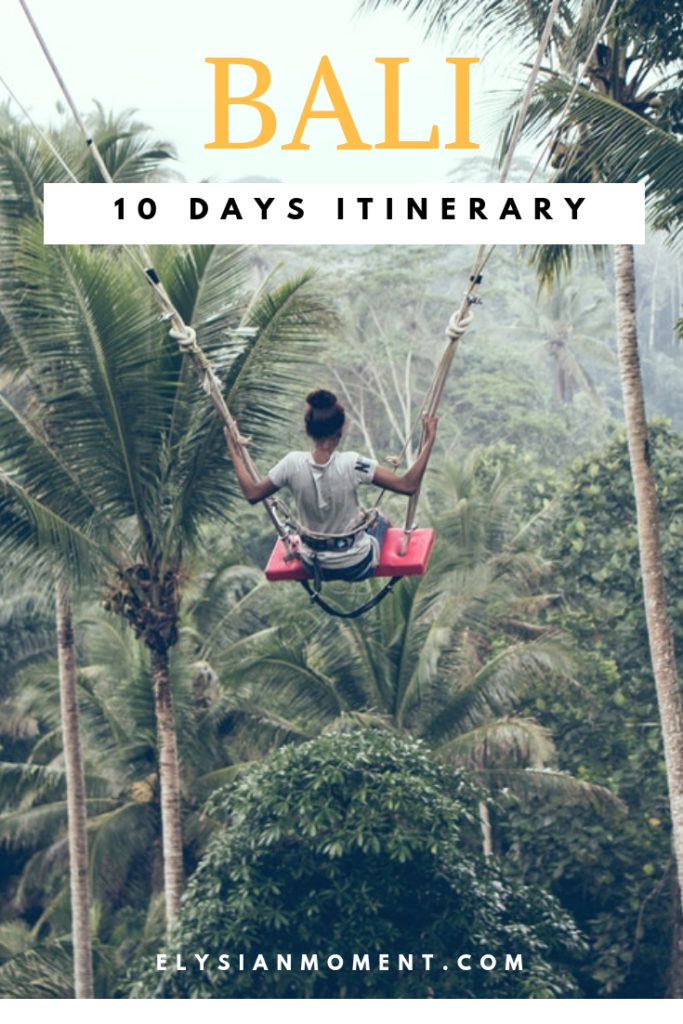 Day 10: Back to the Airport
We've spent two weeks in Indonesia, which is absolutely not enough. There are too many gorgeous sights, natural treasures and cultural wealth to see. If you've been somewhere else, please share your experiences with the cyber world and just write a comment! Because I'm doubtlessly going to visit that country again! So if you are planning your trip to Bali now here you will find all necessary info!
Read my article about 2 weeks in Sri Lanka to get inspired for the next trip!