Lisbon is the wonderful capital of Portugal and an amazing place for any kind of vacation. Whether you're looking for a weekend getaway or just to explore the city, Lisbon will spoil you for choice. With it's beautiful Gothic architecture, red-roofed buildings and famous yellow trams, it is a vibrant city with its own unforgettable charm. So if you are planning to spend 2 days in Lisbon then I would love to help you to choose the best attractions that this city has to offer!
I would recommend to spend at least 3 days since there are so many things to do in Lisbon. You can find 3 days in Lisbon Itinerary here.
Best time to visit Lisbon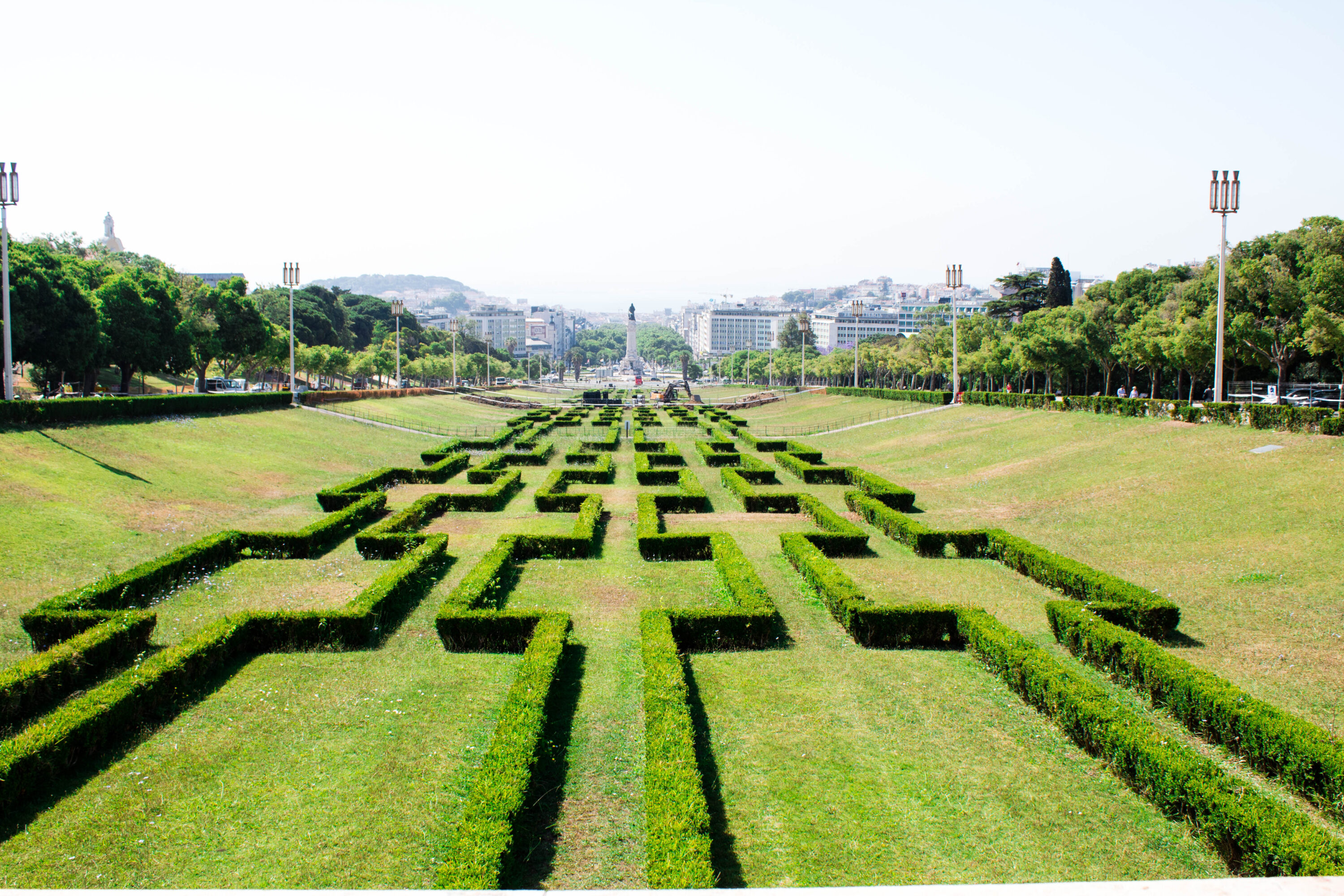 The best time to visit Lisbon is either from March to May or September to October when it's less crowded, the hotel rates are cheaper and the weather is still warm. It means you might be able to squeeze in a beach day.
Two days in Lisbon: Where to stay?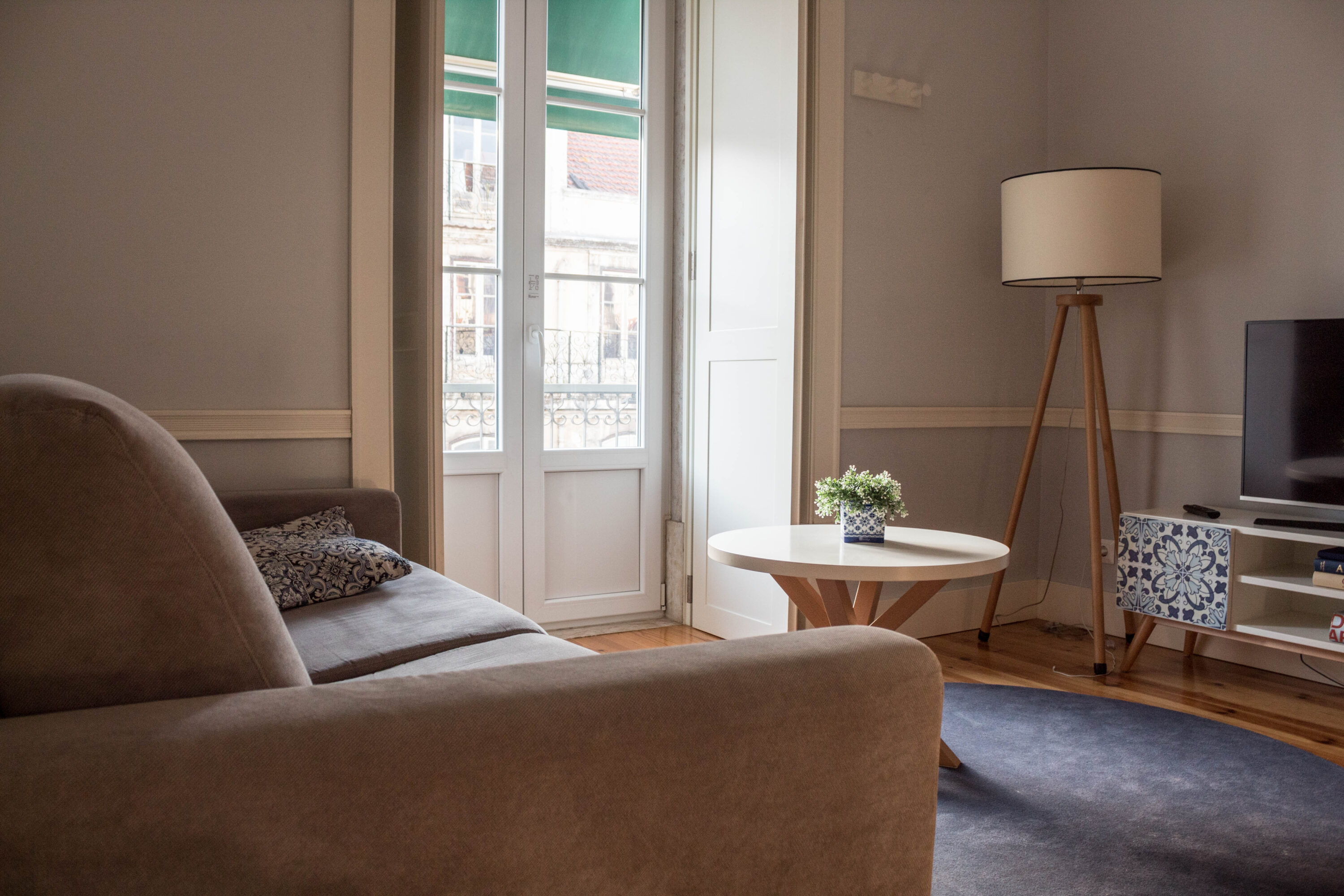 If you visit Lisbon for 2 days then it's probably best to stay in the centre area like Baixa. It's in the heart of the city and you will be able to reach all the main attractions by foot or public transport, which is very easy to navigate. We were staying at the amazing Apart-Hotel Villa Baixa. It's set in Lisbon's historic downtown area and surrounded by a great selection of restaurants, bars and shops. At this place we immediately felt like home. Our spotless apartment was cozy, spacious and equipped with everything what we would need for our stay: a little kitchenette, shower, a Nespresso coffee machine, TV, fast Wi-Fi, free toiletries. But one of the most fantastic features of this place is it's great views from the balcony. You immediately feel Lisbon's holiday vibe. We loved it!
DAY 1: City attractions
Start your day with the a great healthy breakfast. You can find a great list of my personally favourite places for brekky and lunch in Lisbon. They all open in the early hours so you can go there basically any time.
And of course there is Lisbon Card available that will help you to save money and time. It includes free admission and discounts to top attractions. You can choose Lisbon Card for 24, 48, or 72 hours. The awesome part about the card: It provides unlimited free access to the public transport system!
Santa Justa Lift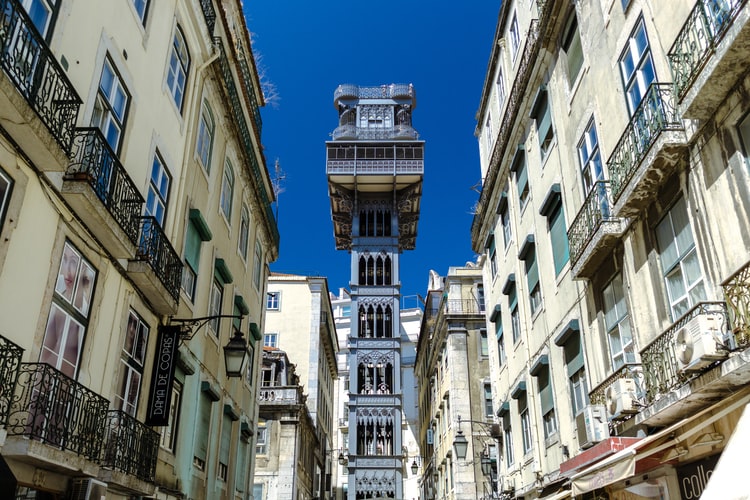 Just next to Villa Baixa Apart-Hotel you will discover Santa Justa Lift. It was completed in 1902 and designed in Neo-Gothic style. The best part of it is that from the top of the lift, you can enjoy panoramic views of the city and the vast ocean.
Rossio Square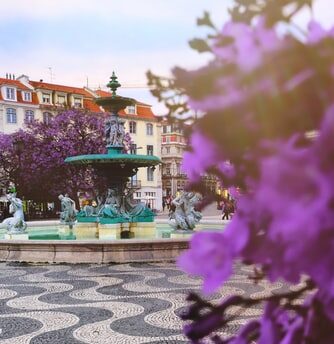 After the Santa Justa Lift, visit Rossio Square, one of the most charming squares in Lisbon. Locals come here to relax, meet with friends and do a spot of people-watching. No doubt here you will be able find lots of great cafes and bars in the surrounding area. Spend some time to take pictures and admire the gorgeous architecture and patterned cobblestones.
The iconic Praça do Comércio and Arco da Rua Augusta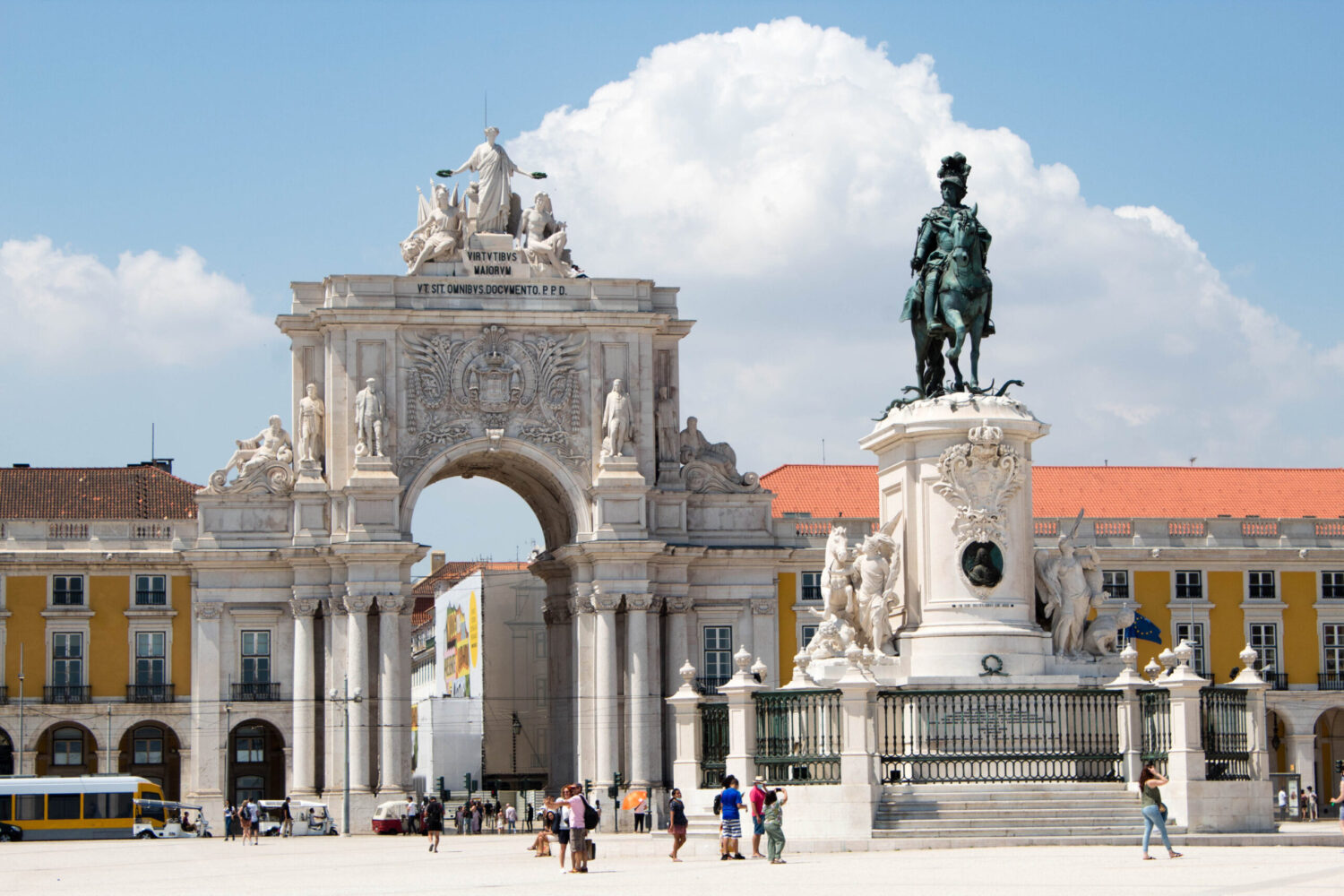 This time your navigator is the river, just go towards the water and you won't miss the iconic Commerce Square. Located in the Baixa-Chiado neighborhood that was destroyed by the great earthquake in 1755, the Praca do Commercio was designed and rebuilt to be the modern centre of Lisbon. It's a tremendous square, surrounded by shops, restaurants, and the Tagus River. Here you will also find the incredible Arco da Rua Augusta.
Check Out the Pink Street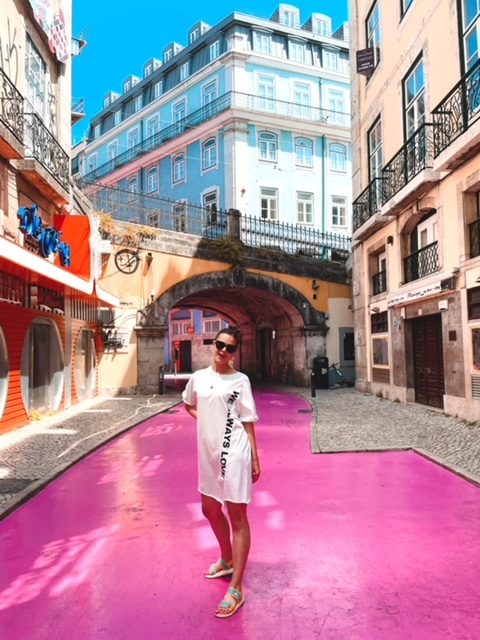 Definitely visit this popular Instagram hotspot. It was not always like that though. This part of town was actually the red light district of Lisbon and a meeting spot for sailors, local criminals, and prostitutes. However, in 2011 the city decided to give the neighborhood new life and chose to paint the street pink. Many of the brothels were converted to wild clubs and cafés.
Lunch at Time Out Market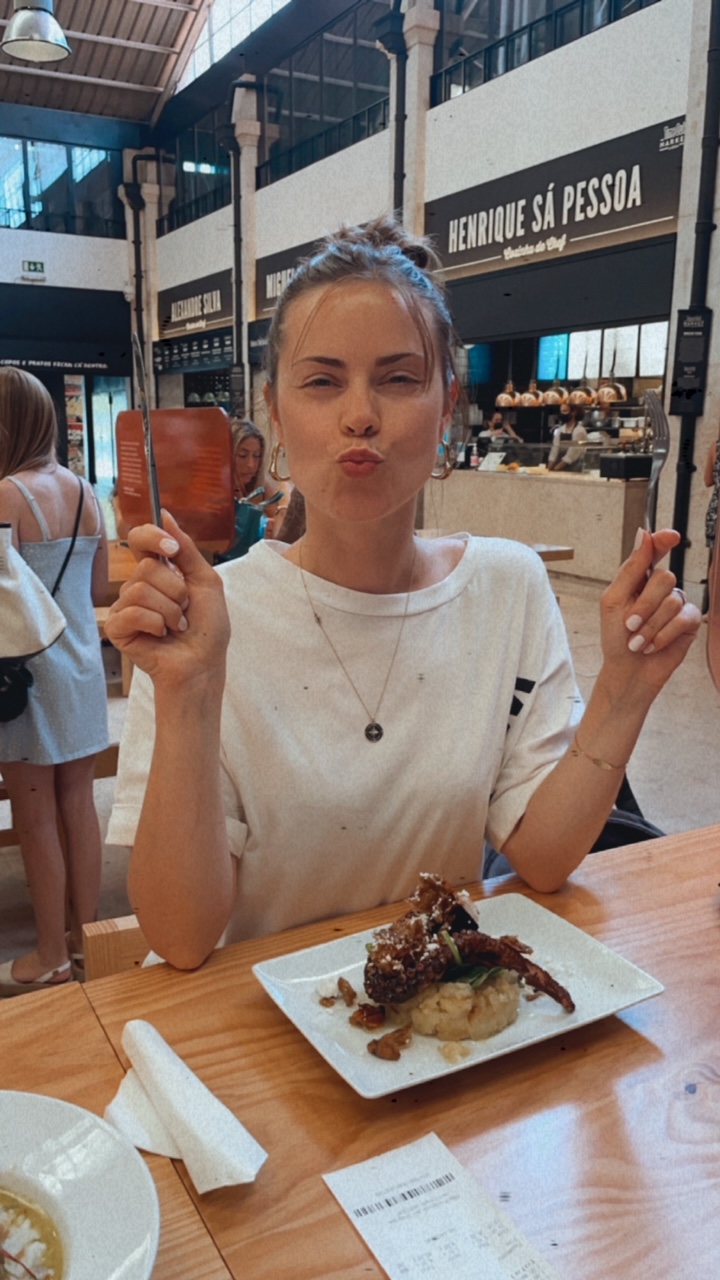 Visiting Time Out Market is a must do on the Lisbon bucket list of every traveler. I would describe it as a high-end food court. Many of the top Michelin-level restaurants have booths here so you can try their culinary delight in a casual setting for a great price. Definitely a paradise for foodies.
Taste a Pasteis de Nata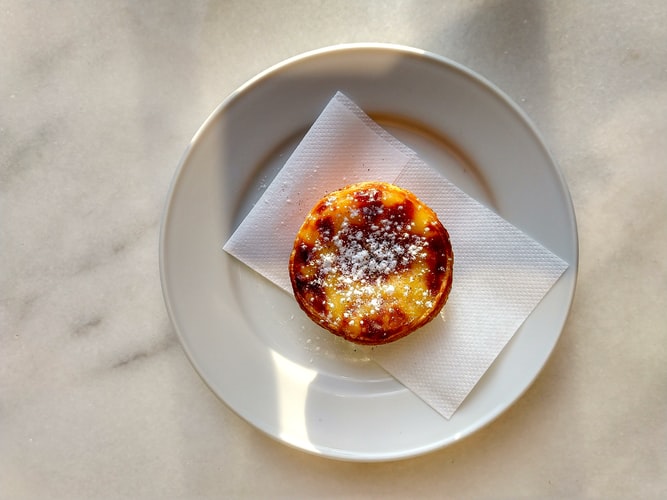 Going to Lisbon and not trying the famous Pasteis de Nata is a no go. You can find them actually almost everywhere in the city but definitely taste one at Time Out Market. I've heard from the locals that here you can find the best version of it!
Visit the Tower of Belem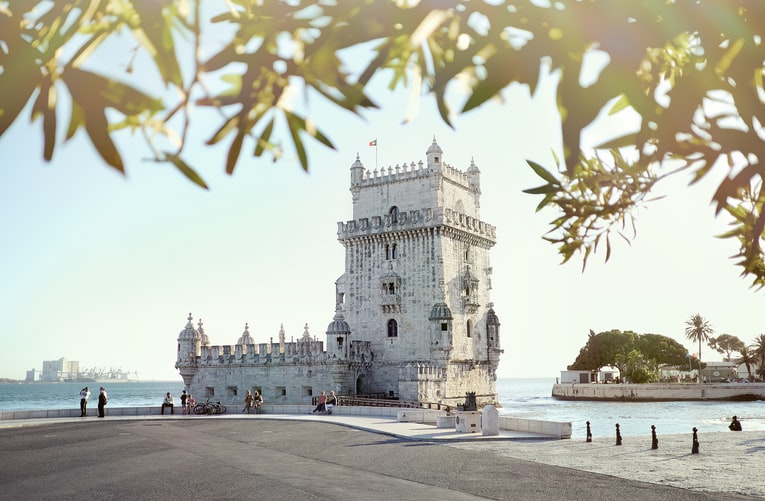 You can take public transport or an Uber (we paid just 6€!) to get to another stunning neighbourhood of Lisbon. The Tower of Belem, a local Unesco World Heritage site. It's a stunning fortress on the bank of the Tagus River and doubtlessly one of the top things to do in Lisbon in 2 days.
Vasco da Gama bridge & Padrão dos Descobrimentos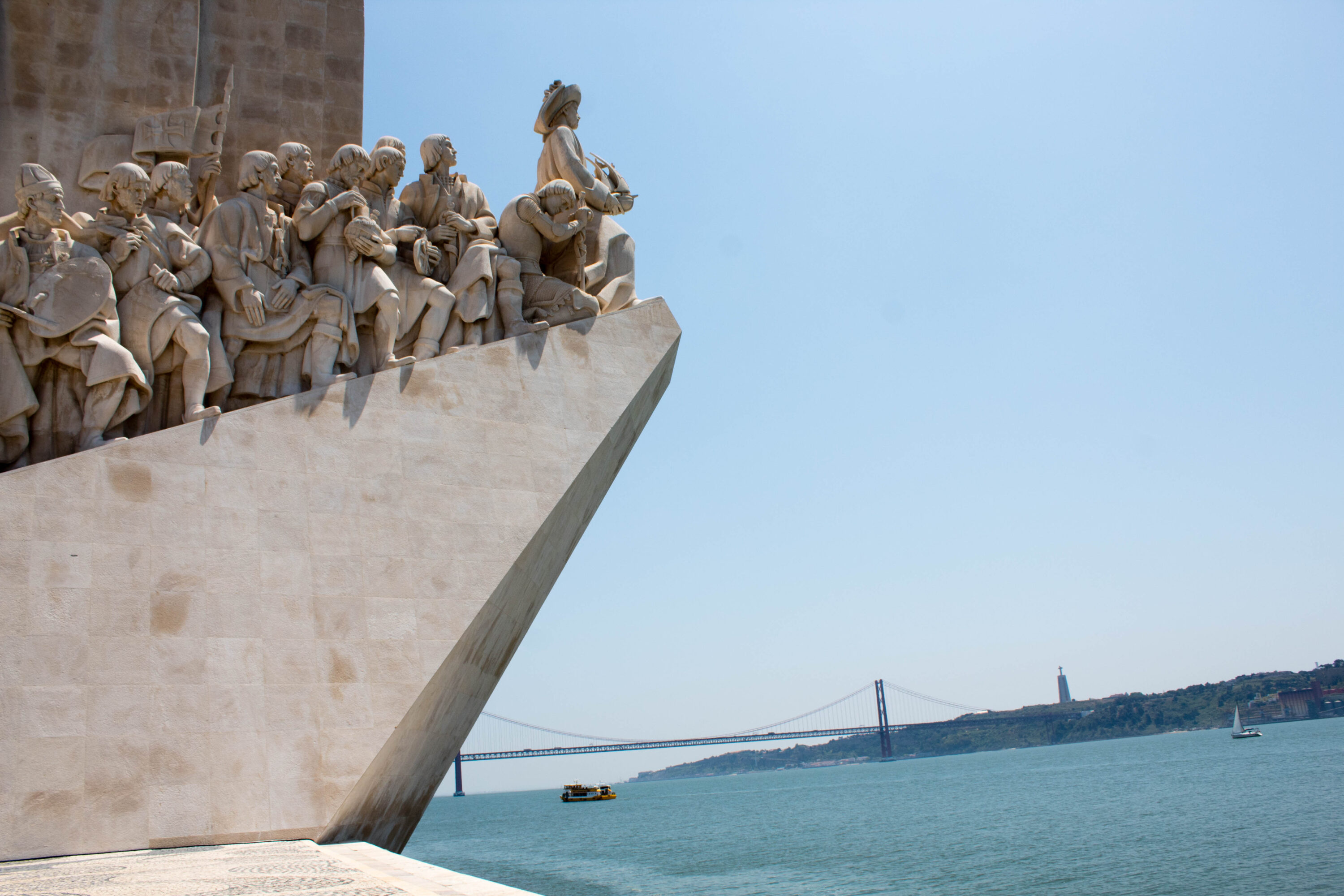 On the left side from Tower of Belem you will find the iconic Vasco da Gama bridge, which is a massive 7.671 miles long. Also there you will find impressive monument Padrão dos Descobrimentos. This monument was made in honour to celebrate Portuguese discovers from the 14th century that made Portugal a global power.
Jerónimos Monastery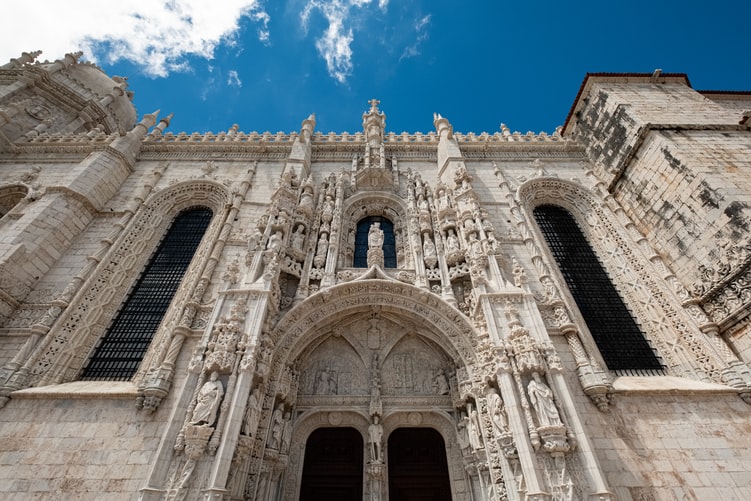 Nearby you will find another stunning UNESCO World Heritage site, the 15th-century Jerónimos monastery. This Monastery stands as a symbol of Portuguese power. Make some time to visit the Cloister gardens; you will be transported to another world!
Visit LX Factory
One of the best things to do in Lisbon is to visit Lx Factory. It's an old, abandoned industrial estate that has been transformed into a creative, cultural and gastronomic area. It's a paradise for every hipster since this place is full of artisan creations, delicious food shops, cafes, and inspiring art studios. An amazing place to finish your first day in Lisbon.
DAY 2: Day trip from Lisbon to Sintra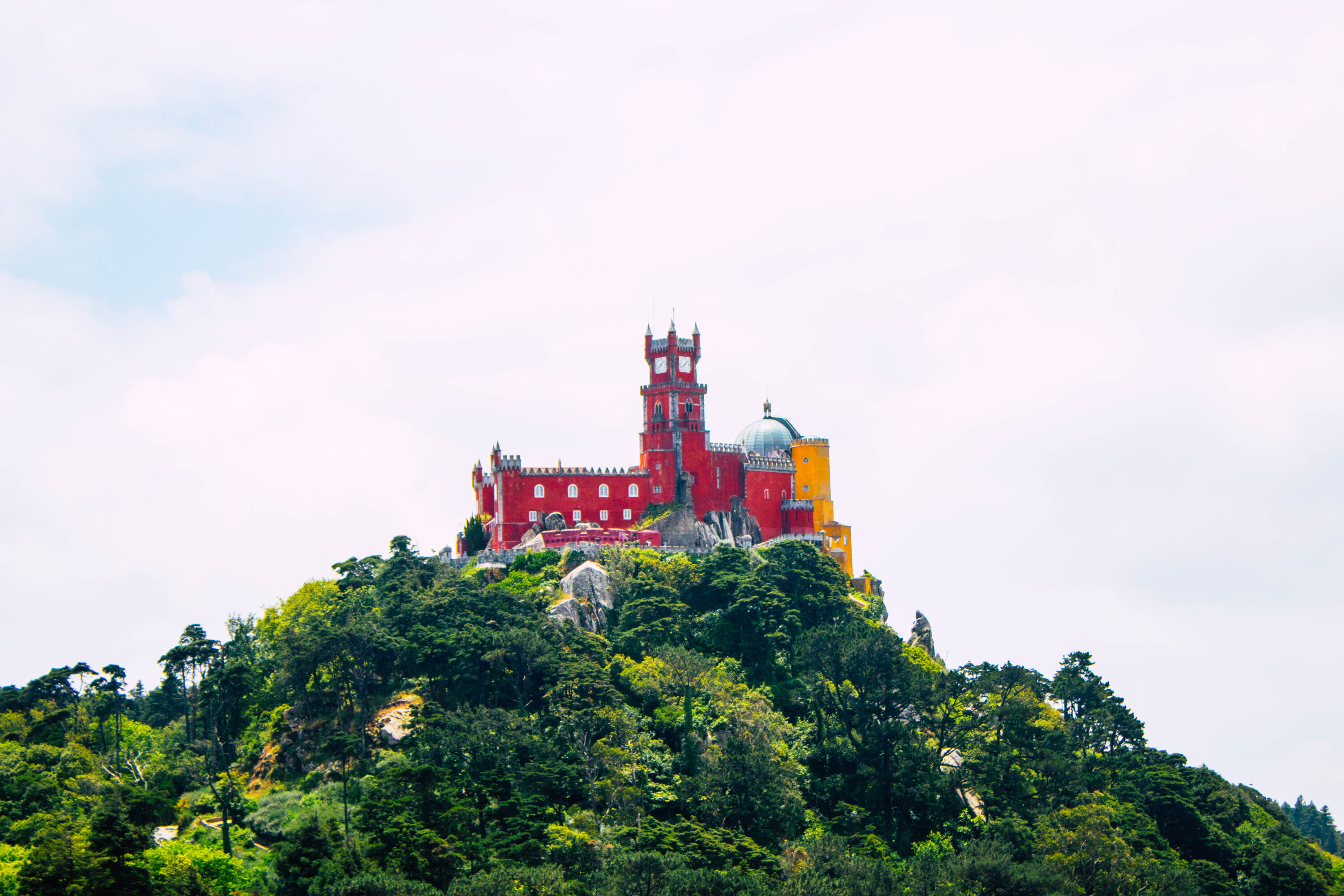 When you spend two days in Lisbon it's impossible to see all activities that this city can offer. But one of the places to visit in Lisbon that should be on your bucket list is Sintra & Cascais. What is Sintra? Sintra is a colourful little town based in the hills full of greenery just outside of Lisbon. It became a popular summer destination for Portuguese royalty in the early 19th century. It's also a historically significant town in Portugal and another UNESCO World Heritage Site. Here you will find an epic collection of fairy tale palaces and their mystical gardens are truly like nothing you've ever seen before.
The important thing to know about visiting Sintra is that you will most likely only have time to visit 3-4 attractions. Nevertheless each attraction is entirely different. If you want to spend one day in Sintra the best way to do it is with the tour guide. Why? Sintra is very hilly and rocky, so you definitely need to wear sport shoes. Moreover almost all tourists hire tuk-tuks when they arrive in Sintra. Additionally parking in Sintra is allowed only to the tour guides and tuk-tuks to reduce the danger of the increasing traffic.
Other advice is buy your tickets online. Not only does this save all the hassle, you'll also get a 5% discount on each admission as well.
We booked a tour with Tours de Portugal and our guide was the amazing Joaquim Lopes. We enjoyed our Sintra day trip with him so much, it felt like we caught up with an old good friend who is showing us the best of Lisbon, Sintra and Cascais. The great part of the tour was also that it was never boring, he never rushed and let us enjoy every stop we took to the fullest. It was amazing to meet such a friendly and funny person who does his job with passion. When we go back to Portugal we will definitely book another tour with Joaquim!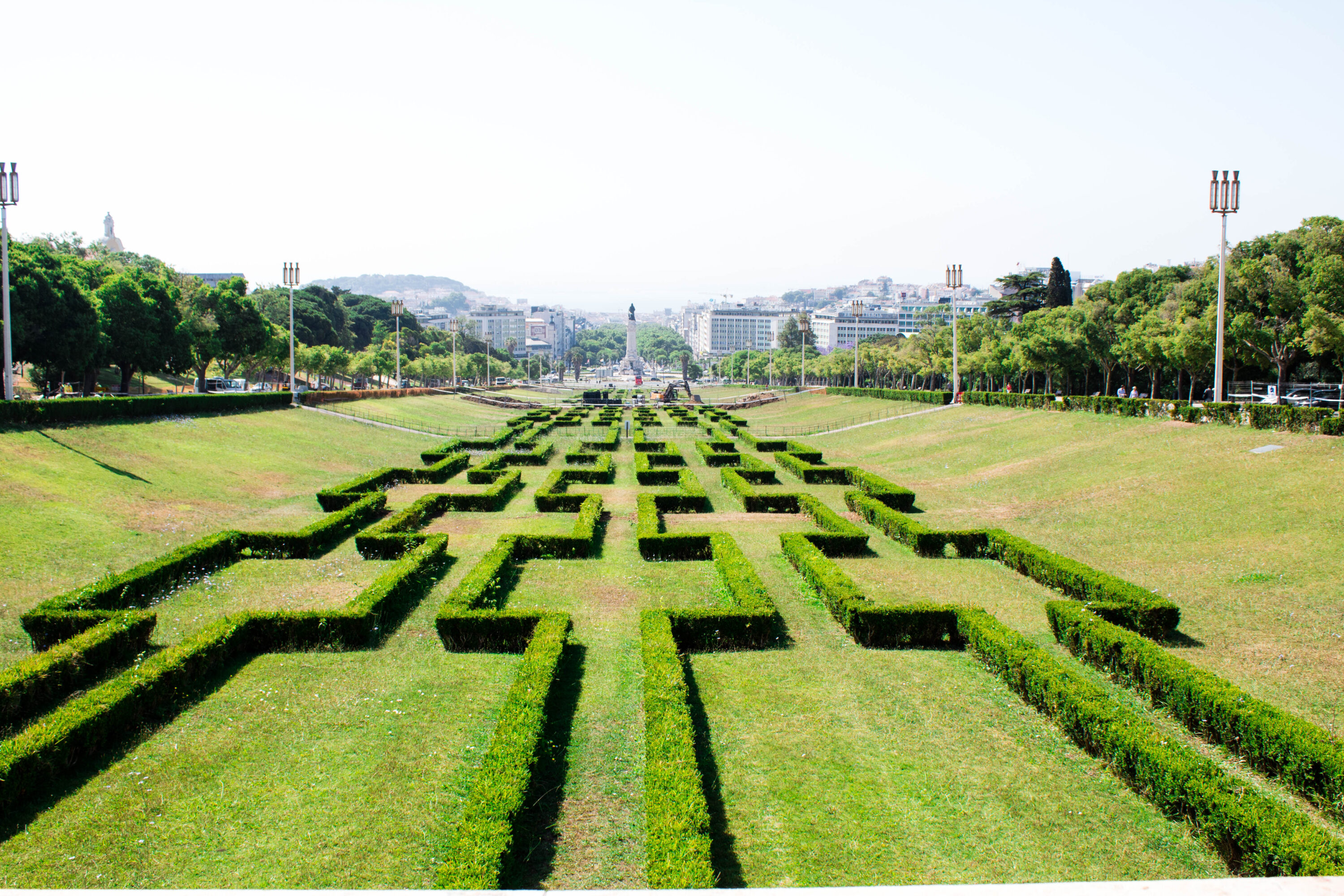 On the way to Castles of Sintra we drove by an important and stunning roundabout of the city, dedicated to the Prime Minister of Portugal, the Marquis of Pombal. Stopped at Parque Eduardo VII (Eduardo VII Park), the largest park in central Lisbon with a fantastic designed garden and breathtaking views from the top of the hill over Lisbon.
Sintra City Centre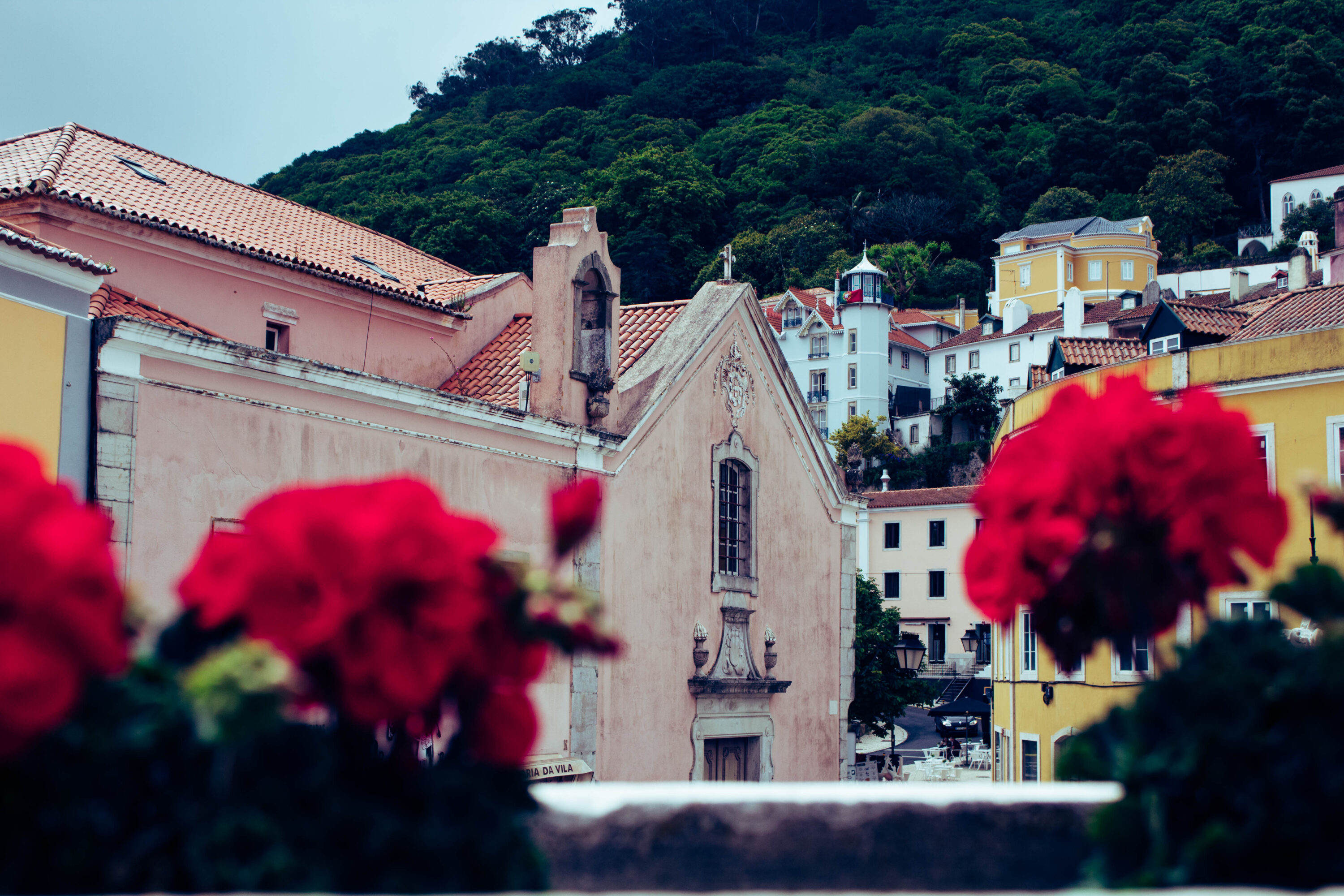 Our first stop was a beautiful Sintra city centre. The best thing to do here is just to meander around the historic heart of this city and admire it's narrow streets, beautiful architecture and enjoy some pastry at Casa Piriquity.
Moorish Castle (Castelo dos Mouros)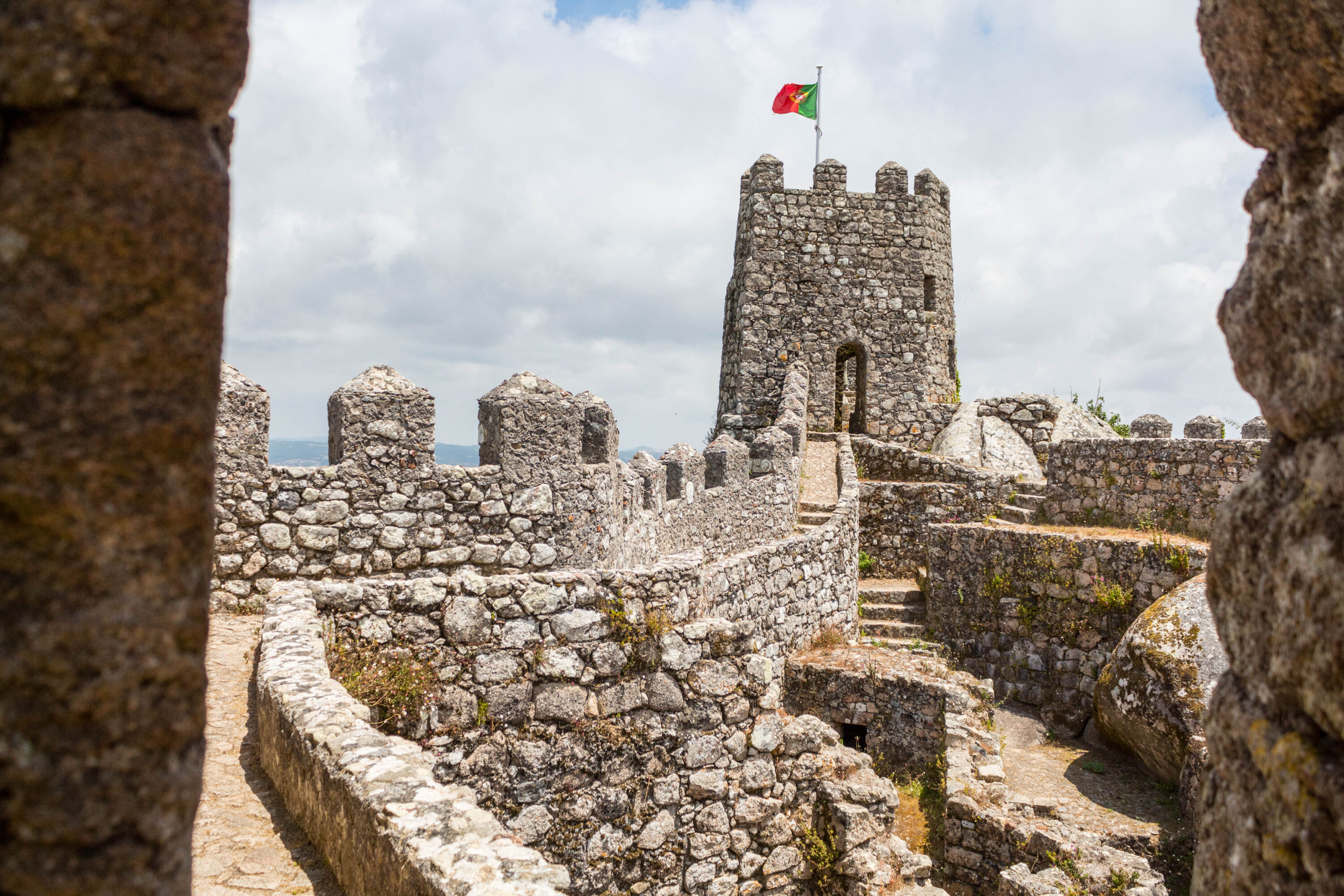 The Moorish Castle is the perfect place for those who are interested in medical castles and fortresses. The entry fee is 8€ and you will start your walk first through the beautiful, lush greenery of the park. When you reach the castle, which was originally built in the 8th century and positioned at a high point of the hill to protect Sintra, you can start exploring the grounds. You will spend around an hour to climb up and down the numerous stairs and enjoy magnificent views over Sintra.
The Pena Palace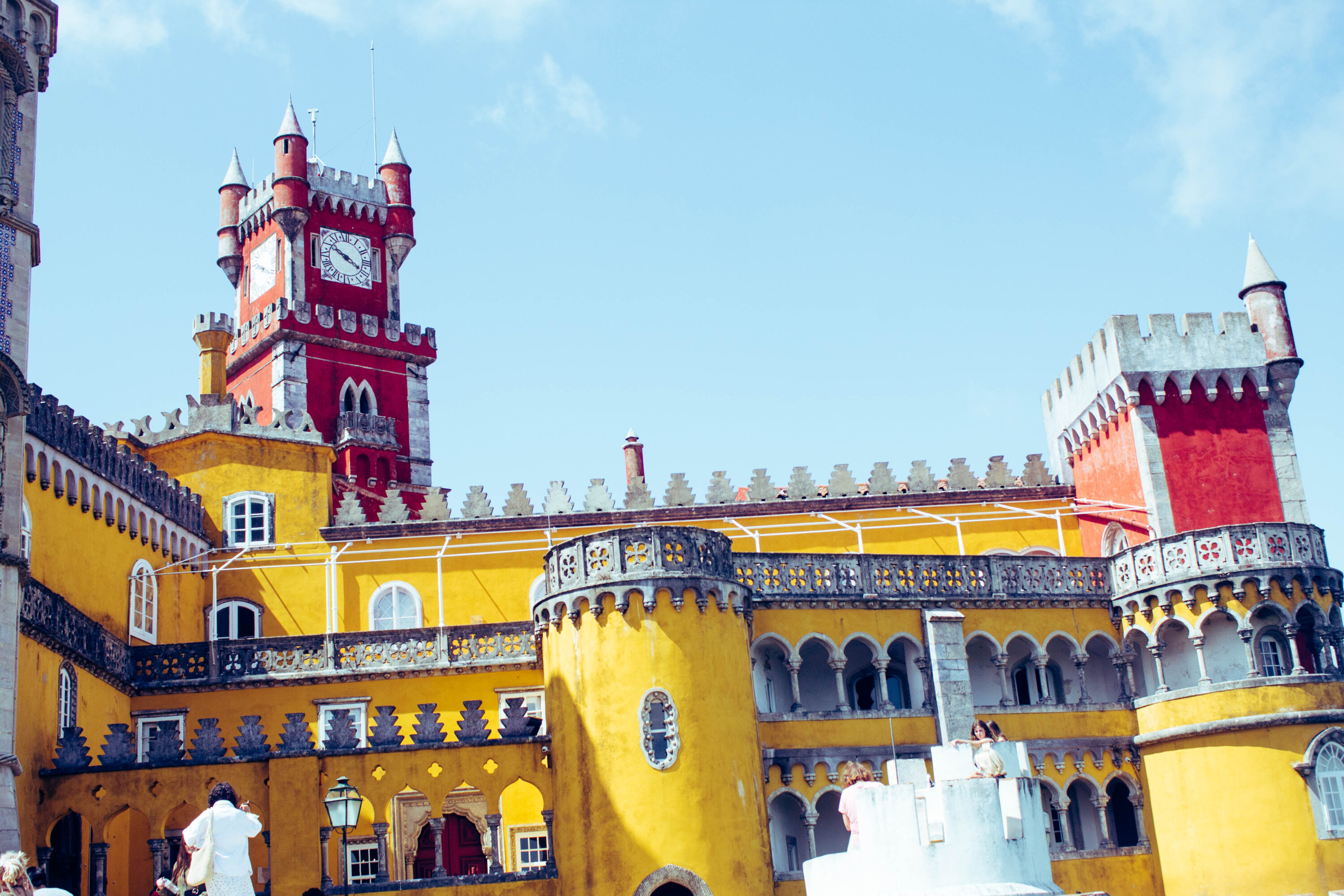 Pena Palace is definitely the most iconic castle in Sintra. The vivid colors of the structures are very alluring and there are so many fascinating corners to explore. This instagramable treat can be visited only with a purchased ticket. Palace and Park: €14.00 and Park: €7.50.
We were visiting Pena Palace in 2021 so it was not crowded at all, but we've heard that during the "normal" days there are huge queues, where you can spend up to 3 hours waiting to get in. So the best time to visit the castle is in the morning around 9am or after 4pm.
A bit of historical information about Pena Palace: It was originally a monster that turned into ruins after the earthquake in 1755. Th monastery was abandoned until King Ferdinand decided to turn it onto the beautiful summer residence for the Portuguese royal family. Nowadays it's a property of the Portuguese government.
The end of the World – Cabo Da Roca, Portugal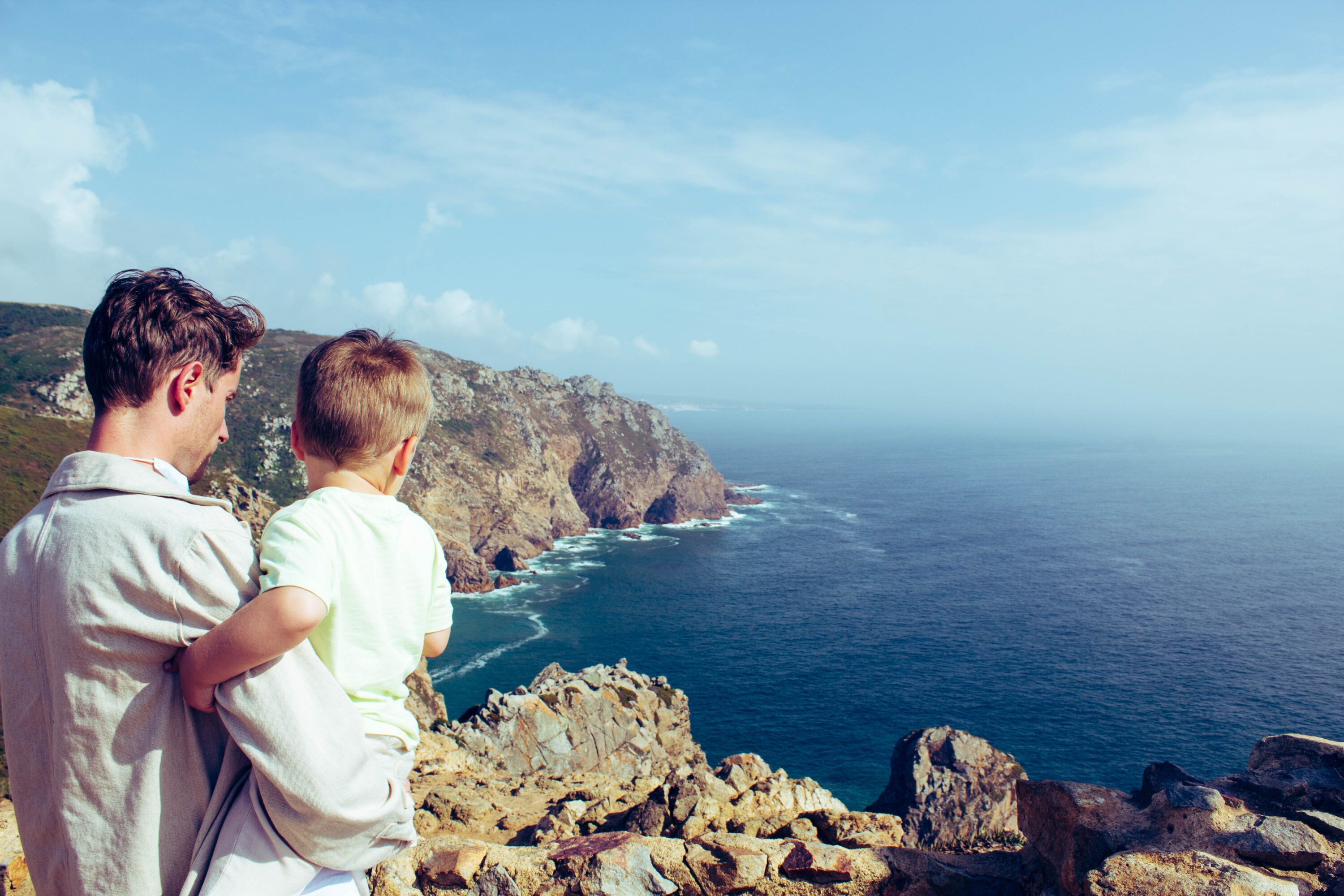 Joaquim from Tours de Portugal showed us also the end of the world which lays in Cabo Da Roca. It's the very South-Western tip of Portugal and Cabo Da Roca sits on the very edge of the cliffs overlooking the Atlantic Ocean. This is a landmark point for ships passing on their way to discover the rest of the world, that's why for thousands of years it was believed that this was the end of the world. The panoramic view, cliff side walks, dramatic coastline and simply the atmosphere are extraordinary here!
Beach Town, Cascais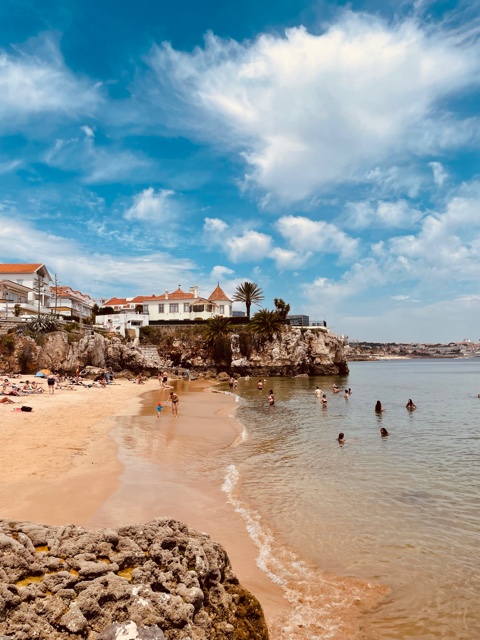 Lisbon's coastline extending to the west leads to the beautiful Cascais. This fancy seaside suburb is known for its sandy beaches and a calm sea, although there are also waves for surfers. Cascais used to be a small but charming Portuguese fishing town, which was later developed into a popular holiday destination. It's a great place to spend a day on one of the beaches of Cascais or view it's historic sights, beautiful architecture and try delicious food. This is the cherry on the top of the perfect 2 days in Lisbon!