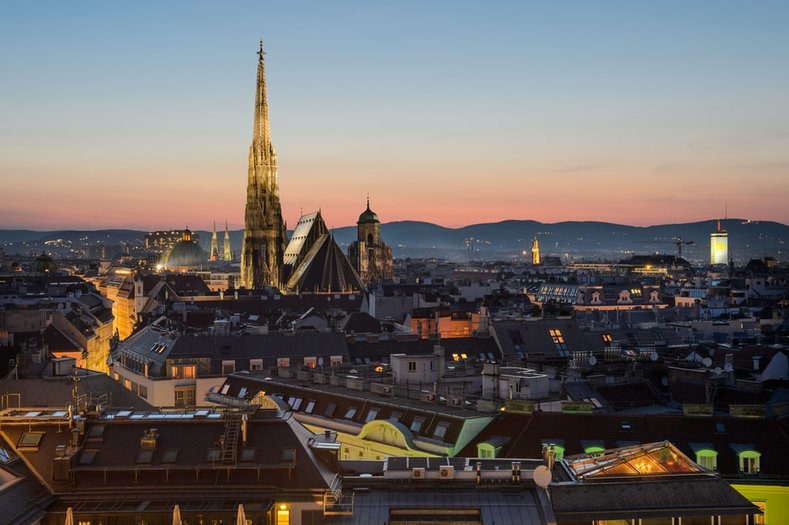 Vienna or Wien in German, is the capital of Austria and it is also the largest city in the country. Many famous musicians and composers like Strauss, Beethoven, Schubert, Mozart and Brahms lived here. This is also the reason why Vienna is known as the City of Music. It's also popular for it's Imperial Palaces, elegant museums, and brilliant displays of baroque and Gothic architecture. When you visit Vienna you immediately immerse into an authentic old-world charm combined with modernity.
Vienna offers plenty of things to do and see that's why it's crucial to plan your trip wisely. I believe 4 days in Vienna cover all the top things to explore without being too rushed. Unfortunately I need to say that it's impossible to see everything even in 4 days, but you'll be able to see just enough to have a wonderful trip and fall in love with the Austrian capital. Otherwise if you have only 2 days in Vienna then you can find some more tips here.
If you are still searching for the best area in Vienna then check out this article: Where to stay in Vienna: The Best location to Stay in Vienna
This post may contain affiliate links. Affiliate links are no extra charge to you, but I may earn a small commission if you chose to make a purchase.
In this article you can find: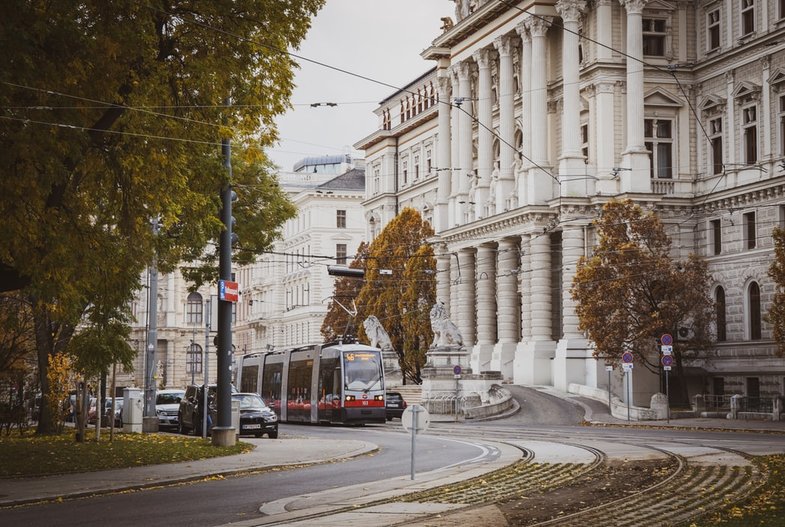 Public transportation in Vienna is reliable and very easy to navigate. Tickets are available at Wiener Linien ticket offices and vending machines. All public transportation runs from 5 a.m. until midnight. In addition, you can catch night buses from the very central Schwedenplatz. Vienna has one of the biggest tram networks in the world. The trams are referred to as "Bims". Guess why? Because of the "bim-bim" signal bell.
I recommend to get the Vienna City Card for 72 hours for unlimited use of public transportation and discounts on many attractions that I'm going to introduce in this 4 days Vienna itinerary. I've been using the card and was very happy with saving money on museums, restaurants and various sites. I also used it for my transport from and to the airport by taking the comfortable Vienna Airport Lines bus. It brought me directly to the city center. Furthermore I calculated the amount of total savings in my 4 days in Vienna and it was 105€. Impressive, right?
If you are interested in exploring Austria you can also reach Salzburg from Vienna by train within 4 hours. There is also a great possibility to have a day trip from Vienna with everything included. You will see the best of Salzburg in a comfortable private bus in case you don't have much travelling time.
How to get from and to the airport in Vienna
City Airport Train
This train connects Vienna's airport with the city centre (Wien Mitte) in just 16 minutes. The train runs from the airport to the city centre daily every 30 minutes. Tickets cost Single: €11, return: €19 but if you have Vienna City Card then it's free.
Express Train S7
This train takes 37 minutes to bring you to the city centre and it's the cheapest way to travel from and to the airport. You will need two tickets one for the zone up to the Vienna city limits for €1.70, plus a ticket for the Vienna city zone for €2.40. Tickets can be purchased at the ticket machine and must be stamped before entering the train
Bus
Another good option to get to the city centre of Vienna is by a modern and comfortable bus. The bus station is easy to find, just outside of the airport. For the price of 8€ you can travel one way. Again it's included in the Vienna City Card.
Best places to visit in Vienna – 4 days itinerary
Day 1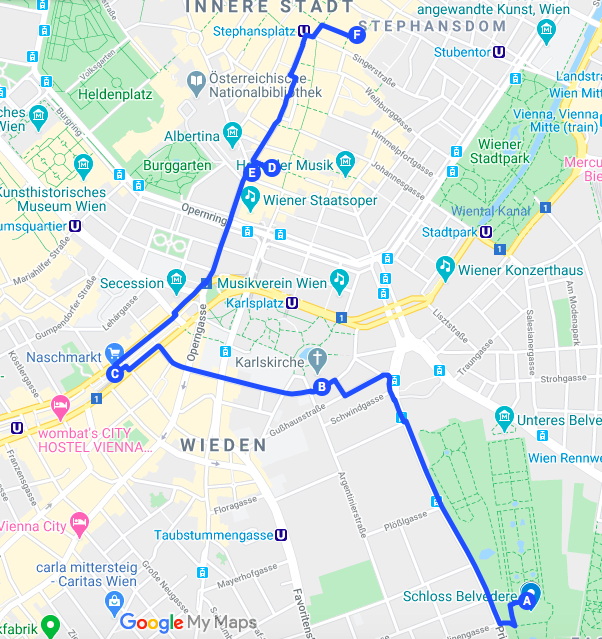 Belvedere Vienna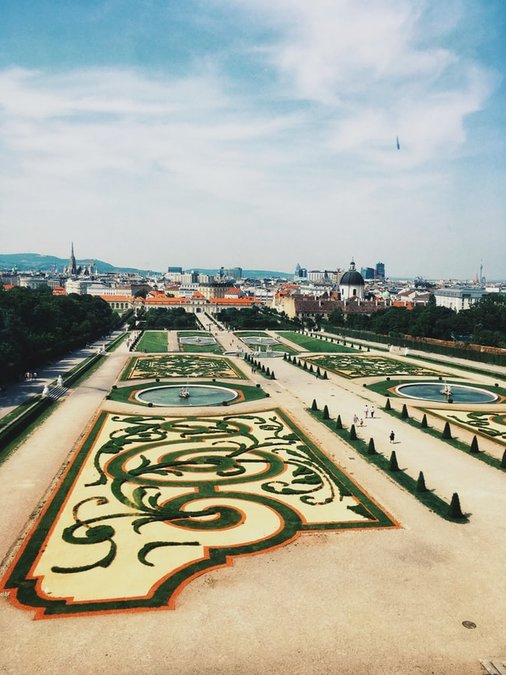 There are two Belvedere palaces that were both built way back in the early 18th century. Artists Johann Lucas created one of the best Baroque landmarks in all of Europe. It consists the magnificent Upper Belvedere and the Lower Belvedere. It is listed as a UNESCO World Heritage Site and inside you'll find everything from the best art like Vincent Van Gogh, Gustav Klimt, and Max Beckmann. You can find the famous Klimt's painting the Kiss in the Upper Belvedere.
Karlskirche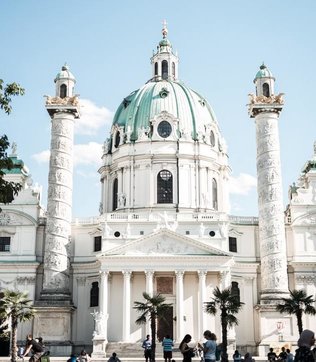 Karlskirche is an incredibly unique architecture, a Baroque sense of style and a direct view of the Hofburg palace – perfect spot for photography lovers. This is one of the must visit places in Vienna. It was built in the 18th century by Holy Roman Emperor Charles VI, largely to celebrate the end of the plague in the city. You can either enjoy the panoramic vistas from the roof or check out the incredible architectural details.
Naschmarkt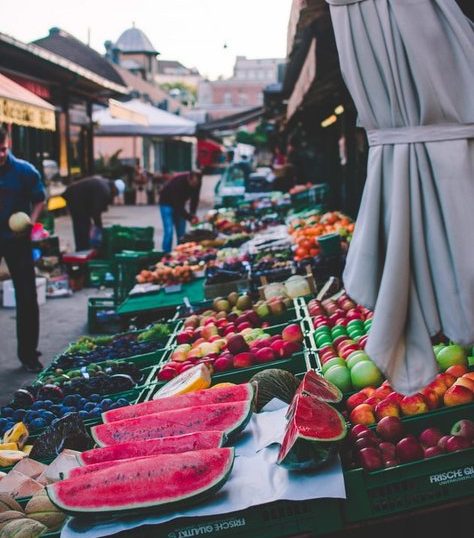 If you want to try some delicious treats then definitely visit the Naschmarkt. It's a must do for both locals and tourists due to the diversity of the stalls, cafes and restaurants. This place is a culinary adventure with all types of food: Traditional Viennese and exotic meals including the oriental treats to organic cuisine and much more. This historical landmark that exists since the 16th century is one of the main things to do if you're staying 4 days in Vienna.
Eat Sachertorte at Sacher Hotel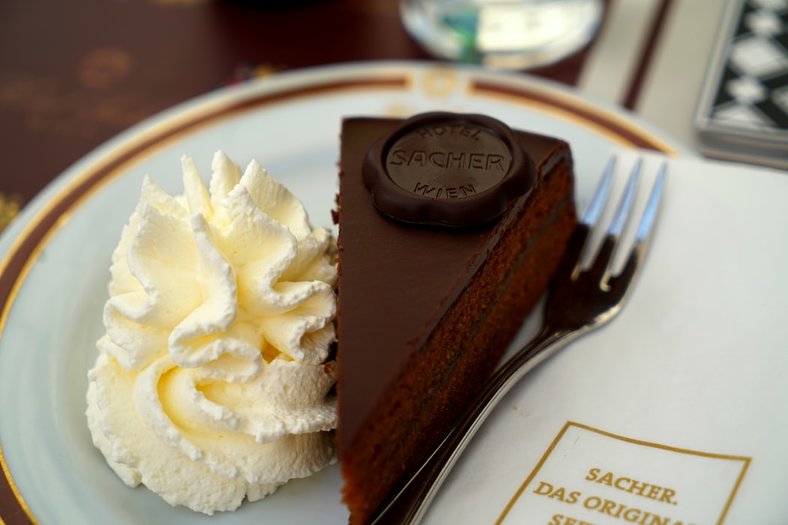 The Sacher hotel, which is located across the street from the amazing Vienna State Opera House is known for its famous sachertorte. The Sacher Torte is one of Vienna's signature cakes, with the recipe first came to live in 1832 by Franz Sacher while he was only 16 year old boy, working as a kitchen hand. It's a chocolate cake with apricot jam and chocolate icing that you simply can't miss out!
Albertina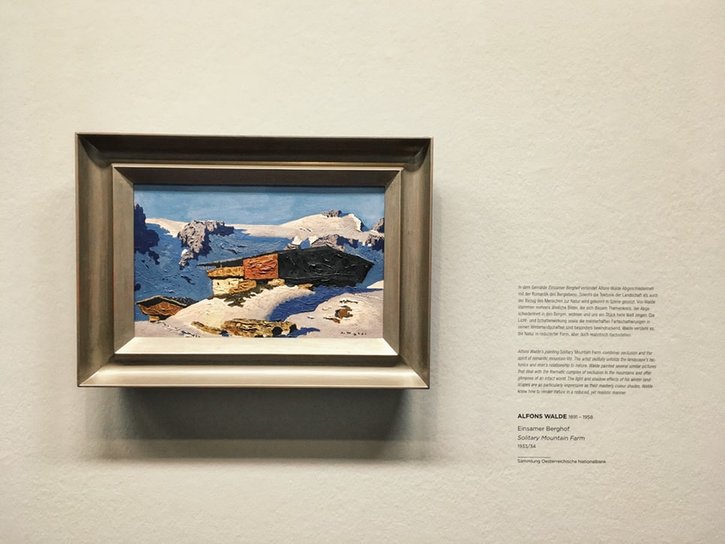 Albertina is one of the most famous museums in Vienna and it's also my favourite. The art museum, found in the Hofburg Palace complex, hosts more then 65.000 drawings and 1 million old master prints, with art from world renowned artists like Monet, Cezanne and Picasso on display. The Albertina is open daily from 10am to 6pm, and until 9pm on Wednesdays and Fridays.
St. Stephen's Cathedral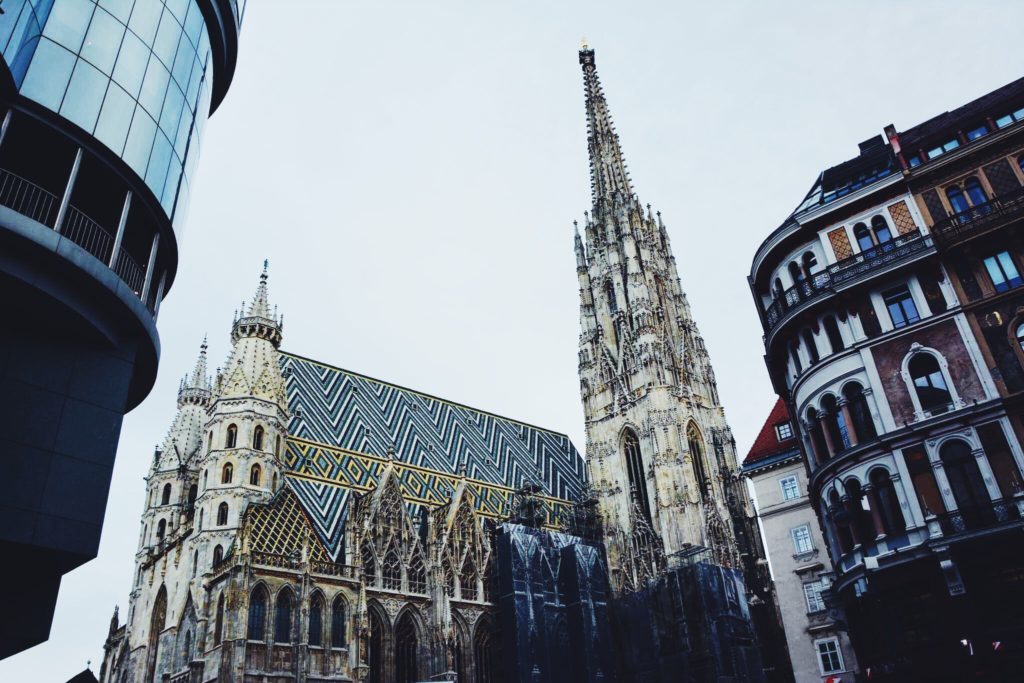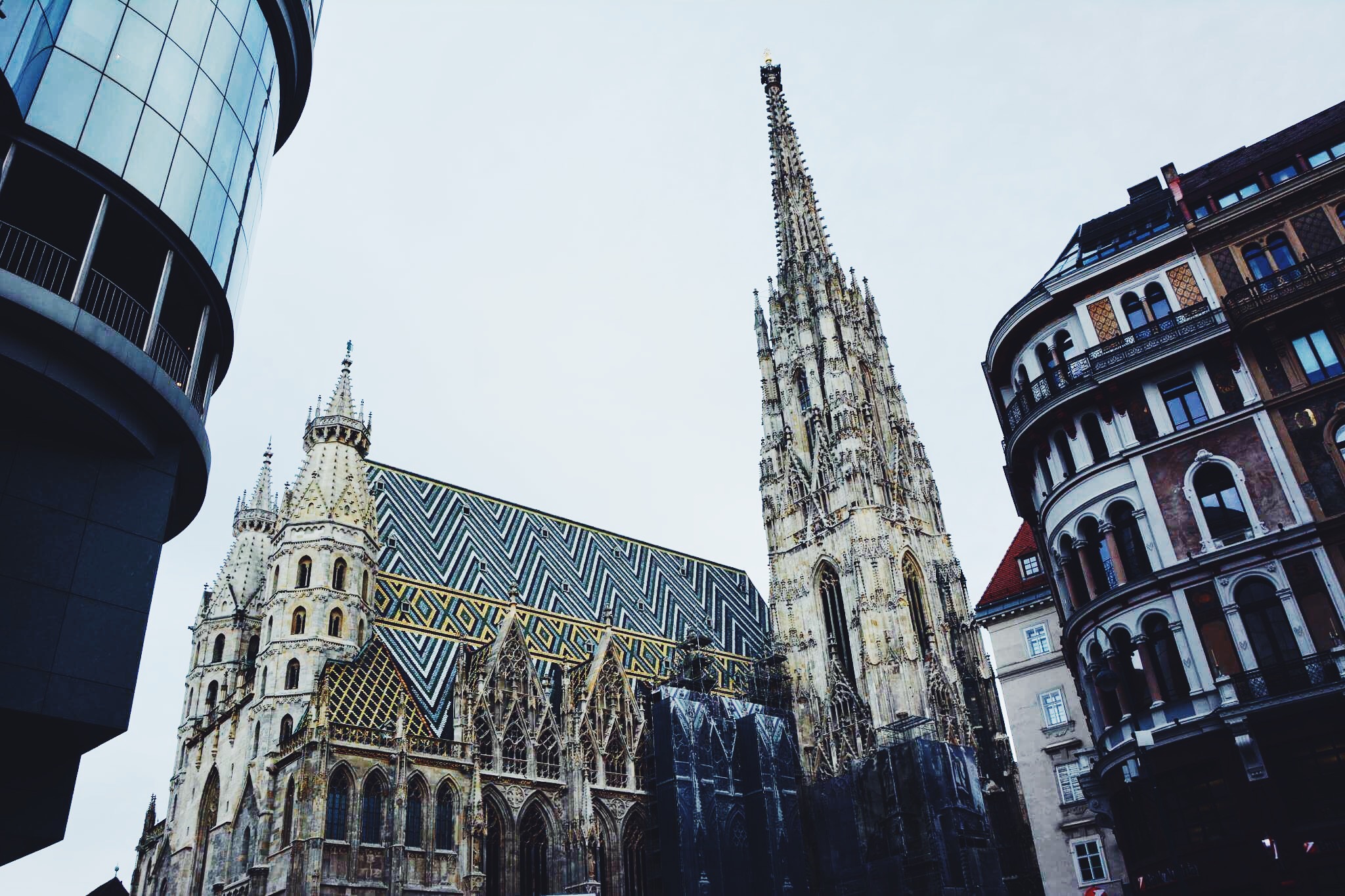 The St Stephen Cathedral is another one of the most important sights to see in Vienna. This is found right in the centre of the old town. and is hard to miss. First of all you will instantly notice the colourful roof, which is decorated with glazed and painted tiles in an ornate design. Secondary it has the world's second largest church bells and last but not least there is a uniqueness to the details that embody the gothic construction.
There are two towers you can climb and admire the view of the city, both for a fee. The North tower that stands at 68 meters tall where there is an elevator available. The south tower that stands at 136 meters tall only accessible by stairs. Moreover, you can visit the catacombs. If you prefer to save your money for delicious Marillenknödel or Käsekrainer then enter the St Stephen Cathedral free of charge.
Dine at Augustinen keller
In few words: Augustinen keller is located in one of the last ancient monastery cellars in Vienna and it serves traditional Viennese Cuisine. What else should you know?
Day 2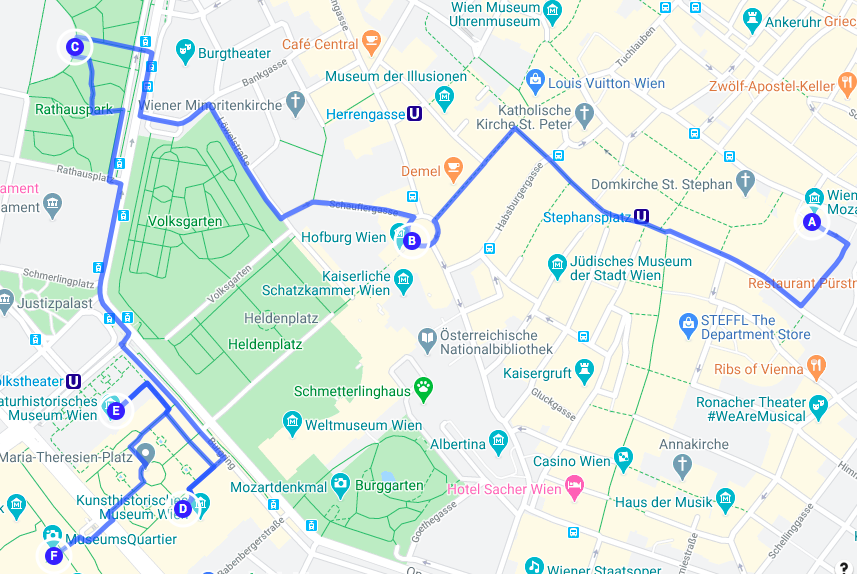 Mozarthaus Vienna
Vienna is automatically associated with the most renowned composer of Classical music, Mozart. The capital of Austria was his home for many years. He lived at a number of properties during his time in the city. Only one of these homes survives today – the Mozarthaus, which you'll find in Vienna's Old Town on Domgasse. It's is open daily from 10am – 7pm, and there's an admission fee.
Mozart lived at this property for three years between 1784 and 1787. In 2004 it was totally redesigned, and now the whole building is a centre dedicated to the life of the incredible composer. It's also a good insight into Viennese life in general in the late 18th century.
Hofburg Imperial Palace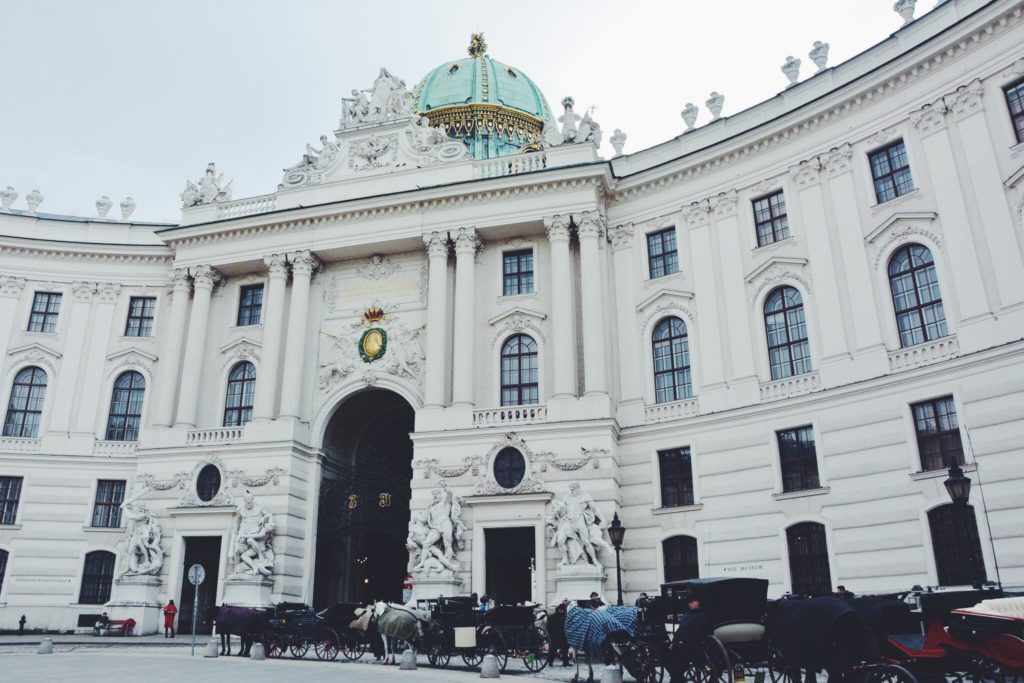 The Hofburg or Vienna's Imperial Palace is a place that experienced a huge part of European history being written, from the 13th to the 20th century. The tremendous complex combines various architectural styles from Rococo to Renaissance & Baroque. It was the imperial residence until 1918 furthermore a part of it is still the residence of the President of the Austrian Federal Republic.
Visiting the Hofburg Imperial Palace means entering three different museums: The Imperial Apartments, the Sisi Museum and the Silver Collection. The Imperial Apartments offers Flemish art pieces, the beautiful décor of the dining room and the magnificent Circle Room. The Sisi Museum is dedicated to Empress Elisabeth who was also known as Sisi. This museum gives you a great look into the life of the aristocrats back in the 19th century. The Silver Collection displays 7000 items from everyday tableware to items that were used in ceremonies.
Rathaus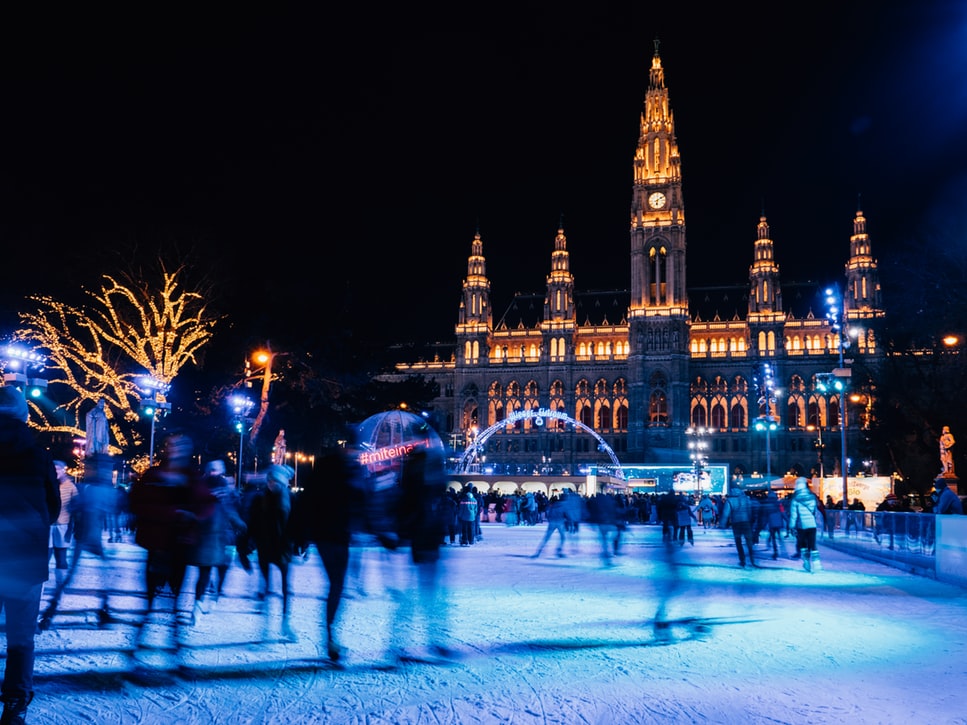 Vienna City Hall is one of the most amazing monumental buildings in Europe. Designed by Friedrich Schmidt (1825-1891), it was built between 1872 and 1883. The City Hall was built in gothical style, with a tower similar to gothic cathedrals. Today the City Hall is the head office of Vienna's municipal administration.
Kunsthistorisches Museum Wien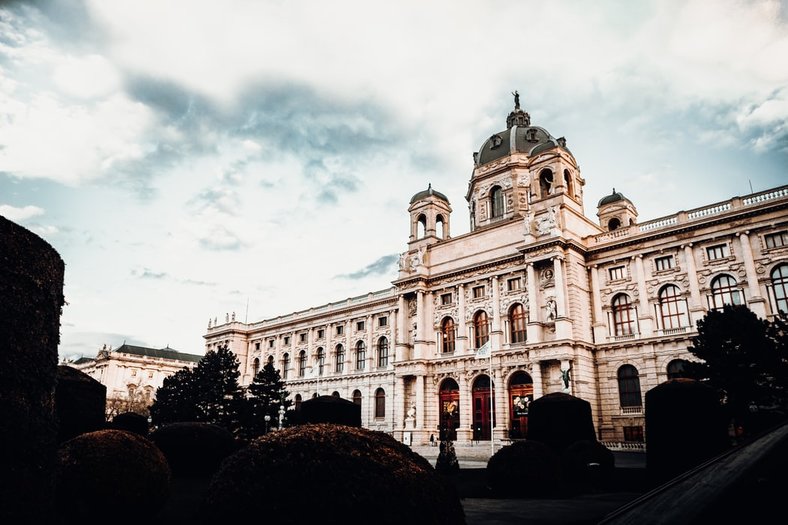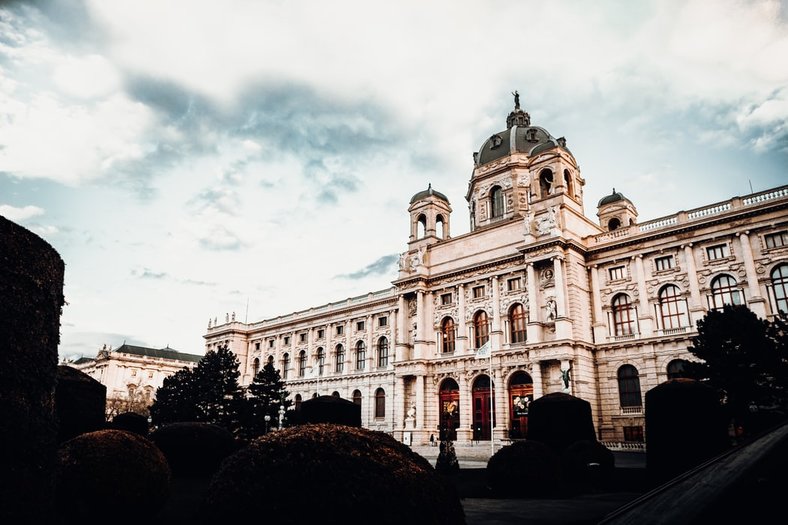 The Art History museum built in 1891 will let you immerse into Viennese history and art. There are famous works of art from Rembrandt, Titian, and Vermeer. Furthermore the museum is home to an Egyptian and Near Eastern collection. The impressive staircase which leads to the galleries also contains a series of paintings that Gustav Klimt collaborated on.
Museum of Natural History Vienna
Whether you want to see the biggest collection of real meteorites or you want to get lost in the beauty of the digital planetarium or perhaps you want to watch animated dinosaurs & learn about nature – then you've come to the right place.
The Museum of Natural History in Vienna has an incredible collection of fossils, dinosaurs and other items of a natural history theme. The spectacular building was built in 1889. Today, the museum collection contains over 30 milion items, collected over 250 years, and makes for an impressive visit.
The first floor: Explore the animal world and learn about various species.
The dinosaur room – museum contains the skeletons of different types of dinosaurs.
Prehistoric sculptures – The largest in Europe.
Museumsquartier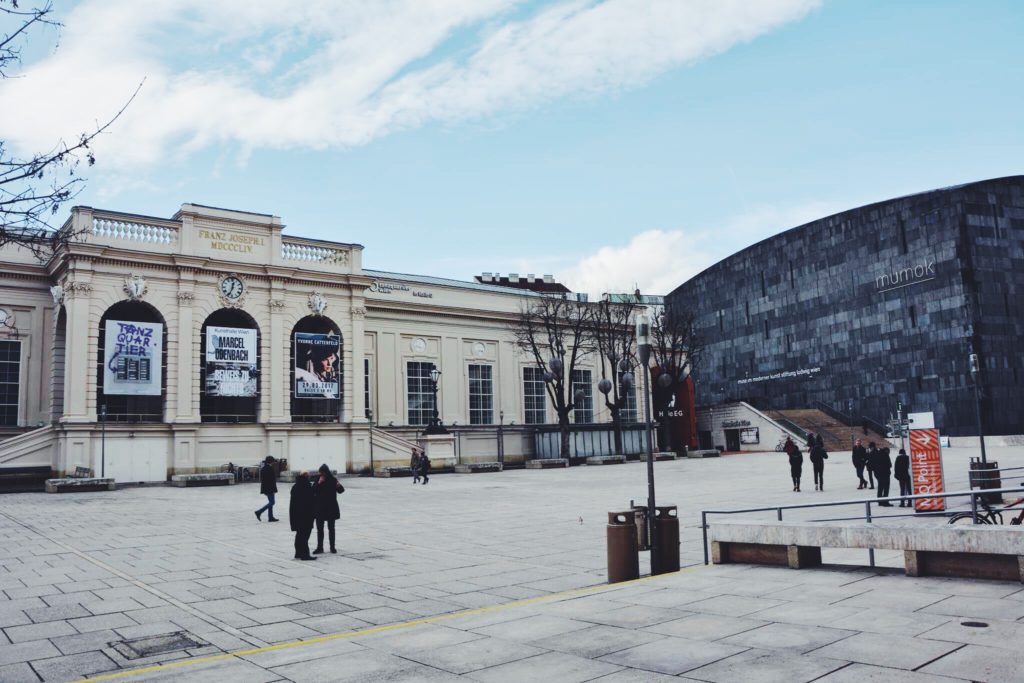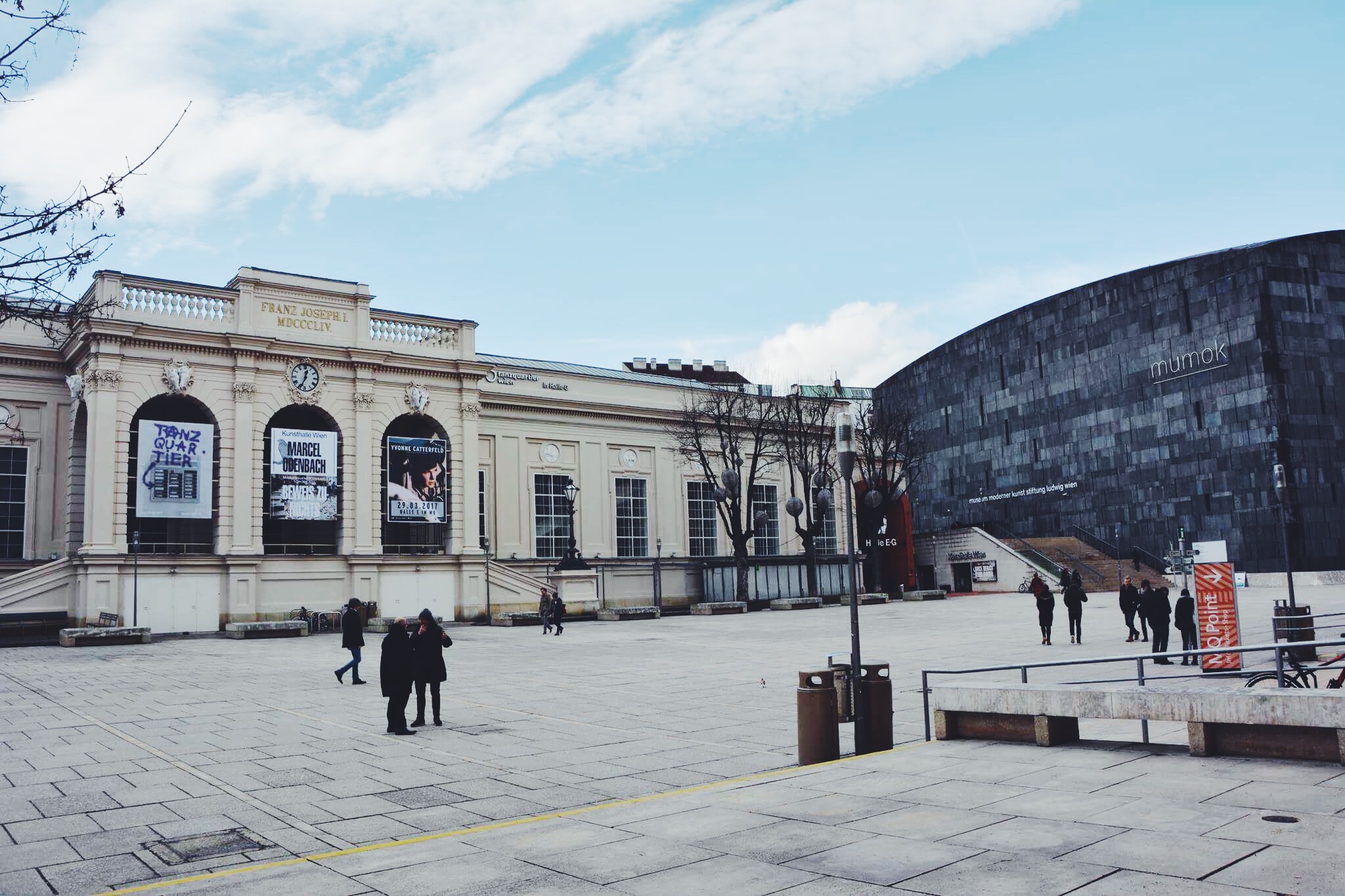 Vienna's MuseumQuartier has become a cultural space where you can find all kinds of museums, performances, shops, cafes, and restaurants all in the same area. Programs and events here are constantly changing, so check their website for the latest updates. It's also a popular place where locals love to hang out and spend their free time.
Eat at Cafe Leopold
After hours of exploring all kinds of museums, it's time to recharge the batteries with delicious meals at café Leopold. There you will find great menu with many alternatives – Asian and European kitchen in a very good combination. It's another famous and beloved place by locals.
Day 3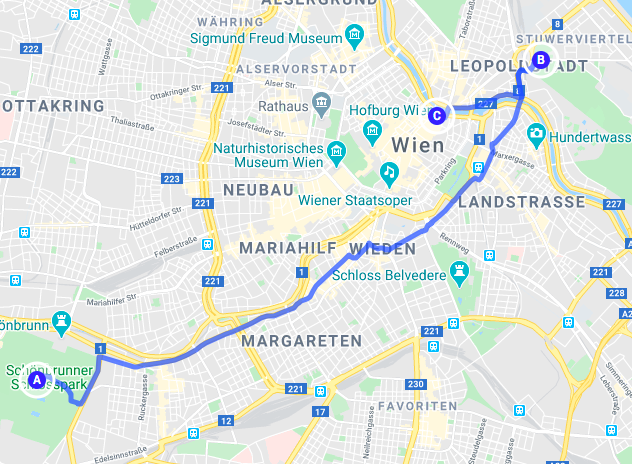 Schönbrunn Palace Grand Tour & Gardens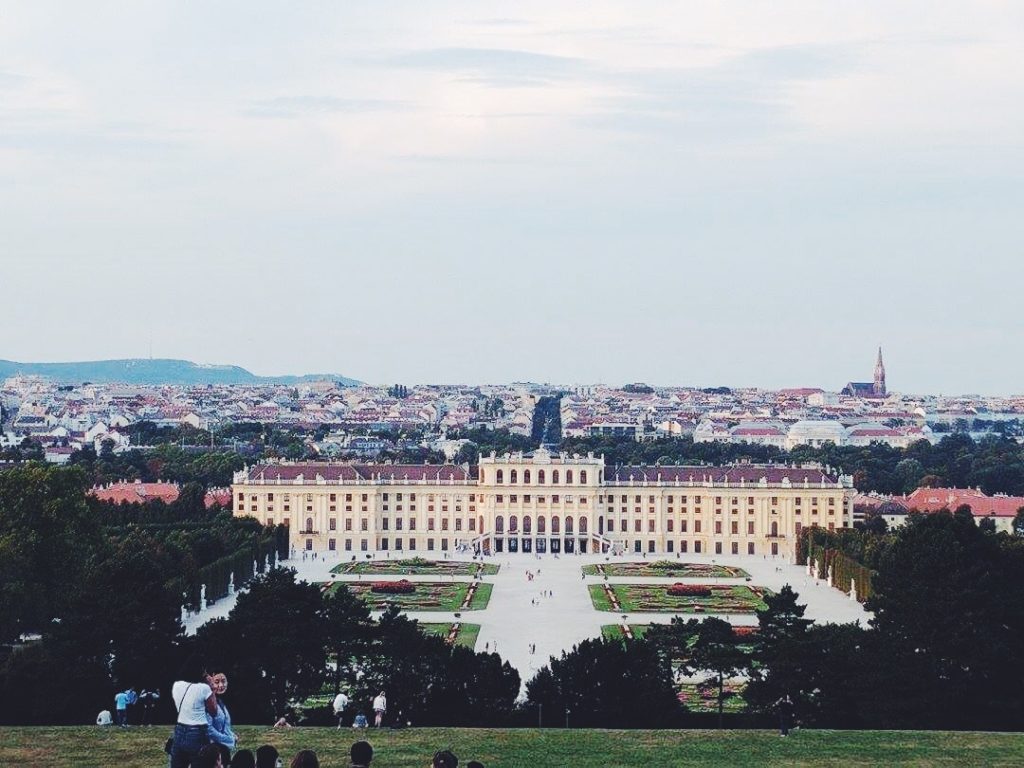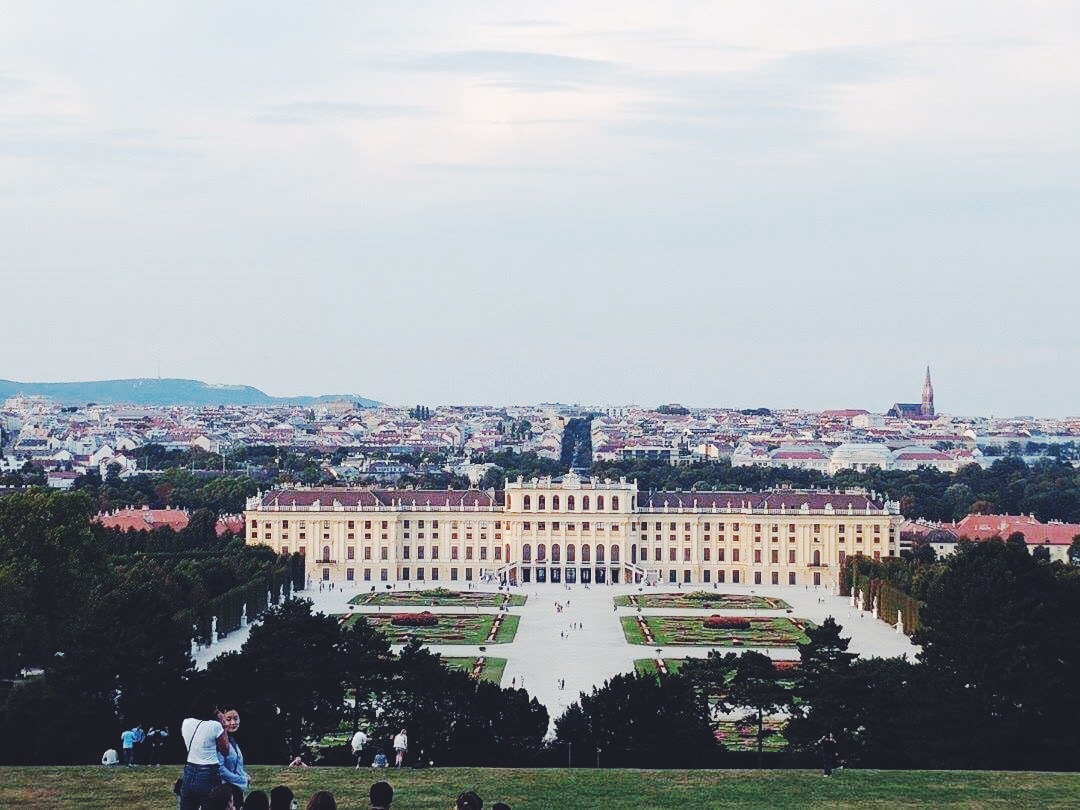 No visit to Vienna is complete without an expedition to the spectacular Schönbrunn Palace, a breath-taking example of Baroque architecture. You can easily spend half of the day exploring this UNESCO World Cultural Heritage Site. It's a very popular historic attraction in Vienna that's why it's better to come early. You can explore the surroundings of the Schönbrunn Palace or visit the museum where you'll be able to experience various bedrooms and ballrooms, orangery, and over 1441 rooms each with a different style. Visit the Mirror Room as this is the place Mozart gave his first concert at.
Ferris Wheel & Prater Park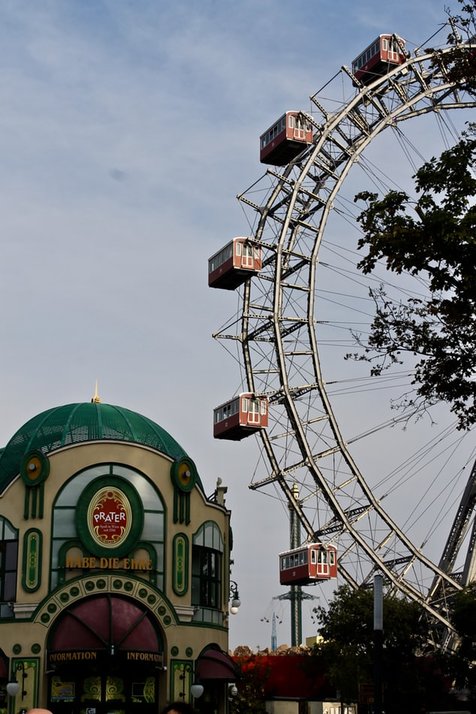 Without any doubt Ferris wheel & Prater Park are one of Vienna's city trademarks. Ferris wheel is 65 meters tall and gives you an opportunity to get some of the best views of Vienna. This is definitely a cultural and architectural highlight of 4 days in Vienna. Check here for opening hours and ticket prices.
River Cruise
A river cruise is another way of getting to know Vienna. Instead of walking all the time, you can enjoy the tranquil Viennese atmosphere from the river in the evening light and enjoy the sunset over Vienna from the water. Sail along the Danube. I recommend to take a guided tour so you can experience the city and its medieval beauty to it's fullest. Additionally there is an attentive service in the restaurant and also blankets against the cold will round the trip to a memorable experience.
Day 4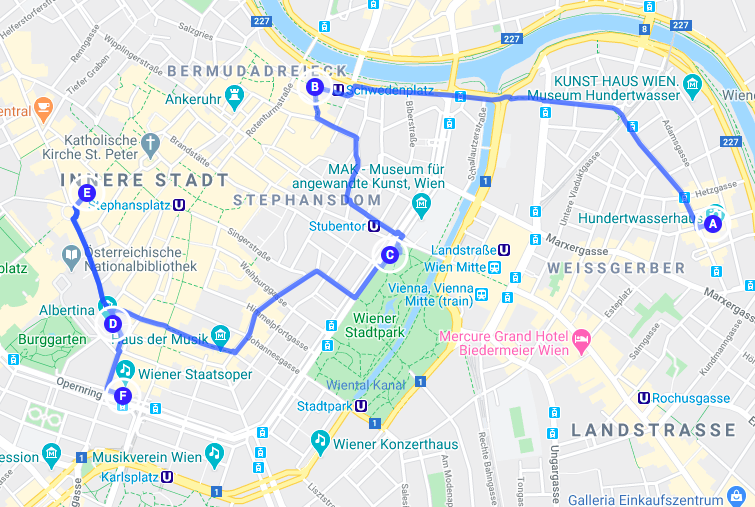 Hundertwasser Haus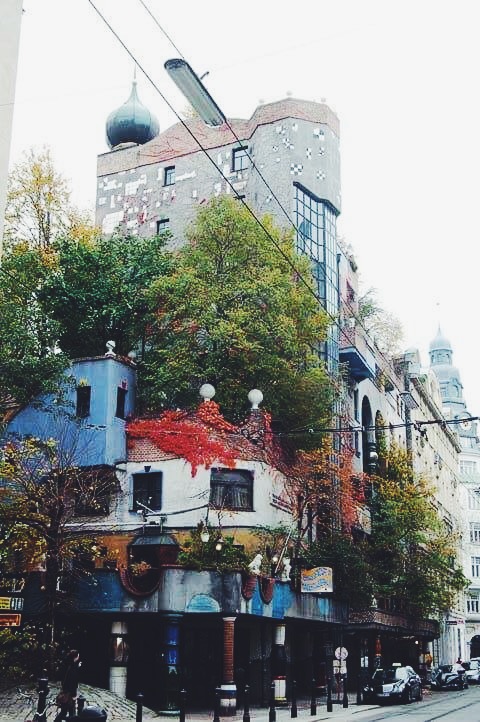 The colourful and unusual Hundertwasser House in Vienna is located in the 3rd district. This extraordinary architectural highlight of Austria, is a modern apartment complex in Vienna built by exceptional architect Friedensreich Hundertwasser. He loved to experiment with grass roofs and planted trees in building façades. There is also the Hundertwasser Village, that you can visit to learn more about the artist.
If you really like Hundertwasser's bright colours and distorted lines then go to the metro station Spittelau. There you will observe another architectural masterpiece, incineration plant.
Explore Vienna by tram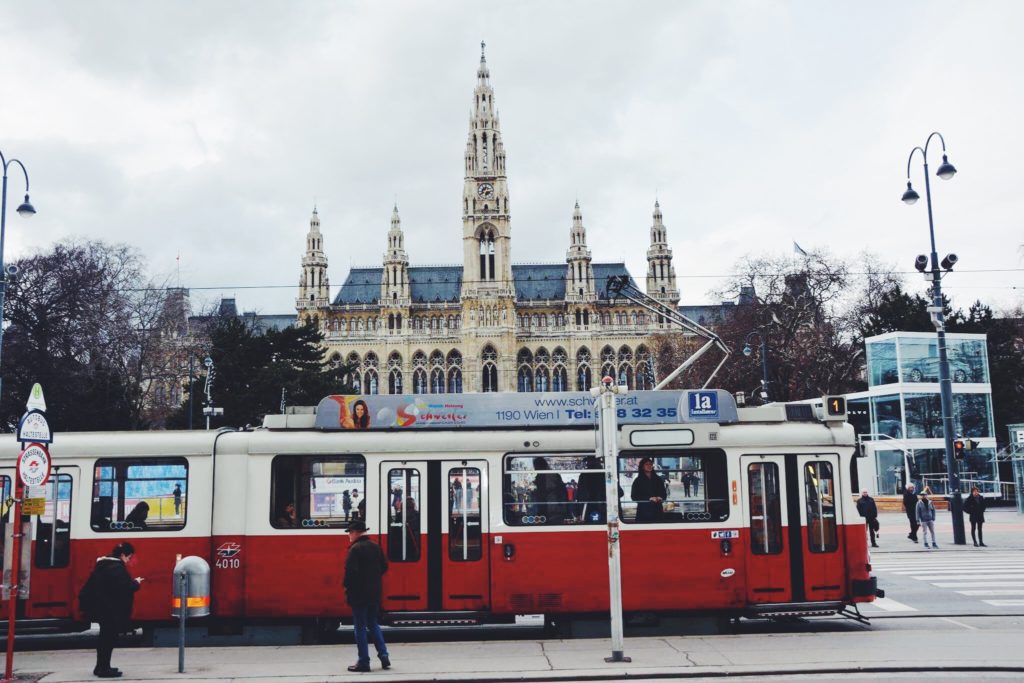 The Vienna Ring road is where the majority of Vienna's must-see sights are, such as the Natural History and Art History museums, parliament, the Rathaus, the Hofburg, and many more. There is a tourist trap, the Ring Tram. You can just jump on the public transport and follow Vienna's tram 1 and 2 route. The tram tickets are also included into the Vienna City Pass.
On the Vienna tram 1 and 2 route you can see the following famous attractions:
Vienna State Opera
Vienna Hofburg
Austrian Parliament
Vienna City Hall
University of Vienna
Burgtheater
Art History Museum
Natural History Museum and many more…
Start from Schwedenplatz where you can catch tram 1 towards Stefan-Fadinger-Platz. Change to tram 2 at Stadiongasse/Parlament to finish at Schwedenplatz. You are welcome!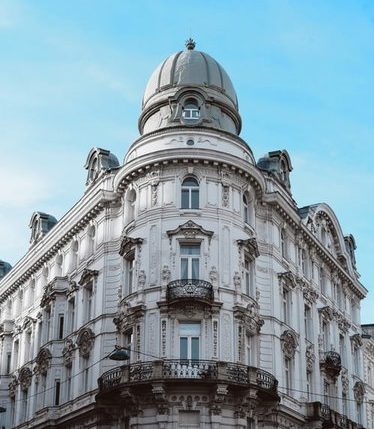 Wiener Stadtpark
Wiener Stadpark known as "artificial landscape in the city" is a public area of 65,000 m² and it's an ideal place to hide away from the big city life. The park was designed in the style of English gardens by the landscape painter Josef Selleny and it's a fabulous place to take impressive Instagram pictures. The park on the left left bank of the River Wien was opened in 1862 and since then it's a charming spot to relax and enjoy the greenery.
Taste the Käsekrainer sausage
You may associate Vienna with imperial dining or delicious cakes but the old traditional food that makes happy young and old, rich and not so rich is Käsekrainer. It's a large, thick sausage filled with tiny chunks of cheese. Fried or grilled, a process which then melts the cheese to create the amazing texture and great taste.
You can find Käsekrainer in every Würstelstand ( Kiosk with sausages ) in Vienna but I would suggest to pay a visit to the one between Vienna State Opera and Albertina, Bitzinger bei der Albertina. Enjoy!
Coffee break at Demel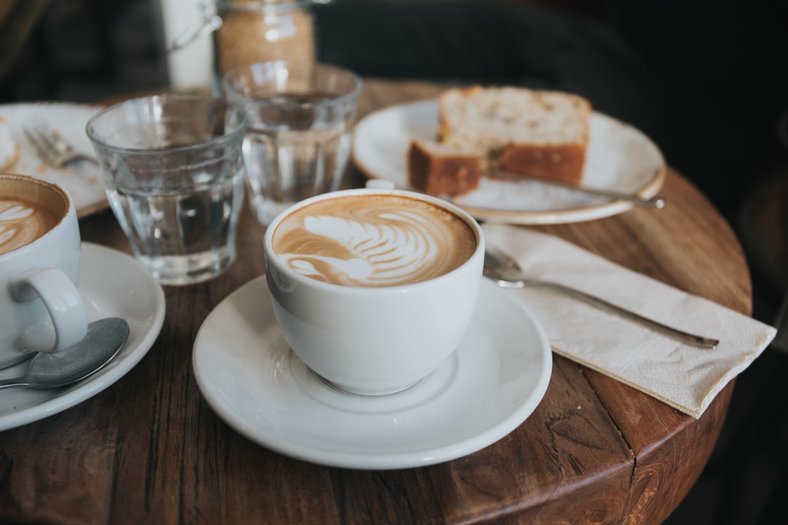 Demel is a hotspot for all those with a sweet tooth. It's not only a typical Viennese Cafe but also a place where quality meets expectations. It offers a diverse collection of mouth-watering desserts that as a visitor to Vienna you must try. It's not just the amazing coffee and desserts but it's the sophisticated and welcoming atmosphere. Definitely try their famous Apfelstrudel.
Visit Vienna State Opera House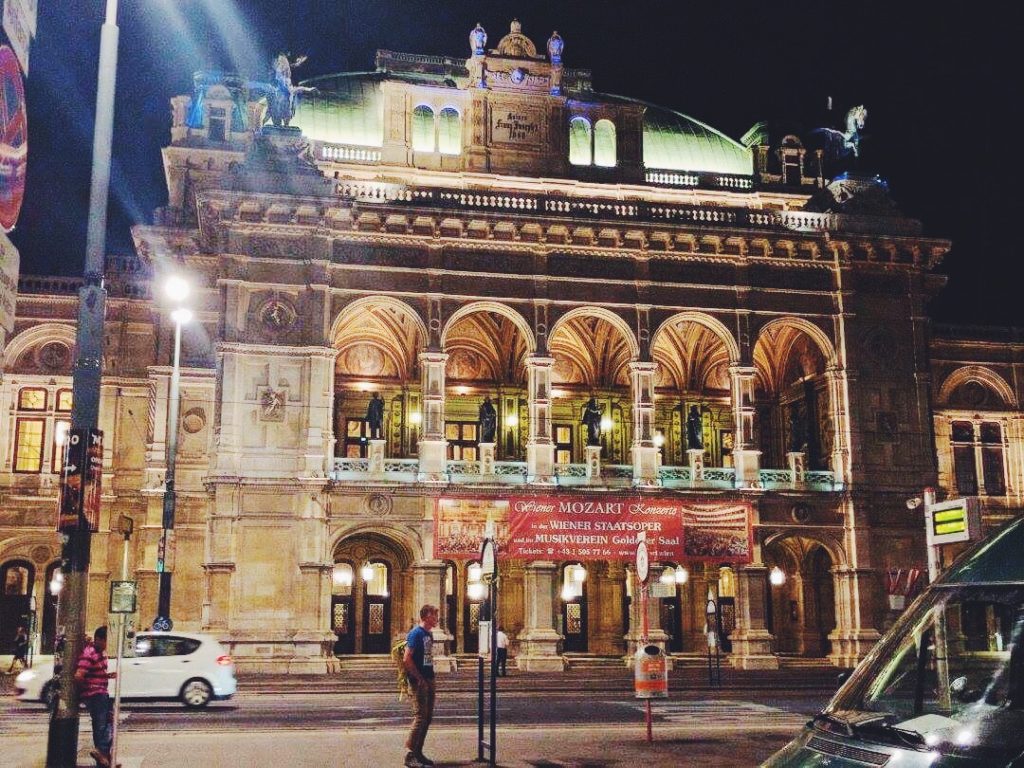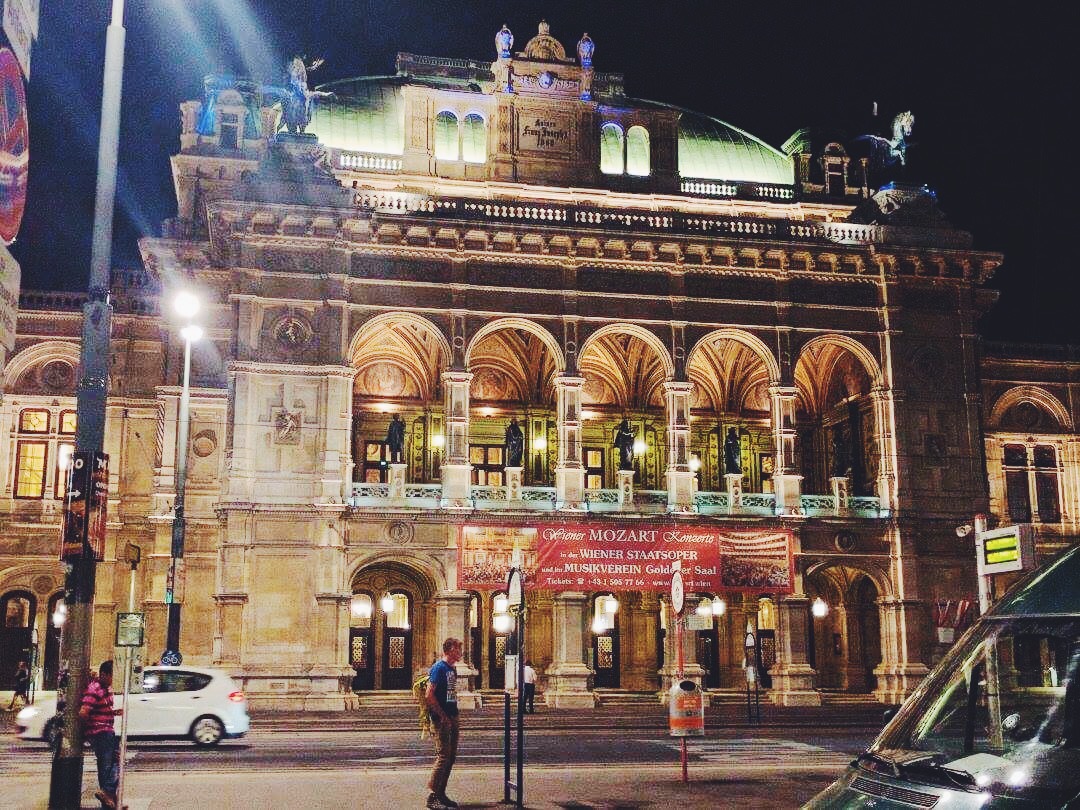 Vienna is a home to a famous state opera house which dates from 1869. It has been host to some of the world's most famous singers and conductors. This is also one of the places that should be on your bucket list.
I would definitely recommend to find out about the performance times and buy tickets for one of the evening shows. You can read about it here. I've been there a few times and every time it was a visual and acoustic pleasure to observe the charm and the elegance of incredible performances.
Where to stay in Vienna
I have a detailed article about Where to stay in Vienna: The Best location to Stay in Vienna. But you can also find some tips here.
Boutique Hotels in Vienna
Harmonie hotel has a modern design and a great organic breakfast. It's located in the Serviten quarter, a central but less touristic area. The hotel offers lovely rooms with comfortable beds.
Beethoven hotel has a classic vintage design from the 19th century. It has a perfect central location close to a local food market. Every room has a unique design what makes it special. The hotel also hosts a small concert each Sunday, free of charge for hotel guests.
For luxury travellers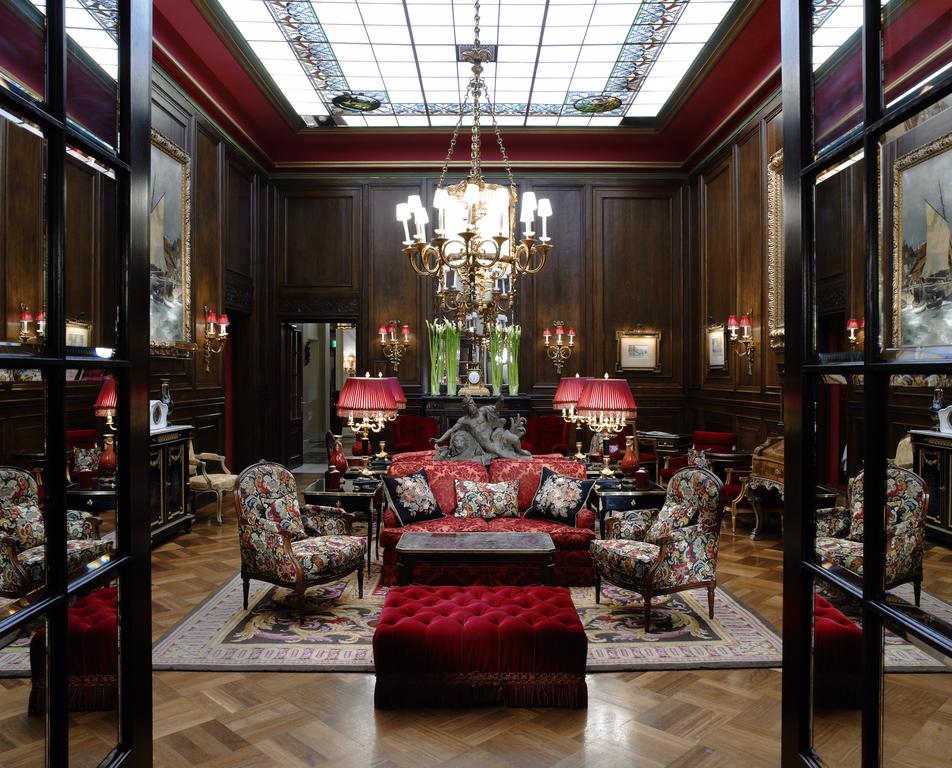 Sacher Hotel is located in the heart of Vienna's city centre, directly opposite the City Opera Theatre. It was opened in the 1870s and yet it is still filled with all its royal grace. It is doubtlessly the best luxury hotel in Vienna Center!
For solo-travellers and hostel lovers
The ones looking for a hostel-option, check out the 3 best hostels in Vienna.
Hostel Ruthensteiner – 5 star hostel
Wombats City Hostels Naschmarkt – best for solo travelers and groups
Gartl Apartments & Hostel – best for female solo travelers
For budget travellers
Motel One Wien Westbahnhof is a great option for a budget traveller. It's a modern hotel that is just a 10-minute subway ride away from the center of the city. An airport bus stop is right outside.
For families
We were staying with my partner and our child at one of the Airbnb's. Our host was a wonderful Dina, who let us check-in earlier. Her apartment is spacious and has everything what you need for a stay in Vienna: Well-equipped kitchen, bathroom with shampoo, comfortable bed, clean towels and a tv (in case you need one). Moreover the price is top and the location is great too!
If you are new to Airbnb then click here and get 41€ discount for your first booking. Sharing is caring!