Lisbon is the perfect place to be spoiled with a great variety of breakfast places. I was impressed with the modern, healthy and delicious options: From avocado toasts to scrambled egg dishes to outstanding coffee and sumptuous pancakes. It's hard for me to decide which one is my favourite, they are all offering healthy vegan and vegetarian dishes at reasonable prices. You decide where to go and let me know which one was your must-visit breakfast place in Lisbon.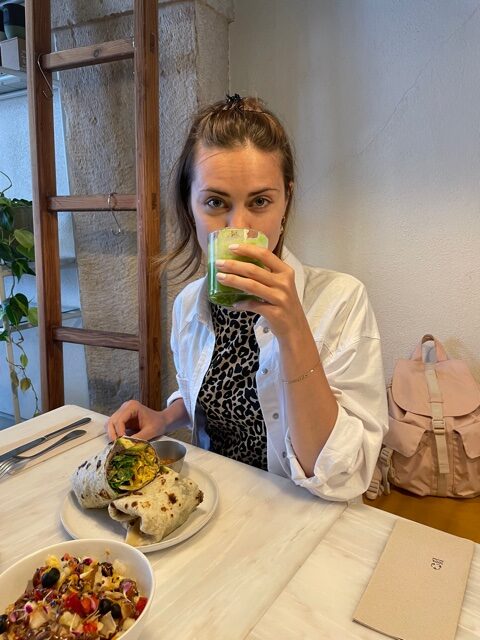 I could eat everything at Comoba! With a great selection of delicious vegetarian and vegan options, great coffee, and a positive atmosphere, Comoba is one of my favourite places to have breakfast or brunch in Lisbon. We've tried the wrap, granola bowl and avocado toast and we were blown away! Beyond the outstanding food, Comoba has a great selection of tasty smoothies: my favourite one was a chocolate smoothie.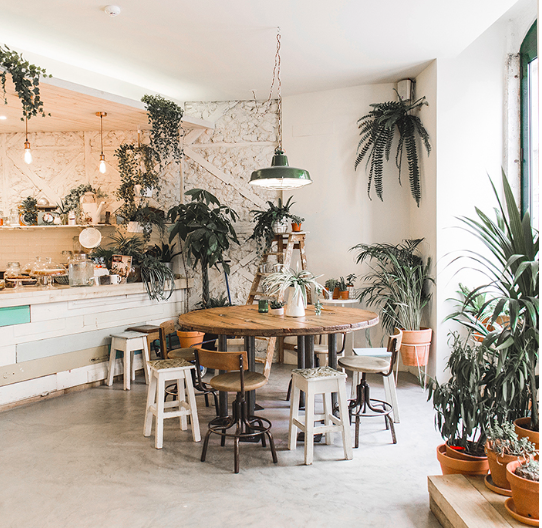 Fauna & Flora has a variety of great brunch options. The salmon toast, mushroom toast, and smoothie bowls, pancake, and egg dishes provide something for everyone. A unique dish that they make are avocados filled with a poached egg and other yummy toppings. This is a very popular place in Lisbon, especially on weekends you can see plenty of people queuing outside the café to get a table. Just avoid the prime brunch time to get seated.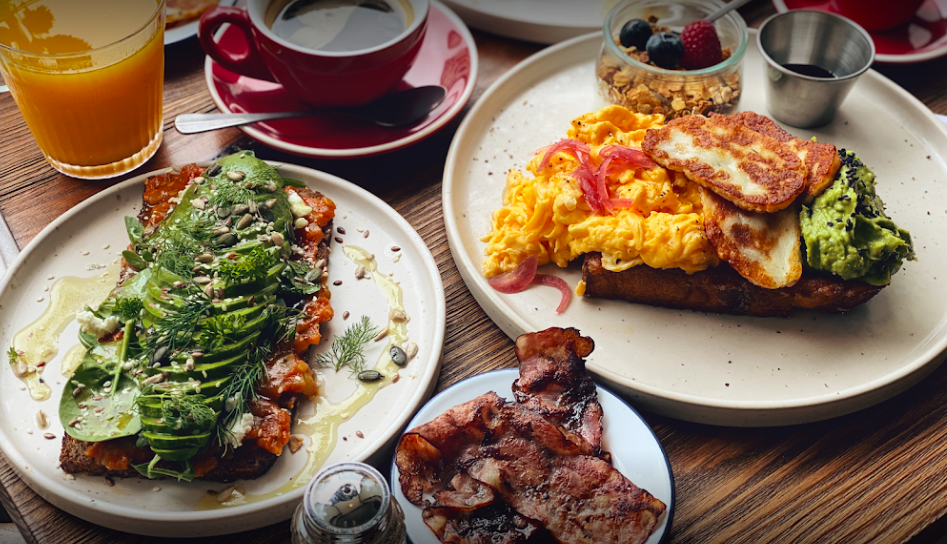 Seagull Method Cafe is a hidden gem for all breakfast and brunch lovers. It's a small, quaint café, which is locatied a bit off the beaten path which means you shouldn't have too much trouble getting a table. But it's wort visiting since they serve one of the best breakfasts and brunches in Lisbon. The menu is exciting with sumptuous options that you probably haven't tasted before like french toast with halloumi, avocado and scrambled eggs on top, or cottage cheese pancakes with homemade caramel and many more.
You are searching for a surfer, friendly, chilled vibe in Lisbon? Then Boutik is a great place for it! It's a surf shack where you can order healthy breakfast or brunch but also check some skate & surf items. This place combines all the delicious dishes from all over the world: Poke Bowl from Hawaii, Açai from Amazonia, the American pancakes and bagels, the Bali-inspired smoothie bowls. Sound awesome, right?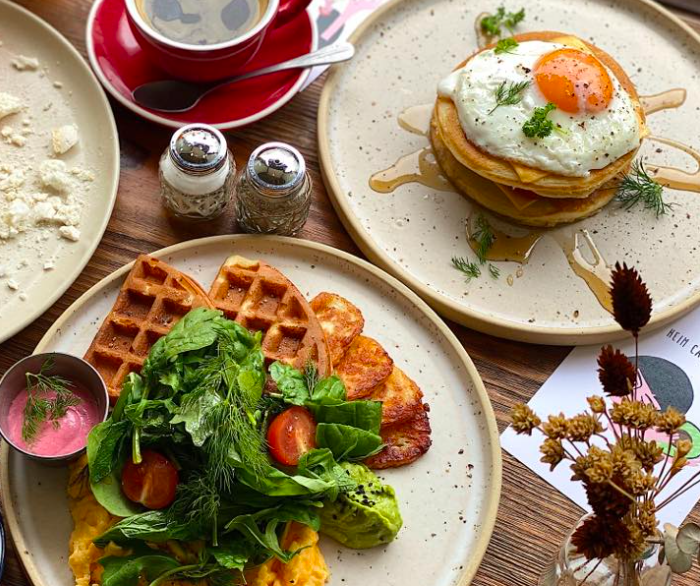 Heim is another extremely popular place for breakfast and brunch in Lisbon and it can get busy during the peak brunch hours, so arrive early if you don't want to wait for a table too long. Heim is known for its incredible brunch plates: Avocado toast + halloumi + granola parfait + pancakes all for 15 euros, this is what most of people would order at Heim. And yes, the food is all very good, and most important the portions are generous!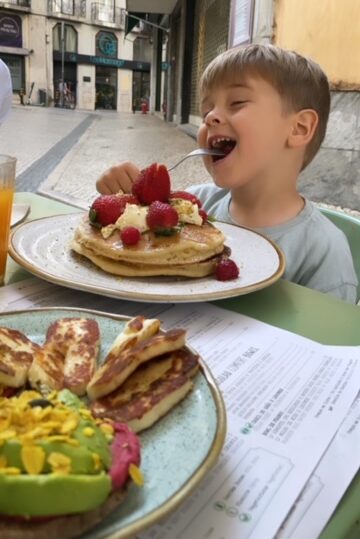 Nicolau was just stone's throw away from out apart-hotel, situated at a great location in the heart of Baixa-Chiado, and it was a must for us to visit it. It's another beakfast place in Lisbon where you can see people standing in line to get the table. But it has plenty of space so it shouldn't take long to get one. It has a great variety of healthy meals. The most spectacular dish of that place are the pancakes! They are tremendous and topped with plenty different toppings! Definitely must-try when you are in Lisbon!
Half café half wine bar, this Australian-Portuguese owned place serves all-day breakfast and brunch in Lisbon. It's an amazing place to order a breakfast bowl or plate, an avocado toast with roasted cherry tomatoes, a fruit smoothie, and finish off with a delicious coffee. Definitely give it a go!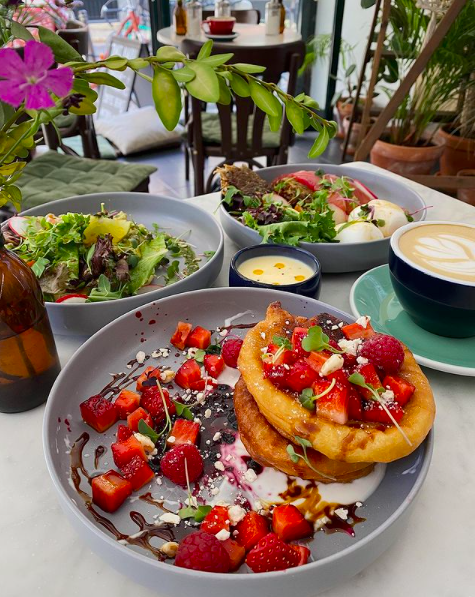 Bowls & Bar is one more modern place for breakfast and brunch in Lisbon with a great choice of healthy, colourful and photogenic food. Simple and trendy ambience, friendly staff, and last but not least generous portions for a good price. It's a great place to enjoy some peace & quiet or experience bar vibes in the evening!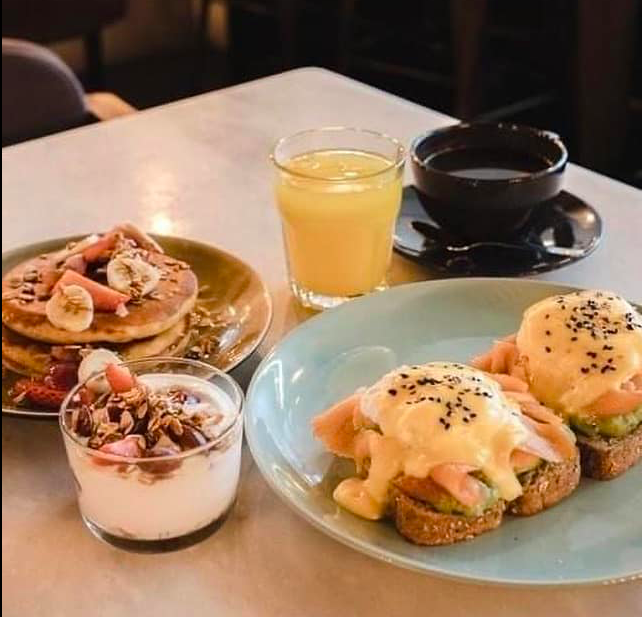 Kaffeine is another cafe off the beaten path, it's located in the food court of a shopping mall. The atmosphere is lovely and the menu has a wide choice: Eggs Benedict, a trio of shrimp tacos, a gourmet cheeseburger, an avocado croissant. Or maybe you would prefer a set brunch menu: toast with your choice of toppings, yogurt with granola and fruit, a pancake, and a drink.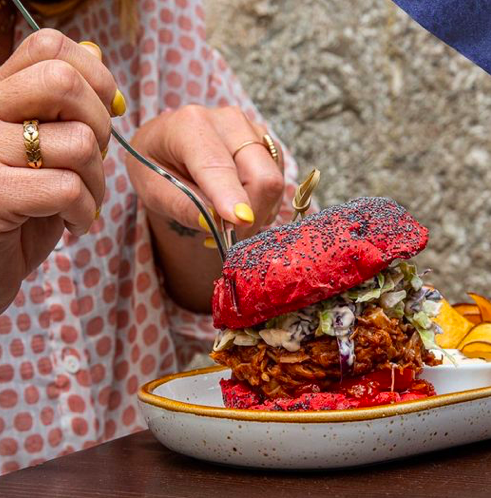 Mil Sabores is a unique spot in Lisbon. It looks like a simple ice cream shop but it's not! They do not only offer artisanal delicious ice cream (you can try all the flavours if you want, just ask them) but also healthy breakfast and brunch. Located in the heart of Lisbon I would definitely recommend you to visit this place. Everything here is colourful, tasty, instagramable and made with love!
And if you are planning to visit Lisbon then definitely check Perfect weekend: Top things to do in Lisbon in 2 days or 3 DAYS ITINERARY IN LISBON.