Salzburg in winter time is an especially magical destination. It is also one of the most beautiful cities in Austria. Visiting it in December can feel like you're stepping into a wonderland! The great fact about Salzburg is that it can snow here during the cold period which makes it even more perfect to visit with kids. We only spent 2 nights in Salzburg because we were on our way to Alpina Family, Spa & Sporthotel****S in St. Johann im Pongau. It means we had 1 full day to explore the city. In this blog post, I'll present you an awesome one day Salzburg itinerary that will allow you to see all the highlights of this marvellous city.
This post may contain affiliate links. Affiliate links are no extra charge to you, but I may earn a small commission if you chose to make a purchase.
You can reach Salzburg from Vienna by train within 4 hours. There is also a great possibility to have a day trip from Vienna with everything included. You will see the best of Salzburg in a comfortable private bus in case you don't have much travelling time.
If you prefer to watch a video than read an article, then check out this video. And remember to subscribe!
An Overview of Salzburg, Austria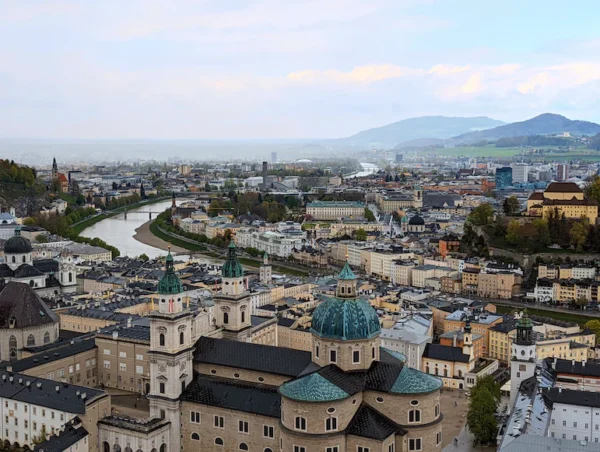 Somehow many people associate Salzburg with the movie "The Sound of Music", which was filmed there in 1964. I personally haven't seen it but read a lot that it plays an essential part of the city's history and culture. Nevertheless there's so much more to Salzburg than just that.
A bit of history: The Austrian city of Salzburg was founded in the year 696. In 1997 it proudly became a part of the UNESCO World Heritage List. The city is the birthplace of legendary composer Mozart. Moreover It's home to one of the largest fortresses in Europe.
Salzburg is a city that will instantly charm you with cobblestone streets, quaint shops, beautiful palaces, and baroque buildings. Situated in the Austrian Alps along the Salzach River, Salzburg is incredible in every season of the year. In winter though, the city shows a different side with Christmas markets and light decorations, making it the ideal place to enjoy the trip with your family.
Best Time to Visit Salzburg
Salzburg is a year-round destination, but the best time to visit depends on your preferences. If you're looking for warm weather and outdoor activities, the best time to visit is between June and August. However, this is also peak tourist season, so expect larger crowds and higher prices. Spring (April and May) and autumn (September and October) are shoulder seasons with milder weather and fewer crowds. If you're interested in winter sports or Christmas markets, December is the perfect time to visit Salzburg.
Getting to Salzburg
Salzburg is easily accessible by plane, train, or car. The city's airport, W. A. Mozart Airport (SZG), is served by many major airlines and is only a 20-minute drive from the city center. Salzburg's train station is well-connected to other European cities and has regular trains to Vienna, Munich, and Innsbruck. If you're driving to Salzburg, keep in mind that parking in the city center can be challenging, and some areas are restricted to residents only.
Where to Stay in Salzburg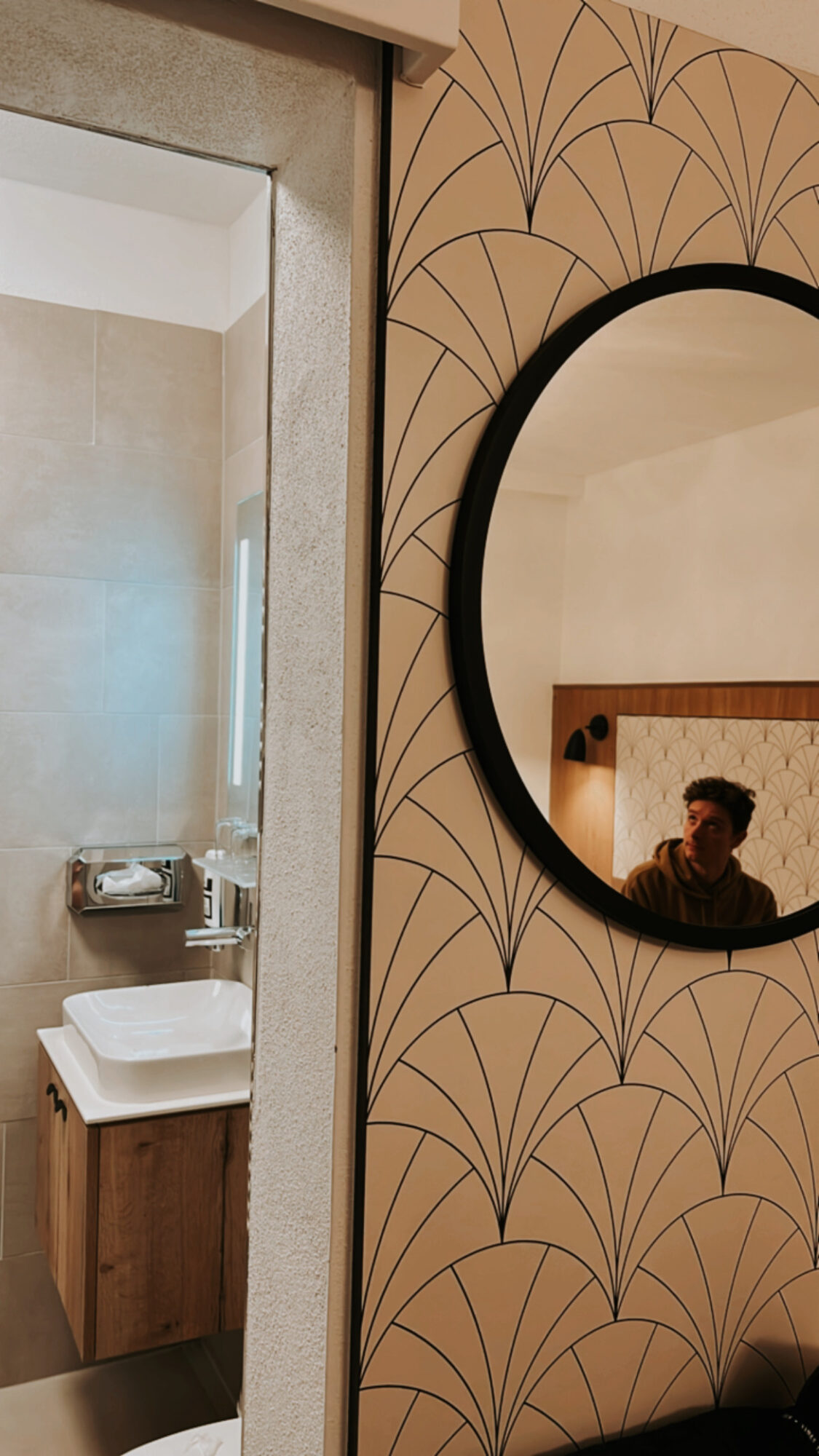 The main highlights in Salzburg are located in the area of Old Town (also known as Altstadt). So if you want to get to know the city better I would recommend to stay close to the centre.
During our time in Salzburg, we stayed at the Flöckner Hotel for two nights. It was a wonderful hotel for our family because of the location and welcoming atmosphere for travellers with kids like us. Moreover we arrived in Salzburg by train and were happy to walk only 6 minutes to reach our new home for the next 2 nights. And all the main attractions like The Mirabellplatz, Mozart's Birthplace and the Citadel of Hohensalzburg were close by too: 10-minute bus ride or 15 – 30 minutes walk.
The hotel is full of history too: The façade is listed as being of historic interest and protected and was built by the famous architect Jakob Ceconi. The details have been secured in the Jugendstil design assembled with modern elements. Our room was beautiful, modern, and comfortable with a spacious shower. And of course there was a TV and free WiFi in our room.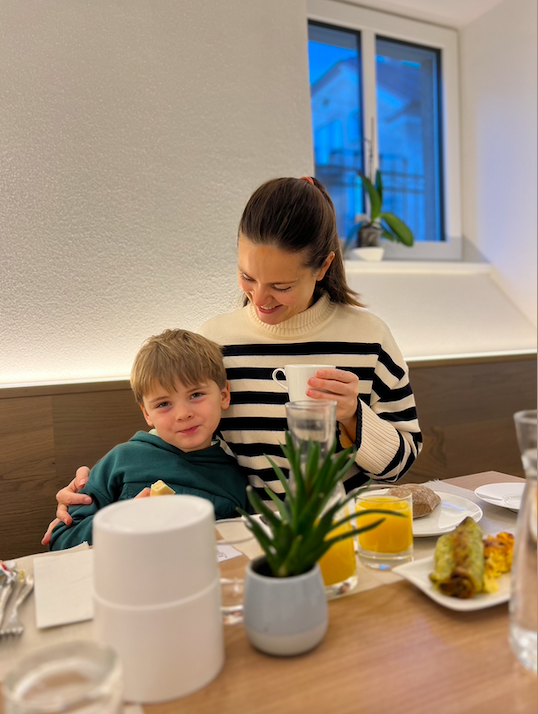 Last but not least the highlight of every hotel is doubtlessly a great breakfast. A generous start of the day to explore charming Salzburg. We were greeted every day with the cheerful chef who treated us like guests of honour. All kinds of scrumptious bread and cheesy pancakes were available at the buffet. Everything was delicious and full-filling. Our oldest son was very happy too and he is a big eater!
How to Get Around: Transportation & Salzburg Card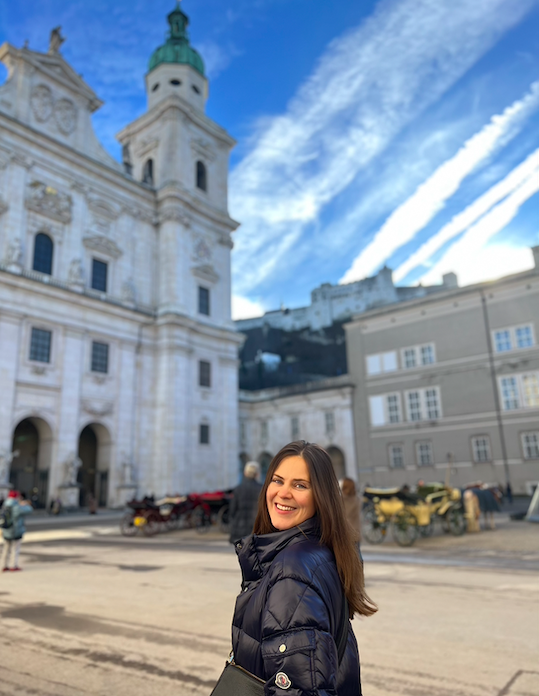 Walking is an ideal way to explore Salzburg even if you are with the kids. The town is very walkable, and the distance between the sights is pretty short. On the occasional longer walks we for example could often make stops along the way to see the different sights.
You can also discover Salzburg by bus. It's the main mode of public transportation. You can buy tickets at tobacco shops or at kiosks at some of the bus stops. Obviously tickets are available directly on the bus, but they'll be more expensive.
I would definitely recommend to get the Salzburg Card. You will be able to get free admission to all of Salzburg's main sights including the fortress funicular, panorama boat, and the Untersberg cable car. The card gives you free access to all public transportation so you don't have to worry about how to pay for the bus ride! We got it and I think saved good amount of money since Salzburg is not cheap.
Is one day enough in Salzburg?
If you are wondering is it enough to spend only 24 hours in Salzburg? Well, in my opinion in one day you can enjoy everything even at a slower pace. In this article about Salzburg you will see that it's possible to observe most of the Austrian city in one day as a result of the town's compact size and attractions being just a short walk from each other.
One Day in Salzburg with Kids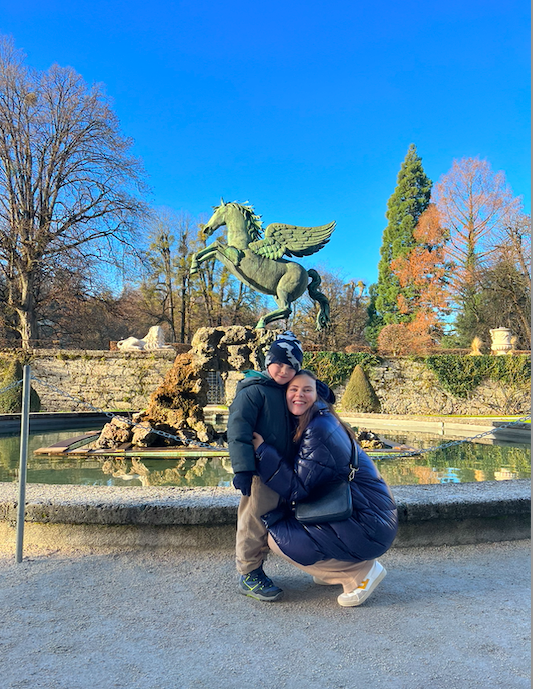 Schloss Mirabell / Mirabell Gardens
The Salzburg train station and also our hotel are located in the north of the city, which means first we needed to pass by the beautiful Schloss Mirabell and its beautiful little palace garden to reach the Altstadt. The palace with it's splendid gardens is a listed cultural heritage monument. Moreover the complex is now a UNESCO World Heritage Site, and entry is free.
Prince-Archbishop Wolf Dietrich built this magnificent palace in 1606 to surprise his beloved mistress, Salome Alt. Looks like she was really impressed since she went on to bear the archbishop some 15 children. In 1721, Johann Lukas von Hildebrandt, of Schloss Belvedere fame, redesigned the palace in baroque style. In the 1800s, it opened to the public. And nowadays the ethereal interior, assembled with stucco, marble and frescos, is free to visit for everyone.
Although I'm convinced the gardens are even prettier in the summer months, when everything is covered in greenery and blooming flowers. Nevertheless it's worth to visit Schloss Maribel and it's gardens during the cold season too. Plus, Schloss Mirabell is well known for being a desired place to tie the knot. Happy couples must reserve their weddings here at least a year in advance, so popular this place.
Marko-Feingold-Steg (Pedestrian Bridge)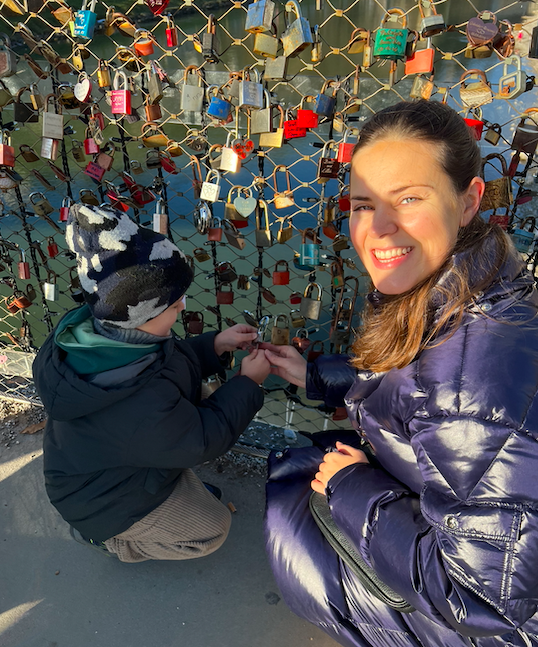 As we continued our walk, we could reach the bridge, Marko-Feingold-Steg. This pedestrian bridge is also known as the Love Lock Bridge. The entire bridge is covered in colourful locks with inscribed initials of lovers who attached their lock to the bridge. It's a popular way in Europe to symbolise the love couples have for each other. So if you are travelling with your partner bring your lock with you and take a photo of it as a wonderful memory.
You can also observe a postcard view of the city from this bridge, complete with the Salzach River, Hohnsalzburg Fortress, and Austrian Alps. Great opportunity to take a family picture!
Old Town & Mozartplatz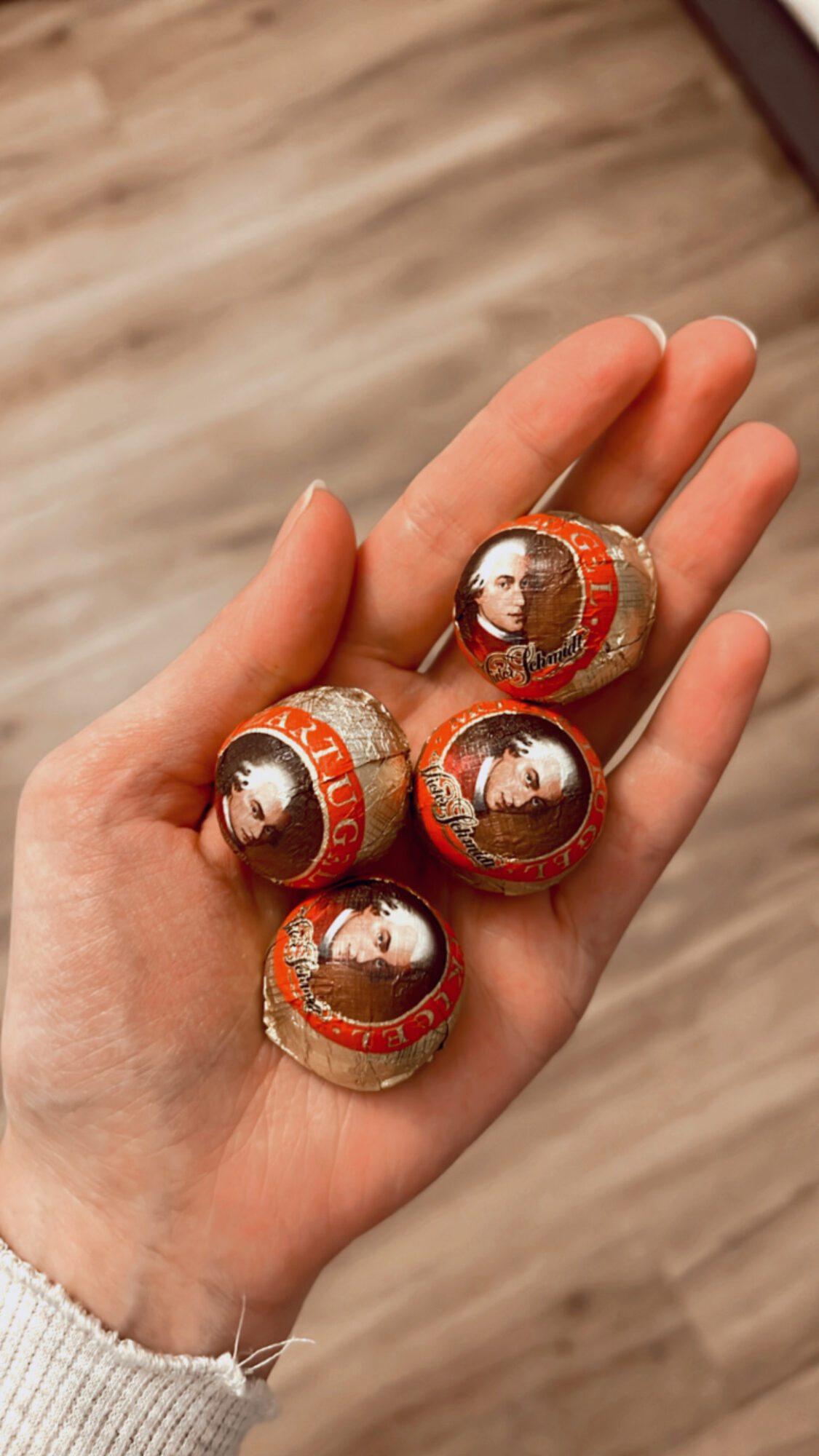 Salzburg's Old Town is a UNESCO World Heritage Site and is home to many of the city's most famous landmarks, including the Salzburg Cathedral, Hohensalzburg Fortress, and Birthplace of world-renowned composer Mozart. He was born in this city in 1756. You cannot visit Salzburg without paying homage to this remarkable composer! His statue stands in a marvellous square featuring a horse-drawn carriage. If you are lucky and it snows on that day, you will immerse in a picture-perfect scene!
Salzburg Cathedral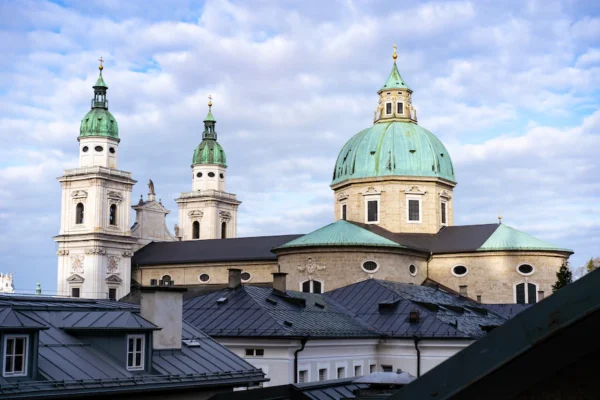 Since we've been travelling a lot with our kids and visited plenty of churches and cathedrals in Europe, our 5 year-old son is always eager to explore the new ones. And Austria is full of beautiful churches including the one in Salzburg, The Salzburg Cathedral. This baroque structure serves as the spiritual heart of Salzburg and was originally founded in 774. Mozart was Christened here as well.
The Salzburg Cathedral, with it's majestic turquoise, copper dome, and it's white interior, situated in the centre of the old town. If you look carefully while approaching the Cathedral, you notice three different numbers above each of the entrances. One of them is 774, the year when Saint Virgil built the first cathedral. Unfortunately throughout the centuries many fires hit Salzburg and damaged the Cathedral. Until in 1628 the new archbishop Wolf Dietrich invited Italian architect to transform the Cathedral into the baroque masterpiece. In 1944, the dome collapsed after the first bombing of Salzburg. But in 1959 the Salzburg cathedral has been reconstructed, and that's the third number you see above the entrance.
Fortress Hohensalzburg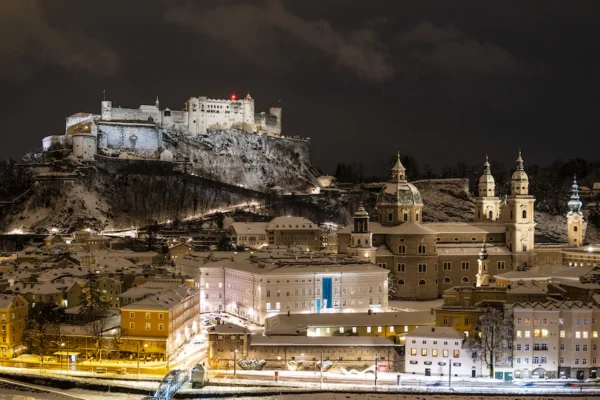 Of course you can't come to salzburg and not pay a visit to the astonishing Hohensalzburg Fortress. It sits high above the rooftops of the Old Town below. It was built a long time ago, in 1077. Moreover it is one of the largest medieval castles in Europe. It's intention was to protect the princess and archbishops, and it was never once captured by foreign troops.
The sporty ones can walk up the steep hill to the fortress. Nevertheless if you travel with your family and kids I highly recommend taking the Festungsbahn funicular to reach the top. Not only is it effortless to manage with little ones, it's also much more entertaining!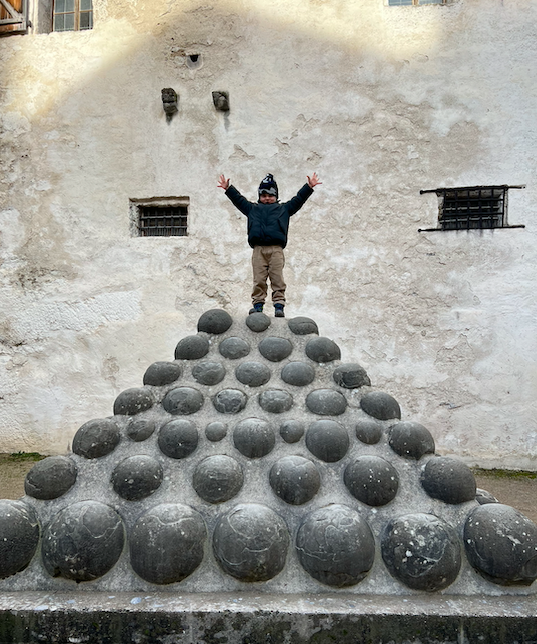 You can purchase your tickets at the funicular or in advance online. Admission to the funicular and fortress are also included in the Salzburg Card so don't think twice to purchase that.
Once you make it up to the fortress, take your time to explore. Here you will find several museums which are located within the fortress walls. Nevertheless just walking through all the corridors feels like an adventure for young and old! And the lucky ones can also enjoy the incredible view from the top, depending on the weather conditions of course.
Café Tomaselli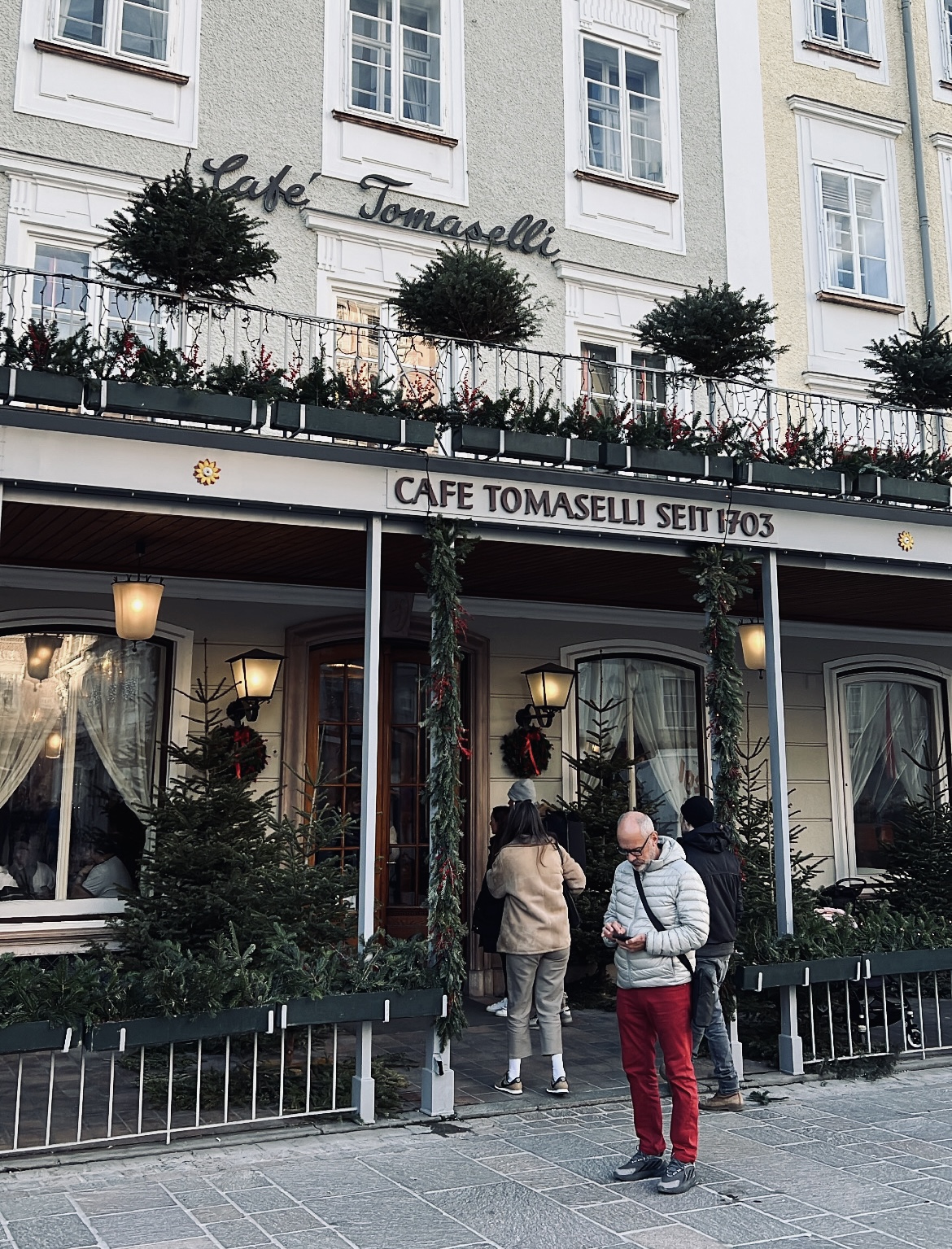 After visiting Hohensalzburg Fortress, we wanted to warm ourselves up and have a bit of a relaxing moment. We made our way back down into the city to a cozy spot called Café Tomaselli. It's the oldest coffeehouse in Austria and it's filled with history. Doubtlessly even Mozart visited this coffeehouse. We couldn't resist to try the sachertorte, a classic chocolate cake that originated in Austria.
Getreidegasse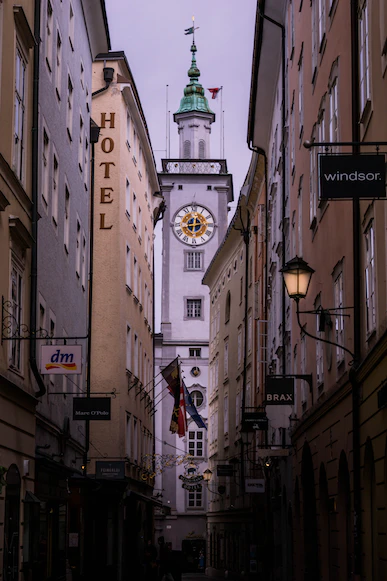 The Getreidegasse is Salzburg's most famous and also busiest shopping street with numerous traditional businesses, clothing stores and of course souvenir shops filled with Mozart merchandise and Mozart chocolate balls (I love them!). Located in the historic Altstadt it's also known for the birthplace of Wolfgang Amadeus Mozart at No. 9, where he lived until the age of 17. You can visit Mozart's birth house here but only if you are travelling without a pram. Otherwise it's tricky.
Haus Der Natur
Haus der Natur is the perfect place to escape the winter cold and let kids enjoy themselves. You can easily spend the whole day in here if you planned to stay longer in Salzburg. There are various exhibits on the natural world, including a small aquarium and reptile zoo. Moreover you can spend time constructing objects with straws, learning about energy, and experimenting with sound. The hungry ones can visit the café to get something to eat.
If you are travelling through Austria then definitely visit the capital of this beautiful country, Vienna. You can get there by train within 4h or you can organise a day tour in a private bus with everything included!
Where to Eat in Salzburg
Salzburg is known for its hearty Austrian cuisine, with many dishes featuring meat, potatoes, and dumplings. Here are some of the best places to eat in Salzburg:
Stiftskeller St. Peter: This historic restaurant dates back to 803 AD and is known for its traditional Austrian cuisine and live classical music.
Café Tomaselli: This famous café has been serving coffee and pastries since 1703 and is a must-visit for a traditional Austrian breakfast.
Bärenwirt: This cozy restaurant serves up delicious local cuisine, including roasted pork knuckle and dumplings.
M32: This rooftop bar offers stunning views of the city and serves up cocktails and light bites.
Augustiner Bräustübl: This beer hall has been serving up local brews since 1621 and is a great spot to relax with a pint after a day of sightseeing.