Why Southeast Asia?
Southeast Asia is both affordable and exotic and that makes it to the top of international travel lists. There are so many beautiful things to see but I gave my best to make an ideal Southeast Asia backpacking route to experience the best of the exotic culture.
Important to mention Southeast Asia is also a perfect and safe destination for those who are travelling alone for the first time. If you are backpacking alone be prepared to observe fabulous cosmopolitan cities, tiny ethnic villages, and UNESCO World Heritage sites. Last but not least the beauty of natural wonders will leave you in a state of euphoria. So magnificent the diversity and exotic grandeur of Southeast Asia.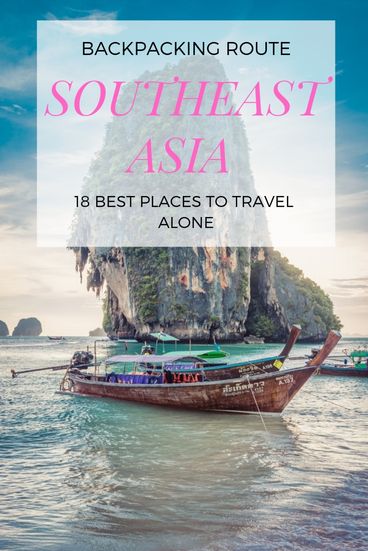 Best time to travel to Southeast Asia
The weather can often break your travel plans that's why it's crucial to know when the best time to explore Southeast Asia is. This area in Asia has a monsoonal climate which influences the two main seasons, characterised by rainfall and high temperatures.
The rainy season in Southeast Asia starts from May until late October, However, Borneo is a great destination in Southeast Asia during this period as it lays outside of the monsoon belt. July and August are the wettest months in Luang Prabang while September is the rainiest month in Bangkok.
Towards the end of Southeast Asia's dry season, starting around March, temperatures begin to rise. April is known as the hot season, temperatures can top 40°C, with high humidity – it can be extremely uncomfortable. But if you spend this time close to the beaches then it won't be a problem.
The most popular time of the year to visit Southeast Asia is November to February. This is when rainfall is not bothering and temperatures feel very pleasant.

Top Places to Visit in Southeast Asia
Vietnam
1. Sapa, Vietnam trekking routes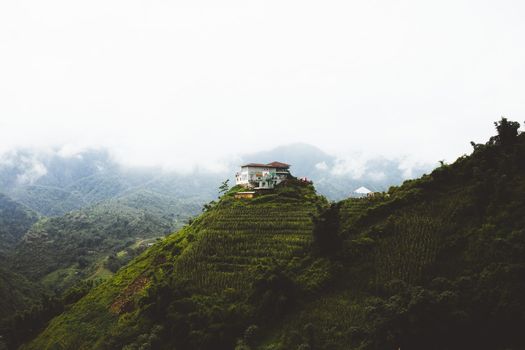 Sapa, Vietnam is famous for it's spectacular mountain views and photogenic trekking routes. It has been established in 1922 by the French and since then there are charming French colonial villages worth visiting. If you are into natural landscapes then definitely follow these hiking trails: Muong Hoa Valley, Ham Ring mountain, Silver Falls and Loves Waterfalls, Sky Gate. If you want to immerse into the culture of the hill tribes visit Cat Cat village, Y Linh Ho village, Ta Phin village, Giang Ta Chai village, Lao Chai and Ta Van village.
The best time to go to Sapa is from March to May and from September to November. This is the time when the weather is the most comfortable for travelling with it's stable temperatures and sunny days. From December to February is winter time and it becomes very cold.
The easiest way to reach Sapa is by train from Hanoi. If you ask yourself how long to spend in Sapa I recommend 3 days and 2 nights. The best hostel in Sapa is Go Spa Hostel. They offer great value for money, tidy rooms and helpful staff. For only $5, you can get a bed in a dorm room and a free breakfast.

2. Explore Hoi An, Vietnam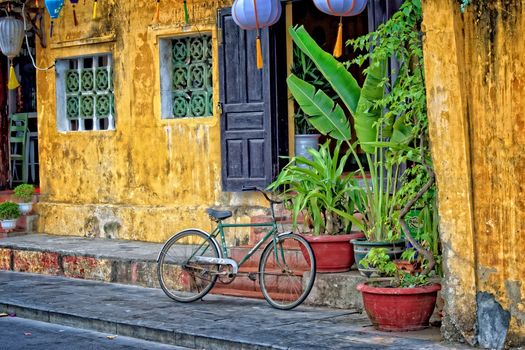 Hoi An is located along the coast in the central region of Vietnam. This historic city will surprise you with it's unique blend of Japanese, Vietnamese, Chinese, and French architecture. This beautiful place has been established in the 15th century and in the 19th century as an important commercial trading port. Nowadays Hoi An remains a charming historical gem, and is a perfect stay for a relaxing trip.
The main attractions of Hoi An already start in the picturesque Old Town with it's ancient streets, lined shops and yellow painted cafés. Witness the exciting action of the Central Market at the east end of the Ancient Town. Visit rice fields or relax and get some vitamin D on a Bang Bech. In the evening immerse into the magical atmosphere of the Night Market in Hoi An.
3. Hanoi, Vietnam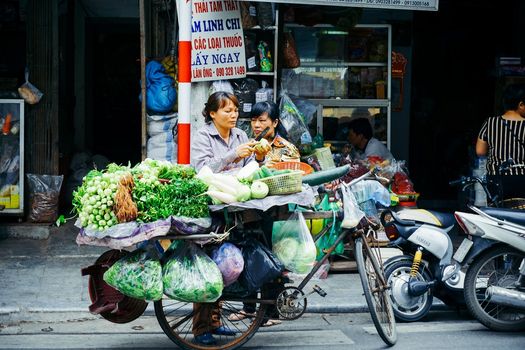 Vietnam's capital, Hanoi is another popular solo holiday destination. This city is over 1000 years old and it bursts with a wealth of history and culture: temples, an ancient theatre and stunning nature just outside of Hanoi. As you probably know Vietnam was at some point invaded by the Chinese, later by the French and Americans. That's why nowadays you can see the influence of the invading countries but also the impact of the Communists.
There are plenty of things to do and to visit in Hanoi. Definitely start your journey by witnessing UNESCO's World Heritage Site the Imperial Citadel of Thang Long. The ancient site plays a significant role in the history of Vietnam: It was the political centre for 13 centuries and the capital of Vietnam for 8 centuries. Afterwards rent a bike and explore the surroundings of the Hoan Kiem Lake. It's a very popular hang out place for locals.

Laos
4. Huay Xai, Laos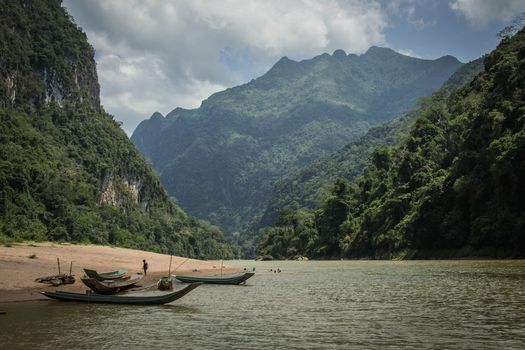 Huay Lai is a small city located in the North of Laos and a great starting point to get to know the culture of the country while backpacking alone or in good company. In the capital of Bokeo province Laos, Huay Xai, you can do kayaking, trekking, biking or enjoy a city tour. The main highlights of this lovely town are Jom Khao Manilat Temple which overlooks the Mekong River, making it an awesome place to watch the sun set. The other one is the Gibbon Experience, biplane within Nam Kan National Park.
If you are searching for a nice place to stay I would recommend to check out Houayxai Riverside Hotel. It has a fantastic view of the river and offers tidy, nicely furnished rooms.
5. Luang Prabang & the Pak Ou Caves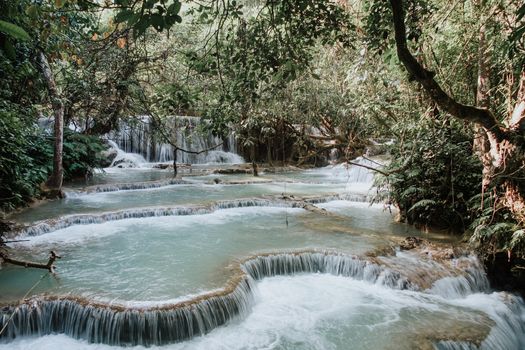 Luang Prabang is another travel gem in Laos on this Southeast Asia backpacking route attracting all globetrotters with it's Buddhist temples, beautiful French colonial buildings and rural scenery. The UNESCO World Heritage Site is also famous for it's slow and hypnotic lifestyle. Spend 2 days in this town to immerse into Laos' culture and explore nearby natural wonders. Where to stay in Luang Prabang? The tidy and beautiful hotel Maison Vongprachan Hotel is a great choice. 
The weather in this area is humid and temperatures feel hot for most of the year. The hottest months are May, June, and April. The best time to visit Luan Prabang is from November to January but it's also the high season for tourists.
The best day trips from Luang Prabang are by the boat to visit the historical Oak Ou Caves. There is an easy-to-reach lower cave and a bit more challenging upper cave. The upper cave will surprise you with breathtaking views over the countryside and river. On your way back you can also visit Ban Xang Hai, Whisky Village. There you can taste strong whisky made from rice.
6. Muang Ngoi Neua
Muang Ngoi Neua is an off the beaten path little village that you can only reach by boat from Muang Khoa or Long Khiaw. It's a very safe place if you are a first time solo traveler who wants to get to know the authentic culture of Laos. The main attractions of this area are the caves and nearby villages.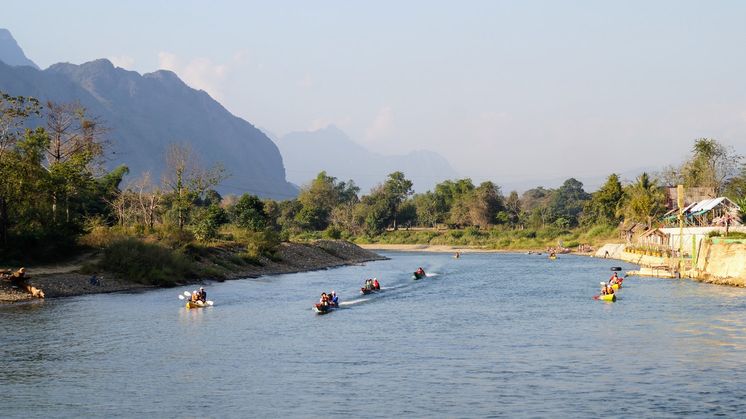 The caves play a significant role in Laos' history. During the Vietnam war the US bombed Laos every day, for 9 years. Nowadays there are still unexploded bombs, which NGOs are trying to find and get rid of. So the people in this area abandoned their houses and tried to save themselves in the natural caves during the day. Despite this cruel past Lao are very kind, cheerful people who like to joke around. Amazing folk!
Thailand
7. Magnificent Bangkok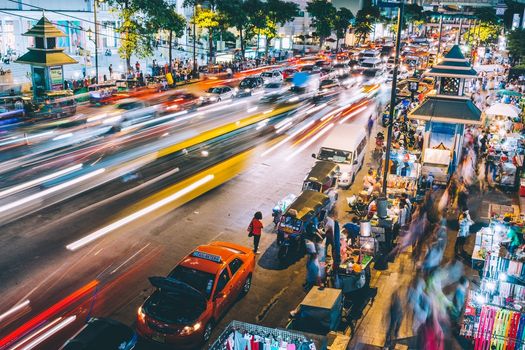 Most backpackers and travellers land in Bangkok because it's one of the main arrival destinations in Southeast Asia. You might be surprised why everyone is in love with Bangkok, because of it's magnitude you'll need a while to get know it better. Make sure to spend a couple of days in this metropolis to explore museums, parks, temples and to taste delicious street food.
If you've seen the movie "The Beach", then you've probably heard of Khao San Road. The book also describes this area very good: "Khao San is the centre of the backpacking universe". it's the most famous street and if you are backpacking through Southeast Asia you will come through here for sure. Cheap Thai street food, "Happy Hours", parties and budget hotels are all here to find. Big spenders will love hotel Riva Surya Bangkok. Budget travellers will be happy to stay at NapPark Hostel.
8. Ancient UNESCHO Heritage Site, Ayutthaya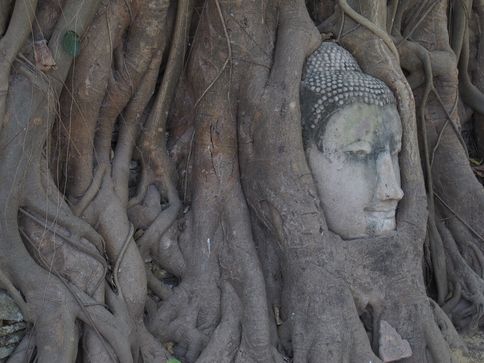 The UNESCO world heritage site, Ayutthaya is one of the well-known sites in Southeast Asia. If you are visiting this region you must explore this ancient city. It's very easy to reach this place from Bangkok by train, taxi or bus. I recommend an Ayutthaya day trip with an overnight stay. You will have enough time to observe all the Buddhist temples and the beauty of the picturesque islands captured in the middle of three rivers.
9. Chiang Rai trekking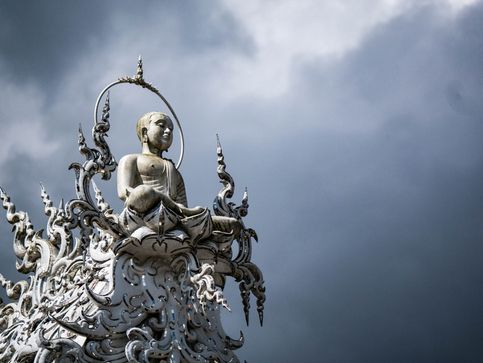 Chiang Rai can often be missed while backpacking through Asia but it's a great non-touristic place to visit. It's located about 785 kilometres away from Bangkok. Chiang Rai is definitely a great destination even if you are backpacking alone because of it's magnificent mountainous scenery, historical remains, ethnic villages and jungle trekking.
One of the main reasons why you should visit Chiang Rai is the breathtaking White Temple. Find some time and visit the Black House too. Both buildings are artistic masterpieces.
Cambodia
10. The Capital of Cambodia Phnom Penh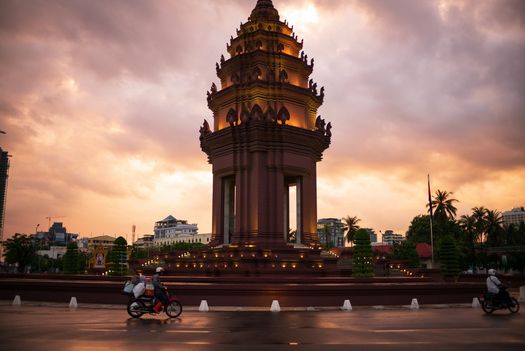 Phnom Penh is another great place to visit in Southeast Asia. You will be surprised with it's temples, wildlife sanctuaries, museum and various tours. Although Phnom Penh hasn't always been a city filled with kindhearted people, it suffered a very cruel recent history that I would recommend to get to know closer through visiting Tuol Sleng Genocide Museum.
Another must visit place in Phnom Penh is the Night Market, where you can taste delicious Cambodian food. Spend a few hours in the National Museum to absorb all the interesting information about Cambodian culture. Visit the Russian Market.However you won't find many Russian products because it's only called like that as this was a popular area amongst Russian expats in the 1980s. Admire the beauty of Wat Phnom, animal lovers can visit a sanctuary that focuses on indigenous creatures such as the Asia Sun Bears and Moon Bears habitat conservation.
If you are searching for accommodation in Phnom Penh then I would suggest to stay in Duan Penh. This area offers the most sights and a riverfront with numerous cafés. Double Leaf Boutique Hotel is a wonderful place to stay.
11. Siem Reap & visiting Angkor Wat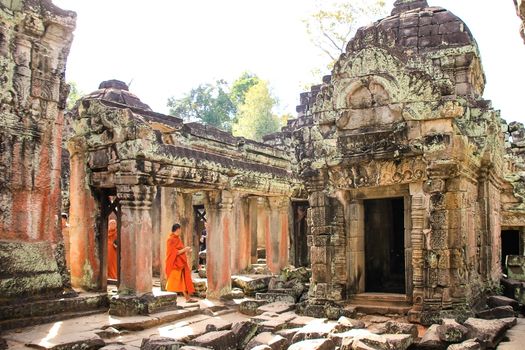 Siem Reap is a wonderful town worth of some exploration. There are numerous activities to experience like horseback riding, butterfly watching or visiting nearby villages such as the floating village, Tonle Sap Lake. It's a fairly small place that's why you can easily explore the surroundings by walking, biking or hiring a tuk-tuk. I would recommend to stay here for at least 3 days. In the beginning you can explore all the temples and afterwards relax or enjoy fun things in Siem Reap.
Visiting Angkor Wat is one of the main things to do in Cambodia while backpacking through Asia. Join a guided tour that includes a photo stop at sunset or sunrise. That's the most comfortable way to enjoy the beauty of the temples.
If you are thinking of where to stay in Siem Reap then Po Residence Hotel would be a lovely home for a while for a good price.
12. The beachside of Sihanoukville
Sihanoukville may seem like an uninspiring little town but from here you can access magnificent white sandy beaches. If you are backpacking alone it's a great opportunity to stay in solitude for some time and enjoy the beautiful private beachside. Nevertheless each one of the beaches in this area has it's own charm.
Start with Serendipity Beach, which is one of the cleanest but also pretty crowded ones. There are plenty of bars and restaurants on the beach front. In the evening you will find seats along the sand where you can relax and watch the sunset. Not far off you will find Ocheteaul Beach, it's a smaller version of the previous one but with a similar vivid atmosphere. There is also Otres Beach which is family and couple friendly.
Stay at Sandy Clay Bungalows to immerse into the relaxing beach lifestyle.
Malaysia
13. Vivid Kuala Lumpur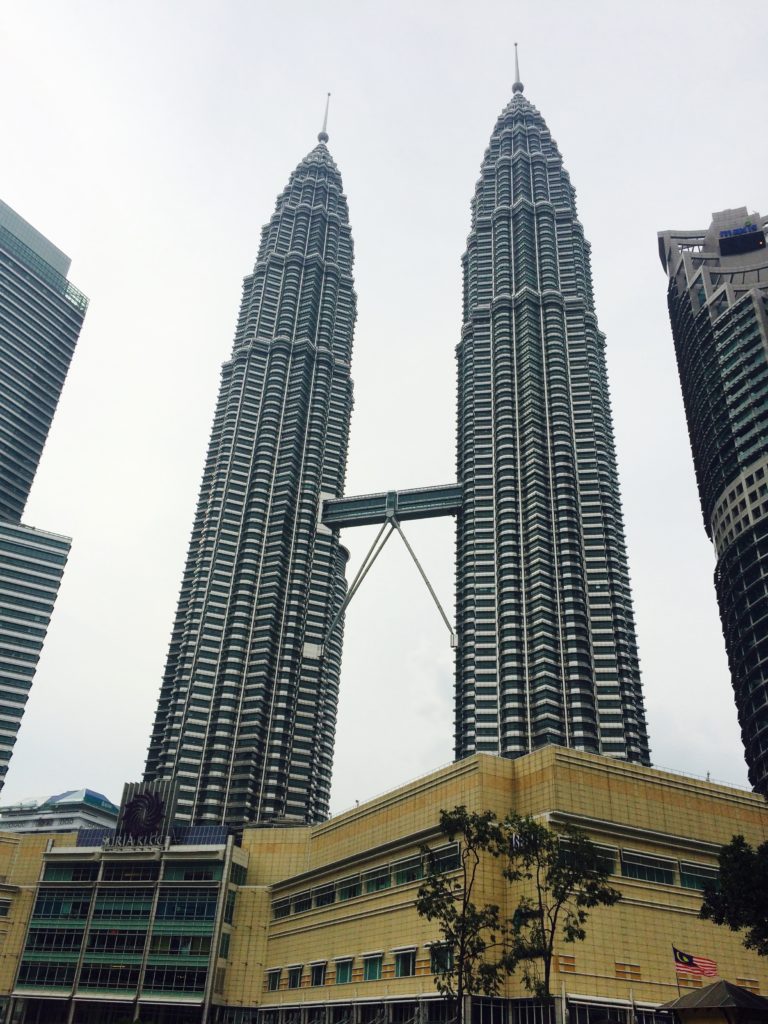 If you like big, vivid and modern cities then Kuala Lumpur will steal your heart. It's the capital of Malaysia, boasting with skyscrapers, colonial architecture, delicious street food and an authentic mix of various cultures. I would recommend to stay in Kuala Lumpur for at least 2 days and not to use it only as a stopover because of the affordable flights.
14. Cameron Highlands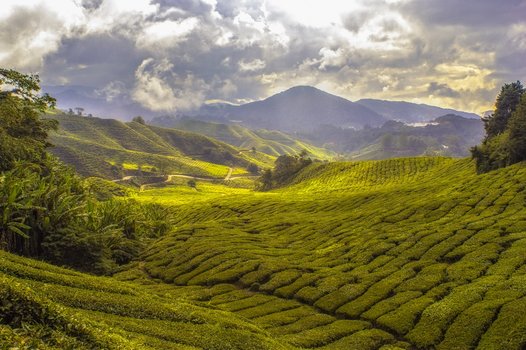 Cameron Highlands is a must place to visit while you are backpacking in Malaysia. The most famous attraction in this area are the magnificent views of the tea plantations. Spend 2-3 days in this area to relax and enjoy mild temperatures, architecture in British colonial style and just beautiful rural nature.
Treat yourself and stay at The Smokehouse Hotel & Restaurant Cameron Highlands.
15. Hiking at Mount Kinabalu, Malaysia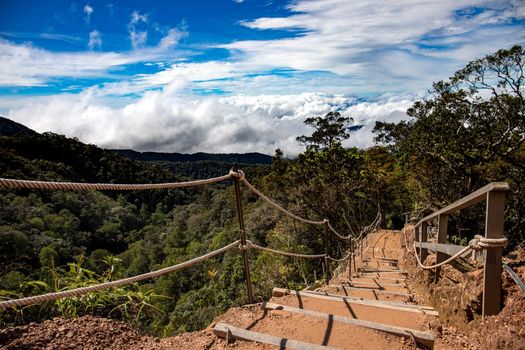 Climbing Mount Kinabali, the highest mountain in Borneo, is definitely one of the most amazing adventures which should be on the bucket list of every traveler. It will take you 4-5 days to reach the summit but it's definitely worth the effort. The difficulty of the climbing surely depends on your fitness level but it's also doable for the beginners.
To climb Mount Kinabali has become very popular that's why you should know that March to September is the busiest season, as well as around any major holiday, including Chinese New Year.
Singapore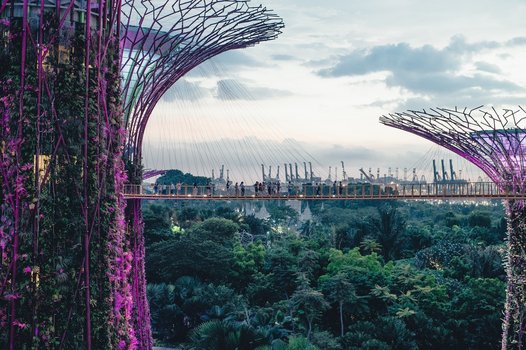 16. Singapore
Singapore is a must visit place on the Southeast Asia travel route. Especially if you are travelling alone for the first time. I will surprise you with the fact that Singapore is the safest country in the world. Furthermore it's extremely beautiful and very modern. Singapore offers various fun and interesting things to do like the Gardens and Supertree Grove. There are several cultural districts: China Town, Little India and also the hip neighbourhood of Haji Lane.
Philippines
17. Lakes of Coron Island, Philippines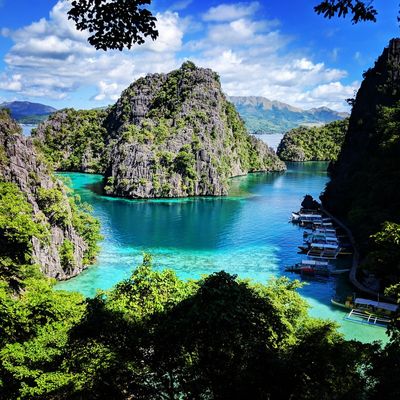 Coron Island is one of the main visited destinations in the Philippines because of it's white beaches and hypnotising natural gems, Lake Kayangan and Lake Barracuda are a must-visit without any doubt. This is where you are going to have a paradise-like experience.
18. Chocolate Hills in Bohol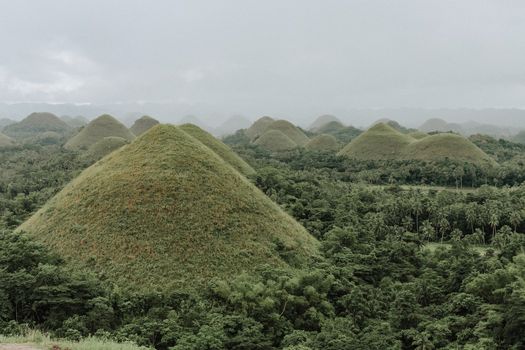 The Philippines offer numerous unique natural wonders. Nevertheless nothing so popular as the Chocolate Hills, one of the major tourist attractions in the central island of Bohol. A total area of more than 50sqkm is covered with 30-50 metres high hills in a conical and symmetrical shapes. They are covered in grass and during the hot dry period the grass turns brown, turning the hills into a row of chocolate wonders. You can't find anything similar to this in the entire world!
You will find the Chocolate Hills four kilometres before the town of Carmen. The easiest way is to join a tour. If you decide to get there on your own, catch a bus from Tagbilaran from the integrated bus terminal in Dao to Carmen. From here it's a 10 minute walk when following the relevant signs.