Bombay Saphire decided to surprise all gin lovers with an exquisite journey through the world of botanicals. The botanicals, which are significant ingredients of the well-known English spirit. The only complication: there was no information what exactly will happen during the tour. Curiously I wanted to know what is behind the whole story of my favorite liquid, Bombay Sapphire, and what exactly makes it's taste so unique. Lucky me the tour has started in Antwerp, where I was staying at this time.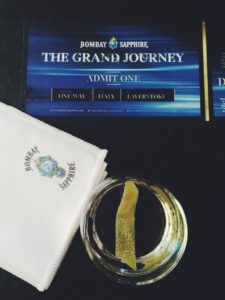 The secret spot of Bombay was hidden in the old post office building, just in front of the beautiful Groenplaats. Behind of it's doors a whole train wagon was located, which was surrounded by a few benches with cute suitcases, so you can comfortably wait before boarding. While the impatient audience was spending time in the dimmed dreamy room, we were served with our beloved liquid treasure in a gigantic glass, Gin & Tonic.
Finally the crucial moment has come and we were all invited to enter the wagon. Surprise, surprise! The inside interior was overwhelming: it looked like in a luxury train with big soft seats and dark wooden tables. The walls were decorated with screens, a bottle of fresh water was already waiting for the guests on the table. And so our trip through every corner of the globe commenced, to introduce us to the special flavors of Bombay Sapphire.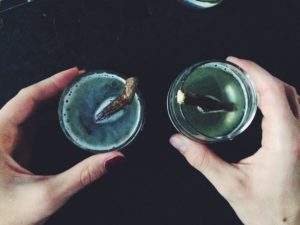 The Grand Journey was supported by an incredibly entertaining artists, who helped us to immerse into a different world with their glorious performance. We went through 10 diverse countries, from where the unique flavors of the spirit come, followed alternately by delightful finger food and exclusive drinks. Every destination was a memorable highlight accomplished with an ensemble of divine tastes in our mouths. I didn't expect that Bombay Sapphire has such a complex variety of ingredients coming from countries like Italy, Indo China, Ghana and Java and finally meeting all together in one spot: Laverstoke. One of them is for example root licorice, which was used by Chinese healers to calm the body.  It's incredible how Bombay could manage to stimulate all five senses and provide us with an informative show.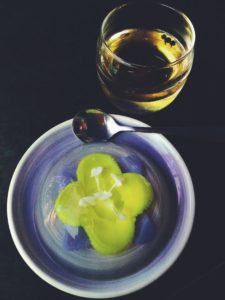 After the mesmerizing journey was over, we were asked to exit the entertaining train. But it was not the end of the evening, outside a little bar was waiting for us with spectacular cocktails mixed of course with our beloved gin Bombay Sapphire. So visitors could enjoy the drinks and share their impressions.
One of the cocktails was created by a charming couple from Brugge, Belgium. They invented the recipe for a sweet syrup, which contains 4 different types of basilica and surprisingly has a pink color. The taste of this syrup mixed with Bombay Sapphire will leave you speechless! If you have the desire to try that amazing drink then you should visit them in their cool bar The Pharmacy. If you are brave enough you can just contact them. But this liquid divinity is definitely something that you've never tried before!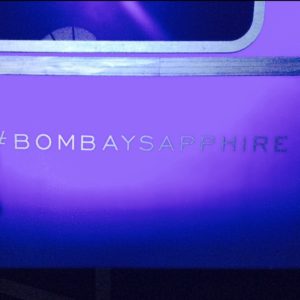 All in all, Bombay Sapphire did a great job and introduced us to the ten vapor infused botanicals in an exceptional way. If you like qualitative gin, an entertaining show, great food and willing to have an exciting evening, then you doubtlessly need to visit Bombay's train in Antwerp or in one of  Europe's other great cities. You will find further information here #TheGrandJourney
Don't forget alcohol is a class A, it means you should reach a certain age and know how to drink responsibly not to harm your health and additionally the safety of others. As all good things like sugar and fast food enjoy alcohol with moderation.