Bruges is a beautiful small town in the Flemish Region of Belgium. The capital of the province of West Flanders is well-known all over the world for its canals, cobbled streets and medieval buildings. It's one of the best-preserved towns in Europe and has been awarded UNESCO World Heritage status. Especially it reached increased popularity after the movie "In Bruges" filmed in 2008. Nevertheless the town is far more alluring than this dark comedy presents.
Watch the video here!
Nowadays all over the year, the historic city witnesses a tourist invasion not only from neighbouring countries but also from far abroad. Visiting Bruges feels like time travelling and even like being in a theme park. I personally call Bruges the Disneyland for adults because of it's ethereal sights, a wide variety of beers, chocolate shops and irresistible waffles. So sometimes tourists are surprised that people actually live a normal life here.
If you visit Bruges for one day, read this article to find out what you can see and do. And here is also a list of a great breakfast and brunch places in Bruges.
The best way to explore Bruges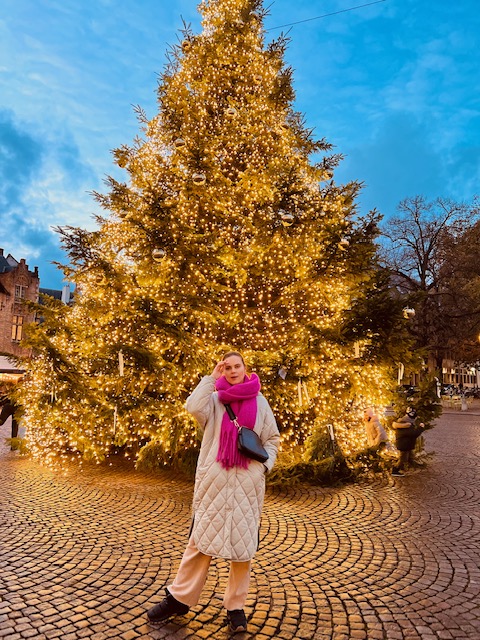 Bruges is known as the "Venice of the North" for it's numerous amount of bridges and a web of canals. That's why the best way to explore this beautiful town is by boat ride. And no, it is not a typical attraction solely for tourists. Locals love to take a boat ride too. They often even add it as a part of a special celebration program. The boat trip is not only a spectacular way to explore the city but you will also observe the magnificent architecture from a new perspective.
Walking is another marvellous way of getting to know Bruges better. It's ideal for spotting hidden details, such as carvings on the buildings in the market or little biblical figurines engraved into the walls at Jan Van Eyckplein. My personal treasure that I found is the golden spider on Pandreitje. You can find that one just next to tranquil Astrid Park. Have a relaxing stroll there and observe the picturesque pond with fountain and pagoda.
Where to stay in Bruges
Bruges is a tourist focused little town in Belgium that's why there are various opportunities to stay over night. For example if you're on a budget, I'd recommend the hostel Snuffel. It's nearby all the main sights and cafés. Moreover it is frequented by locals since it holds regular music gigs, poetry readings and even stand-up comedy.
If price doesn't play a major role for you then assuredly book a room at the fancy Hotel Van Cleef. This incredible building was once home to numerous Counts and Dukes of the Van Cleef dynasty. These days, it has been converted into a luxury boutique hotel with unique views from it's waterside garden terrace.
What makes Bruges special in Winter?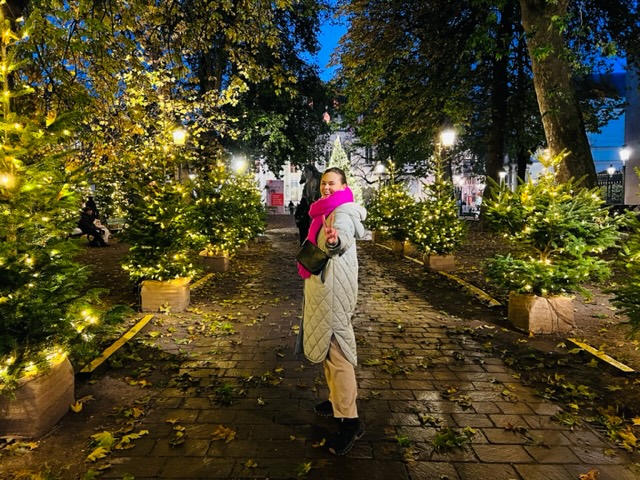 No doubt Bruges is a picturesque town during every season of the year but it turns exceptionally surreal during the winter period. The markets and main streets are decorated with Christmas trees and colourful lights. Moreover the tempting scent of sugary waffles, hot chocolate & mulled wine is in the air. The gathering points for tourists and locals are the Winter markets at the squares of Bruges. This all resembles scenes from a classic Christmas card.
In the winter, Bruges comes alive by night and the reason for it is the festival called Winter Glow. It displays a trail of light installation that you can follow around the city. It's also a great way to get to know Bruges closer because the light experience spots are located not only at the main sights but also at lesser-known places. More adventurous people can enjoy ice skating surrounded by a beautiful decor on the "Lake of Love", Minnewater. All in one the evening is the most beautiful time of the day since the whole town lights up and transforms into a real winter wonderland.
What is Bruges less known for?
Many beer affectionatos envision Belgium as the fatherland of beer. And it's true, no other country has such a diverse range of local beer kinds. Bruges is not an exception and it has it's own famous version. Moreover it even has beer running through the town's veins: every hour, 12,000 bottles worth of popular local beer Brugse Zot and Straffe Hendrik flow beneath the streets from an underground pipeline to the source, city brewery De Halve Maan (Half Moon Brewery). Beer lovers can taste both of them directly in the brewery's tavern or at any of Bruges' lovely bars or cafés.
A discovery I made about Bruges while living here is that several world renowned people are situated here. One of them is Dominique Persoone, master chocolatier and owner of The Chocolate Line. He is also an award winner "Best Chocolatier of year 2023" by Gault Millau. He creates crazy and quirky chocolate combinations in the shape of colourful pralines. Among them are ginger, bacon and many other unexpected flavours. Additionally the chocolate here is not only for eating and drinking but for inhaling too.
Love Legends about Bruges
With beautiful squares surrounded by architectural masterpieces and cobbled alleys alongside pretty canals, Bruges offers the perfect scenery for lovebirds. They come here to take their wedding pictures. Some of them celebrate a romantic getaway in hotels with charming decorations and delicious meals in world-known Michelin restaurants. Apart from postcard-worthy landscapes there are few mysterious love legends in Bruges. For instance The Minnenwater (Lake of Love), was named for the romance between Mina and her sweetheart, Stromberg. Unfortunately the tale ends tragically in Shakespearean style with the girl's death. Her lover Stromberg buried her underneath the little lake. At this time every couple that kisses on its bridge is promised everlasting love.
Where do locals like to gather with friends & family?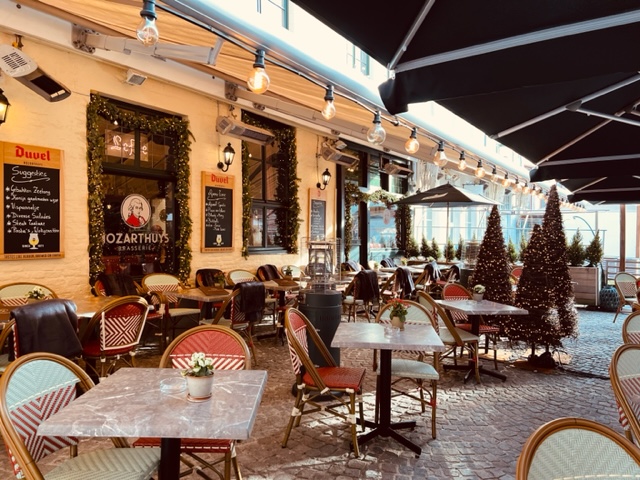 One of the most prominent places in Bruges is Grand Café De Republiek. It could accommodate big groups of local and tourists for a long time and is considered the cult cafe of the town. People of all ages come here to enjoy non-alcoholic beverages, great cocktails, fine wines and a selection of beers from local breweries.
It's also wonderful to go shopping in Bruges: There are two main shopping streets in Bruges, Zuidzandstraat and Noordzandstraat, which are also car-free on Saturdays and every first Sunday of the month. On the go you can grab a delicious Belgian smoske (well-filled baguettes) but with a sumptuous twist. At Brazi's instead of classic ham and cheese, you can order Brazilian churrasco with chimichurri or veggie options with beetroot and hummus.
If we want to escape the crowd or go for a walk with the family then the best option is to bike to forests such as Ryckevelde and Tillegem. After just 20 minutes biking you are in a quiet and tranquil fairyland with plenty of greenery and majestic castles. If biking is not an option then walking along city walls of Bruges, past the old windmills, is especially good.
Bruges' best experience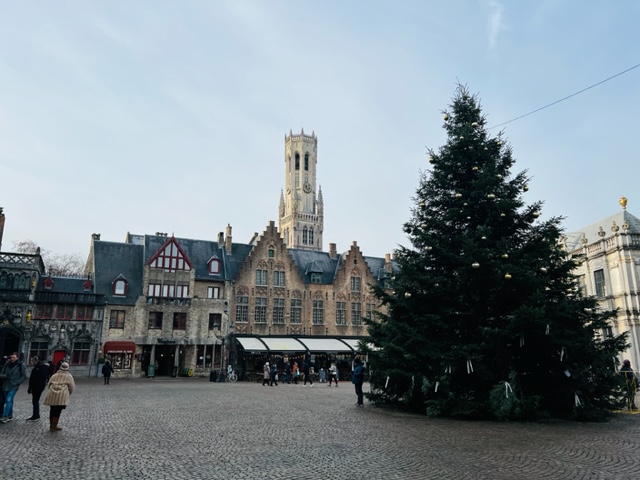 If you have to choose one thing to experience in Bruges then it's definitely the view from the top of the Belfry. The 83-metre high medieval bell tower in the centre of Bruges is from the 13th century and one of the most iconic towers of Bruges. To see the impressive view of Bruges and it's surroundings you do need to climb 366 stairs but it's definitely worth it!
Bruges is also famous for its fine art. The painter Jan van Eyck lived here in the 15th century. Find out more about him and the Golden Age of Bruges at the Historium museum. Tickets might seem pricey, but I promise it's worth it!