I discovered one of NZ's oldest iconic pub, built in 1840 and survived all the fires and earthquakes, Thistle Inn. Based in Thorndon, next to Parliament it received the second liquor license issued in the whole country and many famous Kiwis visited this establishment for refreshments. One of them was great Maori Warrior Te Rauparaha, Free spirit and poet Katherine Mansfield loved to visit the Thistle Inn too. But also various politicians, dock and government workers enjoy their delicious food and pints. Hard to believe but New Zealand has some good old history too!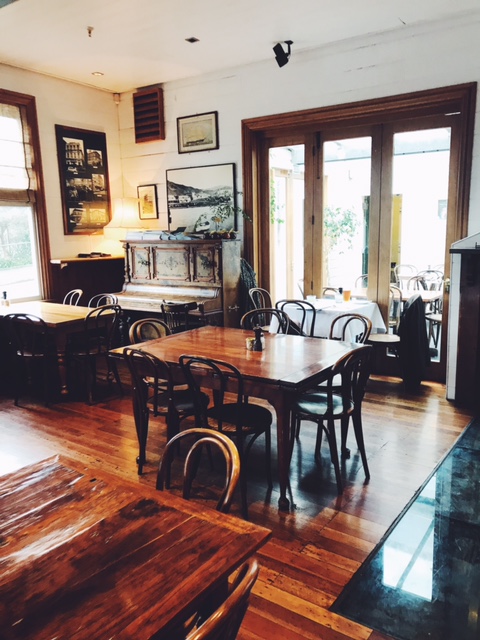 It's one of the most memorable places that I visited in Wellington: incredible service, friendly and polite staff, giving you great tips on what to order. It feels like being back in England with all the rustic furniture, wooden floors and welcoming atmosphere. The fireplace in the main room gives you cozy and relaxed vibes and there is also a glass floor through which you can observe the cellar from 1840 with the huge but cute rat John. Don't worry the pet is not real but a funny addition to the original cellar.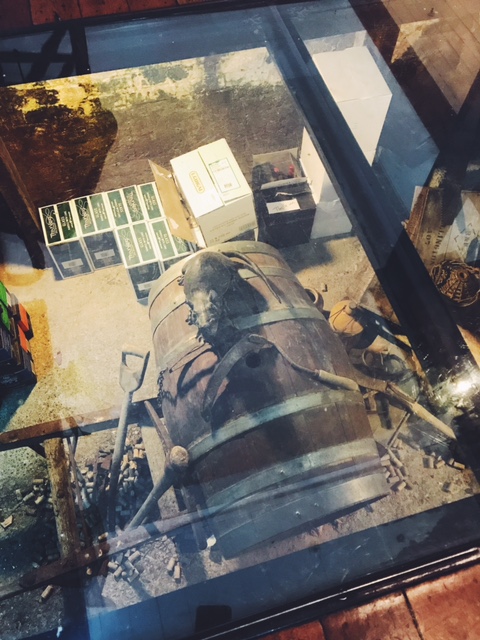 There are other options in terms of dining rooms like the bright area next to the main room. The glass ceiling lets in plenty of sunshine to lighten the space. Another one is the Historic Dining room designed in traditional royal, earthy green colours, surrounded by Wellington's historic photos. And that's not all, if you are curious and follow the stair up there are more of extraordinary rooms. Furthermore there is a smoker friendly balcony where you can get some fresh and not so fresh air. What is definitely impressive is the fact that there are original newspapers from the 1930'ies and 40'ies with significant milestones in our history. It's also possible to book a short tour and to get more interesting facts about the iconic pub.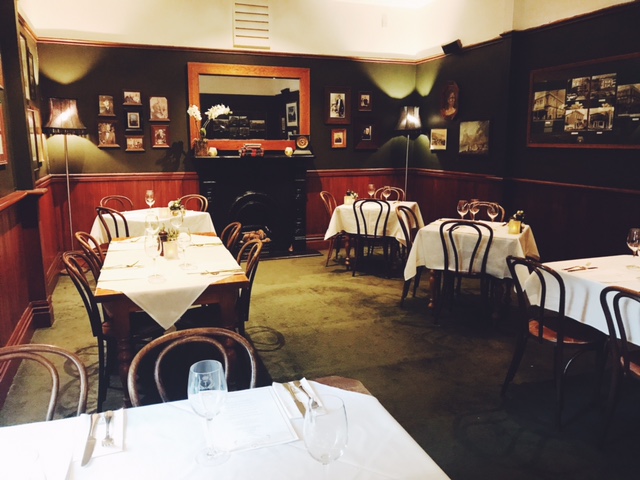 But let's talk about the crucial reason why I went there: Food. The Thistle Inn offers a great range of choices on their menu, supplemented by various beverages and daily special offers. The menu doesn't contain too many dishes, but all of them will satisfy every guest. It's an interesting mix of old pub food like fish and chips and pork scratchings combined with a fine and exclusive cuisine. From the very beginning you get a fancy glass of lightly sparkling water with a slice of cucumber and lemon. Waiters always keep an eye out to make sure your glass full, so you are constantly hydrated.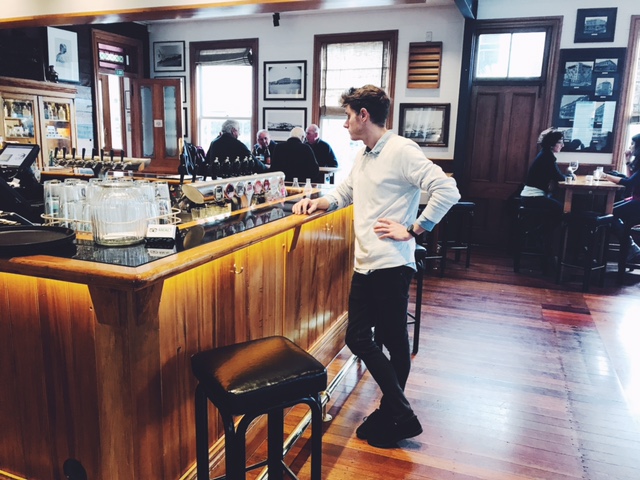 We started our delicious journey with the Duck Liver Paté $16. Our order was served promptly and the size of a portion could make a group of 3-4 people happy. The texture and flavours of the paté were on point, the bread was fresh and crispy. Loved this signature dish!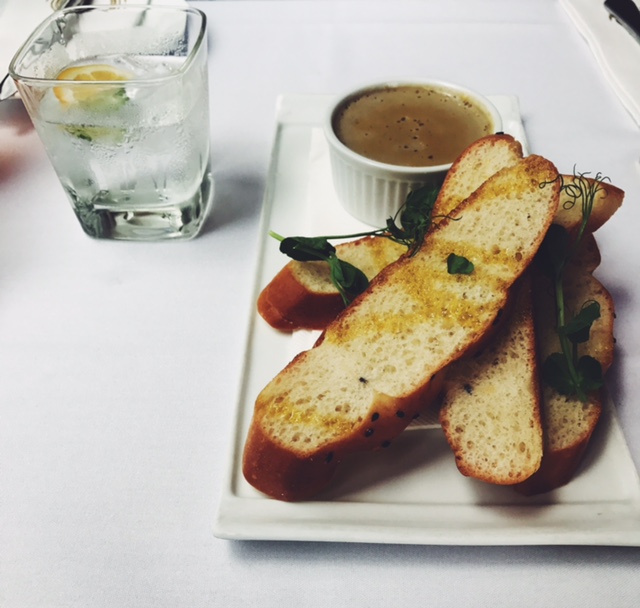 We were suggested to try the soup of the day with potatoes, leak and truffle oil $15 and the Monk fish, prawn brochettes, tomato linguini, capers, pecorino $26. Shortly after the paté we could observe the descent sizes of the plates filled with delightful creations in front of us. The hearty and warming soup was a thick creamy puree loaded with incredible flavors. Doubtlessly a must try at the Thistle Inn. The fresh soup recipes change every 3-4 days but if that one was so amazing I'm curious how the others would taste?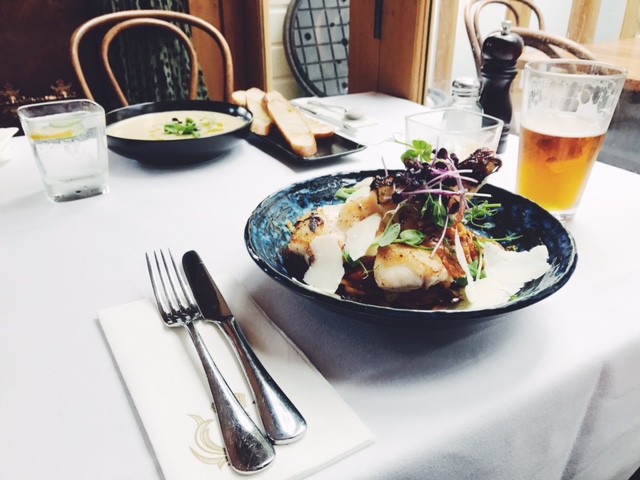 You can't do anything wrong if you order pasta, especially the one that we've tried: linguini served in sweet tomato sauce combined with refreshing but not penetrant herbs. Decorated with chunky and savory pieces of white monk fish and huge prawns skewers covered with big slices of pecorino. The dish is not only picturesque for your eyes but mind-blowing on your tongue. It was hard for me to resist and not to steal some mouthwatering prawns coated in red sauce and exclusive cheese. I would recommend both dishes to everyone!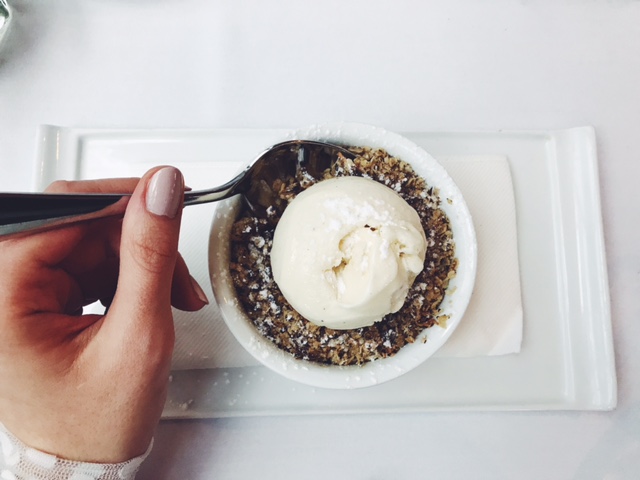 After our mains we needed some time to digest the food and all the exciting impressions for our senses. And because our motto is YOLO, we needed to try a dessert. We decided to share one, because there was almost no space left in the stomach. Our choice fell on the Apple & Blackberry crumble, vanilla bean gelato $14. If you love refreshing and scrumptious pies that would be the winner.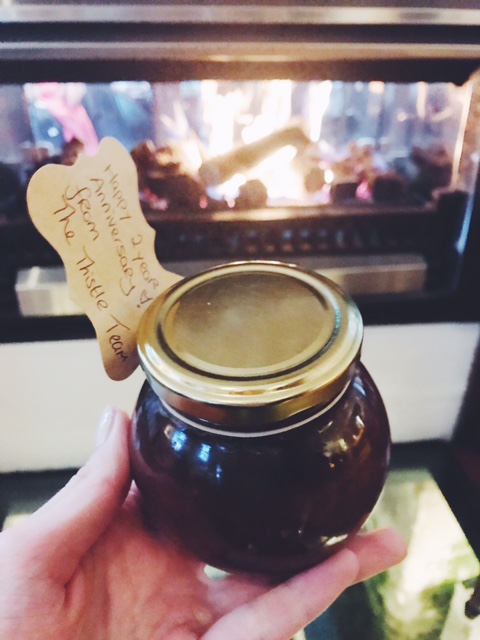 My partner and I were celebrating our 2 year anniversary of being happily together (cheesy, right?) and the restaurant staff knew that. As a gift from them we received their house-made Date & Apple Chutney. Super cute and also delicious afterwards! You can purchase them in the establishment for $6. An interesting and healthy mix!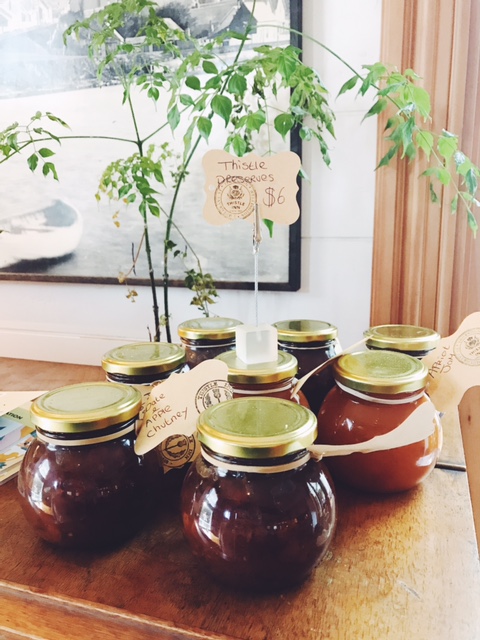 All in one I adore this place and would recommend to enjoy food or drink at the Thistle Inn. It's a great spot for a date or to enjoy and unwind after work, just make sure you reserve a table for dinner. This place can get crowded and busy in the evening with a nice mix of young and mature guests.
If you are still wondering where to go to eat in Wellington here are some awesome advices!